| | |
| --- | --- |
| | AAAACK's Recent Blog Entries |


Tuesday, September 30, 2014
1/2 oz gorgonzola
10g (about 5 halves) walnuts
4g (large drizzle) fresh honey

total under 150 calories, but with so much flavor it was more satisfying than 150 calories of chips or something

yes, I just used the walnuts to scoop up the cheese, and yes, I used my kitchen scale to measure just to see what the calories were, not to limit myself to a certain number. I dished out what seemed reasonable for each part, then noted calories by weighing.

Another decadent treat - dates (3-ish) with nuts jammed inside - what you can fit without busting open the date. Pecans, walnuts, those of you who like almonds (I don't), filberts (hazelnuts), so far that's all I've tried, and they're all amazingly delicious. This is usually well under 150 cal.

So my thing lately is to find stuff that's packed with flavor, but for low calories. I'm as tired of deprivation as I am of being overweight.

Feel free to share your easy low cal treats--if any of you still read my blogs - I know I've been AWOL for a while, but I still creep over and read some of your blogs when I can. And come next summer, I think I'll be back more again.

Have a healthy week!




Saturday, August 02, 2014
I feel a bit silly about this, but not really. I have a Spark Tracker (AKA a SPAT),

and we get trophies for how many steps we do a week. Usually I get Bronze. Sometimes not even that, sometimes I get "Spark in Progress" or something encouraging like that. Twice I've managed to get a Silver medal, but the Gold has always been far out of my reach. I have to have 60000 Spark Tracker steps in one week to get Gold.

But this week, with my kiddo having surf camp,
I was cranking on the steps, and with 2 days to go, I needed an average of just under 8000 steps per day to make gold.

My usual weekend steps are 3500 each day, so it was a bit of a commitment, but I'd never been this close before so I decided to go for it. I mean, 8000 steps is a lot, but should be doable if I really focused.

And I'm extremely proud to announce that I made it! As of 8:15pm, I have enough steps to get my first gold medal!

Now, not to talk bad about the SPAT, because I really like the little beastie, but I do think it counts low on steps overall. So I'm not comparing to my other pedometers from the past, as far as overall steps. I'm just comparing SPAT steps for as long as I've had the SPAT. And this week has been my highest ever, and I get a gold medal for it!

So, are virtual rewards motivating? Yes! Not because of the reward itself, but because of what it represents. It represents a striving, a tough goal finally met, something far out of reach that was finally reached.

I went for the gold.

I got the gold!

Thanks Spark, for the motivation. And thanks Spark Friends for understanding how something that seems silly to the rest of the world, is actually a very big deal!





Edit: evidently I've had the Silver medal 9 times, I went back to count. I've had the SPAT since end of Sept last year. And here's my Gold Medal!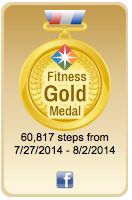 Wednesday, July 16, 2014
Sometimes I get nuts with the fitness numbers. I'm a data miner at heart, and I love all the data that goes with trying to get and stay fit. Having said that, it's a trap for me. Let me explain.

I have the Spark Activity Tracker (also known as the SPAT). I have a daily step goal of 6000, and I am obsessing today about not meeting that even though I'm on a quest to develop better habits. You might ask, well, why wouldn't you be trying your best to get that 6000 steps?

I had a killer workout at the gym today with my trainer. My heartrate monitor (I told you, I'm a data miner) and the app that I use with it says I burned 500 calories there. I also burned quite a few standing calories while doing other daily tasks. Now, that workout is something to be proud of. I haven't had one like it in a while, and sheesh, just getting TO the gym is a big deal, let alone coming home drenched in sweat.

So I am proud of it. I am. But why can't I be satisfied with it? Why do I have to feel like I failed somehow today by not doing that 6000 steps? My workout did include some spin bike time (as my cooldown) but mostly it was strength training. Now, to burn 500 calories strength training (circuit training), you know I was working hard! My trainer only does bootcamp style workouts, so it was non-stop.

And...yet I am obsessed with not hitting 6000 steps today. I need to stop being like this! This is what leads me to fail every time. I'm not trying to be perfect! I'm not trying to meet every single goal every day. I'm just trying to live better overall. I know darned well that my gym workout WAS enough to take off some of my weight (combined with a day of eating right, too). And I want to be proud of it.

Why is this perfectionism dogging me?!

How do you deal with perfectionism? How do you convince yourself to accept the things you know are true? How do you accept a good effort as a good effort and stop trying to do everything everyday? Nobody can sustain that, not without becoming completely neurotic or...binge eating!

So I think I'm opening up to new ideas as to why I binge eat, and I'm hoping that recognizing this obsessiveness with numbers as destructive, will free me from yet another binge trigger.

Thanks for reading! Have a fantastic Wednesday!







Saturday, July 12, 2014
Today I updated my intro text on my Spark Page, and decided to also make it a blog. My last one was from 2013, and I'm ashamed to say I didn't make any positive progress on my health since then, except that my shoulder is 98% healed. That 2% is just a life-time adjustment I'll have to make, after all, bone is missing and I'll have weird clicks and pops and sometimes weakness. But overall, that's done and I should be marching ahead with a healthy lifestyle but I haven't. So, here's what I changed my Sparkpage Intro to say:

2014 I put all my weight back on and then some. And all-time non-pregnant high weight. My GYN just tested me for glucose intolerance and thyroid. While I didn't know if I had metabolic syndrome or diabetes (results are in: I don't), I did know that if my thyroid was out of whack, it couldn't be blamed for my weight. I've been doing this a long time now, this whole watching my health and weight, and I know when I'm eating too much and not moving enough. I also know that I'm doing it now. Regularly. I do need to find a path out of this large cave I have steered myself into.

This cave is lined with treats, and is cozy, and has a lot of places to sit. There's a TV. Movies. And a sense of coziness. But for some reason, I can't see all the unpleasant stuff underneath the enticing indulgent stuff. I DO know it's there, I'm a pretty smart girl. But I seem to be really good at looking at the surface stuff, what I want today, rather than the ick and goo underneath the indulgent habits.

So, I need to take a step out of the cave today. And every day. Some days I'll need to rest, but I can't stop or I'll just stay in the cave. And I do want out, I really do. I must find my path out!



1 2 3 4 5 6 7 8 9 10 11 12 13 14 15 Last Page

Get An Email Alert Each Time AAAACK Posts