| | |
| --- | --- |
| | 4DOGNIGHT's Recent Blog Entries |


Thursday, December 22, 2011
I got the cooking bug last week while at the hairdressers and my mother-in-law was getting her hair cut. I was looking at their Southern Living Magazine which has 2 great looking recipes in it. So I went home and decided to make both of them. You can find the recipe by going to Southern Living online and looking for Holiday Food gifts. In their search block, type butter-pecan granola.

I go out of my way not to follow a recipe exactly because I usually don't have all the ingredients, like wheat germ and sesame seeds and date. But I made this and added about 1 1/2 cup of honey rice chex cereal, 1 c pretzels, a bit of almonds and sunflower seeds that I had and raisins. What happened was it stretched the butter honey sugar mixture so it wasn't so sweet and turned the whole thing into cereal that I have been enjoying every since. I take out the pretzels for cereal so I'm thinking I may just make this stuff to have on hand for my breakfast all the time. Another benefit is all the fiber which I need desperately!

The other recipe I made was Pecan-toffee shortbread which you can find on the same site! It called for 1/3 c of cornstarch and I thought that was a huge amount but it did make a shortbread cookie so guess it was correct. I thought it was yummy but hubby didn't like it so much. Our fruitcake is nearly gone as I give most of it away but it was sure good! I use an old recipe I got out of a magaine about 30 years ago for a golden fruitcake. Makes a huge one and is very moist!

Enjoy, This is one of the last few days before Christmas where I need to shop for a few things and get groceries so we can have something to eat! Later.




Tuesday, December 20, 2011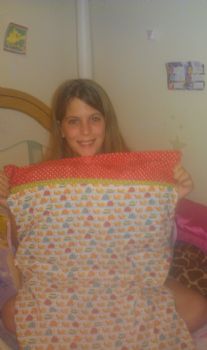 Yesterday, I took my granddaughter who is 10 to a sewing class. I signed her up a month ago to learn how to make a pillowcase and on the way to the class she said she didn't want to go to it. I was almost devastated and thought, "am I pushing her into something she doesn't want to do". But she seems to like sewing when I have her at home and help her make things, like the potholder she made for her DAD this Christmas. So we get to the class and the only other 2 participants were 35 years old! And really newbies! She didn't want me to leave her so I hung around and watched and helped and shopped. The instructor was good with her and within 2 hours, Hannah had a pillowcase and was finished well ahead of the other 2 ladies! And she had a good time and we picked out fabric so she could make a pillowcase for her 2 year old brother! So it was a success!

I had bought her a sewing machine for Christmas, a singer from Joann's that was on sale for $79.00! And I took it with us so she could use it to sew on. She has no idea that the sewing machine is hers so that will be a surprise on Christmas day! I was pleased with it. It is easy to use and has 10 decorative stitches and is lightweight. For $79 she can use it for a few years! Much easier to use than my viking which has all the bells and whistles and sometimes a mind of its own.

What was interesting was the two ladies that were sewing with her went to high school with her Daddy and both were in band with her.

I have been extremely busy with work lately and yesterday, I got a letter from the FLorida Dept of Revenue telling me I had not filed my sales tax return in October! What? I never miss that return which is due by the 20th of each month. But I looked at my paperwork and sure enough, I forgot to file. First time in 27 years! I was late once or twice but never forgot to file. Guess I have really been busy! Today is another busy one. Off and running! Later.





Friday, December 16, 2011
Well, 2011 is almost over and where did it go? Seems like time flies faster when you get older. I'm sure next week will creep by for my 10 year old granddaughter as she is off school and waiting for Christmas to come. Her mom changed jobs recently and now has to work over the holidays so we are babysitting for the next two weeks. I don't mind as she is so special. There has been news lately about a 9 1/2 ounce baby that has made it through the NICU up to 4 lbs and will go home soon. My granddaughter only weighed 17 ounces in 2001! It is amazing what they can do medically for children these days! She is thriving with no visible problems and doing well in school, a normal 10 year old! But it sure was touch and go there for a while and she was soooo tiny.

So let me take stock of the year. Did I lose weight? NO. Well maybe a few but not anything that stuck. Did I exercise? NO. Am I decrepit? YES! I've been treating myself to a massage every two weeks for the last couple of months. So yesterday, while on the table, I noticed how NOT limber I was. My muscles were so tight from head to tow that my masseuse has to work extra hard, I"m sure. So, as I was laying on the table, it occurred to me that I need to get moving. Two years ago, I was walking with my friend Pat every other day and I was in great shape. I even walked in 5K's. Now, this year, I've barely moved around the block and I can notice the results. There aren't any except I"m not very limber.

So what to do? Well, I thought yesterday I could make a new year's resolution to walk every day next year, even for 10 min. I could do that. Would it be so difficult to do? I've got two new puppies that would love to go for a trot. Wally just came to say hello and sit on my lap. They've been with us for a month now and settled right in. They would have been really cold out there at the shelter had it not been for us adopting them. And Wally is beautiful and not yet one year old! Can't imagine someone left him there.

So back to me. I am so flabby and decrepit and still overweight. SIGH! So, I am thinking real hard about setting a goal to walk everyday next year. Such a simple thing and I could do that. All I have to do is do it. So do it already. Today, I'm going to see if I have to do anything for my clients and then I'm going to take the day off. Later.

UPDATE: I just returned from a 15 min walk with my dogs. Had to carry Daphne half the way because she kept wanting to turn back. I'm committing to walking every day for the rest of the year.





Tuesday, December 13, 2011
Cant believe I haven't blogged in 6 days! It's been a whirlwind! My son is working although not making the income he had before but at least he has a job. I've been busy decorating for my clients, no Christmas but delivering goodies just the same, valances, sofas, bedspreads, etc.

I'm at peace. We had our annual meeting at church on Sunday and we have some wonderful things to look forward to. We are getting a new assistant pastor! And we all love him already. He has been a member of the church for at least 5 years but he was in the military. He retired this year and has been called to serve us! He is dynamic and energetic and just what we need to bring life back to our church. ALso, we built a Christian Life center a few years ago that was very costly and has been a struggle to maintain but we have managed! Now, we have been able to refinance the mortgage at a lower rate and save monthly dollars! God is good! And I believe!

Have a great day!





Wednesday, December 07, 2011
The last couple of days I have no appetite. Food doesn't inspire me and I haven't eaten much. Today I have a buffet luncheon to attend so it will be interesting to see what I feel like eating. The cause? My son is underemployed and it is a long story. In May he left the best job he ever had with benefits to embark on a new career as an EMT. They had money set aside so felt they could manage while he went to school. Unfortunately, he failed the licensing test the first time he took it. On Monday, he took it again and studied all weekend so hopefully he will pass it. We are waiting for the results. In the meantime, he has been working very part time and now they are desperate.

I knew this would happen and I did not want him to quit his job. I think now, he realizes what a mistake it was but you can't go back. I was very angry with him for a while, very angry. But now, the anger is gone and the worry has set in, big time. When he passes his test, he then must look for work as an EMT so we could be looking at a long time of helping them out.

In the meantime, my dIL also lost her job but found another one that pays a little more which is a blessing. However, they now don't have any health insurance for 90 days. The saga goes on. And Christmas is coming and they have 2 kids.

Like I said, the anger is gone and I have been praying a lot. Everyday I pray to God that he will pass his test and get a new job. So just keep us in mind. In the meantime, I might lose some weight which would be a good thing. My stomach is churning so much, I can't think about food. Later.



First Page
1
2
3
4
5
6
7
8
9
10
11
12
13
14
15
16
17
18
19
20
21
22
23
24
25
26
27
28
29
30
31
32 33 34 35 36 37 38 39 40 41 42 43 44 45 46 47 48 49 50 51 52 53 54 55 56 57 58 59 60 61 62 63 64 65 66 67 68 69 70 71 72 73 74 75 76 77 78 79 80 81 82 83 84 85 86 87 88 89 90 91 92 93 94 95 96 97 98 99 100 101 102 103 104 105 106 107 108 109 110 111 112 113 114 115 116 117 118 119 120 121 122 123 124 125 126 127 128 129 130 131 132 Last Page

Get An Email Alert Each Time 4DOGNIGHT Posts