| | |
| --- | --- |
| | 4A-HEALTHY-BMI's Recent Blog Entries |


Sunday, January 17, 2010
My initial goal has been 150 lbs or 25% body fat, whichever came first.

My Tanita scale has been indicating anywhere from 22% to 26% body fat for the past week or so.
www.amazon.com/Tanita-BC533-Innersca
n-Composition-Monitor/dp/B0007Y6BS4?ta
g=manifolds-20
UPDATE: In "athlete" mode it says 19.7% Thanks to S318830 for advising me on that! (And also for finding the DXA place in San Diego.)

I suspected I was close, but wouldn't know until I had it measured by a more accurate method.
en.wikipedia.org/wiki/Body_fat_perce
ntage

On Thursday through a DXA scan I found out my body fat % is actually 19%.
www.cohp.sdsu.edu/index.php?page=tes
ting



Are you freaking KIDDING me?! That's actually in the "athletic" category. Last year at this time I still weighed over 300 lbs...

This means, technically, that by at least one measure I am done. I have been processing this information for the past couple of days - I actually cried a little in the car on the way back on Thursday, because I was just so overwhelmed. I wasn't expecting this. I wasn't really ready for it.

If you've been following the thread where STEVIECAT4 and I are trying to reach 150 you'll already have read some of my mulling over this issue. tinyurl.com/race2onefifty

Anyway, I have been lightening up on the calorie restriction but continuing with the heavy exercising, with predictable results. This morning I'm up to 158. So I'll be pushing back down on the restriction a little more.

In the meantime, realizing that I'm probably going to be close to this size for a while, and having my two sisters handy, I've been indulging in SHOPPING. Me. Who has historically H.A.T.E.D. shopping. With a Passion.

In the interests of public service, here is a rundown of the thrift and consignment stores we've investigated:

1) American Cancer Society Discovery Store, Rancho Bernardo
16787 Bernardo Center Drive, San Diego - (858) 385-0479

Small store, Salvation Army-type prices & selection. Found the sparkly $18 dress on sale there that day for half off.

2) Girlfriend's Consignment Boutique, Poway
12222 Poway Road, Poway, CA - (858) 679-1222

Upscale. Lovely selection. Found a really nice workout top and leather pants ($26).

3) Plato's Closet, Escondido
1220 Auto Park Way, Escondido, CA - (760) 233-0002

Geared toward 20 year olds. Found some really nice workout gear there. Lots of colors and styles and the ability to be picky.

4) Deborah's Next to New, Escondido
1624 E Valley Pkwy, Escondido, CA - (760) 743-8980

Large selection. Similar items scattered throughout the store. Quality ranges from Salvation Army to upscale. Found an awesome lined suede long skirt there for $29.

I'm going to have to get a box and ship this stuff home...





Friday, January 15, 2010
My sisters and I met with Deb (S318830) for lunch today at the Soup Plantation near the hotel. So, since there were three SparkPeople (TM) there, we're calling it a "Spark Rally" LOL.

Here are the photos afterward, taken by the one sister who isn't (yet) on this site.

OK, photos don't seem to be uploading properly, so I'll add 'em later.
...Looks like I need to use IE instead of Firefox.



S318830 smiling for the camera while 4A-HEALTHY-BMI tells HAVASUROSE to put down the rabbit ears. LOL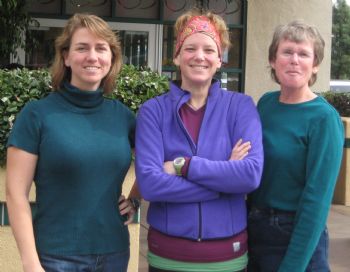 HAVASUROSE giving attitude.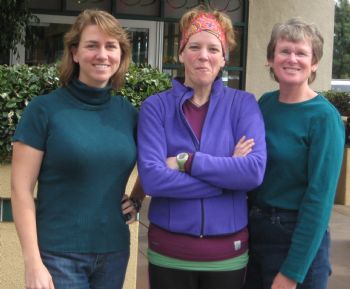 4A-HEALTHY-BMI giving attitude.

More pics together at the Wild Animal Park on Sunday morning, when we'll include the other sister!

Then afterwards HAVASUROSE had a dentist appointment, S318830 went back to work, and 4A-HEALTHY-BMI and her eldest sister (not pictured) went to consignment stores and thrift shops and played in clothes...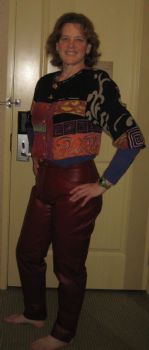 '
NEW fully-lined LEATHER PANTS! ($26) and jacket from a skirt suit ($11)
[I was intrigued by S318830's account of HER new leather pants, both in the original blog and at lunch today. Not just intrigued. Jealous. LOL]
www.sparkpeople.com/mypage_public_jo
urnal_individual.asp?blog_id=2639424



New dress ($9) that I saw on the manniquin and thought would be fun to try on. My boss retired on the 30th and his dinner is coming up.

Then we tried re-staging the "fat pants" photo with HAVASUROSE from November, and this time they ZIPPED UP! LOL

This is the SAME EXACT PAIR OF PANTS in each photo.

March 2008: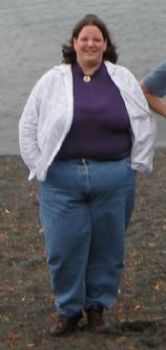 November 2009: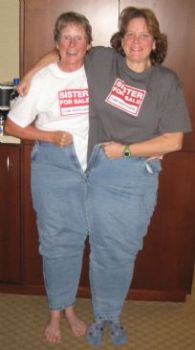 January 2010:



4A-HEALTHY-BMI with her eldest sister in "the pants."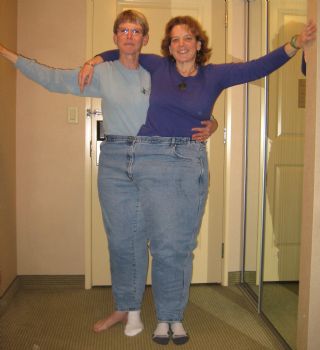 Wednesday, December 30, 2009
1. Dixie diners crunchy apple soy rocks protein bars

I've written about protein and mentioned protein bars before.
www.sparkpeople.com/mypage_public_jo
urnal_individual.asp?blog_id=2536501

This is my new go-to favorite bar and has one of the best protein / calorie ratios at 10 g protein and 81 calories. They are crunchy and satisfying and at less than half the calories of most protein bars they are suitable for a snack to get you by until a real meal will be available.

You can also get a version with flax seeds in it that has 90 calories and 10 g of protein. I prefer to just get my omegas via capsule.

There's no weird melty chocolate layer that will go funny if it gets hot in the car, so you can stash them everywhere for emergencies. I have them in my glove box, my life vest, my desk at work, my gym bag, etc.

I buy them online directly from Dixie Diners' Club:
www.dixiediner.com/crunchy-apple-roc
ks-barbox-p-3.html

2. Freeze-dried fruit

Most "normal" dried fruit has added sulfates, sugars, and even sometimes oil. Freeze-dried fruit has none of those additions and is fantastic with breakfast cereal or yoghurt (or just about anything else to which you'd add fruit). I even like just snacking on it - it's crunchy and has a nice tart / sweet kick.

You can get freeze dried blueberries and strawberries at Trader Joe's, or you can order a bunch of different kinds from nutsonline.com - they have a referral incentive so if you want 10% off your first order, contact me with your email address and I'll have them send you a code. (I would get 10% off my next order, too)

You can also get freeze dried vegetables - the broccoli has the highest protein / calorie ratio of any of the fruits and vegetables. Of the fruits, the freeze-dried sour cherries win the nutrition contest with the boysenberries a close second. (Boysenberries resulted from crossing blackberry, loganberry and raspberry and are the basis of the Knott's Berry Farm empire.)

www.nutsonline.com/search_results.ht
ml?q=freeze+dried&t=&sort=popularity

3. Wasa crisp n' light crackers

I found these while visiting a friend recently in Alexandria, VA. At 20 calories and 11.7 mg of sodium per cracker I think they actually taste pretty good, and are a great alternative to more fat and sodium laden crackers. I plan on bringing some to the New Year's Eve celebration I attend every year.

It turns out you can order a case of ten online from Amazon.com cheaper than you can get them from the store:
www.amazon.com/Wasa-Crisp-Light-Grai
n-4-9-Ounce/dp/B000EUJLHE?tag=manifold
s-20

4. Laughing Cow Cheese (Extra Light)

I discovered this spreadable low-fat cheese while visiting LAFAGG in England.

In one wedge (17.5 g) there are:

20 calories
0.6 g fat
131.3 mg sodium
2.6 g protein

Compare this with the Laughing Cow Light available in the US:
(21 g per wedge)

35 calories
2 g fat
260 mg sodium
2.5 g protein

I don't know about you, but I'd prefer to eat the UK version. Or TWO of them, since that's about the equivalent in calories to ONE of the US wedges - and more than TWICE the protein... To me it tastes just as good. On my Wasa Crisp n' Light crackers, LOL.

For this one, unfortunately, you have to either know someone in Europe who can send it to you, or know people traveling there who can bring it home in a suitcase.

I emailed Laughing Cow and asked why they don't sell Extra Light in North America. They replied that it is because they're marketed here as a "specialty cheese" and don't think there would be a market for it.

I think they're wrong and referred them to www.hungry-girl.com/girls/biteoutdet
ails.php?isid=1012 as an example.

5. Kauffman's fruit butter with no sugar added

If your tastes run more to sweet than savory for your cracker or toast toppings, here's something I recently discovered in the local Mennonite store. The pumpkin butter in particular stands out, at 5 calories per tablespoon and a short list of ingredients (pumpkin, apple cider, lemon, cinnamon, citric acid).

If you can't find a local store that carries it, you can order it direct from the Pennsylvania:
www.kauffmansfruitfarm.com/index.php
?main_page=product_info&products_id=17





Wednesday, December 23, 2009
Wow. This place is AMAZING.

With the help of the nutrition tracker, the motivational tools, and most especially THE PEOPLE, I've managed to remove 166.8 lbs since last December. (176.2 total)

What I wanted most of all for Christmas this year was a BMI under 25.

And this morning, what was waiting for me on the scale? A number that put me there!!!!!

Woo-Hoo!!!!

To get there has taken a lot of perseverance and support from too many people to mention here, but it includes pretty much everyone who has ever commented on my page, or a blog, or sent me an email, or shown up to a Finger Lakes Team Spark rally... (As well as so many friends and family in my AFK life.)

I want to especially thank STEVIECAT4 for joining a contest with me after Thanksgiving to race to our goal weights by Valentine's Day. Her spirit of friendly competition has definitely helped me stay on track and make progress this month.
tinyurl.com/race2onefifty
Here's hoping her back heals soon so she can continue to push me (and herself) toward our goals!

Thank you, thank you, thank you, from the bottom of my (now much healthier) heart!

























P.S. I am already planning out my meals and exercise for Thursday, Friday, and Saturday.

I'm using "Lean Me Pro" on my iPod Touch to track exercise and nutrition.
www.leanme.net
The advantage over the SP tracker is that I can do it anywhere, any time, even when not connected to the internet. Which means I always know how many calories I have left for the day, and what proportion of them needs to be protein.

Thurs and Fri I will drop down to a -6 lbs per month diet plan which will give me a bit more flexibility in the eating. Saturday it's back to the stricter -8 lbs per month regime.

As I ramp down to goal I will experiment with -8, -6, -4, and "maintenance" diet cycles to see what works.

I WILL have a plan, and I WILL stay on track.






Wednesday, December 02, 2009
I would like to reopen the issue of expanding support for maintainers here at Spark People.

I've already lost over 100 lbs and gained it back once in my life, and this time I am playing for keeps. Twice in one lifetime is ENOUGH.

I want to stack the deck as well as I can toward success in maintenance, the way I have stacked it toward success in weight removal.

Ideally this would include tools, incentives, and reminders all timed to coincide with the stages of maintenance - continuing out to 60 months, analogous to the excellent structure provided here for phases of weight loss. And some way to find the other people who have been where I am and are where I am, for mutual support in sticking to the plan.

I have sent a message to Chris, Coach Jen, and Coach Dean, but they've probably been too busy to answer. Time is slipping by, and I would like to know from the rest of the community if I'm the only one here who is concerned about this.

The maintenance issue is deep and difficult. Statistically only 5% to 20% of people manage to keep a large weight loss off (depending on how you define "keeping the weight off"). I myself once before lost over 100 lbs and gained it back (plus 100 more). Training in maintenance mentality needs to start before someone reaches goal and needs to continue from 2-5 years afterward (according to the literature).

If Spark People can show an improvement for weight loss maintenance better than these statistics, the site will have a significant edge over other competing resources.

We need to make maintenance more supported, visible and celebrated here. More than occasional articles about regain, and a few teams about maintenance. The "Maintaining Your New Weight" Lifestyle Center page is good to have, but it is not enough.

There is a lot of scientific information available about which specific behaviors and strategies are associated with weight loss maintenance. The National Weight Control Registry has published about weight maintenance interventions they've designed.

Spark People would be an ideal place to implement such a program. The site already has many of the necessary features already in place - personal interactions for mutual support, tools for nutrition and fitness tracking, and the "stickiness" necessary to keep people coming back and staying with the program.

I've written a blog summarizing the main behaviors associated with weight loss maintenance, based on a recent paper from the NWCR:
tinyurl.com/nwcr-maintenance
(This post also contains links to other resources like the maintenance chapter of the Hacker's Diet, a link to the Second Helping online magazine, etc.)

These specific behaviors need to be highlighted, encouraged, and celebrated. Spark Streaks and countdowns to 5 years of maintenance from initial goal weight would help a lot.

We need a maintenance program that is based on hard science. Someone from Spark People could approach the NWCR about whether they'd be interested in helping design a weight loss maintenance program for us. I have even offered to assist with this, given my background in scientific / academic research.

Am I the only one here who sees a need for something like this? Getting the weight off simply is not enough. I need help KEEPING it off!
- - - - - - - - - - - - - - - - - - - - - - - - - - - - - - - - - - - - - - - - - - - - - - - - - - - - -
- - - - - - - - - - - - - - - - - - - - - - - - - - - - - - - - - - - - - - - - - - - - - - - - - - - - -
Update:

I received an email from SparkGuy Chris.

He said they have put this down as a project to work on. He suggested building a "days at goal" tracker and then have rewards based on that. He said they also want to build out SparkAmerica/SparkEarth fitness minutes challenges since consistent fitness is such an important part of maintenance.

He asked if I had any specific additional thoughts.

Below are some specific suggestions I made. If you have any specific ideas for how to facilitate maintenance, it sounds like now is a good time to email them to him.
- - - - - - - - - - - - - - - - - - - - - - - - - - - - - - - - - - - - - - - - - - - - - - - - - - - - -
I'd LOVE to see Spark Streaks implemented for days at goal, weeks at goal, months at goal, etc. all the way up to 60 months (five years).

Spark Streaks would be ideal to encourage the behaviors that have been statistically associated with weight maintenance:

1) activity levels of over 200 minutes per week (at least for women in the cited study)
2) high levels of dietary restraint, such as:
- a) deliberately taking small helpings
- b) avoiding certain foods
- c) counting calories
3) having lower levels of depressive symptomology
4) controlling overeating

I'd also like to see "success gallery" icons marking the time spent at maintenance (all the way up to 5 years).

The "Maintaining Your New Weight" Lifestyle Center page is good, but it could be improved.

I'd love to see links to articles addressing these key predictors of successful long-term maintenance, highlighting them specifically:

1) longer duration of weight loss maintenance (more than 2 years)
2) dietary consistency
3) less fast food consumption
4) less TV viewing
5) more frequent breakfast consumption
6) lower levels of depressive symptoms and dis-inhibited eating

Some of the articles already there could be enhanced. For example, Nichole wrote a nice article summarizing the efficacy of daily weigh-ins. But how about including a link to resources that calculate a weighted moving average of daily weights, such as physicsdiet.com or the Hacker's Diet online log?

(Ultimately I'd like to see a Hacker's Diet-type weighted moving average option built into Spark People's weight charts, but that might not be such an easy addition. See the Hacker's Diet Spark Team for more info: teams.sparkpeople.com/hackersdiet )

Mike Kramer wrote a nice article summarizing his "unscientific" survey among maintainers, but there is actual scientific data (like that listed above) that could be referenced in this regard as well.

How about a subset of the motivational weight loss pages highlighting people who have maintained for more than 2 years? (2-5 years is the term most scientific articles mention)

- - - - - - - - - - - - - - - - - - - - - - - - - - - - - - - - - - - - - - - - - - - - - - - - - - - - -
- - - - - - - - - - - - - - - - - - - - - - - - - - - - - - - - - - - - - - - - - - - - - - - - - - - - -
Another update:

BETHEFLAME has pointed out that there is a new Spark Poll asking about maintenance support:
www.sparkpeople.com/resource/quick_p
olls.asp?pollid=565
If you have opinions, that might be a good place to voice them, too!



First Page
1
2
3
4
5
6
7
8
9
10
11
12
13
14
15
16
17
18
19
20
21
22
23
24
25
26
27
28
29
30
31
32
33
34
35
36
37
38
39
40
41
42
43
44 45 46 47 48 Last Page

Get An Email Alert Each Time 4A-HEALTHY-BMI Posts