| | |
| --- | --- |
| | 4A-HEALTHY-BMI's Recent Blog Entries |


Monday, October 07, 2013
This past weekend the bf and I went to a contra dance in Buffalo - loads of fun - dancing until late Friday night and all day Saturday (HR monitor reported 1455 calories burned on Saturday alone).

Then Sunday the bf and I met LESLIELENORE and her brother for a relaxing paddle up the Buffalo river in an industrial canyon between the abandoned grain silos.

The silos are about 175 ft high (53m) and they towered above us in freaky decay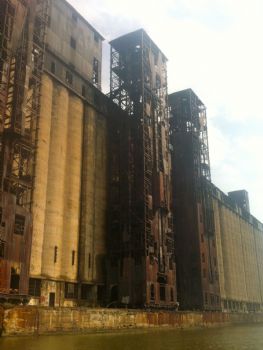 People use them for paintball and airgun games, and they are tagged at ground level and in odd places with interesting graffiti. On our way back down the river there were a couple of guys in camo sneaking around one of the silos with airguns, which added to the whole post-apocalyptic feel of the place.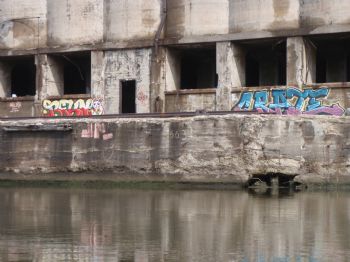 The main users these days appear to be the local Canada geese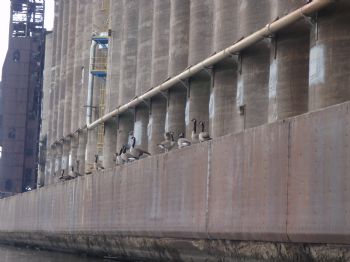 There were other buildings coming down, too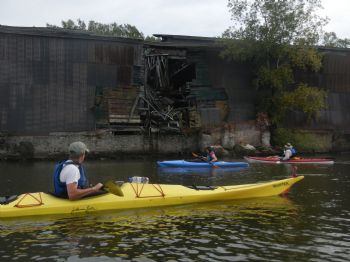 There was a dire sign at the put in, warning us of possible sewage outflows and suggested that contact with the water might cause illness. Needless to say I did NOT practice my roll there!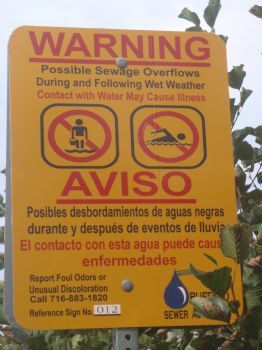 Not all of the scenery was rusting steel and crumbling concrete. A series of pilings hosted herons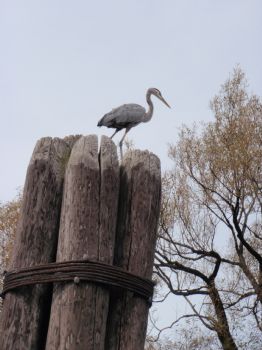 And the shores of the old landfill were green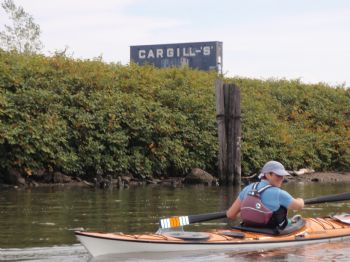 More pictures and a GPS track are visible here:
www.everytrail.com/view_trip.php?tri
p_id=2349489

Afterward we had lunch at a local fish fry place and then the bf and I drove back home to central NY.

It was such a good weekend that I think it'll take a few weekdays to recover from it.

And speaking of recovery, I hope LESLIELENORE's throat crud clears up soon. My version of it lingered for over a month, and the bf ended up taking antibiotics for something similar. Phlegm is so fun. Not.





Monday, September 30, 2013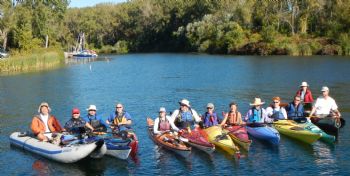 Last year I kayaked with LESLIELENORE and her brother and two others in the canal between Seneca and Cayuga Lakes.
www.sparkpeople.com/mypage_pu
blic_journal_individual.asp?blog_id=51
08658

We had so much fun we decided to do it again this year. As you can see from the group shot, this year we had many more people with us, including two friends in a canoe, and one on a pack raft.

Here's LESLIELENORE's report about this year's trip:
www.sparkpeople.com/mypage_pu
blic_journal_individual.asp?blog_id=54
99796

There are lots of photos and a GPS track you can see here:
www.everytrail.com/view_trip.
php?trip_id=2338009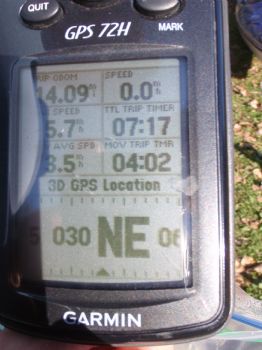 Based on our experience last year, we shortened the distance and planned to go from west to east, in the direction of the prevailing winds. This meant we spent almost all of our time in the sheltered canal and were less likely to fight a headwind the whole way.

As it turned out the wind was from the southeast but it was pretty mild. The day was lovely and warm and we saw only a few other boats out there. Lots of great blue herons, ducks, geese, and at one point a whole bunch of tiny fish were jumping all around us.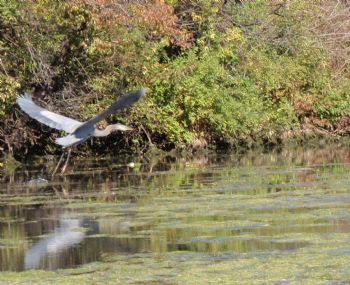 In Seneca Falls we stopped to stage a photo with the women in the group in front of a sign about the "Birthplace of Women's Rights." Carol's husband was in the front of the canoe so he hid from view with only his knees showing. From this angle they look like my knees, which is pretty funny because I was behind the canoe in my kayak.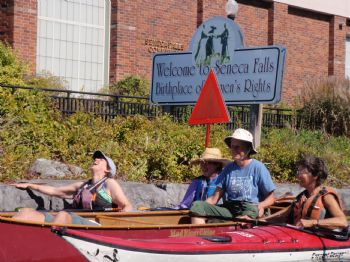 My left elbow has been complaining to me on long paddles over the past few months and yesterday was no exception. When I straighten my arm it helps a little. But I'm trying not to overdo it, so I don't think I'll be planning any 20-30 mile paddles anytime this year.

LESLIELENORE mentioned that my friend Suan brought a pack raft, and that he was having trouble keeping up until we started hitching paddlers up to him and towing him. It was a fun sight, watching a team of them plowing along. A few times she and I were up in front chatting and almost got run over as they churned past us.





Suan and I are going to Antarctica in January with a friend of his. He's an avid birder and took a nice photo of an eagle nest near the end of the paddle.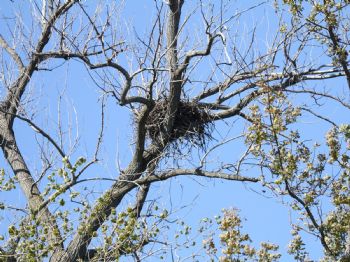 Next weekend bf Harry and I will be going to a weekend contra dance in Buffalo and paddling with LESLIELENORE on Sunday. I promise to keep my PFD on during that one - I honestly didn't know it bothered her.








Wednesday, August 21, 2013
While there are 17,156 members in the At Goal & Maintaining + Transition to Maintenance team ( teams.sparkpeople.com/maintaining ),
215 of them have joined a list to celebrate their maintenance anniversaries:
docs.google.com/forms/d/1eQoYlctQfXA
rCGv3qKYX8rW6o-ODNA2eLr4YVeFtUwc/viewform

This same list also provides data for our Hall of Fame.
docs.google.com/spreadsheet/pub?key=
0Ah4KrA4GkhKgdE9wMW5wZ2M5MWphUXBGNFJQU
ExsakE&single=true&gid=1&output=html

There is a whole lot of experience there, to learn from. Cumulatively we've kept off 12,983 lbs (6.5 tons) for 629 years!

Let's put that into perspective.

What 6.5 tons looks like: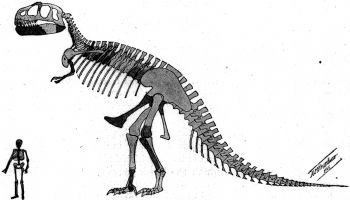 - a medium-sized Tyrannosaurus en.wikipedia.org/wiki/Tyranosaurus_R
ex
- a 40-ft whale shark www.theage.com.au/environment/conser
vation/seventonne-fish-pulled-from-wat
er-20120208-1razs.html
- 531 elephant tusks conservationbiology.net/research-pro
grams/tracking-poached-ivory-2/
- a very large armored vehicle www.spacewar.com/reports/Smiles_and_
frowns_over_defense_deals_999.html

630 years is a pretty long time. 629 years ago the year was 1383. Here are some of the things that were going on 630 years ago:




- Europe looked something like this: www.euratlas.net/history/europe/1400
/index.html
- Edward III (1327–1377) of England had just died. His claim to the throne of France resulted in the Hundred Years' War.
- Geoffrey Chaucer (c. 1343–1400?) had just written Canterbury Tales.
- Giovanni Boccaccio, Italian author (1313–1375) had just died.
- Francesco Petrarch, Italian poet and writer (1304–1374) had just died.
- Muslim world traveler Ibn Battuta (1304–1368/1377) had just died.
- Charles V (1338–1380) of France had just died.
- The Ottoman Empire hadn't yet been formed (Constantinople wasn't taken until 1453).
- Dominoes had just been invented in China.
- Löwenbräu brewery was founded in Munich
- Construction of the Bastille was completed in Paris.

Those 215 people employ a broad range of strategies and techniques for maintenance. The one thing we all have in common is that we've all had to figure out for ourselves how to balance managing our health and fitness with living our individual lives.

Among those 215 there are some folks who never track their food or weigh themselves, and there are people who log everything they eat and weigh themselves every day. There are people who exercise two hours every single day and others who don't do exercise outside of their usual daily activities. We've got people who eat low-carb, or gluten-free, or on a paleo plan, or lots of complex carbs, or simply eat sensible portions of "normal" healthy foods.

What I love about this team is the sheer variety of perspectives and ways of managing to keep the weight off. And the affirmation that sometimes it just takes persistence to figure it out. Life throws everyone curve balls and there are lots of coping options to choose from. If you don't know what to do, just ask, and you'll end up with a thread with many different ideas and suggestions. Everyone is very generous and kind with their input around here.

Here is our Hall of Fame, in order of how long everyone has maintained. These data are current. In order to stay on this list folks have to check in once a year to verify and update their information.
docs.google.com/spreadsheet/pub?key=
0Ah4KrA4GkhKgdE9wMW5wZ2M5MWphUXBGNFJQU
ExsakE&single=true&gid=1&output=html
I sometimes browse this list, just to see what people who have been managing this longer than I have are up to - how do they do it? Can I get a helpful idea, or inspiration or a needed dose of reality from their Spark Pages?

And now, I present to you a group of folks who collectively lost an entire Tyrannosaurus and have kept it off since 1383




43 years
NELLJONES

28 years
IMAFIT1

26 years
KAYOTIC

14 years
SPARKRADIOLILY

12 years
JOHN__

10 years
POINDEXTRA
BETH7CAM
LESLIE871948

9 years
ZUCCHINIQUEEN
MEXGAL1

8 years
SUZYMOBILE
HAPPYSOUL91
JCORYCMA
BRIGHTANGEL

7 years
LESLIESENIOR
CAROLJEAN64
DIDMIS

6 years
PEGGYT3
MONGO2TEN
KSIGMA1222

5 years
FELINA
NEW-CAZ
VANANDEL
NKAUFMANN
ISHIIGIRL
ERPARA
DUBINJL
ZIRCADIA
MOOSLADY
MOM5INFL
CAROLISCIOUS
KNH771
SPARKARINO
OZONE3

4 years
CHELISMOMMY
SLENDERELLA61
GOLIONS
GOING-STRONG
BESTSUSIEYET
WATERMELLEN
TIAGAYEPFA
BAILEYS7OF9
CAROLZ1967
LOLA_98CHIC
ANNIEONLI
BROOKLYN_BORN
LAURIE5658
KIM--POSSIBLE
4A-HEALTHY-BMI
DENISEFULLER
GOING4MUSCLE
KATHYPULLIN
BREWMASTERBILL

3 years
DAWNFIRE72
SUEINTHEPARK
FITTOBE2
NANCYANNE55
ANNANN63
LOGOULD
ELYMWX
MAYFLOWERCHICK
ONEKIDSMOM
ROSEWAND
62NVON
DAISYBELL6
ONEWEIGH
CHERRYALLIE
BRONWATER
ELLEKTRA
SKIRNIR
DAKOTACAT
TINASWEEP
MRSJERRYBUSH
BDFOWKES
KFH3107

2 years
COACHMOMMY
WESTCOASTKID
MARYELLEN301
ELECTRALYTE
NORTHWOODSMOM8
MJREIMERS
MAGGIEROSEBOWL
J.MARCHESANI
GODDESSELLIE07
MARTHAWILL
HEALTHYCALM
MIRAGE727
LJR4HEALTH
STARDUSTD
MLB570
JACKIERN
MAREE1953
NEWNANCY2012
WALKINGMAMMA
SUSIEMT
SHAWFAN
NAVYMOM133
TUBLADY
SOSAYSTARA
LYNNE118
EMEXROSE
2010_IS_MY_YEAR
KRISZTA11
XRAYLADY65
UPTOIT59
CIRANDELLA
LISSOME
MOBYCARP
KANOE10
RED_RAN_AMBER
HOPEWELLNESS
TANYAP71
DEBBYFROMMT
RESPCHRIS
ROOSTER72
AMARILYNH
PRESBESS
THETURTLEBEAR
GEE-KNEE
MI-ELLKAYBEE
SUNSHINE20113
JEWELY_ROADS
DEBORAH-SIMS
GERMANIRISHGIRL
_JODI404
NIKKIJ55
LGREEN521
STRIVER57
MELFOUCH
FIRECOM
JESSIHOVER2
LORILEEPAGE

1 year
MKELLY72
TINAJANE76
ADRIENNIE
OOLALA53
NEVERGIVEUP
PCASEY7
JERSYGRL
MERRY_XMAS
ANNE403
GLASSART43
MARIO432
LISAW/3
EPONABLACKHORSE
CELIAMINER
CSHULLCSHELLS
FROGGGY13
PETITGABRIELLE
POPSY190
FOXYPHAEDRA
MISSIFISH
JSTETSER
BEC5060
LIVIN2LOVE1
PEZMOM1
1LADYMYSTIC
MRSRACHELS
GETFIT2LIVE
-AMANDA79-
SWEDE_SU
JAZZKATO
STITCHINGNAN
CHELSEAUS17
KANSASROSE67
PERIWINKLE88
TRACYNOTGIVINUP
TORTISE110
MISSB8604
MILLIE5522
PRESSINGON3:14
BROWNCOFIDDLER
PROUDLILMOM
DESERTJULZ
BIGPAWSUP
ICELAND_LOVER
NJ5050
VISUALLYRICS
SONIA260
THOMASINA57
DAHLIA444444
KELLIEBEAN
PAM_COOPER
VTRICIA
MARCOSMASTER
MY1FAN
MOONCHILD8
IAMAGEMLOVER
MOMMY445
GREENGENES
CHRISTIECAT
STORYCRAFTER
POOKASLUAGH

Less than a year
MOM2OR
RJSCHWEITZER
KSCHRAUT
NICKYCRANE
EMARTIN1974
LRSILVER
MARF226
BOOKAPHILE
FATGIRLRUNN
KIMBERLY_Y
JULENA1
FITMOMINNJ
JANCARD
LESLIELENORE
RENATARUNS
ALISONCHRISTIAN
BAMAGRAMA2
HMAZIS
RPCLEM2000
ASHLEYGILLE
AUNTB63
SINGER73

If YOU would like to be on the list, just fill out this form, here:
docs.google.com/forms/d/1eQoYlctQfXA
rCGv3qKYX8rW6o-ODNA2eLr4YVeFtUwc/viewform





Wednesday, July 31, 2013
The bf and I went to Vermont last weekend and on the way stopped to see ZIRCADIA. We didn't have much time, but there was enough to take a really nice walk along the water and try hooping.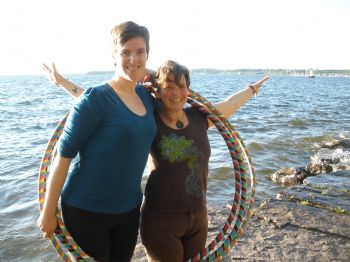 Dana's a very good teacher, and was correct that given the proper equipment and coaching both of us managed to keep one up long enough for a photo.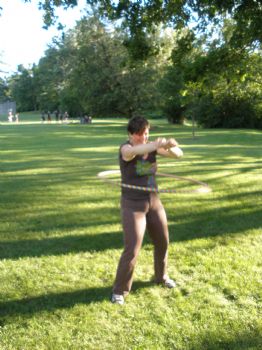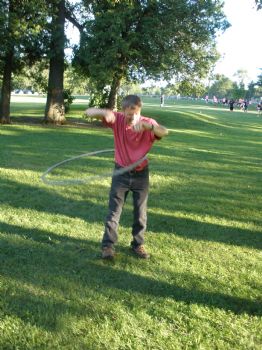 What fun to finally meet in person - I think we've been corresponding for something like 3 years!

The rest of the weekend was spent in northern Vermont with his friends where we kayaked
www.everytrail.com/view_trip.php?tri
p_id=2242580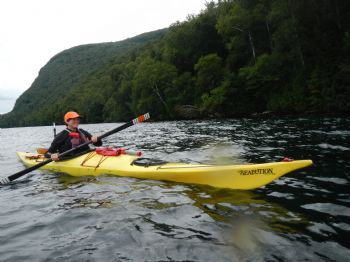 found mushrooms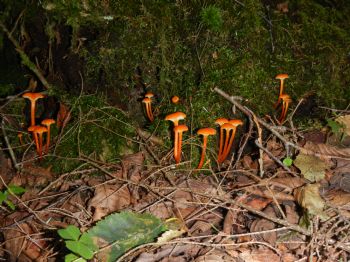 (the bf gathered an large quantity of chanterelles that we ate on Saturday but I don't have photos of them)

saw vultures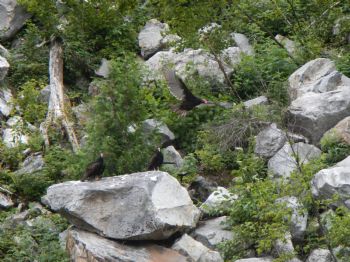 (there are three in this picture - can you spot them?)

went to swimming holes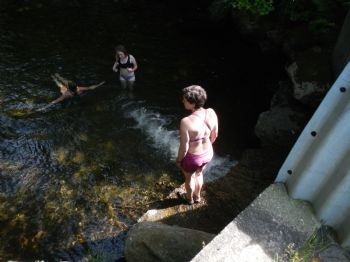 had a lunch in Quebec



and played music and hung out with his friends who live so far off the grid they use a nice outhouse that overlooks their garden (the part featuring an impressive collection of enormous plants), and they use a bicycle attached to a pump to fill a water tank in the attic.

So of course I requested to get to do the pumping, because when else was I going to have the opportunity to do spinning for an actual PURPOSE? It took 175 calories to fill the tank from 1/4 to full, according to my Polar HR monitor. LOL

I also got to help pound an ash log for making basket strips, which was pretty cool.






Thursday, July 18, 2013
I started at 335.6 lbs in 2007, got down to 326.2 in late 2008.
I reached my initial goal weight (under 160) in early 2010.
I have been up and down both above and below 160 several times since then.
I eventually moved my target goal weight to 150 and made 160 my "scream weight."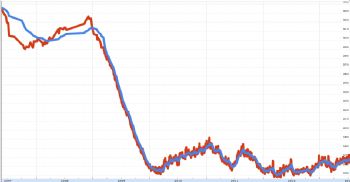 docs.google.com/spreadsheet/ccc?key=
0Ah4KrA4GkhKgdEF6dlJkbnNlVEFCZlhxRElCW
DZNUlE#gid=8

Currently my moving average is 12 lbs above my "happy range" between 145.5 and 154.5 (+/- 3% around 150), and 6.5 over my "scream weight" of 160. I haven't lifted weights regularly in the last four months, and I can tell. This isn't muscle gain. In fact, according to the BIA trends on my scale, I've been losing muscle mass.

While I still am technically maintaining according to some criteria, I'm not happy with where I am at the moment. I'm generally healthy, but not in the athletic shape I was in last year. I wrote last December about why I wanted to get back into my "happy range" and continue getting stronger.
www.sparkpeople.com/mypage_public_jo
urnal_individual.asp?blog_id=5173009
The best laid plans of mice and men go oft awry. Unexpected things happened, some of them very positive. Plans changed. Priorities shifted. I briefly did get back into range this spring but did not stay there.

For the past six months I've been treading water, trying to balance my new distractions with moderate food control and a mixture of cardio activities, and it has lead to gradual gains. This "strategy" clearly isn't working. The time has come for action.

So what am I going to do about it?

One option is to decide to be happy right here, where I'm at, and try to avoid gaining any more weight. But I suspect that sort of approach will lead to denial and continued weight creep. I know myself. This isn't my first rodeo. I gained and lost over 100 lbs in my 20s, and regained them plus almost 100 more in my 30s. That's how I got to 335.6 in the first place. And deep down inside I am not liking what I see when I look in the mirror. I am not liking that I can no longer wear my favorite pants. My self-esteem is taking a hit here, and that can be more damaging than anything else, in the long run.

Another option is to drop the new positive things in my life and go back to the exercise schedule and food plans I had before. That would give me back the body I want, but not the life I want. I LIKE the new things in my life, and I want to keep them there.

My main problem with the way I've been trying to manage my food and exercise is that I have been easily distracted from doing the positive behaviors. There hasn't been sufficient incentive to skip the cookies on the snack table at contra dances, avoid the chips and beer after kayaking all day, stay out of the dried cranberries and almonds in the bf's kitchen, take the time to lift, etc. So I think the solution is to set something up to help me stay more engaged with the process.

When I lost 160 lbs in 2009 I did it by making a spreadsheet with a whole bunch of little milestones, such that there was always a new goal and reward just around the corner.
docs.google.com/spreadsheet/ccc?key=
0Au5Li0CuTA4qcklULV9DZEJaMnRVZU1VeFE3V
EctMUE#gid=0

If this strategy worked in the past, then something like it will probably work now because mentally I'm still the same person with the same kind of psychology.

The difference this time is that I don't want to over-restrict my calories. That leads to bingeing. Losing those last 10 lbs and doing successful body recomposition goes extremely slowly. And over the past six months I have been unsuccessful getting back into my "happy range" partly because the thought of continuing the effort for months is kind of overwhelming.

So my milestones are a lot closer, this time. This is what it looks like:

168.00 (start)
166.32
164.66
163.01
161.38
159.77
158.17
156.59
155.02
153.47
151.94
150.42
148.91

docs.google.com/spreadsheet/ccc?key=
0Ah4KrA4GkhKgdEFQOTNLZkMxZWpXWi13QnAyV
mtjZXc#gid=0

I have set a mini-goal of losing 1% of my body weight from my recent maximum (167.6). Then another 1%. And so on, until I get under my scream weight (160) and back within my "happy range" (between 145.5 and 154.5). I will use the trend weight from my moving average since that reflects where I actually am, smoothing out water fluctuations.

These mini-goals are measurable and achievable. They are the trail of breadcrumbs I will follow back to my "happy range." The gap between them is small enough that there's always another one, if I just go a little bit further.

My rewards will be a new Buff headband each time I get to or below a milestone. I like wearing them to control sweat and keep my hair out of my face during workouts and dances. They come in a bunch of different pretty designs and colors, which is fun.

I will eat between 1500 and 2000 calories per day on my plan:
www.fatsecret.com/diets/member-diet/
Default.aspx?dietid=4355344

I will continue the cardio I've been doing (a mixture of contra dancing, Tae Kardio, spin class, and kayaking) and add back in lifting 2x per week.

And I will continue to administer and participate in the maintenance challenges in the At Goal & Maintaining + Transition to Maintenance team. teams.sparkpeople.com/maintai
ning
Although I've been out of range for the last few of these, the accountability is helpful to me, as is seeing so many of my teammates successfully staying within their own happy ranges.

The fat won't come off overnight. But I believe the little goals along the way are achievable within every week or two, and that's what I need to keep myself going over the long haul to get back to where I want to be.

Finding strategies that work is all part of the big process of learning how to keep the weight off. While I've definitely gotten better at it over the past 3 years, there is still a whole lot more to learn. I won't even start to think of myself as a "successful" maintainer until I've passed the 5-year mark. And even then I'll still have to stay engaged, because statistically about 20% of maintainers regain after that point. By that time I hope to have a lot more skills and experience under my belt. And kept less body fat under that belt, too!




UPDATE:
Here is a spreadsheet of my progress
docs.google.com/spreadsheet/pub?key=
0Ah4KrA4GkhKgdEF6dlJkbnNlVEFCZlhxRElCW
DZNUlE&output=html

and a graph
docs.google.com/spreadsheet/ccc?key=
0Ah4KrA4GkhKgdEF6dlJkbnNlVEFCZlhxRElCW
DZNUlE#gid=22

To see more about using trend weights, visit the Hacker's Diet spark team: teams.sparkpeople.com/hackersdiet



First Page
1
2
3
4 5 6 7 8 9 10 11 12 13 14 15 16 17 18 19 20 21 22 23 24 25 26 27 28 29 30 31 32 33 34 35 36 37 38 39 40 41 42 43 44 45 46 47 48 Last Page

Get An Email Alert Each Time 4A-HEALTHY-BMI Posts