| | |
| --- | --- |
| | 4A-HEALTHY-BMI's Recent Blog Entries |



Monday, June 03, 2013
Once upon a time, when I was over 335 lbs, I had a favorite pair of 4x batik rayon pants. The colors were subdued enough to work with my (then) very somber wardrobe of blacks, greys, and dark colors that I thought helped me blend into the background. (Which, honestly, is kind of hard to do when youíre that huge. But I did my best.) I loved them because even subdued, the colors were rich and in places even bright. ish. I got them from Junonia, and they werenít cheap.

Here is a photo of me in those pants in 2006: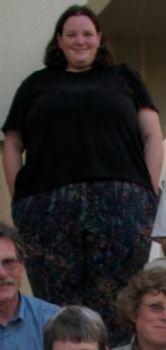 I loved those pants so much that when the inner thighs wore thin and tore I bought two more pairs. And I wore THEM until the inner thighs tore. My plan had always been to somehow cannibalize and mend them so I could have at least one pair of functional pants.

Then life intervened, and I eventually lost the excess weight and the pants lay quietly, forgotten, in a box of fabric. Which I opened about a month ago. And a lightbulb went off. I have taken up contra dancing.
www.sparkpeople.com/mypage_public_jo
urnal_individual.asp?blog_id=5316259
Which means I now like twirly skirts. Which require a lot of fabric. Which isnít cheap.

Soooo I took those pants and unpicked all the inner seams, leaving the outer seams intact. (The outer seams were securely stitched with Serger overlock, and rayon frays badly, so why undo a perfectly good seam?)

I patched the inner thighs with fabric from the pockets. I turned the legs upside down, made a wedge-shaped pattern that used the old hems as the new waistband, and the widest part including the old crotch for the new hem. I cut 6 wedges out of the repaired leg pieces, and added narrower contrasting wedges from a ďblemishedĒ rayon sarong I found on Amazon for $8.95 (it was the best price for rayon yardage I could find anywhere - I looked, and I couldnít even find what was supposed to be wrong with that sarong).
www.amazon.com/gp/product/B00
2HFQ6W2?tag=manifolds-20

I fed the appropriate length of ďno rollĒ elastic through the waistband, secured it, and wore the finished product this weekend at a dance. And only a tiny segment of one of my new seams frayed after wearing hard and washing, so I guess I did a good job on that, too. (Combination of zigzag and straight stitch.)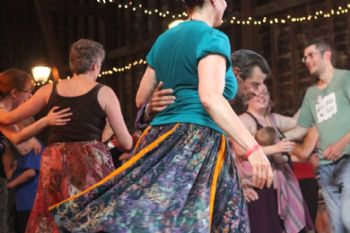 Photo by ZoŽ Madonna

So how is cool is that? I once again get to wear my favorite rayon batik pants while celebrating the fact that they no longer fit!

UPDATE: If you've got 5 minutes, you HAVE to watch this infectiously fun video of the same contra dance from last year (Iím not in it. But the band and the setting and most of the dancers are the same, and the production values are phenomenal.) Check out the overhead shots of people twirling!
youtu.be/STRUiouGqQ4
With music like that, how can you NOT want to join in??? LOL

If you want to find out more and try contra dancing, see my previous blog, where there are links
www.sparkpeople.com/mypage_pu
blic_journal_individual.asp?blog_id=53
16259

or a team we now have for contra, square, and folk dancing.
teams.sparkpeople.com/folkdance








Monday, April 08, 2013
A little over a month ago XC ski season was winding down and the rivers hadnít really thawed enough to kayak on safely. And socially Iíve been a bit of a hermit over the winter, not really getting out there and meeting new people.




So I forced myself to go to a local contra dance, as a way to burn some calories and socialize. There are videos from that dance on YouTube.
www.youtube.com/watch?v=BBPnc1NfQ14
www.youtube.com/watch?v=rGNVbs-dlIU

I had such a good time Iíve been doing them pretty much weekly, ever since. And I even MET SOMEONE there. We have so much in common enjoying dancing and the outdoors that we eventually decided to become An Item. So, win. It worked beyond my wildest expectations. LOL

A brief search on Sparkpeople.com for ďcontra danceĒ turns up no entries in the past year.
tinyurl.com/contra-dance-blog
tinyurl.com/contra-dance-forums
This is kind of surprising, given how friendly and inclusive the contra dancing community is - very much in line with the Sparkpeople.com ethic.

So perhaps an explanation is in order (because many may have never heard of it). Itís a form of social North American folk dancing similar to square dancing, but a bit more athletic, and done to live traditional music. Itís family-friendly and usually alcohol-free. You can get more information at this page. www.sbcds.org/contradance/whatis
There are some helpful tips here:
www.wikihow.com/Contra-Dance

There are dances scattered all over North America, and other places too. You can probably find one nearby:
- tedcrane.com/DanceDB
- www.contradancelinks.com
- www.thedancegypsy.com/dancesComplete
.php
- www.cdss.org/upcoming-events.html

Or just go to Google and search for your state and the term ďcontra dance.Ē

Itís a fun way to spend an evening. Admission at the door is typically between $5 and $10, depending on the event. For some of them, if you bring snacks they will waive admission. You donít need to know what youíre doing, and you donít need to bring a partner. Just bring a pair of soft-soled indoor shoes to dance in (so you wonít scratch or mar the wood floor).

You typically pair up with a different partner for each dance (women can ask men as well as vice-versa) and end up dancing with many people, as you and your partner progress down the line (sort of like in the Virginia Reel).

It is a fairly low-level cardio activity (compared with something like spin class), but the calories add up - according to my heart rate monitor I burn about 500 calories at a typical 3-hour dance (including breaks). I try to stay away from the cookies at the snack table (I sometimes bring a protein bar or two), so itís pretty safe food-wise. Perhaps I will start bringing baby carrots and hummus or sliced bananas as a healthy alternative.

The moves arenít terribly complicated, and the events are always beginner-friendly, and people will show you what to do and help nudge you in the right direction if you get lost. Sometimes there are lessons half an hour before the scheduled dance begins, so arriving early can be helpful. If you can walk, you pretty much can contra dance. I have arthritis in one of my knees and as long as I wear flats (no heels) it seems to be OK.

And hereís an added benefit - I can get used to how my ďnewĒ body moves, and dress it up in fun twirly skirts I find at Salvation Army. As a tomboy most of the time, itís neat to have an excuse to channel my Inner Femme. And I get used to physical contact with others, in a friendly, non-threatening format.

As someone who likes traditional acoustic folk music, I also find it enjoyable to hear (and dance to) live Irish, English, and Old-Time tunes played on guitars, fiddles, and other instruments (one recent band had a didgeridoo).

So, if you havenít tried it before, I encourage you to give contra dancing (or any other form of folk dancing) a shot. You have nothing to lose, and you might find a new way to enjoy burning some calories with your friends and family. You might even make NEW friends.








Tuesday, February 12, 2013
BREWMASTERBILL has been bugging me to do a 1 rep max test so I inserted one into my lifting schedule.

Since I usually lift at home alone in my basement, I generally do the 18 or 24 reps that the New Rules of Lifting for Women has prescribed.

I'm visiting my sister (HAVASUROSE) in AZ at the moment and this afternoon visited her local gym to get some real 1 rep max numbers, in a place where there were folks who could spot me, or at least call 911 if something went wrong. LOL

I used this form to estimate the numbers based on the last time I did any of these lifts in the NROL4W program: www.strstd.com

Here were the results:

1) Squat first.
6x 115lb as a warmup
155 (easy)
165 (easy)
175 (barely got up, so called it)
The original sheet estimated I had 158 in me. So, WIN.
According to strstd.com I'm intermediate at this.

2) Bench second
6x 75 lb as a warmup
85 (easy)
95 (almost got it but the spotter "helped" so I tried again)
95 (almost, but just couldn't quite get it up)
90 (all me)
The original sheet estimated I had 103 in me. So, FAIL.
According to strstd.com I'm a novice at this.

3) Deadlift third
6x 135 as a warmup
175 (easy)
180 (easy)
185 (easy)
190 (harder but doable)
195 (hard but doable)
I probably had 200 in me but the spotter said he thought I'd done too
many today to get a fair test.
The original sheet estimated I had 182 in me. So, WIN.
According to strstd.com I'm intermediate at this.

4) Overhead press fourth
6x 65lb as a warmup
80 (almost made it but weakness in repaired shoulder stopped me)
75 (all me)
The original sheet estimated I had 98 in me. So, FAIL.
According to strstd.com I'm a novice at this.

Not surprised at the results given a number of factors:

1) I used to carry around 250-350 lbs or so for most of the last 20
years so every time I sat down and got up was a squat. DL same
concept.
2) Repaired shoulder (rotator cuff surgery in 2011) is clearly still not at 100%
3) NROL4W just started having me do bench presses, and there have been overhead presses only once in the program so far.

These results make me think that the next time NROL rotates back
around to DL and Squat, I need to increase the weight by a LOT.

Also, I think it's pretty cool that I can now deadlift more weight than I've lost off my body.




Anyway, just thought you guys might think this was a fun idea too.





Sunday, January 13, 2013


Enjoyed catching up with NIMNIX, WOLFKITTY, and GEE-KNEE this evening after hours.







Saturday, December 29, 2012
After two pretty rough months emotionally, I fell off the bandwagon last weekend and overindulged at three parties in four days - with predictable results.

In addition to getting back on track with the food and exercise, I thought it would be a good idea to work on reinforcing my healthy choices and thoughts.

I can see from the teams.sparkpeople.com/maintai
ning blog posts that I'm not alone here, and I know I'll be more likely to do this if others do it with me. So... I created a loose, open-ended community log, where we can acknowledge and celebrate our good choices and positive thoughts. I think it might be really encouraging to see each other's responses.

Here's where you can make an entry into the log:
docs.google.com/spreadsheet/viewform
?formkey=dGNudFJQOGY3LWxNdjRrQVB6ZjNPa
VE6MQ#gid=0

Here are the responses so far:
docs.google.com/spreadsheet/ccc?key=
0Ah4KrA4GkhKgdGNudFJQOGY3LWxNdjRrQVB6Z
jNPaVE#gid=0
(This takes you to the current day's entries. To see responses from previous days, click the tabs at the bottom of the screen.)

Here are wordles of our positive thoughts so far:
www.wordle.net/gallery?userna
me=AG%26M%2BTM
I'll post one there each day from the comments.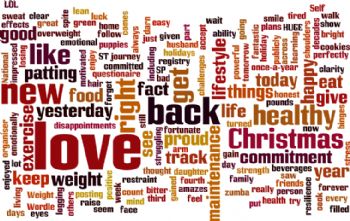 And here is a thread where we can talk about this project:
www.sparkpeople.com/myspark/team_mes
sageboard_thread.asp?board=681x1111x51
356797


As it says at the log entry form, you can participate as much or little as you like.

We'll do this until January 31.

Enjoy!






First Page
1
2
3
4
5 6 7 8 9 10 11 12 13 14 15 16 17 18 19 20 21 22 23 24 25 26 27 28 29 30 31 32 33 34 35 36 37 38 39 40 41 42 43 44 45 46 47 48 Last Page

Get An Email Alert Each Time 4A-HEALTHY-BMI Posts