| | |
| --- | --- |
| | 4A-HEALTHY-BMI's Recent Blog Entries |


Thursday, October 18, 2012
On the way to work this morning I was thinking about that game we sometimes play as kids. You know, the one where you get to pick a single superpower. Would you rather be able to fly, or maybe be invisible? Because people who write Wikipedia articles apparently have too much time on their hands (perhaps that's their superpower), there's a whole organized list of superpowers, here:
en.wikipedia.org/wiki/List_of_superh
uman_features_and_abilities_in_fiction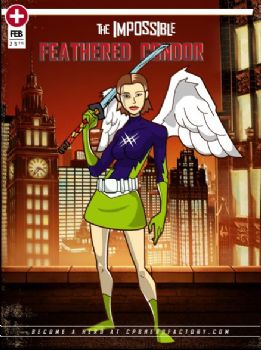 cpbherofactory.com
...my mother always DID say that I was impossible... LOL

There are powers that aren't on that list, though.

When I was 335.6 lbs (or even possibly more, since I didn't weigh myself regularly so who knows), I probably would have actually thought about it if someone had offered me the power to get the weight off, in exchange for, say, my right arm. I doubt I would have agreed to the deal, but I would have actually considered it. I suppose you could consider this a specific type of shapeshifting.

If you'd asked the 335.6 me whether I'd prefer the power to GET 186 lbs off, or the power to KEEP 186 lbs off, I think I would have chosen the second one.

Because I'd have figured it takes a certain amount of effort to get the weight off, and then you're done with the losing part. But keeping it off kind of goes on forever, until you die. And I'd lost 100+ lbs once before in my life, so I knew it could be done. What I hadn't ever managed to do was KEEP that weight off.

So I was thinking about this today, and I considered the fact that most superpowers have a cost. At least in the comic books Stan Lee created. Maybe not as extreme as giving up your right arm, but perhaps the need to recharge before using them again, or a little ritual or something to keep being able to use them. You know, "With great power comes great responsibility."

So what would have been a reasonable cost for the superpower that allowed me to keep off 186 lbs? Having to, say, sleep 11 hours a night? Or regularly visit a guru deep in a city sewer for special meditation sessions?

And then of course my rational brain finally stepped in to these musings and said, "gotcha!"

Because the fact is that I DO have the "superpower" to keep off this 186 pounds. And I've been using it for nearly three years. And it DOES have a cost. Right now the cost is tracking my food and nutrients, working hard on my strength training and conditioning, continuing to focus on *why* I want to stay this size, building tools and incentives in the maintenance team here on this site (like the maintenance challenges, celebrating maintenance anniversaries, compiling a maintenance hall of fame) , etc. teams.sparkpeople.com/maintaining

So yeah. There it is. I am actually exercising a superpower. And as a result, I'm living out my own personal graphic novel, as my own real-life avatar, having adventures I could have only dreamed of, back when I weighed 335.6 lbs.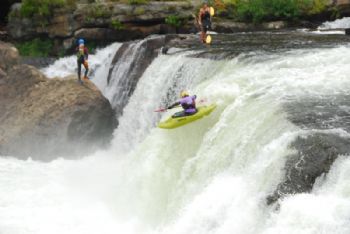 Woot!





Monday, October 01, 2012
I had a good kayaking weekend!

Saturday I went to the Black River in Watertown, NY and played with friends in my whitewater play boat behind Maggie's. www.americanwhitewater.org/co
ntent/River/detail/id/1255/#rapid5224

Sunday I went in the OTHER direction, and paddled a sea kayak 14.4 miles from Branchport to Hammondsport with LESLIELENORE and her brother. Here's her blog post about the day: www.sparkpeople.com/mypage_pu
blic_journal_individual.asp?blog_id=50
82838

Pictures and a GPS track, here:
www.everytrail.com/view_trip.php?tri
p_id=1793228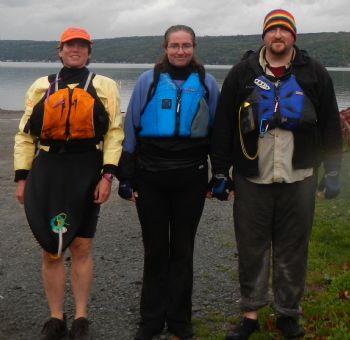 They definitely had a LONG drive; unfortunately there aren't any lakes in the middle between us; if we want to paddle together one of us has to drive at least 3 hours.

It rained much of the day, but we all had fun, I think - at least I did! I agree with LESLIELENORE that it's nice to paddle with people who can keep up. In fact, they have much shorter, slower boats than I do and I felt like I really had to work, to keep pace with them. Seriously, if either of them acquires a QCC or an Epic racing boat, I don't think anyone will ever be able to keep up! Those two are STRONG paddlers.

I don't usually spend much time on calm water, and as a result I noticed something really cool that day I wouldn't have seen it if I were paddling my preferred rougher water. The lake was really smooth, and the raindrops would land, kind of bounce on the surface, and then sit there like tiny silver balls for a moment before merging with the lake water. It was neat watching that. I love being outside! And it's good to have friends who will provide a reason to get out of my usual zone to enjoy it.





Tuesday, September 25, 2012
I've joined in on TANYAP71's blog question challenge.
www.sparkpeople.com/mypage_pu
blic_journal_individual.asp?blog_id=50
51162
I don't often manage to post blogs daily, so I'll be answering questions here when I can and posting them en masse.

It's been fun reading the responses from others, and to help me keep track of them, I've made a spreadsheet, here:
docs.google.com/spreadsheet/ccc?key=
0Ah4KrA4GkhKgdGpVRkhuUGgtVllINi1OaG9Gc
kxBeVE
(this way I'll be able to find those posts in the future, even after they've been buried by more recent ones)

21. Did you or do you have any disordered eating habits - binging, purging, excessive calorie restriction or excessive exercise? How did develop (or how are you developing) a healthier relationship with food?
------------------
I have occasional bouts with binging, maybe 3-4 times a year. Although the frequency of episodes is sparse, the behavior itself disturbs me. I have developed a number of strategies that help me avoid triggering binges:
www.sparkpeople.com/mypage_pu
blic_journal_individual.asp?blog_id=46
43689
I've also begun working with a dietitian and therapist to prioritize my strategies and see if I can re-wire my inclinations so that food is not a default way to deal with anxiety.

22. What is your current workout/fitness routine?
------------------
For most of the past two years it was cardio-heavy and looked
something like this:

M - Tae Kardio at lunchtime, Body Pump Class in the evening
Tu - XC ski at lunchtime (if there is snow), Spinning in the evening
W - Tae Kardio at lunchtime, Body Pump Class in the evening
Th - Tae Kardio at lunchtime, Spinning in the evening
F- Rest, stretching, sometimes a deep tissue massage
Sa - Playing outside (kayaking, XC skiing, snowboarding, road cycling, etc.)
Su - Playing outside

In the past few months I've been experimenting with a greater emphasis
on lifting heavy and building muscle (New Rules of Lifting for Women)
and so recently it looks more like this:

M - Lifting weights in the evening
Tu - Sea kayaking in the evening
W - Lifting weights in the evening
Th - Tae Kardio at lunchtime
F- Lifting weights in the evening or rest, if I'm driving to a weekend
kayaking destination
Sa - Playing outside (kayaking, XC skiing, snowboarding, road cycling, etc.)
Su - Playing outside

I have an Olympic barbell set-up in my basement that I bought on Craig's List and that's where I do the lifting. So far I'm quite pleased with the results. I'm getting stronger, I have more definition in my arms and legs, my body fat is slowly dropping, and I am actually spending less time working out!




23. What are your current fitness goals?
------------------
I would like to get below 19% body fat.

24. When did you incorporate fitness goals into your healthy lifestyle? (Before starting to lose weight, during weight loss, after goal weight, etc.)
------------------
I started walking at the same time as controlling my food, so they happened together. The type of fitness I did changed over the process of the weight loss. See the next question for specifics.

25. Is there any form of fitness/exercise that you tried and gave up? Is there any form of fitness/exercise that you would like to try?
------------------
I started eating less and walking a half-mile loop around the block. When I got up to about 4 miles per day an old knee injury began to cause pain and stiffness. I was diagnosed with severe arthritis and switched from walking to deep water aerobics 2x/week, eventually increased it to 4x/wk, and then substituted spinning for the lower-intensity water aerobics class, and BodyPump for the higher-intensity water aerobics. In addition I added weight training with a personal trainer once a week and alone once a week.

Now I'm weight lifting on the New Rules of Lifting for Women program 2-3 times a week, alternating with kayaking or other things such as Tae Kardio classes.

26. Do you like to exercise alone, with a partner, in a small group, or in a large group? Why?
------------------
I prefer white water kayaking, which needs to be done as a team for safety reasons. I enjoy exercising with others in group fitness classes and on long bike rides. I enjoy the social aspect of fitness. For convenience, though, I'm weight lifting alone at home in my basement.

27. Have you ever hired anyone to help you with your journey? A personal trainer. A dietician/nutritionist? A wellness coach? A life coach? What worked and didn't work?
------------------
I've hired all kinds of people. Getting the weight off and keeping it off is a Big, Hairy Deal, and I can use all the help I can get! I've had a personal trainer for a while, until our schedules diverged. I've attended group fitness classes in water aerobics, spinning, and Body Pump, so in a sense you could say that I "hired" the instructors, since I paid for the classes. As I mentioned in question 21 I've recently hired a dietitian/therapist team to work with me on my relationship with food. I've paid for a membership at www.leighpeele.com so in a sense you could say I "hired" her for advice on her forums and the "members only" materials (which are fantastic, by the way). I recently paid a sports physiology trainer to assess my lifting form to make sure I was doing the New Rules of Lifting movements properly.

All of these solutions have been helpful, in different stages of the process. I'm sure I'll continue exploring new avenues and looking under rocks and turning over leaves in the future. I'm definitely not too proud to seek help with this. I will do everything in my power to maintain my fitness. If I regain, it won't be for lack of trying. I'll give you my nutrition tracker when you pry it from my cold, dead hands! LOL

28. What do you do for wellness? For example, to increase emotional, spiritual, or intellectual well-being?
------------------
I find yoga helpful, and I need to make more time for it. When I'm doing it regularly (2-3 times per week) everything just seems to go so much more smoothly. My attitude is more relaxed and I take better care of myself. Massages are also very helpful. Not only do they un-knot my muscles, but my brain shuts off and goes elsewhere, which is a welcome break. I get a lot out of attending church on the rare Sundays when I'm not out kayaking. Connecting with a Power greater than myself helps adjust my relationship with the world.

29. There is so much MORE to you than your wellness journey. Please share 10 facts about yourself that aren't related to your weight loss journey, how you eat, or how you exercise.
------------------
1) I have two cats, and they walk all over me (especially while I'm trying to sleep).
2) The Holland Tunnel in NYC is named after my grandfather.
3) I like learning foreign languages.
4) I like traveling.
5) I detest housework and weeding.
6) I like blowing glass at a furnace.
7) I have 13 Revolutionary War ancestors and 1 Mayflower ancestor.
8) I have a PhD in genetics.
9) My first email address ended with ".arpa" (pre-"internet" as we know it)
10) Despite my dislike of weeding, I love iris.

30. What are you most proud of about your journey towards healthy living during the month of September?
------------------
That I didn't throw in the towel or give in to all the cravings I had. That I continued with the New Rules of Lifting even though I did it alone at home in the basement with the support of online friends. That I still fit in my Happy Jeans.





Tuesday, September 18, 2012
In my first season of white water kayaking (2010), I kayaked 95 days. Three of them, on three different rivers, were bad ones, where I got significantly hurt, shaken up, or both.

I spent most of 2011 in shoulder rehab, healing after surgery repaired a snowboarding injury.

This year, 2012, I went back to all three of those rivers, and ran them without incident.

One of those rivers was the Dryway section of the Deerfield in Massachusetts. I blogged about that, when it happened. I revisited that river this past June and blogged about it here:
www.sparkpeople.com/mypage_public_jo
urnal_individual.asp?blog_id=4931905

The second river that spanked me in 2010 was the mighty Ottawa in Ontario. I'd run it earlier that summer with no problem, but the second time I went there I had trouble with my roll and was exhausted by swim after swim. I re-ran that river in July and blogged about it:
www.sparkpeople.com/mypage_public_jo
urnal_individual.asp?blog_id=4961286

In 2010 the third river that taught me a lesson gave me a hematoma the size of a grapefruit requiring an ultrasound and I still have a scar on my shin from it. My swim that day was on the first rapid and it was so bad I just got out and went back to the car with my boat. I never even ran it.

That river was the Lower Gauley in West Virginia.
www.americanwhitewater.org/co
ntent/River/detail/id/2379
In 1999 someone died in that spot where I swam, because there is a rock you can get stuck under and drown. Fortunately I'd been instructed to swim to the center of the river if I came out of my kayak, and that probably saved my life. This is a dangerous river, in general. One of the rapids I ran three times this weekend killed someone as recently as April.
www.americanwhitewater.org/co
ntent/Accident/summarize/reachid/2379
You don't mess around with the Gauley. You either Bring It, or you Go Home.

Here are some pictures. I'm the one in the pink helmet.

To get down to the river on Friday and Sunday we had to take a set of rickety stairs down a 1000 foot cliff. Carrying our boats.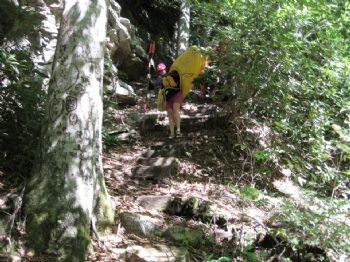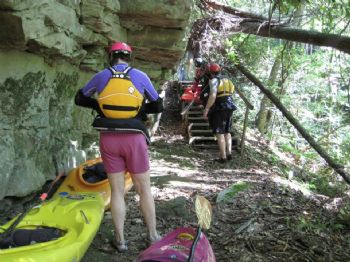 Here are some photos from the section where I got hurt two years ago:

Friday: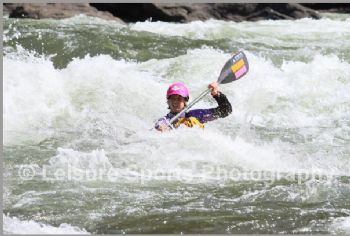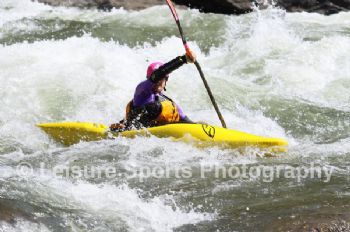 Saturday: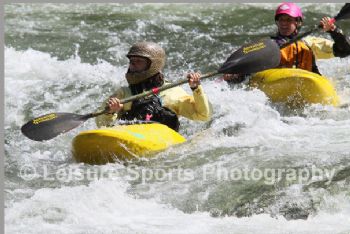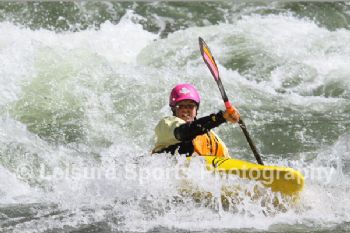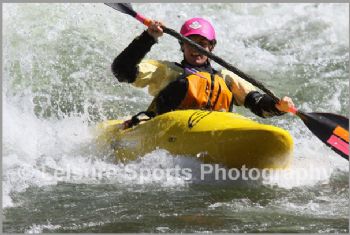 Sunday: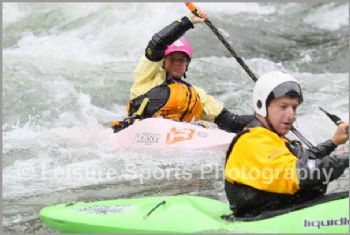 There were also some calm spots on the river where we could turn around and watch other boats coming down:



Overall it was an excellent weekend, even with the 10-hour drive on each end. It's a beautiful river, and a big white water festival where you are guaranteed of seeing old friends and making new ones.
www.americanwhitewater.org/co
ntent/Wiki/aw:events_gauley
My scorecard for the weekend? Two runs in my big creek boat (74 gallons). One run in my little play boat (55 gallons). 5 combat rolls. 0 swims. AND NO INJURIES. (I'm most pleased with that last one, actually.)

I'll definitely be back again when I'm an even better boater, and run the more challenging (and even more fun) lines. I'm in no hurry to push myself beyond my limits. I don't have anything to prove.

And also very fun from a Spark People perspective is that I got into a conversation with Stephanie at the hotel desk, and she ended up joining this site!
www.sparkpeople.com/mypage.as
p?id=MISENTIS
She would like to be able to do more outdoorsy stuff and she lives in the perfect area to do it. Maybe next year I'll see HER in a kayak, too!








Thursday, September 13, 2012
Just about a year ago I wrote a blog post about a list of successful maintainers we've been compiling in the At Goal & Maintaining + Transition to Maintenance team.
www.sparkpeople.com/mypage_pu
blic_journal_individual.asp?blog_id=45
12102

One of our team leaders, TINAJANE76, suggested that I do a new blog post about this list, as a reminder to all of us that not only can maintenance be accomplished, but that we've got a list of people doing it, right here on Sparkpeople.com. Last year there were 71 people on the list. Now there are nearly twice that number!

It all started in an attempt to celebrate maintenance anniversaries. According to the scientific literature, the rates of regain follow a pattern like other forms of rehabilitation such as addiction treatment. In such cases, the length of time someone has already "stayed clean" is one of the best predictors of them being able to make the change stick in the future. The same is true in maintaining a weight loss:

- 80% - 95% of people who reach goal weight regain.
- After 2 years of maintenance the frequency of regain drops to 50%.
- After 5 years the frequency of regain drops to 27%!
(see this paper, for example: clinical.diabetesjournals.org/conten
t/26/3/100.full )

So the point was to keep us focused on those anniversaries - looking ahead to the next one, and then the one after that. Because figuring out maintenance can be challenging. And contemplating doing all this work FOREVER, for the REST OF YOUR LIFE, can be overwhelming.

It's much more manageable to think about doing it for a week, or another month. Or just another year. And in the process of making it work in these smaller steps, you start to implement the mental shifts and accept the lifestyle changes over longer time periods. And slowly, almost without even realizing it, you reprogram your habits, and over time it actually becomes less of a struggle. It's the same principle as a Spark streak, but on a scale of years.

In the process of collecting dates to celebrate those anniversaries we ended up with a list that can be sorted in terms of how long people have maintained. You can see it here:
docs.google.com/spreadsheet/ccc?key=
0Ah4KrA4GkhKgdC1oVGRkVTA0bUNTZk5zTGtze
HZGRmc#gid=6

Years Spark ID

41.72 NELLJONES
24.87 KAYOTIC
24.04 SHIRLEYD1959
10.2 ELYMWX
9.53 POINDEXTRA
9.26 BETH7CAM
8.20 PERSISTENCEMIMI
8.12 RLC6765
7.80 ZUCCHINIQUEEN
6.09 CAROLJEAN64
5.84 POTRIDGE
5.29 PEGGYT3
4.84 DIDMIS
4.61 ZIRCADIA
4.38 MADJIK
4.23 MOMMYFITNESS
4.19 ERPARA
4.13 DUBINJL
4.03 AEHEGE
4.01 MOM5INFL
3.88 CAROLISCIOUS
3.70 BORN2BLOSSOM
3.51 SLENDERELLA61
3.16 BESTSUSIEYET
3.12 WATERMELLEN
3.03 TIAGAYEPFA
2.93 BAILEYS7OF9
2.91 CAROLZ1967
2.81 GOLIONS
2.78 LAURIE5658
2.76 DONNAEDA
2.73 KIM--POSSIBLE
2.68 4A-HEALTHY-BMI
2.68 MEXGAL1
2.62 BREWMASTERBILL
2.51 DAWNFIRE72
2.45 SUEINTHEPARK
2.39 FITTOBE2
2.37 LISAW/3
2.33 GOING4HEALTHY
2.24 LEVERB66
2.20 DAWNDMOORE40
2.20 MAYFLOWERCHICK
2.11 ONEKIDSMOM
2.08 PROSPERITY2010
2.03 ROSEWAND
1.98 GUITARWOMAN
1.98 62NVON
1.89 ONEWEIGH
1.81 CLARKBAR01
1.75 GISSELLET
1.70 SKIRNIR
1.70 HAPPYSOUL91
1.66 DENISEFULLER
1.56 BDFOWKES
1.56 KATEANDDRACO
1.56 SHELBSYD
1.45 GERMANIRISHGIRL
1.45 COACHMOMMY
1.45 WESTCOASTKID
1.45 DAKOTACAT
1.41 MAGGIEROSEBOWL
1.40 CIRANDELLA
1.40 G1NNY7
1.37 GODDESSELLIE07
1.35 MAARTJEBOL
1.34 HEALTHYCALM
1.33 MJREIMERS
1.33 MIRAGE727
1.32 LJR4HEALTH
1.30 LOVINGIT7
1.26 STARDUSTD
1.25 MLB570
1.24 JACKIERN
1.20 LOGOULD
1.19 SUSIEMT
1.14 THECRAZYMANGO
1.13 CHRISTIECAT
1.13 NAVYMOM133
1.08 LYNNE118
1.03 EMEXROSE
1.03 JENNYR0506
0.99 2010_IS_MY_YEAR
0.97 KRISZTA11
0.95 LISSOME
0.94 BARB_48
0.93 MOBYCARP
0.93 LJBRANDOK
0.89 TANYAP71
0.89 CRYSMYS
0.88 KANOE10
0.87 AILEEN5K145
0.87 CONRADBURK
0.82 VADAVICTORIA
0.78 LOVEUNDERLINED
0.78 PRESBESS
0.78 THETURTLEBEAR
0.75 MI-ELLKAYBEE
0.74 SUNSHINE20113
0.74 JULIA-JULIE
0.66 MELFOUCH
0.65 NICOLEVAR5886
0.62 LISEIGHT
0.56 MKELLY72
0.52 TINAJANE76
0.50 NANCYLRAGS
0.48 ADRIENNIE
0.47 NEVERGIVEUP
0.45 PCASEY7
0.41 GLASSART43
0.33 ABBETG22
0.32 CELIAMINER
0.29 LIBELULITA
0.28 FROGGGY13
0.28 CSHULLCSHELLS
0.28 MATHGURL
0.27 THE1ANDONLYRM
0.24 PETITGABRIELLE
0.23 CHICA_BORICUA
0.22 MISSIFISH
0.20 LITTLEBO
0.18 HOLLY255255
0.16 1LADYMYSTIC
0.16 MRSRACHELS
0.13 GETFIT2LIVE
0.12 EATNBOOGERS
0.08 SWEDE_SU
0.05 GINARIGDON
0.03 KANSASROSE67
0.00 PERIWINKLE88

This list is tremendously helpful - it's a way we can find members of the Sparkpeople.com community who are living proof that maintenance is achievable. People who can inspire us, and serve as role models.

These people may be a minority here on the site, but they have a huge amount to offer, because they have mastered the one thing all weight losers aspire to - KEEPING the weight off. They have life throwing them curve balls too. And they have setbacks. And they overcome them.

I think if we can figure out how to stay engaged and focused and learn from these people, we can beat those depressing published odds.

85 people on the list (65%) have maintained less than two years.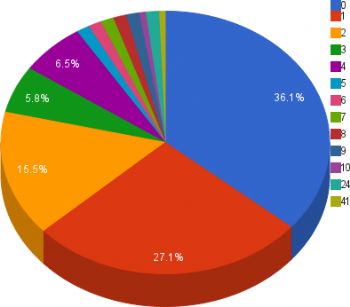 docs.google.com/spreadsheet/ccc?key=
0Ah4KrA4GkhKgdC1oVGRkVTA0bUNTZk5zTGtze
HZGRmc#gid=9
In the outside world, only 42 of them would manage to keep the weight off. But I think we can beat those statistics, here, with the support of each other.

There are people from a wide spectrum of weight loss. From those who have shed 200 pounds, to others keeping off less than 10. People who just reached goal, and people who have kept the weight off for over 40 years!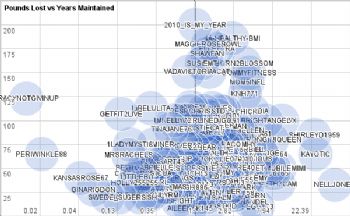 docs.google.com/spreadsheet/ccc?key=
0Ah4KrA4GkhKgdC1oVGRkVTA0bUNTZk5zTGtze
HZGRmc#gid=16
(hover your mouse over a dot to see more information)
I just love watching those blue dots march off to the right, one day at a time...

There are other tabs at the bottom of the screen to explore - some of us have been curious about our other stats as a group, such as waist to height ratio, for example. So we have a way for people to enter optional data about their current size and shape, for anonymous graphs.

Group BMI distribution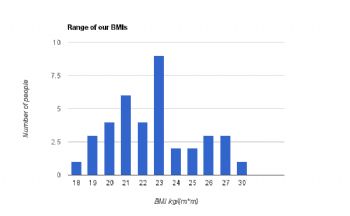 docs.google.com/spreadsheet/ccc?key=
0Ah4KrA4GkhKgdC1oVGRkVTA0bUNTZk5zTGtze
HZGRmc#gid=20

Group waist to height ratios
docs.google.com/spreadsheet/ccc?key=
0Ah4KrA4GkhKgdC1oVGRkVTA0bUNTZk5zTGtze
HZGRmc#gid=21

Group waist to hip ratios
docs.google.com/spreadsheet/ccc?key=
0Ah4KrA4GkhKgdC1oVGRkVTA0bUNTZk5zTGtze
HZGRmc#gid=22

Group BMI vs % Body Fat
docs.google.com/spreadsheet/ccc?key=
0Ah4KrA4GkhKgdC1oVGRkVTA0bUNTZk5zTGtze
HZGRmc#gid=18

In order to ensure the data are current, we ask everyone to update their information once a year. Sadly, there are a few folks who have stopped checking in: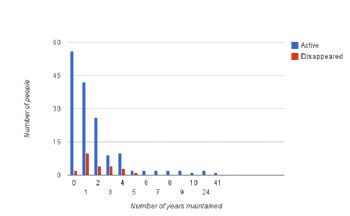 docs.google.com/spreadsheet/ccc?key=
0Ah4KrA4GkhKgdC1oVGRkVTA0bUNTZk5zTGtze
HZGRmc#gid=17
Every month we email people whose entries are coming up for renewal and those whose have expired, and ask them to re-enter their data. This is an important step with maintenance, too. Because regain does happen, and we want to catch people and help them turn around the trend before it spirals out of control.

A very common response to regain is to feel shame and retreat from the community. This is the worst thing you can do, however, because you're hiding from your friends and support network just when you need their help the most! Many who have regained according to their own definition are surprised and happy to learn that they are still successfully maintaining according to a scientific definition, "kept at least 10% of the starting weight off." And sometimes that one piece of validation is all it takes for them to recover their confidence and pull things back together.

If you are maintaining and would like to celebrate YOUR anniversary with us, sign up here!
docs.google.com/spreadsheet/viewform
?hl=en_US&formkey=dC1oVGRkVTA0bUNTZk5z
TGtzeHZGRmc6MQ#gid=0

I also encourage you to join our vibrant team of maintainers and people preparing for maintenance:
teams.sparkpeople.com/maintaining

And if you'd like to make maintainers more visible and celebrated, one thing you can do is "like" this post so more people will see it (and them).



First Page
1
2
3
4
5
6
7 8 9 10 11 12 13 14 15 16 17 18 19 20 21 22 23 24 25 26 27 28 29 30 31 32 33 34 35 36 37 38 39 40 41 42 43 44 45 46 47 48 Last Page

Get An Email Alert Each Time 4A-HEALTHY-BMI Posts