| | |
| --- | --- |
| | 4A-HEALTHY-BMI's Recent Blog Entries |



Thursday, September 13, 2012
Just about a year ago I wrote a blog post about a list of successful maintainers weíve been compiling in the At Goal & Maintaining + Transition to Maintenance team.
www.sparkpeople.com/mypage_pu
blic_journal_individual.asp?blog_id=45
12102

One of our team leaders, TINAJANE76, suggested that I do a new blog post about this list, as a reminder to all of us that not only can maintenance be accomplished, but that weíve got a list of people doing it, right here on Sparkpeople.com. Last year there were 71 people on the list. Now there are nearly twice that number!

It all started in an attempt to celebrate maintenance anniversaries. According to the scientific literature, the rates of regain follow a pattern like other forms of rehabilitation such as addiction treatment. In such cases, the length of time someone has already ďstayed cleanĒ is one of the best predictors of them being able to make the change stick in the future. The same is true in maintaining a weight loss:

- 80% - 95% of people who reach goal weight regain.
- After 2 years of maintenance the frequency of regain drops to 50%.
- After 5 years the frequency of regain drops to 27%!
(see this paper, for example: clinical.diabetesjournals.org/conten
t/26/3/100.full )

So the point was to keep us focused on those anniversaries - looking ahead to the next one, and then the one after that. Because figuring out maintenance can be challenging. And contemplating doing all this work FOREVER, for the REST OF YOUR LIFE, can be overwhelming.

Itís much more manageable to think about doing it for a week, or another month. Or just another year. And in the process of making it work in these smaller steps, you start to implement the mental shifts and accept the lifestyle changes over longer time periods. And slowly, almost without even realizing it, you reprogram your habits, and over time it actually becomes less of a struggle. Itís the same principle as a Spark streak, but on a scale of years.

In the process of collecting dates to celebrate those anniversaries we ended up with a list that can be sorted in terms of how long people have maintained. You can see it here:
docs.google.com/spreadsheet/ccc?key=
0Ah4KrA4GkhKgdC1oVGRkVTA0bUNTZk5zTGtze
HZGRmc#gid=6

Years Spark ID

41.72 NELLJONES
24.87 KAYOTIC
24.04 SHIRLEYD1959
10.2 ELYMWX
9.53 POINDEXTRA
9.26 BETH7CAM
8.20 PERSISTENCEMIMI
8.12 RLC6765
7.80 ZUCCHINIQUEEN
6.09 CAROLJEAN64
5.84 POTRIDGE
5.29 PEGGYT3
4.84 DIDMIS
4.61 ZIRCADIA
4.38 MADJIK
4.23 MOMMYFITNESS
4.19 ERPARA
4.13 DUBINJL
4.03 AEHEGE
4.01 MOM5INFL
3.88 CAROLISCIOUS
3.70 BORN2BLOSSOM
3.51 SLENDERELLA61
3.16 BESTSUSIEYET
3.12 WATERMELLEN
3.03 TIAGAYEPFA
2.93 BAILEYS7OF9
2.91 CAROLZ1967
2.81 GOLIONS
2.78 LAURIE5658
2.76 DONNAEDA
2.73 KIM--POSSIBLE
2.68 4A-HEALTHY-BMI
2.68 MEXGAL1
2.62 BREWMASTERBILL
2.51 DAWNFIRE72
2.45 SUEINTHEPARK
2.39 FITTOBE2
2.37 LISAW/3
2.33 GOING4HEALTHY
2.24 LEVERB66
2.20 DAWNDMOORE40
2.20 MAYFLOWERCHICK
2.11 ONEKIDSMOM
2.08 PROSPERITY2010
2.03 ROSEWAND
1.98 GUITARWOMAN
1.98 62NVON
1.89 ONEWEIGH
1.81 CLARKBAR01
1.75 GISSELLET
1.70 SKIRNIR
1.70 HAPPYSOUL91
1.66 DENISEFULLER
1.56 BDFOWKES
1.56 KATEANDDRACO
1.56 SHELBSYD
1.45 GERMANIRISHGIRL
1.45 COACHMOMMY
1.45 WESTCOASTKID
1.45 DAKOTACAT
1.41 MAGGIEROSEBOWL
1.40 CIRANDELLA
1.40 G1NNY7
1.37 GODDESSELLIE07
1.35 MAARTJEBOL
1.34 HEALTHYCALM
1.33 MJREIMERS
1.33 MIRAGE727
1.32 LJR4HEALTH
1.30 LOVINGIT7
1.26 STARDUSTD
1.25 MLB570
1.24 JACKIERN
1.20 LOGOULD
1.19 SUSIEMT
1.14 THECRAZYMANGO
1.13 CHRISTIECAT
1.13 NAVYMOM133
1.08 LYNNE118
1.03 EMEXROSE
1.03 JENNYR0506
0.99 2010_IS_MY_YEAR
0.97 KRISZTA11
0.95 LISSOME
0.94 BARB_48
0.93 MOBYCARP
0.93 LJBRANDOK
0.89 TANYAP71
0.89 CRYSMYS
0.88 KANOE10
0.87 AILEEN5K145
0.87 CONRADBURK
0.82 VADAVICTORIA
0.78 LOVEUNDERLINED
0.78 PRESBESS
0.78 THETURTLEBEAR
0.75 MI-ELLKAYBEE
0.74 SUNSHINE20113
0.74 JULIA-JULIE
0.66 MELFOUCH
0.65 NICOLEVAR5886
0.62 LISEIGHT
0.56 MKELLY72
0.52 TINAJANE76
0.50 NANCYLRAGS
0.48 ADRIENNIE
0.47 NEVERGIVEUP
0.45 PCASEY7
0.41 GLASSART43
0.33 ABBETG22
0.32 CELIAMINER
0.29 LIBELULITA
0.28 FROGGGY13
0.28 CSHULLCSHELLS
0.28 MATHGURL
0.27 THE1ANDONLYRM
0.24 PETITGABRIELLE
0.23 CHICA_BORICUA
0.22 MISSIFISH
0.20 LITTLEBO
0.18 HOLLY255255
0.16 1LADYMYSTIC
0.16 MRSRACHELS
0.13 GETFIT2LIVE
0.12 EATNBOOGERS
0.08 SWEDE_SU
0.05 GINARIGDON
0.03 KANSASROSE67
0.00 PERIWINKLE88

This list is tremendously helpful - itís a way we can find members of the Sparkpeople.com community who are living proof that maintenance is achievable. People who can inspire us, and serve as role models.

These people may be a minority here on the site, but they have a huge amount to offer, because they have mastered the one thing all weight losers aspire to - KEEPING the weight off. They have life throwing them curve balls too. And they have setbacks. And they overcome them.

I think if we can figure out how to stay engaged and focused and learn from these people, we can beat those depressing published odds.

85 people on the list (65%) have maintained less than two years.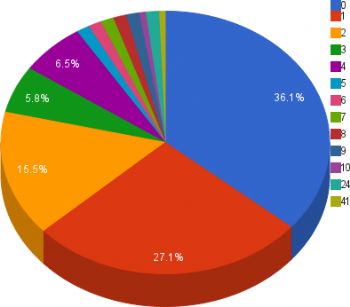 docs.google.com/spreadsheet/ccc?key=
0Ah4KrA4GkhKgdC1oVGRkVTA0bUNTZk5zTGtze
HZGRmc#gid=9
In the outside world, only 42 of them would manage to keep the weight off. But I think we can beat those statistics, here, with the support of each other.

There are people from a wide spectrum of weight loss. From those who have shed 200 pounds, to others keeping off less than 10. People who just reached goal, and people who have kept the weight off for over 40 years!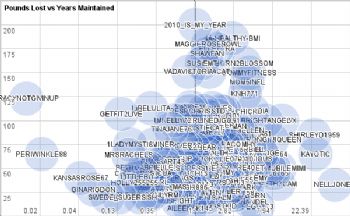 docs.google.com/spreadsheet/ccc?key=
0Ah4KrA4GkhKgdC1oVGRkVTA0bUNTZk5zTGtze
HZGRmc#gid=16
(hover your mouse over a dot to see more information)
I just love watching those blue dots march off to the right, one day at a time...

There are other tabs at the bottom of the screen to explore - some of us have been curious about our other stats as a group, such as waist to height ratio, for example. So we have a way for people to enter optional data about their current size and shape, for anonymous graphs.

Group BMI distribution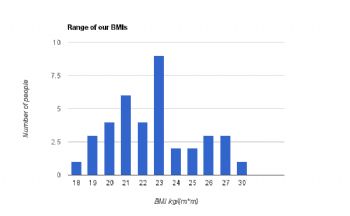 docs.google.com/spreadsheet/ccc?key=
0Ah4KrA4GkhKgdC1oVGRkVTA0bUNTZk5zTGtze
HZGRmc#gid=20

Group waist to height ratios
docs.google.com/spreadsheet/ccc?key=
0Ah4KrA4GkhKgdC1oVGRkVTA0bUNTZk5zTGtze
HZGRmc#gid=21

Group waist to hip ratios
docs.google.com/spreadsheet/ccc?key=
0Ah4KrA4GkhKgdC1oVGRkVTA0bUNTZk5zTGtze
HZGRmc#gid=22

Group BMI vs % Body Fat
docs.google.com/spreadsheet/ccc?key=
0Ah4KrA4GkhKgdC1oVGRkVTA0bUNTZk5zTGtze
HZGRmc#gid=18

In order to ensure the data are current, we ask everyone to update their information once a year. Sadly, there are a few folks who have stopped checking in: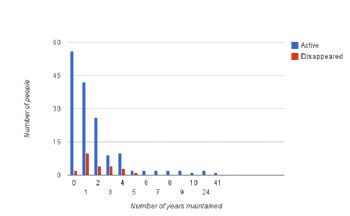 docs.google.com/spreadsheet/ccc?key=
0Ah4KrA4GkhKgdC1oVGRkVTA0bUNTZk5zTGtze
HZGRmc#gid=17
Every month we email people whose entries are coming up for renewal and those whose have expired, and ask them to re-enter their data. This is an important step with maintenance, too. Because regain does happen, and we want to catch people and help them turn around the trend before it spirals out of control.

A very common response to regain is to feel shame and retreat from the community. This is the worst thing you can do, however, because youíre hiding from your friends and support network just when you need their help the most! Many who have regained according to their own definition are surprised and happy to learn that they are still successfully maintaining according to a scientific definition, ďkept at least 10% of the starting weight off.Ē And sometimes that one piece of validation is all it takes for them to recover their confidence and pull things back together.

If you are maintaining and would like to celebrate YOUR anniversary with us, sign up here!
docs.google.com/spreadsheet/viewform
?hl=en_US&formkey=dC1oVGRkVTA0bUNTZk5z
TGtzeHZGRmc6MQ#gid=0

I also encourage you to join our vibrant team of maintainers and people preparing for maintenance:
teams.sparkpeople.com/maintaining

And if you'd like to make maintainers more visible and celebrated, one thing you can do is "like" this post so more people will see it (and them).





Wednesday, September 12, 2012
Iíve joined in on TANYAP71ís blog question challenge.
www.sparkpeople.com/mypage_pu
blic_journal_individual.asp?blog_id=50
51162
I donít often manage to post blogs daily, so Iíll be answering questions here when I can and posting them in clumps of 10. In this case, since I won't have access to a computer until next week, I'm going to post some of these ahead of when they're "due."

Itís been fun reading the responses from others, and to help me keep track of them, Iíve made a spreadsheet, here:
docs.google.com/spreadsheet/ccc?key=
0Ah4KrA4GkhKgdGpVRkhuUGgtVllINi1OaG9Gc
kxBeVE
(this way Iíll be able to find those posts in the future, even after theyíve been buried by more recent ones)

11. What do you like most about your body? Has what you like most about your body changed as you've progressed towards your goals?
------------------
I like the muscles. I like the fact that it can drive me through white water with strong, sure strokes (when Iím focusing on my form, anyway). I like how it can roll a kayak back up when I flip upside down in the water. I like how it looks in the mirror. I like how my favorite pants fit on it. I like how it can lift Very Heavy Weights. These things have been pretty consistently the things I like the most when Iím maintaining successfully.

12. Post a picture of your inspiration. Thinspiration if that's your thing. Fitspiration if that's what you're after. Heathspiration if that's your primary goal. Why is this person inspiring to you?
------------------


www.time.com/time/covers/euro
pe/0,16641,20080804,00.html
Dara Torres was 41 when she BROUGHT IT to the 2008 Olympics, winning three silver medals. If she could do that, why canít I, in my mid-40s, lose 186 lbs and take up white water kayaking? Someday I hope to have the skills and strength to run some local class V rivers cleanly and with relish. Indeed, age IS just a number.

13. What has been the hardest life style change you've made for the sake of losing weight, getting fit, or becoming healthier? Any tips for making that change easier?
------------------
Staying vigilant, and facing down the occasional creep up in my weight. I have an amazing and unfortunate ability to ignore the writing on the wall until Iíve regained 10 or more pounds above goal range. Iím working on that. One of the things that is helping me is the At Goal & Maintaining + Transition to Maintenance team challenges that focus on maintenance. They provide accountability and external pressure to keep on top of my fitness and do something about it soon when it drifts.
www.sparkpeople.com/myspark/t
eam_messageboard.asp?board=681x1111

14. What life style changes have been easier than you expected? Why do you think that was?
------------------
I didnít expect that my depression would be so reduced. For most of the past 20 years I took low levels of Prozac to help control my PMS symptoms. After reaching goal weight I gradually stopped requiring it altogether. Perhaps peri-menopause is helping too, although Iíd expect that it would actually make the symptoms worse, given how hard on the system that transition can be.

15. What is your favorite weight loss, fitness, or wellness blog (or website or magazine) outside of sparkpeople?
------------------
I like LeighPeele.com - she has well-written, scientifically accurate, no-nonsense advice about nutrition and fitness. Her free podcasts on iTunes are fantastic. The Binge Series really spoke to me.

16. Do you follow an eating 'plan'? (Vegetarian, paleo, South Beach, Atkins, yada yada yada) How has this helped you live a healthier life?
------------------
Iím not sure how youíd characterize what I eat. I get about 30% fats, 30% carbs, and 30% protein. I settled on this via trial and error, based on how I feel and what foods minimize my binge triggers.

My general daily targets are:

150g minimum protein
50g minimum fats
40g minimum fiber
100g maximum sugar

I eat very little grains and added sugar. I like lean proteins, nuts, seeds, Greek yogurt (both with and without fat), leafy greens, and fruits. I eat a fair amount of protein bars when Iím on the road.

17. Do you have any meals/snacks that you repeat over and over? What are they?
------------------
For breakfast I almost always have Greek yogurt with some chia or flax seeds, and maybe some textured vegetable protein and/or fruit on top.

18. Do you have a go-to meal for days when you have to be on the go, no time to stop to eat and no refrigeration/cooler available?
------------------
Protein bars. Hard boiled eggs. Envelopes of tuna. Toasted almonds. Carbs are easy to get on the road. But the protein can be tough, so I focus on having that available in a pinch. I once wrote a whole blog post about road food:
www.sparkpeople.com/mypage_pu
blic_journal_individual.asp?blog_id=49
67550

19. What 'unhealthy' food(s)/drink(s) do you refuse to give up? Any that you have given up completely?
------------------
I canít have cheese in the house. Itís just too tempting. I like ice cream, so once a month I go to the local place cayugalakecreamery.com where they make their own from scratch and get a kiddie scoop in a homemade waffle cone. I eat it there, and then Iím done. No ice cream calling to me from the freezer when I get home. I pretty much canít have any snacks or fruit or peanut butter or breads or starches or anything easy to eat at home. Night eating is a particular downfall for me. So I make sure I have exactly what I need around and no more.

20. What are your favorite healthy foods? What healthy foods have you 'discovered' along the way to better eating habits?
------------------
In case you havenít noticed, I LOVE LOVE LOVE Greek yogurt. The real stuff, with just milk and lactobacilli in it. Not the stuff with pectins, gelatin, and other junk that some of the commercial brands add. Most of the time I go for the plain flavors because then I can control how much sugar Iím getting. If I want full fat I prefer Simply Greek brand. If I want nonfat Iíll get Wegmans, Fage, Siggiís, Oikos, or Chobani. When I can find it I sometimes get the kind made from sheepís milk. Lowfat (2%) Fage and Chobani are good, too.

Low-fat, and non-fat varieties both often have a great amount of protein in there. Which one I choose depends on whether I want my fats from dairy that day/meal or whether Iím going to go for fats from nuts and seeds. It depends on my mood. I donít like to decide until the day or even the meal Iím eating, because I like to indulge my whims within my allotted calories. It helps keep me from feeling deprived or too regimented.





Monday, September 10, 2012
Iím joining in on TANYAP71ís blog question challenge.
www.sparkpeople.com/mypage_pu
blic_journal_individual.asp?blog_id=50
51162
I donít often manage to post blogs daily, so Iíll be answering questions here when I can and posting them en masse.

Itís been fun reading the responses from others, and to help me keep track of them, Iíve made a spreadsheet, here:
docs.google.com/spreadsheet/ccc?key=
0Ah4KrA4GkhKgdGpVRkhuUGgtVllINi1OaG9Gc
kxBeVE
(this way Iíll be able to find those posts in the future, even after theyíve been buried by more recent ones)

1: Your stats. Starting stats, current stats, goal stats. Are you currently trying to lose weight, gain weight, or maintain weight or something else? Do you have a goal for the month of September?
------------------
Started at a BMI of 52.56, not sure what % body fat (highest measured was 54.2% after Iíd lost about 30 lbs)
Currently at a BMI of 24.22, approx 20% body fat

Iím right now just outside of my +/- 3% range around 150, so I want to get back in there.

My goal for the rest of September is to get my eating back under control (it occasionally goes off the rails).

2. How did you pick your goal weight? Did you pick an ultimate goal weight at the beginning of your weight loss? Did it change? Did you set smaller goals along the way?
------------------
At the beginning I just wanted to get my BMI under 30 (obese). Then I wanted to get it under 25 to see if I could (160 lbs). In the past 6 months Iíve reset my goal weight to hover around 150. When I lost the weight I aimed for a 5% reduction. Then another 5% reduction. And so on.

3. Who have you shared your weight loss goals with? What has been good about sharing your goals?
------------------
When I was losing weight I shared my goals with anyone who would listen. It was helpful to have everyone on board. Since hitting goal over 2.5 years ago Iíve slowed down on telling people about my history. Most of them met me after I lost weight and it really doesnít come up unless weíre discussing food or exercise or something like that.

4. What are (or were) your fears about weight loss?
------------------
That I wonít be able to keep it off. Over time Iím starting to believe more and more that this process can be learned and is achievable. Iíve stumbled, but Iíve also gotten back up.

5. What is your weight history like? How old where you when you first 'went on a diet'? Have you lost and regained? How is this time different from others?
------------------
My first diet was probably when I was 8 or 9. Iíve gained and lost a lot of weight. Most notably I gained and lost over 100 lbs in my 20s, only to regain it all plus almost 100 more. I lost it again in 2009. This time is different because I saw how easy it was to regain before, and Iím determined not to do THAT again!

6. What has been most challenging about maintaining a weight loss (now or in the past)?
------------------
In my 20s I was unprepared for the difficulty of maintaining. There is a critical mental shift that needs to happen in order to make it stick. And it takes vigilance and work to keep myself focused, engaged, and doing the behaviors that help me stay fit. Iíve set the bar pretty high for myself, and itís not easy keeping my food and exercise on point. It takes a lot of work.

7. How do you measure progress towards or maintenance? Scale weight? Body fat percentage? How your clothes fit? Other?
------------------
Mostly I rely on weighing myself every day and tracking the moving average trend. I also track my % body fat to get a handle on my composition.

I have a couple of pairs of favorite pants that let me know when the number on the scale reflects more than just water gain. And I can tell how Iím doing strength-wise by whether Iím increasing the pounds Iím lifting, over time.

8. What do you think will be different when you reach your goal weight? If you are in maintenance, what did you think would be different? What actually was different?
------------------
I wasnít sure what, if anything would be different. It turns out I can eat more. But as I said earlier in #6, I knew it would require a mental shift. I tried preparing for this shift while still in loss mode, and that helped. But over time Iíve had to experiment with maintenance strategies just as I had to experiment with loss strategies. Iím still fiddling with it, trying to figure out what works best.

9. How old are you and do you think your thoughts about weight loss, fitness, and wellness have changed over time?
------------------
Iím 46 and with age has come a level of discipline and maturity that I didnít have in my 20s. It is a lot easier to carry through with things when youíre sure of yourself. I was very unsure of myself the last time around. Something about just going around the sun a bunch of times seems to have helped provide the spine and inner strength I lacked before.

10. Why are you working towards the goal you talked about on Day 1? Particular health goal? Size goal? Activity goal? Vanity goal?
------------------
Simple survival. I donít want to live my next 40 years the way I lived my previous 40 years. I was suffocating inside a coffin of my own flesh and couldnít physically do things I liked and didnít like how I felt, and didnít like what I saw in the mirror. Life is too dang short to live like that, so Iím going to take the time Iíve got left and live in a way that I like.






Monday, August 20, 2012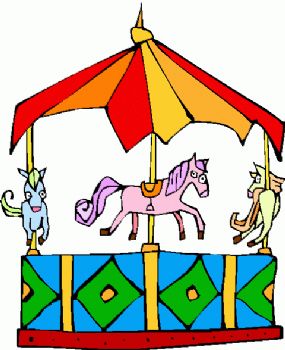 www.clipartheaven.com

GOING4HEALTHY, a member of the At Goal & Maintaining + Transition to Maintenance (AG&M+TM) team recently described what used to be her annual loss and regain cycle:
www.sparkpeople.com/myspark/team_mes
sageboard_thread.asp?board=0x1111x2845
4049

- Dec 31: begin weight loss
- March: achieve goal weight
- Sept: lose all motivation
- Oct, Nov: pack the pounds on
- Dec 31: let the games begin...again!

How many of us can relate to this? I sure can. My own Gain-Loss-Regain experiences havenít always been annual in nature, but Iíve definitely experienced what she describes, in terms of waxing and waning motivation. And weíre not alone, because 80-95% of people who reach goal weight donít manage to stay there, either.

Not only does this yo-yo take a toll on us physically, but as GOING4HEALTHY said, even *thinking* about this cycle can be exhausting.

So, how and when do you get off?

One option is to simply give up and get off at the top of the cycle. Iíve done that. Where I landed wasnít pretty. Or healthy. Life was easier in the sense that I didnít bother much with thinking about what or how much food I ate, or what kinds of physical activity I did.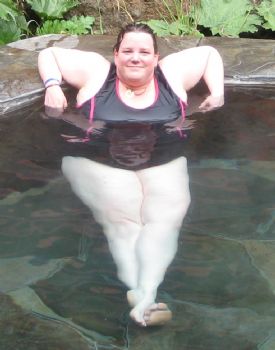 Life was harder in a bunch of other ways, like trying to find chairs that wouldnít collapse and without arms, asking for seat belt extenders on airplanes, the pain of arthritis and plantar fasciitis, etc. I lived there for about 15 years.

Another option is to get off at the bottom of the cycle. Iíve done that too. Itís actually kind of hard to get off at the very bottom, because thereís usually a little bounce ~3 lbs when I go from a deficit into maintenance. Down here, I definitely have to stay on top of my food and exercise to avoid sliding back onto the ride. On the other hand there are lots of cool things I can do here, that I canít do at the other end.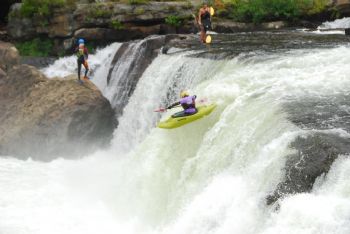 And then you can also get off in the middle somewhere, either on your way back down or on your way back up, where you might not need to be so vigilant about your food and exercise, but yet life can also be somewhat manageable.

All of these options are choices. None of them are a failure, as long as youíre DECIDING thatís where you want to be. If you find you are NOT where you want to be, then you need to get back on, and choose your stop. And then get off and work to stay there, if it is a stop that requires work.

You donít have to do this alone. Most of us have been through this, ourselves. In fact, 80-95% of us are STILL going through it.

The remaining 5-20% of us who are NOT going through this anymore are a minority, but weíre right here on SparkPeople.com, and we want to help.

The AG&M+TM team has lots of people who understand what this cycle is like, and we also understand what weíve needed to do to break it.

- It requires wrapping your mind around maintenance, well before you reach your goal. The ride isnít going to stop for you, so you have to plan where youíre going to jump off and how, without hurting yourself.

- You will be dizzy and need to sit down and wait a bit for the world to stop spinning.

- Then you will need to start taking the first wobbly steps you planned for staying at your desired place.

We can help you with all of that.

And we can help you (as we routinely help each other) to stay focused and engaged so that all of us are less likely to slide back onto that exhausting ride. And if we start slipping, everyone reaches their hands out to help pull us back onto solid ground.

Come see us.
teams.sparkpeople.com/maintaining
And bring your friends. We may be a minority here on SparkPeople.com, but what we have to offer is huge. We can offer our help and experience with the one thing that ALL of the weight loss folks here aspire to - a way to get off and stay off the merry-go-round.






Sunday, August 12, 2012
I was saddened to see a feature on the front page of SparkPeople.com today.

www.sparkpeople.com/resource/wellnes
s_articles.asp?id=423

It is a feature that was written five years ago (the first comments date back to November 2007) listing 5 "secrets" of the "elusive" 5% of successful maintainers. Who "prefer to stay relatively unknown."

Although I am glad they recycle this column at all (at least it addresses maintenance), I am very sorry to hear that our At Goal and Maintaining team of 16,300 is practically invisible.
teams.sparkpeople.com/maintaining

I am sorry that the community at SparkPeople.com are exposed to a 5-year old feature every six months that lists strategies with no scientific basis, and no links for people seeking additional help or information about maintenance. A feature that portrays maintainers as people who would prefer to stay in the shadows and keep to themselves. This is a disservice. We can do so much better.

Three weeks ago I burned a perfectly good vacation day off work that I would have preferred to spend kayaking so I could go on national TV (at SP's request) and advertise them and address maintenance.
www.sparkpeople.com/mypage_public_jo
urnal_individual.asp?blog_id=4985652

That doesn't include the time it took to drive an hour each way to two different local affiliates to record the audio part of the segment, gas money for those trips and to the airport, not to mention airport parking fees, the cost of buying healthy meals in Manhattan, etc. The flight, transport between the airport and the hotel, and one night at a hotel were paid for.

Nor does this include the humiliation of having all those very unflattering "before" photos available to the world. On the internet. Forever. Post weight-loss discrimination exists, and I have exposed myself to it. See this reference if you do not believe me. www.ncbi.nlm.nih.gov/pubmed/2
2395810

Yet I was glad to do all of this, because I think raising the visibility of maintenance is that important.

SparkPeople.com have said that they were very happy with the segment, and that lots of people have joined because of it.

It is just so very disappointing after all this to see SparkPeople.com now put up an old feature that says maintainers are invisible and secretive. What are we? Chopped liver?

Apparently so.




Thank God we maintainers have each other. Because sometimes it sure feels like we're all we've got.




At the very least I would like to see this feature updated with a link to the maintenance teams. Or a link to the somewhat dusty and self-contradictory "Maintaining Your New Weight" Lifestyle Center.

Many of us absolutely do NOT hide away in the shadows, forcing others to figure it out on their own, keeping our "secrets" to ourselves. We would like to help folks so that the statistics do not have to be so dismal, in the first place.

Our longest term maintainer, NELLJONES (41 years and counting), sticks around expressly for the purpose of helping the rest of us out.

I firmly believe that 5% success is the current stat with the current climate and resources and tools available. I think if we can build a supportive maintenance environment to prepare people for the issues they will be facing and help catch them when they fall, that we can change those statistics.

Heck, it helps me, just being able to see that other people are DOING IT day after day after day, for years, through good times and struggles, and hearing about how they feel and cope in the process.

Like those tiny little Whos no one believed existed on Horton's dust speck, perhaps we maintainers need to post comments on that feature, saying "WE ARE HERE! WE ARE HERE! WE ARE HERE!"

Because a person is a person, no matter how small.



First Page
1
2
3
4
5
6
7
8 9 10 11 12 13 14 15 16 17 18 19 20 21 22 23 24 25 26 27 28 29 30 31 32 33 34 35 36 37 38 39 40 41 42 43 44 45 46 47 48 Last Page

Get An Email Alert Each Time 4A-HEALTHY-BMI Posts