| | |
| --- | --- |
| | 4A-HEALTHY-BMI's Recent Blog Entries |


Monday, February 13, 2012
Holy Moley, this maintenance thing takes vigilance. And not just vigilance, but DOING SOMETHING about it when you see a problem.

My last night in Costa Rica involved a painful stomach bug and between that and the ensuing weakness and exhaustion from traveling I was laid low the week after returning. Missed two and a half days of work, even.

I tried to get back into my "normal" routine last week, but the eating was spiraling out of control and by Wednesday I knew there was a problem and I wasn't happy about it.

I started trying to take steps to do something about it, but I wasn't as strict as I apparently needed to be, and it wasn't until the scale told me this morning that I'm overweight, that reality really hit me in the face. Hard.

So now I'm back to doing the things I should have done on Wednesday, but with some extra pounds to push off. I will NOT go there again. I will NOT. I. Will. Not.

When I first hit goal I gradually gained back 30. And pushed it back off. And then gained 20. And pushed that back off.

I will NOT continue the trend and gain back 10 and push it off. I'm going to push it off NOW, while I'm still only 6 above my original goal weight and 11 above my new goal weight. This is going to stop, NOW.

So here are the specific things I'm doing.

1) A "Week of Accountability" with CARRIE1948. We've done these before when we've needed to reverse trends. It's kind of like a spark streak with a definite end. We pick a few habits and then tell ourselves we will do them for One Week. Just One Week. Because forever is too long to contemplate, when I'm in this state. My goals for the week?
a) Stay under 1700 calories every day (current target is 1500)
b) Continue with my normal exercise routine
c) Add in the 30min kayaking yoga routine at least three times
www.amazon.com/Yoga-Kayaking-Anna-Le
vesque-Taft/dp/B004TLCO32?tag=manifold
s-20

2) Follow my new heart rate monitor's recommendations for exercise intensity ranges and times. This means that tomorrow, although I have to help run a kayak pool session, I am going to squeeze in a spin class before I go. So I get more minutes at the "high" cardio zone that the HR monitor is asking for. And I'll be sure to burn calories even if I have to spend a lot of the evening standing in the pool helping people learn to roll.

This is a little odd for me, actually. Because kayaking is WHY I do the spinning (and the weight lifting and watching my food, etc.) But in this case it seems more important to take a half hour away from boating in the pool - or helping others do that and burn off calories to regain the level of fitness I want.

3) I went and entered all my common foods in Lose It in grams. So I can quit estimating what a "large" sweet potato or apple or mango or banana is, and just weigh the dang thing. And I'm back to Very Strict Tracking. No more estimating anything by volume or eye. Something is off with my current calorie burn calculations these past 2 weeks and I suspect it has to do with estimating in my food tracking. I need to figure out what the heck is going on and I can't do that without accurate data.

4) Back on Wednesday when I saw the alarming upward trend happening I signed up for a weight loss challenge at work that begins in March. I wish it started sooner because I am not going to wait to get this junk out of my trunk. I'll just have to pull my 1% per week starting from wherever I'm at, at that point. I wish I hadn't waited until today, even. Because since Wednesday I've already gained 4 lbs. Bah.

So, yeah, it boils down to the two things I figured out way back in 2010:
www.sparkpeople.com/mypage_public_jo
urnal_individual.asp?blog_id=4323111

1) Frequent monitoring
2) Immediate correction

I seem to be getting better about the monitoring. But I need to work on making the correction happen faster.





Tuesday, January 31, 2012
As a reward for not desparing and eating everything in sight while recovering from rotator cuff surgery this year (I missed my entire kayaking season which was a terrible blow) I signed up for a one week vacation in Costa Rica, kayaking in January.

The PT and surgeon cleared me for boating in rivers again starting October 1 and I worked hard between then and the trip building back up my strength, agility, and stamina.

The trip was run through a group that are based in North Carolina and primarily run kayak workshops and classes for women:
www.watergirlsatplay.com

They typically run several trips every winter somewhere warm. This was advertised as their "advanced" (and only co-ed) trip for the winter. The minimum requirement for participating was having a 70% successful roll in white water. Since I have almost 100% success rolling in white water on both sides, I qualified, although I've only been kayaking for about a year and a half.

Here was their description of how the week would go:
www.watergirlsatplay.com/womens-kaya
king-retreats/costa-rica/co-ed-week-of
-rivers
All the details were extremely well taken care of. They'd tell us how things would go and it would happen that way. The food was amazing, the guides competent, knowledgeable, friendly, and likeable. I never felt like a number, although there were TWELVE participants. No wonder so many of their trips sell out. (There is still space on an intermediate trip with this itinerary Feb 11-18 if anyone is interested. You only need a 50% roll for that. And you have to be female. Sorry, guys.)

Here is a zoomed-in picture of Costa Rica, showing where we kayaked each day: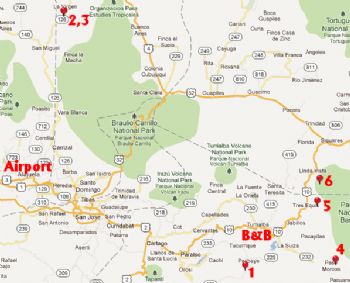 I've got detailed GPS maps and lots more photos uploaded here:
www.everytrail.com/my_trips.php?coun
try=Costa+Rica&user_id=399933&order=tr
ip_date
One of the guides took 800+ pictures and they sold us discs of them at the end. Most of these photos are hers.

Just getting out of the Northeast was a challenge - there was snow closing and delaying the airports I was trying to connect in; I ended up having to drive an hour to a different airport just so I could get a flight that changed somewhere outside the stormy area. I didn't end up getting to San Jose until about 10pm and they had to send a couple of guys specially to pick me up; my luggage and gear got lost too and didn't show up until more than 24 hours later.

Here is the view I woke up to at the B&B.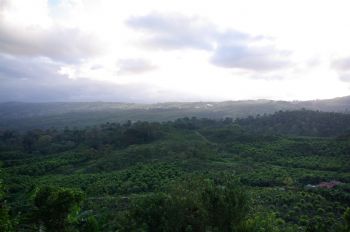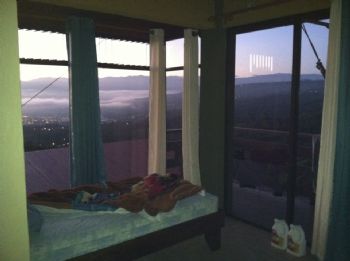 It is up the hill from Turrialba and named La Cascada. It used to be a restaurant so the food was amazing.

The first day we kayaked a couple of short stretches on the nearby Pejibaye River which is named after a particular palm that has fruit. It was easy class II water so they could see what our skills were like.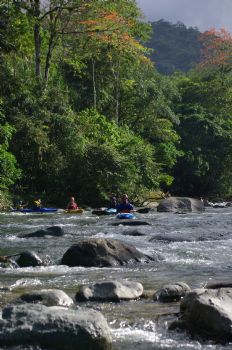 I borrowed some clothes and gear. It was short sleeved and I forgot to put on sunscreen.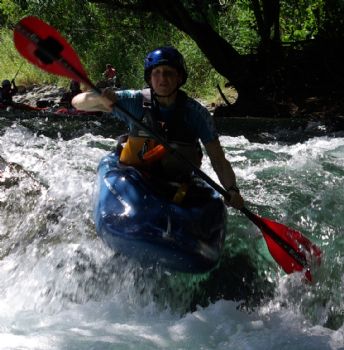 We stopped for lunch at an open air school (it was Sunday so they weren't using it)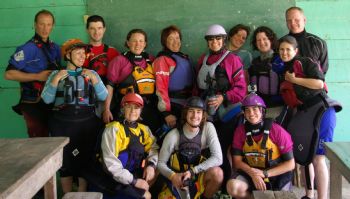 The other participants on the trip were a lot of fun too. I hope I get to see them again someday.

That night we had a salsa dancing lesson.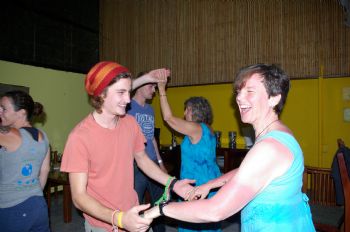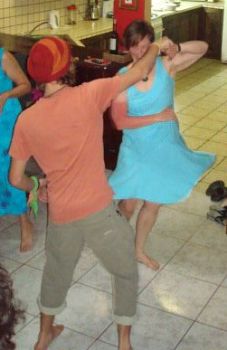 It was really fun until I pulled a muscle in my calf. In the end that injury turned out to be the worst thing that happened to me, even though later in the week I had to swim a class IV rapid because I got stuck upside down next to some rocks where there was no room to roll up. The swim resulted in a few interesting bruises, but my calf is still a little stiff. Darn salsa. More dangerous than kayaking!

The next day we were to go on an overnight trip to the Sarapiqui River. When I got up, my luggage and gear were outside the door. It felt like Christmas to have my Very Own Things. I had no idea I could be so attached to just Things.




This was the first day on the Sarapiqui (7 miles)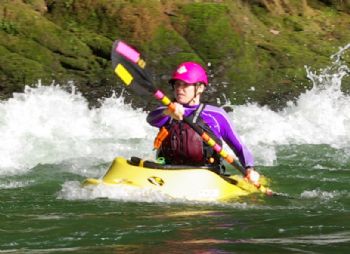 That night we stayed in a beautiful lodge with a pool, gardens, wireless, and a bar that served really interesting mixed drinks. www.hotelaraambigua.com Some of us got together and each ordered a different one so we could figure out the best and get that. I was partial to the Samba, the Pina Colada, and especially (and appropriately) the Pura Vida.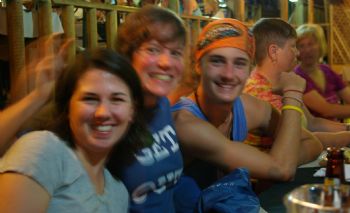 Every morning we did yoga, even while away from the B&B.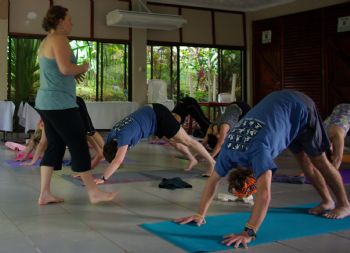 I got a DVD so I can continue doing it at home: www.amazon.com/Yoga-Kayaking-
Anna-Levesque-Taft/dp/B004TLCO32?tag=m
anifolds-20

The next day two people headed to a technical and challenging class IV section of the Upper Sarapiqui with one of the guides and the rest of us ran the Lower section again (8 miles).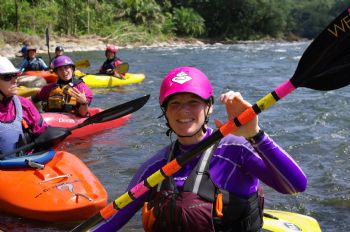 We drove back and stayed at our regular B&B in Turrialba that night and the following day headed out to the top section of the Pacuare River(7 miles).


That was a pretty nice easy day, except for that swim I took in a class IV rapid that kind of scared me and banged me up a little. It was the only swim I took this week; my roll failed because I was in a narrow channel right between some high rocks and there was nowhere to stick the paddle to get up.

The next two days were long. We drove to the put in for the Lower Pacuare and paddled about 6 miles in to a beautiful camp in the jungle.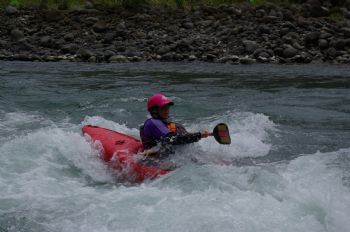 The organizers were very good about making sure I had lean protein available so I could stay close to my usual food plan.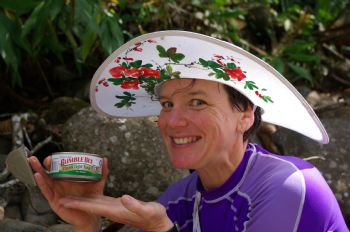 The camp we stayed at on the Pacuare was cozy and beautiful. Here is my very own tent:



There were little clusters of them.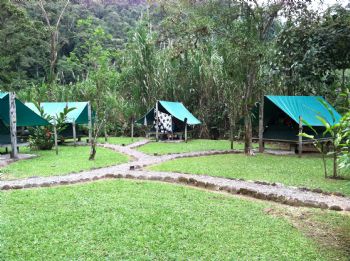 We hung our gear out but it rained so I think it might have ended up wetter than it was when it came off the river!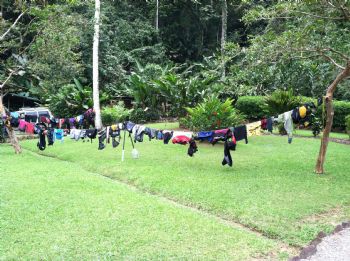 We did yoga there, too!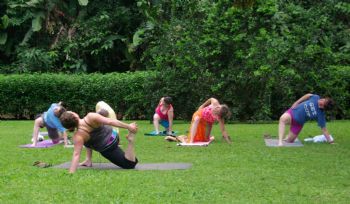 The last day was very long. We got back into our boats and paddled about 11 miles. Some of the rapids were tough. This one has a name translated as "Lost Indian Burial Ground." It didn't claim me. I did not even flip. I did take an easy line, though.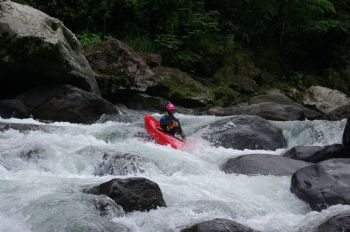 There were deep gorges in places. This was definitely the most beautiful section we paddled all week.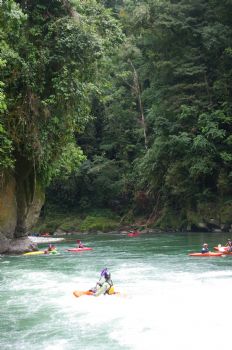 I got tired during 6 straight days of paddling, but I still had strength to do it.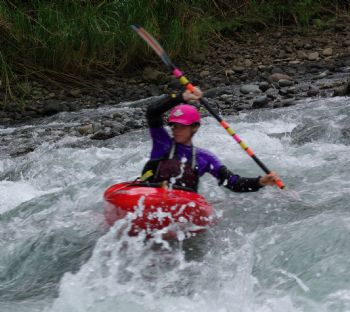 There was one rapid that 5 of us chose to portage instead of run. If I hadn't had that nasty experience on the Top Pacuare I probably would have run it too, but I'd had enough of those shallow river rocks banging into me, so I decided to just take the good day I'd had and not push my luck.

We got a rainbow on the way home.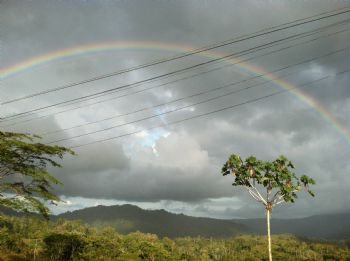 The last night we had dinner and all exchanged emails and prepared to leave the next morning. The microorganisms of Costa Rica had one more activity planned for me, however. About midnight it started with pretty violent trots. To which was added projectile vomiting (there was a little waste can next to the toilet, fortunately). Followed by about 4-5 hours of excruciating stomach cramps. I have never gotten sick while traveling. And I've never felt cramps like that before. It was so bad I couldn't help groaning and crying out. I tried taking multiple warm showers to help the pain subside. It helped me be a little quieter while a stabbing pang was happening. But eventually I'd end up back in my bed, moaning again. At times I actually just wanted to die. It seemed like it went on forever. Finally around 5am it stopped.

In the morning I somehow got my stuff sort of packed and took some final pictures and rode the bus back to the airport. My flight wasn't until very early the next day so I stayed overnight in a hotel. I'd kind of hoped to sit by the pool and even out my sunburn but I was so wiped out I just slept and slept and slept. Around 7pm I got up and wandered across the street to a Denny's and had chicken soup, hung out with some friends who also stayed a couple of extra days and then went back to bed. The flight the next day was uneventful, and I arrived home to a couple of very happy cats.

It was a good trip, but exhausting. I've never paddled 6 days in a row, before!

Since I'm a novice paddler in years of experience (1.5) I had expected to feel out of place on an "advanced" trip, but among the 12 participants I think I was somewhere in the middle in terms of skill. There were definitely people better than me, and I didn't take a couple of the advanced options offered to us, but only a few actually did, so I was not out of place, after all. Some participants swam several times on what seemed fairly easy rapids compared with things I've run. I needed plenty of combat rolls (on both sides), but fortunately the only swim I had was on a gnarly thing that also claimed a bunch of other people.

And everyone was great, personality-wise. I really enjoyed all of the other participants, as well as the leaders. What a fun group!

Considering that I couldn't even FIT into a boat three years ago, I'm pretty satisfied to be in this kind of shape, now. I'm glad I took the effort to push myself back into shape after the surgery rehab, and I'll take it.

I'm looking forward to improving so next time I go on a trip like this I can style the class IV things rather than swimming, portaging, or turning them down.





Tuesday, January 17, 2012
Here's what I wore to chair my session and give my talk at the conference I'm at this week: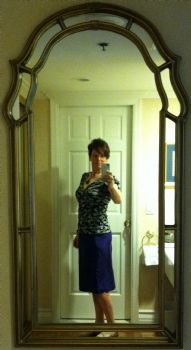 And can I just say "yay" for thrift shops? Because that whole outfit (including the 100% silk skirt and the shoes) came from Salvation Army.







Tuesday, January 10, 2012
Doesn't sound like very good odds, does it?


Flip a coin. Heads I gain, tails I keep it off.

But I'll take it.

Because I've reached the 2-year mark in my maintenance and it's a whole lot better than the odds I was staring down two years ago.

It hasn't been all smooth sailing. At one point I gained back 30 lbs and got it back off again. This past summer I gained back 20 lbs and then got it back off again. Right now I'm about 7 pounds less than I was when I reached goal two years ago. here's a graph, in case anyone wants to see the gory details: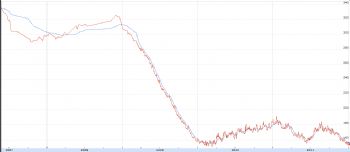 docs.google.com/spreadsheet/pub?hl=e
n_US&hl=en_US&key=0Ah4KrA4GkhKgdEF6dlJ
kbnNlVEFCZlhxRElCWDZNUlE&single=true&g
id=8&output=html

As I mentioned in an earlier blog post, the chances of regain when you actually hit goal are about 80-95%. The scientific references are linked.
www.sparkpeople.com/mypage_public_jo
urnal_individual.asp?blog_id=4512102

So now those 50-50 odds aren't looking so bad, are they?

And it gets better. By the time you've maintained for 5 years, your chances of regain drop to 25%.

Here is a reference for the 2-year and 5-year odds:
clinical.diabetesjournals.org/conten
t/26/3/100.ful

No one really knows what the odds are beyond 5 years because it's very hard to track that long for the purposes of a scientific study and given the relatively high proportion of relapse you'd have to have a huge dataset to get decent statistics.

The best estimate we have is from the National Weight Control Registry, who published that after you've maintained for 15-20 years the chances of regain are about 20%.
www.sparkpeople.com/mypage_pu
blic_journal_individual.asp?blog_id=29
55689

By the way, you should join the National Weight Control Registry if you've lost more than 30 lbs and kept it off for more than a year. www.nwcr.ws Because it aids research in weight management, and the more we know, the better we can get at it.

I aim to continue doing everything I can to keep this weight off. If it means being hypervigilant. I don't care. I LIKE being this size, and I LIKE being able to do the things I can at this size.

Some have even described as eating disorders the lengths that folks go to to maintain weight loss.
www.slate.com/blogs/xx_factor/2011/1
2/29/the_new_york_times_magazine_the_f
at_trap_and_the_impossibility_of_lasti
ng_weight_loss.html

I've made the comparison myself on occasion:
www.sparkpeople.com/mypage_public_jo
urnal_individual.asp?blog_id=4100841

The difference here is that I'm aiming for optimal athletic performance. A high strength to weight ratio. I don't want to look "skinny" although I admit I'm happier with what I see in the mirror when my percent body fat is around 20. It's not about looks, or clothing sizes. It's about being able to kayak and XC ski and snowboard and ride my road bike well.

In the At Goal and Maintaining team we acknowledge and celebrate these milestones with our own database. If you're in maintenance, feel free to join us! You can sign up here:
spreadsheets0.google.com/spreadsheet
/viewform?hl=en_US&hl=en_US&formkey=dC
1oVGRkVTA0bUNTZk5zTGtzeHZGRmc6MQ
Lots of really kind people have dropped by to give me a pat on the back when I hit my anniversary yesterday. I'm still catching up on thanking all of them!

We keep track of our statistics, too. We have a Maintenance Hall of Fame (one person on there has maintained for over 40 years!),
spreadsheets0.google.com/spreadsheet
/pub?hl=en_US&key=0Ah4KrA4GkhKgdC1oVGR
kVTA0bUNTZk5zTGtzeHZGRmc&hl=en_US&gid=6

and a graph showing how many pounds people have lost and how long they have kept it off:


docs.google.com/spreadsheet/pub?hl=e
n_US&hl=en_US&key=0Ah4KrA4GkhKgdC1oVGR
kVTA0bUNTZk5zTGtzeHZGRmc&single=true&g
id=10&output=html
Eight people on there have lost over 150 lbs! One has kept it off for 3.5 years!

I'd like to thank collectively the folks here at Spark people and especially members of the At Goal and Maintaining team and the High Intensity Thinkers for supporting me in this.

You guys have been great. Watching me, prodding me, noticing when stuff goes well and asking me what's up when it doesn't. And helping me figure out what's going on when it's not right. The Broscience Free Zone is awesome.








Thursday, December 29, 2011
Out of control eating while alone is probably one of my worst problems for controlling my size. It's particularly a danger late at night when I'm tired and should be going to sleep (around 10 or 11pm). Here's an old blog post about a typically uncomfortable case:
www.sparkpeople.com/mypage_public_jo
urnal_individual.asp?blog_id=2881460

Since this topic has come up a few times lately, I'm listing my strategies here so I can refer to them in the future. Each individual strategy may have only a small effect, but in combination they seem to work pretty well. I've certainly had my share of episodes, although they're pretty infrequent these days. These strategies also sometimes help me keep from overeating when at parties and other social events.

I realize that I'm very lucky to live alone and not have to consider a family or a partner when it comes to availability of food. I'm not sure I could do this if I did have to consider them - I have tremendous respect for those of you who do!

1. I keep almost no food in the house. It's all at work where people would see me indulging if I binged. And its not just snack food. I am talking about any food. I have watched myself binge on raw oat grains, along with carrots, apples, or whatever else is in the house. If it's just not there then I won't be able to eat it.
2. I eat a minimum of 1500 calories per day because if I go below that for more than a few days in a row the genuine hunger will trigger a binge.
3. I rarely eat starches, grains, or added sugars. Those trigger binges later in the day. I have to limit fruit for the same reason. If I DO experience a craving for something sweet or starchy, I've found through trial and error that eating lean protein makes the feeling go away. If I eat the starchy or sweet thing I'm craving, the craving just grows stronger. Go figure.
4. I eat 150g of protein per day. That helps with satiety and thereby controls the binge trigger. www.sparkpeople.com/mypage_pu
blic_journal_individual.asp?blog_id=25
36501
5. To push that much protein through the system I usually try to have at least 40g of fiber per day. That helps with satiety too.
6. If I get at least 20% of my calories in fat (~50g) I seem to do better, as well. Fat helps with satiety.
7. Plan ahead. I carry protein bars for emergencies. www.sparkpeople.com/mypage_pu
blic_journal_individual.asp?blog_id=25
36501 And to get those macronutrient levels I mentioned earlier requires having the right foods on hand. If I don't plan ahead for my nutrition, I am setting myself up to fail. Real physiological, hormonal effects happen because of the food I eat. If I can make sure that what I'm taking in is along these lines, then I'm less likely to crave and thus less likely to binge.
8. No TV in the house. That is a trigger. Especially at night when I need to go to bed.
9. I exercise after work so the appetite suppression will kick in at night when I'm most vulnerable.
10. I rarely attend parties where they feature snack foods. Processed foods loaded with sugar, starch, fat, and/or salt sometimes trigger binges later in the day. I do not need the temptation. The longer I'm exposed to it the more likely I'll eventually give in. If I have to go to one I make sure I bring a vegetable tray with dip made out of nonfat Greek yogurt.
11. I rarely eat out. (Same reasons as above.)
12. I drink herbal tea when I want a treat. Sure, I still like mindlessly sipping something while reading, etc. This satisfies the urge without adding calories. It's a comfort thing. I'm partial to Good Earth Original Sweet and Spicy tea. www.amazon.com/Good-Earth-Ori
ginal-Caffeine-18-Count/dp/B000F6SNPS?
tag=manifolds-20
13. I weigh myself every morning. If I binge at night I see the effects immediately. I track the moving average so normal fluctuations won't bother me: docs.google.com/spreadsheet/pub?hl=e
n_US&hl=en_US&key=0Ah4KrA4GkhKgdEF6dlJ
kbnNlVEFCZlhxRElCWDZNUlE&single=true&g
id=8&output=html More about moving averages for weight trackers here: teams.sparkpeople.com/hackers
diet
14. I try to be actively engaged in weight-based challenges; I respond well to competition and it helps suppress the urge to stray from my plan. (Here's a shout out to my buddies in the current challenges where I've managed to lose nearly 8% of my weight (13 lbs) between Halloween and now.) www.sparkpeople.com/myspark/m
essageboard.asp?imboard=8&imparent=257
83617 www.sparkpeople.com/myspark/t
eam_messageboard_thread.asp?board=681x
1111x44893790x4
15. I sometimes try to wear tighter clothes if I know I'm going to be around temptations or feel emotional or otherwise off-balance for the day. It helps provide a physical reminder of my size and that I need to pay attention.
16. I have a tattoo on my arm of a kayaker to remind me that I want to be at my peak fitness and be able to continue to fit into my boats.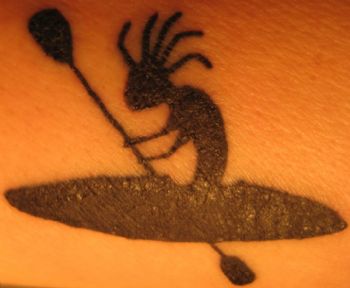 17. I have put images from this hilarious blog on the back of my iPhone to remind me of where the food crazies can lead. hyperboleandahalf.blogspot.com/2010/
10/god-of-cake.html
18. I try to limit consumption of non-nutritive sweeteners to the evenings. If I have them earlier in the day they sometimes trigger cravings later. If I drink diet sodas at night I'm asleep during the time a craving might happen, so it's safer.
19. I forgot to mention this earlier because it's so integral to my life - MOBYCARP's comment reminded me. I track EVERYTHING I eat. Even the binges. It's one way I can make sure I get at least 1500 calories per day. Since I like to have a standalone app that works even where there's no internet or signal, I use Lose It! They have free apps for iPhone/iTouch and Android that sync to a website when there is signal. It's what I wish the SP tracker did, but doesn't. www.loseit.com/#Products
20. If I can stop myself in time, I sometimes track the things I WANT to eat on a separate tracker (without eating them) . www.sparkpeople.com/mypage_public_jo
urnal_individual.asp?blog_id=4463733
21. Add a negative consequence. One time I managed to avoid a binge by making an agreement with BREWMASTERBILL that I would have to send him $20 if I binged that day.
22. Stall for time. Another time I whined that I wanted to overeat and Bill suggested that I do 20 pushups. Having nothing to lose, I shut my office door and did, and it helped. So, yeah. If I can, I go for a walk. Do some crunches. Do some pushups or tricep dips. Anything to stall for time. Because if I can just hold out for about 20 minutes the feeling usually goes away. It might come back again later, but at least temporarily it goes away.
23. Get adequate rest. Things go downhill for me when I'm short on sleep, spending too much time in the car driving, trying to do to many things, etc. Some evenings I have to go to bed early and shut the cats out of the bedroom to make sure I get a decent night's sleep. The effect of sleep depletion is cumulative, at least in my case. I can handle a week or two short on rest, but if I keep it up, it eventually catches up with me - and one of the ways that happens is I find my resistance to binges is much lower; I make more unhealthy decisions.
24. Minimize alcohol consumption. Yup, it lowers my inhibitions, just like it does for the rest of humanity. And while that can be fun, it can be also dangerous if there happens to be food around...
25. Making my bed, keeping my house clean, putting away my laundry - doing the little things that help make me feel like someone loves me. Disengaging in general from self-neglectful behaviors. www.sparkpeople.com/mypage_pu
blic_journal_individual.asp?blog_id=51
39440

Every one of those habits was discovered to help by trial and error. I've collected them from suggestions from other Spark People, articles, etc. They all add up to constructing a world where I can live reasonably safe from binge triggers most of the time.

I'm like an addict in recovery. I have found I need to remain vigilant and some days it's all I can do just to get through one hour, then another hour, then another hour, even with these strategies. Like NELLJONES says, it's One Day at a Time. But I do think they help.

UPDATE:
There is a whole section about managing binge behaviors in At Goal & Maintaining + Transition to Maintenance Team Big Page of Links:
docs.google.com/document/d/1AkUBsUAC
T7rZ5GsdF7jT9YcD1Xa80VFGiJ5JeUkur8A/pub



First Page
1
2
3
4
5
6
7
8
9
10
11
12 13 14 15 16 17 18 19 20 21 22 23 24 25 26 27 28 29 30 31 32 33 34 35 36 37 38 39 40 41 42 43 44 45 46 47 48 Last Page

Get An Email Alert Each Time 4A-HEALTHY-BMI Posts