| | |
| --- | --- |
| | 4A-HEALTHY-BMI's Recent Blog Entries |


Thursday, December 29, 2011
Out of control eating while alone is probably one of my worst problems for controlling my size. It's particularly a danger late at night when I'm tired and should be going to sleep (around 10 or 11pm). Here's an old blog post about a typically uncomfortable case:
www.sparkpeople.com/mypage_public_jo
urnal_individual.asp?blog_id=2881460

Since this topic has come up a few times lately, I'm listing my strategies here so I can refer to them in the future. Each individual strategy may have only a small effect, but in combination they seem to work pretty well. I've certainly had my share of episodes, although they're pretty infrequent these days. These strategies also sometimes help me keep from overeating when at parties and other social events.

I realize that I'm very lucky to live alone and not have to consider a family or a partner when it comes to availability of food. I'm not sure I could do this if I did have to consider them - I have tremendous respect for those of you who do!

1. I keep almost no food in the house. It's all at work where people would see me indulging if I binged. And its not just snack food. I am talking about any food. I have watched myself binge on raw oat grains, along with carrots, apples, or whatever else is in the house. If it's just not there then I won't be able to eat it.
2. I eat a minimum of 1500 calories per day because if I go below that for more than a few days in a row the genuine hunger will trigger a binge.
3. I rarely eat starches, grains, or added sugars. Those trigger binges later in the day. I have to limit fruit for the same reason. If I DO experience a craving for something sweet or starchy, I've found through trial and error that eating lean protein makes the feeling go away. If I eat the starchy or sweet thing I'm craving, the craving just grows stronger. Go figure.
4. I eat 150g of protein per day. That helps with satiety and thereby controls the binge trigger. www.sparkpeople.com/mypage_pu
blic_journal_individual.asp?blog_id=25
36501
5. To push that much protein through the system I usually try to have at least 40g of fiber per day. That helps with satiety too.
6. If I get at least 20% of my calories in fat (~50g) I seem to do better, as well. Fat helps with satiety.
7. Plan ahead. I carry protein bars for emergencies. www.sparkpeople.com/mypage_pu
blic_journal_individual.asp?blog_id=25
36501 And to get those macronutrient levels I mentioned earlier requires having the right foods on hand. If I don't plan ahead for my nutrition, I am setting myself up to fail. Real physiological, hormonal effects happen because of the food I eat. If I can make sure that what I'm taking in is along these lines, then I'm less likely to crave and thus less likely to binge.
8. No TV in the house. That is a trigger. Especially at night when I need to go to bed.
9. I exercise after work so the appetite suppression will kick in at night when I'm most vulnerable.
10. I rarely attend parties where they feature snack foods. Processed foods loaded with sugar, starch, fat, and/or salt sometimes trigger binges later in the day. I do not need the temptation. The longer I'm exposed to it the more likely I'll eventually give in. If I have to go to one I make sure I bring a vegetable tray with dip made out of nonfat Greek yogurt.
11. I rarely eat out. (Same reasons as above.)
12. I drink herbal tea when I want a treat. Sure, I still like mindlessly sipping something while reading, etc. This satisfies the urge without adding calories. It's a comfort thing. I'm partial to Good Earth Original Sweet and Spicy tea. www.amazon.com/Good-Earth-Ori
ginal-Caffeine-18-Count/dp/B000F6SNPS?
tag=manifolds-20
13. I weigh myself every morning. If I binge at night I see the effects immediately. I track the moving average so normal fluctuations won't bother me: docs.google.com/spreadsheet/pub?hl=e
n_US&hl=en_US&key=0Ah4KrA4GkhKgdEF6dlJ
kbnNlVEFCZlhxRElCWDZNUlE&single=true&g
id=8&output=html More about moving averages for weight trackers here: teams.sparkpeople.com/hackers
diet
14. I try to be actively engaged in weight-based challenges; I respond well to competition and it helps suppress the urge to stray from my plan. (Here's a shout out to my buddies in the current challenges where I've managed to lose nearly 8% of my weight (13 lbs) between Halloween and now.) www.sparkpeople.com/myspark/m
essageboard.asp?imboard=8&imparent=257
83617 www.sparkpeople.com/myspark/t
eam_messageboard_thread.asp?board=681x
1111x44893790x4
15. I sometimes try to wear tighter clothes if I know I'm going to be around temptations or feel emotional or otherwise off-balance for the day. It helps provide a physical reminder of my size and that I need to pay attention.
16. I have a tattoo on my arm of a kayaker to remind me that I want to be at my peak fitness and be able to continue to fit into my boats.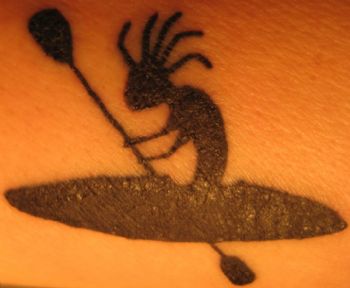 17. I have put images from this hilarious blog on the back of my iPhone to remind me of where the food crazies can lead. hyperboleandahalf.blogspot.com/2010/
10/god-of-cake.html
18. I try to limit consumption of non-nutritive sweeteners to the evenings. If I have them earlier in the day they sometimes trigger cravings later. If I drink diet sodas at night I'm asleep during the time a craving might happen, so it's safer.
19. I forgot to mention this earlier because it's so integral to my life - MOBYCARP's comment reminded me. I track EVERYTHING I eat. Even the binges. It's one way I can make sure I get at least 1500 calories per day. Since I like to have a standalone app that works even where there's no internet or signal, I use Lose It! They have free apps for iPhone/iTouch and Android that sync to a website when there is signal. It's what I wish the SP tracker did, but doesn't. www.loseit.com/#Products
20. If I can stop myself in time, I sometimes track the things I WANT to eat on a separate tracker (without eating them) . www.sparkpeople.com/mypage_public_jo
urnal_individual.asp?blog_id=4463733
21. Add a negative consequence. One time I managed to avoid a binge by making an agreement with BREWMASTERBILL that I would have to send him $20 if I binged that day.
22. Stall for time. Another time I whined that I wanted to overeat and Bill suggested that I do 20 pushups. Having nothing to lose, I shut my office door and did, and it helped. So, yeah. If I can, I go for a walk. Do some crunches. Do some pushups or tricep dips. Anything to stall for time. Because if I can just hold out for about 20 minutes the feeling usually goes away. It might come back again later, but at least temporarily it goes away.
23. Get adequate rest. Things go downhill for me when I'm short on sleep, spending too much time in the car driving, trying to do to many things, etc. Some evenings I have to go to bed early and shut the cats out of the bedroom to make sure I get a decent night's sleep. The effect of sleep depletion is cumulative, at least in my case. I can handle a week or two short on rest, but if I keep it up, it eventually catches up with me - and one of the ways that happens is I find my resistance to binges is much lower; I make more unhealthy decisions.
24. Minimize alcohol consumption. Yup, it lowers my inhibitions, just like it does for the rest of humanity. And while that can be fun, it can be also dangerous if there happens to be food around...
25. Making my bed, keeping my house clean, putting away my laundry - doing the little things that help make me feel like someone loves me. Disengaging in general from self-neglectful behaviors. www.sparkpeople.com/mypage_pu
blic_journal_individual.asp?blog_id=51
39440

Every one of those habits was discovered to help by trial and error. I've collected them from suggestions from other Spark People, articles, etc. They all add up to constructing a world where I can live reasonably safe from binge triggers most of the time.

I'm like an addict in recovery. I have found I need to remain vigilant and some days it's all I can do just to get through one hour, then another hour, then another hour, even with these strategies. Like NELLJONES says, it's One Day at a Time. But I do think they help.

UPDATE:
There is a whole section about managing binge behaviors in At Goal & Maintaining + Transition to Maintenance Team Big Page of Links:
docs.google.com/document/d/1AkUBsUAC
T7rZ5GsdF7jT9YcD1Xa80VFGiJ5JeUkur8A/pub





Thursday, December 29, 2011

Oh yeah that's right. *I* am! LOL ;-)





Friday, December 23, 2011
I read a lot of blog posts and forum messages from people who feel confused and dismayed about plateaus and slow weight loss. Knowing your personal total calorie burn is important so you can figure out how much to eat - so you can set up an appropriate calorie deficit for losing, or set a target to maintain.

There are tools available here at SP for estimating your basal metabolic rate and calorie burn through exercise, etc. Unfortunately they can be wildly inaccurate because they are based on formulas for average humans and not based on YOU, individually.

If you like podcasts, there's a really good one by Leigh Peele about how estimating metabolism is almost more of an art than a science:
podbay.fm/show/318352335/e/13
46616843

This topic comes up with such regularity that I've decided to write a blog post about it, so I can just refer people here when I see it again.

---------------------------

Here is how you calculate your own, individual daily calorie burn rate:

You take the calories eaten and compare it to what your weight is doing on the scale.

Suppose you are eating on average 1600 calories per day and losing about 1.6 pounds per week.

1.6 pounds is roughly equivalent to 3500 calories times 1.6 = 5600 calories. So if you're losing about 5600 calories per week, divide that by seven to figure out your daily average deficit. In this case that is about 800 calories.

So if you're taking in about 1600 calories per day and are 800 calories below your daily needs, that means your daily calorie needs are about 1600+800 = 2400 calories.

Suppose you're eating about 2000 calories per day and gaining about 0.5 pounds per week?

0.5 pounds times 3500 calories is about 1750 extra calories per week. Divide that by seven and it is about 250 calories extra per day.

Those numbers would mean that your total burn is about 2000 - 250 = 1750 calories per day.

Suppose you are eating about 2100 calories per day and have been at a plateau for about 2 weeks. That makes the math really easy. It means you're burning roughly what you're eating, 2100 calories.

This principle is laid out in beautiful detail in the Hacker's Diet online
www.fourmilab.ch/hackdiet

We also have a Spark Team about this:
teams.sparkpeople.com/hackersdiet

---------------------------

There are a few requirements to make this work. And you need to apply them consistently over weeks in order to figure out what is going on with your body.

1) You need to have a fairly consistent exercise routine. If you collect the numbers while training for a triathlon and then try to apply them during a 2 week cruise in the tropics, your estimates will be off.

2) You need to track your food. ALL of your food. And you need to track it accurately. If you don't know how much you are eating, you can't figure out how much you are burning. Because I love accuracy so much, I weigh everything I eat; using cups and teaspoons isn't as precise.

Here is a blog post about using a scale to track your food:
www.sparkpeople.com/mypage_public_jo
urnal_individual.asp?blog_id=2588275

3) You need an accurate estimate of your weight. Daily fluctuations due to hydration can be as much as 2%. Weighing yourself once a week will help you see a downward or upward trend, but it won't take out the +/- 2% error problem for each measurement.

Because of this I like to use a weighted moving average of my daily weight. There are a number of free sites that can calculate this for you.

www.fourmilab.ch/hackdiet/online/hdo
.html

myhackerdiet.com

www.myweightracker.com

I personally like physicsdiet.com but the site appears to be down at the moment.

There are links to iphone and Android apps that do this in the links at the Hacker's Diet spark team:
www.sparkpeople.com/myspark/groups_l
inks.asp?gid=31785

Or you can use the principles of the Hacker's Diet and make your own spreadsheet as I have done over at Google Docs: docs.google.com/spreadsheet/ccc?key=
0Ah4Kr%20A4GkhKgdEF6dlJkbnNlVEFCZlhxRE
lCWDZNUlE%20&hl=en_US#gid=8

However you do the tracking of your weight and food, you need to do it accurately and consistently. The better your data, the more clearly you will be able to understand the results.

---------------------------

So, after a week or so, figure out your average calories eaten and how much you're burning or storing based on your weight. With those numbers you can calculate an appropriate deficit. Most sources recommend a deficit of about 500 calories per day to lose about a pound a week.

We can safely lose about 1% - 1.5% of our weight per week. www.sparkpeople.com/myspark/t
eam_messageboard_thread.asp?board=0x42
470x42550478x1xfirst During the year that I lost 160 lbs I ran a deficit of more than 1000 calories per day without much problem.

Now that I'm back in maintenance range it's even more important to have accurate estimates for my calorie needs - I have to know how much to eat!

That first example above is actually me. I've been eating about 1600 calories per day and losing about 1.6 lbs per week. My plan is to raise my eating target by 100 calories each week. So next Monday I'll target 1700 calories per day and see what happens. The week after that I'll target 1800 calories per day.

Since I started about 800 calories below my needs it should take about two months to stabilize, assuming my activity levels remain about the same. I estimate that I'll lose about 7 more pounds during those two months, and it should taper off to almost no weight change from week to week.

If I get sidelined by injury or illness my burn rate will drop. If I end up being more active than this my burn rate will go up. So I'll be watching the numbers carefully.

Here is a graph of my estimated calorie intake and burn. You can see that it varies somewhat depending on my activity.



docs.google.com/spreadsheet/ccc?key=
0Ah4KrA4GkhKgdFh1RVF6X0UyN1IyeXZNV3R1R
nJieWc#gid=1

Just for reference, this is a typical week's exercise for me:

M - Tae Kardio at lunchtime, Body Pump Class in the evening
Tu - Spinning in the evening
W - Tae Kardio at lunchtime, Body Pump Class in the evening
Th - Tae Kardio at lunchtime, Spinning in the evening
F- Rest, stretching, sometimes a deep tissue massage
Sa - Playing outside (kayaking, XC skiing, snowboarding, road cycling, etc.)
Su - Playing outside (usually kayaking or road cycling)

*I wear 5 lbs on each ankle & wrist for Tae Kardio. I take the seat off the spin bike and do the whole class standing and hovering. I lift as heavy as I can in Body Pump without losing form.
---------------------------

Having said all this, I need to add a disclaimer that this whole endeavor is not really about the number on the scale at all. The number on the scale is just a convenient, rough indicator. What I really care about is body composition and athletic performance.

How you control that is with WHAT you eat, and HOW you burn your calories. And tracking it is a much more difficult can of worms.

Here's a blog post about tracking body composition:
www.sparkpeople.com/mypage_public_jo
urnal_individual.asp?blog_id=4790344





Monday, December 19, 2011


physicsdiet.com/Public.aspx?u=4a-hea
lthy-bmi

I use Physicsdiet.com to track my weight because it calculates a weighted moving average, smoothing out the fluctuations. (Depending on how much salt I have, I can fluctuate up to 4 lbs from one day to the next.)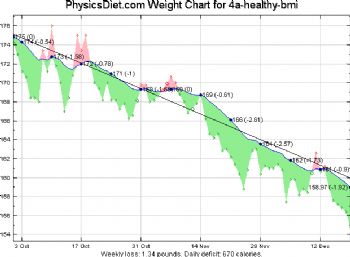 physicsdiet.com/Chart.ashx?t=WeightL
oss&s=2011-10-01&e=2011-12-19&u=4a-hea
lthy-bmi
My actual scale weight this morning was 154.8, the lowest I've weighed since March 2010 and 0.2 lbs under the center of my current goal range (155). My range is +/- 3% centered around 155 (150.4 - 159.7). It's based on the logic spelled out in this research paper: ikeepitoff.com/2011/09/maintenancede
finitionsrevisisted

I have a friend who thinks I'm probably going to settle out at a weight around 145. I think that's his medical opinion, but it might be his opinion as a kayaker, since he's both. We'll see.

My % body fat has been dropping nicely too.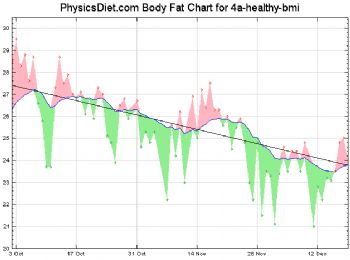 physicsdiet.com/Chart.ashx?t=BodyFat
&s=2011-10-01&e=2011-12-19&u=4a-health
y-bmi

In this general range I have gotten my body fat under 20% before and I'm shooting for that again.

So I'm continuing to aim for 150g of protein a day and continuing my heavy strength training alternating with cardio. I'm increasing my daily calorie target to about 1600 calories for now (up from 1500) to slow down the weight loss a little.

OH, and a kayak news flash. Now my hand roll is solid in the pool on my "on" side in my playboat and I got one on my "off" side last night!

And yes, I'm still paddling. Outside. In 29 degrees F.
www.everytrail.com/view_trip.php?tri
p_id=1390344


That kayaking trip to Costa Rica next month is looking better and better. LOL





Thursday, December 15, 2011
This is a time-lapse I took of myself, playing with my cats in the spring of 2008.
(The black and white cat is the one who died of old age a couple weeks ago)
This is also from the spring of 2008.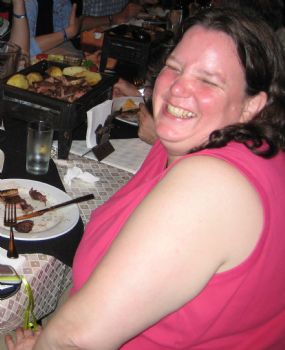 Here's a picture of me in December 2005.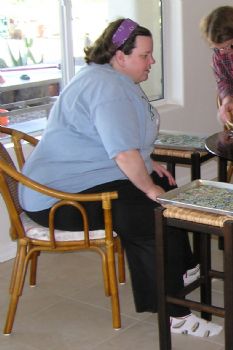 I did have good times then. Life definitely wasn't horrible. I traveled, I had friends, I had hobbies, and I had a satisfying job. I knew how to have fun.
I still do. It's just a different kind of fun, now.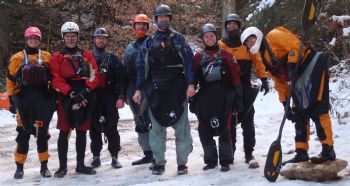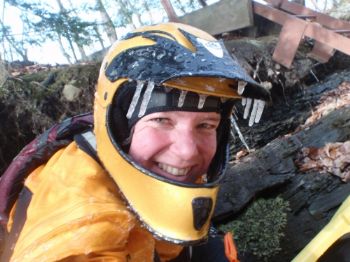 First Page
1
2
3
4
5
6
7
8
9
10
11
12
13 14 15 16 17 18 19 20 21 22 23 24 25 26 27 28 29 30 31 32 33 34 35 36 37 38 39 40 41 42 43 44 45 46 47 48 Last Page

Get An Email Alert Each Time 4A-HEALTHY-BMI Posts