| | |
| --- | --- |
| | 4A-HEALTHY-BMI's Recent Blog Entries |


Tuesday, October 11, 2011
In a small sense I'm making up for lost time because I signed up to go white water kayaking in Costa Rica for a week in January. That will take some of the sting out of losing the entire summer season to rehab my rotator cuff surgery.

In a larger sense, however, my current life is making up for lost time in general. I really go after the things I want now. When I discovered white water kayaking I pushed myself so hard at it I had no idea where my comfort zone even was. Faster, stronger, harder, longer, bigger, better.

It's probably no coincidence I tore my rotator cuff while snowboarding this spring. I am aggressive on the slopes, like I am on the rivers. And on my road bike. Sometimes if feels like I am channeling an inner adolescent boy.

I'm just so grateful to no longer be living in my own personal coffin of flesh at a BMI over 50, with mobility issues already beginning. I lived for about 15 years that way, from my mid-30s to my mid-40s. I was well over 200 lbs from my mid 20s to my mid 30s. And it wasn't fun.

It wasn't horrible; I mean I traveled and had hobbies and friends and enjoyed life. But I didn't enjoy it the way I do now. I can go places now that most of the rest of the human population can't, simply because I have developed unusual skills and I'm in the appropriate physical shape to do it.

4 years ago if you'd told me I'd be signing up for a class III-IV whitewater kayaking trip in Central America I'd have laughed at you. Because it wasn't even conceivable.

So now I'm living out loud and training hard and eating right during the week so that I can enjoy doing the things I love on the weekends and vacations.

Yes, I have to track my food on my iPod. Yes, I weigh myself every morning and log it on the physicsdiet.com tracker. No, I can't just go and eat whatever I want whenever I want, anymore.

But it's worth it. It is so totally worth it.







Sunday, October 09, 2011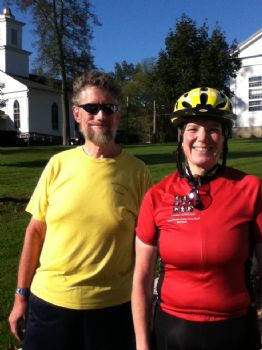 www.sparkpeople.com/mypage.asp?id=DD
OORN

Don and I have known each other through SP for 2-3 years and although we live not far from each other and we're both pretty avid road cyclists, we've never actually ridden together.

Yesterday we finally did.

Track here: ridewithgps.com/trips/414778

It was a comfortable 60 mile loop with his usual group, the Southern Tier Bicycling Club.
www.southerntierbicycleclub.org


Don and I added about 15 miles to the planned loop and started in Port Crane, NY. I left my house at 6:15 am in order to meet him there by 8:30.
We rode over Belden hill and met the rest of the group in Windsor.
At about 10 we all started out in a clump, and as we climbed the hill on the way to McClure we spread out a bit. We regrouped again at McClure (which Don said he had expected to be a "booming metropolis" based on the size of the text on the map - it wasn't. LOL)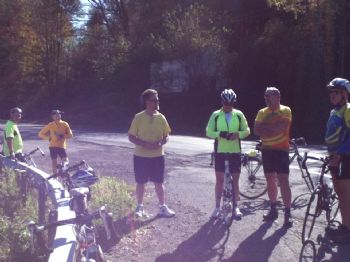 Then we all set off again over a nice big hill with lunch in Afton on the other side. I fell in with a nice group of folks, and on the way down we ran into Regina, who was riding out to meet us on her recumbent. Regina is on SP too! (I'll have to get her ID from Don; I don't remember it)
We made our way into Afton and stopped for lunch at a fabulous restaurant / bakery.

www.mainstreetgrillandbakery.com

They reserved tables for us!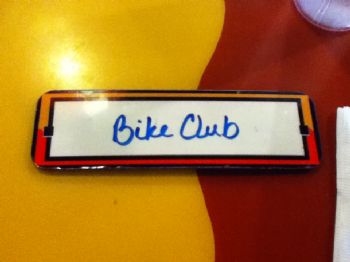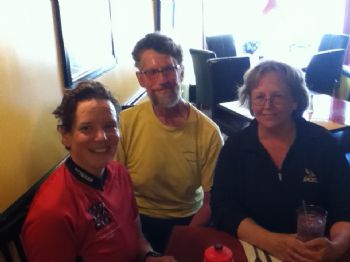 Me, Don, Regina

I don't usually gush about food. Seriously. But this was really really well done.

A guy at our table (I think his name is Steve) ordered a piece of German chocolate cake and split it up as appetizers, and (probably because I rarely eat that sort of thing) the tiny piece I had sent my tastebuds spiraling into an ecstacy of sugar, starch, and fat.

The ride leader, Steve Russo, recommended the winter squash soup, and he was right. It was amazing. It was also very rich, and on the ride home both Don and I noticed that we weren't feeling as energetic as usual. I chalk it up to the cream that was probably in the soup. Good thing we each only had a cup of it. LOL

We also had these awesome tuna steak salads with cranberries, feta, walnuts, etc. It was delicious and extremely satisfying without being stultifying.

We got back on our bikes and rode west along 7. At Nineveh Don and I were to stay on 7 while everyone else turned south and headed back toward Windsor. We took some pictures on the bridge over the Susquehanna, then parted ways and Don and I rode back over Belden Hill and to our cars.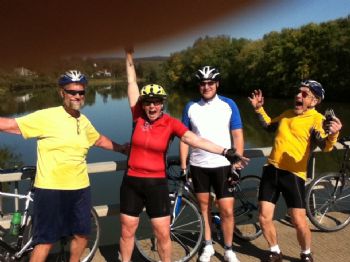 It was really nice. More social than the rides I'm used to, but that was a welcome change. And I burned over 2000 calories according to my HR monitor, so that makes me happy too. If that group weren't almost 2 hours away I'd definitely ride with them on a regular basis. I can see why Don does.

On my way back home I stopped in Ithaca and went to the Friends of the Library book sale www.booksale.org and picked up over $30 of used books on kayaking, travel memoirs, nature, and snowboarding (maybe I can pick up tips that will prevent me from tearing my rotator cuff this winter. LOL)

I also found a first edition of the AMC white water handbook for canoe and kayak. Published the year I was born. With awesome pictures of people in the custom fiberglass boats they used to use before plastic was invented. I paid 50 cents for it.

I got home almost exactly 12 hours from when I left, tired and happy.





Sunday, October 02, 2011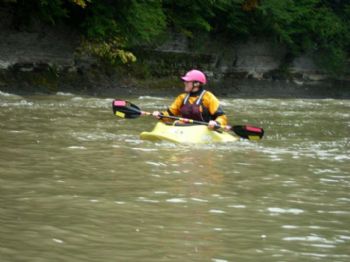 At the beginning of May the surgeon and PT said, "NO PADDLING IN RIVERS UNTIL OCTOBER."
History of all that is here: www.sparkpeople.com/mypage_public_jo
urnal_individual.asp?blog_id=4483058

So I paddled in lakes and surf until OCTOBER. Which was yesterday. And promptly started paddling in rivers again.




We took a group of 6 beginners and 5 experienced folks to Letchworth Gorge. Whitewater kayakers look mostly like normal people when they're off the river.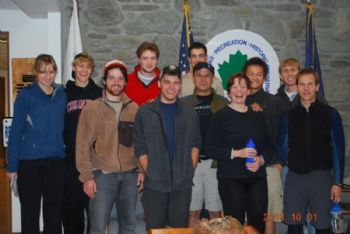 When we gear up it changes,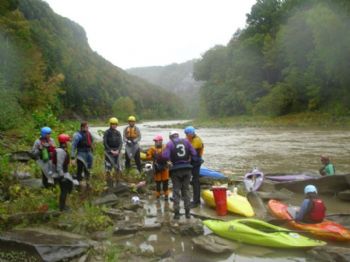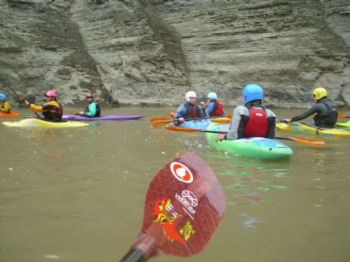 We had loads of fun surfing in the little waves, practicing our rolls (and wet exits), and tossing a ball between us all the way down. You can see the GPS track here:
ridewithgps.com/trips/408437
The gorge is so deep the device had trouble acquiring satellite signals, which is why it looks like we're paddling on land in some places. LOL

I'm happy moving toward a future with MORE PADDLING in it!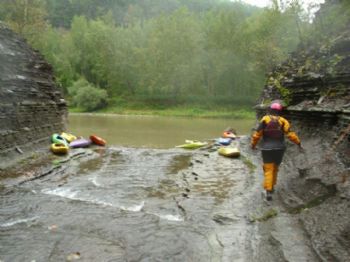 Friday, September 30, 2011
The statistics are disheartening no matter how you define weight maintenance.

Here are two extremes:
5% of people manage to stay within about 5 lbs of their goal weight.
www.ncbi.nlm.nih.gov/pubmed/1
0224727
20% of people manage to keep off at least 10% of the weight they lost in the first place.
www.ncbi.nlm.nih.gov/pubmed/11375440

But look at these numbers:

NELLJONES has maintained for almost 41 years.
SHIRLEYD1959 has maintained for over 23 years.
JACKIERN and BETH7CAM have maintained over 8 years.
PERSISTENCEMIMI, ZUCCHINIQUEEN, CAROLJEAN64, and JCORYCMA have all maintained over 5 years.

When I'm trying to do something that is hard, I like to have role models. For bicycling, Lance Armstrong is a pretty good one. I like to read about how he eats, trains, and LIVES. I'm not Lance and I'm not going to ride in the Tour de France anytime soon, but I still get good ideas and motivation for my own training. And that makes me a better cyclist.

Weight maintenance, as shown by the statistics above, is also difficult. Unlike world class bicycle racing, or even the world of weight loss, we almost never see maintenance role models acknowledged, let alone celebrated. So how do I even find out who is good at this game so I can learn from their experiences?

I make a list, that's how.

As one way to keep ourselves focused and engaged, we've started celebrating maintenance anniversaries in the At Goal and Maintaining team.
www.sparkpeople.com/myspark/t
eam_messageboard.asp?board=0x1111

In the process of finding out when to celebrate those anniversaries we've also ended up collecting a list that can be sorted in terms of how long people have maintained. You can see it here:
tinyurl.com/maintenance-hall-of-fame

Years maintained
40.764 NELLJONES
23.125 SHIRLEYD1959
8.292 JACKIERN
8.292 BETH7CAM
7.244 PERSISTENCEMIMI
6.844 ZUCCHINIQUEEN
6.139 CAROLJEAN64
5.097 JCORYCMA
4.886 POTRIDGE4
4.556 GOLIONS
4.333 PEGGYT3
4.194 -HORSELADY-
4.139 CAROLJEAN64
4.05 DIDMIS
4.017 DLVANCE24
3.958 ANNE403
3.242 ERPARA
3.181 DUBINJL
3.175 LF5517A
3.056 MOM5INFL
3.042 AEHEGE
2.764 SPARKARINO
2.747 LILAC93
2.619 BORN2BLOSSOM
2.558 SLENDERELLA61
2.556 BULBS
2.208 BESTSUSIEYET
2.125 WATERMELLEN
1.906 BAILEYS7OF9
1.875 SHERONN66
1.825 LAURIE5658
1.806 DONNAEDA
1.725 4A-HEALTHY-BMI
1.639 SLOANARTS101
1.55 HUSKYPUP
1.244 MAYFLOWERCHICK
1.239 HAPPYLOSERS1
1.156 ONEKIDSMOM
1.081 ROSEWAND
1.056 CAHUNO2
1.028 GUITARWOMAN
1.022 62NVON
0.911 CHERRYALLIE
0.897 LADYBUG999
0.897 BRONWATER
0.892 CLARKBAR01
0.794 GISSELLET
0.792 MEXGAL1
0.75 SKIRNIR
0.747 HAPPYSOUL91
0.733 ELLEKTRA
0.703 DENISEFULLER
0.639 SHELBSYD
0.556 AGILLASPIE60
0.5 COACHMOMMY
0.478 NORTHWOODSMOM8
0.461 G1NNY7
0.458 MAGGIEROSEBOWL
0.458 MJREIMERS
0.4 MAARTJEBOL
0.392 HEALTHYCALM
0.372 MIRAGE727
0.369 CARTER4414
0.367 LJR4HEALTH
0.314 CARLAKYN18
0.303 STARDUSTD
0.289 LOVINGIT7
0.239 SUSIEMT
0.139 EMEXROSE
0.125 MILEHI52`
0.078 SHERRYJVP

Those long-term maintainers are the folks that the REST of us need around. For their advice, support, and as living, breathing examples of people who are putting in the work every day to keep their fitness. They have life throwing them curve balls too. And they have setbacks. And they overcome them.

Over 60% of us on the At Goal and Maintaining team have maintained less than 2 years.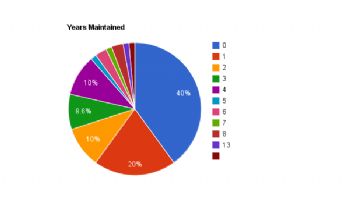 docs.google.com/spreadsheet/pub?hl=e
n_US&hl=en_US&key=0Ah4KrA4GkhKgdC1oVGR
kVTA0bUNTZk5zTGtzeHZGRmc&single=true&g
id=9&output=html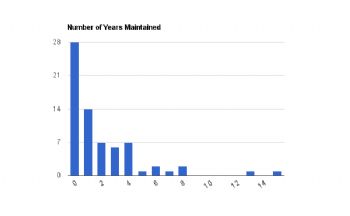 docs.google.com/spreadsheet/pub?hl=e
n_US&hl=en_US&key=0Ah4KrA4GkhKgdC1oVGR
kVTA0bUNTZk5zTGtzeHZGRmc&single=true&g
id=7&output=html

I think if we can figure out how to stay engaged and focused and learn from these people, I think we can beat those depressing published odds.

We've started having maintenance challenges, to see who is good at holding weight steady for two months. And we're brainstorming and investigating other ways to keep ourselves interested and involved.

If you are maintaining and would like to celebrate YOUR anniversary, I encourage you to join the team
teams.sparkpeople.com/maintaining

and also put yourself in our list of maintainers:
docs.google.com/spreadsheet/viewform
?hl=en_US&formkey=dC1oVGRkVTA0bUNTZk5z
TGtzeHZGRmc6MQ#gid=0

And if you'd like to make maintainers more visible and celebrated, one thing you can do is "like" this post so more people will see it (and them).

---------------
Update: One year later the list is still going strong, with twice the number of maintainers on it!
www.sparkpeople.com/mypage_public_jo
urnal_individual.asp?blog_id=5057292





Wednesday, September 21, 2011
Last month there was an article published in the Journal of the American Dietetic Association that caused a flurry of response in the world of weight control. It had to do with the idea of reframing obesity as a result of genetic tendencies in a toxic food environment rather than a failure of will power.

There is a nice summary of the article, here:
www.drsharma.ca/obesity-is-it-time-t
o-abandon-the-notion-of-personal-choic
e-in-dietary-counseling.html

Before you jump to dismiss this as yet another "health at any size" platform or an article absolving the individual of any free will, please read it.

The idea is not to throw up your hands and accept that you're "meant to be this size," but rather adopt strategies that will help someone with these biological urges manage their weight. For example, avoiding temptation and exposure to highly palatable foods by sticking to grocery lists and actively avoiding challenging situations such as buffets.

In other words, it's not a character or moral failure for someone to have difficulty with temptations. It's legitimate to avoid them.

I like Dr. Sharma's closing analogy: "recognising that someone has a hypersensitive bronchial system that predisposes them to asthma should lead them to avoiding and eliminating air-borne pollutants in their immediate environment rather than simply trying to breathe less."

This rings pretty true for me. When I'm vulnerable I have to purge my house of things that I'm tempted to overeat. I don't have cable TV because TV makes me want to eat. I limit my exposure to restaurants and try to stick to ones I know have something on the menu I can enjoy without going over my calories.

It is not a personal or moral failure in me that I need to track my food to keep from overeating and control my size. It is a simple fact.



First Page
1
2
3
4
5
6
7
8
9
10
11
12
13
14
15
16
17
18 19 20 21 22 23 24 25 26 27 28 29 30 31 32 33 34 35 36 37 38 39 40 41 42 43 44 45 46 47 48 Last Page

Get An Email Alert Each Time 4A-HEALTHY-BMI Posts