| | |
| --- | --- |
| | 4A-HEALTHY-BMI's Recent Blog Entries |


Friday, October 03, 2014
Ever since having been relocated here, I have dreaded the possibility of dealing with a tornado.

I grew up in CA so I am just fine with wildfires, landslides, riots, and yes, even earthquakes. I lived for the last 20 years or so in the Northeast so I became accustomed to hurricanes, blizzards, and ice storms.

But this whole death from above thing wigs me right out.

I am well aware that tornadoes can be severe here:
www.youtube.com/watch?v=KgU4CxsffYE

And they briefed us at work about how to prepare for such things.

It doesn't help that in the Delta region the water table is right at the surface so there aren't basements or underground shelters. Either they would leak or they would pop up through the ground. Even the fuel tanks in gas stations have to remain filled to a certain level or they become too light to stay below the ground.

Aboveground shelters do exist but I'm renting the home I live in (the one I own in NY hasn't sold yet) and there would be no way to install one here. There are no city shelters. So the only option is to go into an interior room and hope that's good enough.

So I was not super thrilled when my cell phone started honking at me and I saw the following message pop up: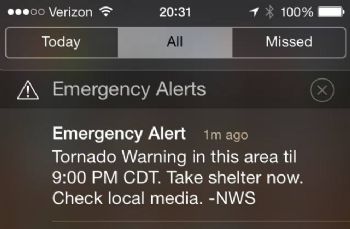 I grabbed the computer and the phone and their cords and called the cats, and like good little pets they came like they are supposed to, and we all went into the bathroom to wait.

I'd texted the message to my bf who still lives in NY and he called so we talked on the phone while I hunted around for maps and information on the internet to figure out what was going on.

And I was not terribly thrilled to find this predicted track, where there were not one, but two potential tornadoes heading to my location:



So we hunkered down in there and I could faintly hear sirens and then I heard something really loud, and I think it was rain but maybe high winds too because the house creaked a little. About that time there were reports from the municipal airport of 68mph winds.

It got kind of hot in there because it's a tiny bathroom. To kill time I scooped the litter box and cleaned up the dry cat food they scattered around their dish (this is the guest bathroom so the cats own it).

Eventually at 9:45 the internet said the danger had passed but that there would be a watch until 2am. Lovely.

So now I've finally been through the drill. Things to remember for next time:

1) Put the radio in the bathroom and get batteries for it
2) Make sure there's TP for me in there (I usually don't use that toilet)
3) Have some cat treats in there, and protein bars and a couple bottles of water wouldn't hurt

To people who are used to these things I probably sound silly. Especially since I'm thousands of times more likely to get injured or killed driving back and forth to Little Rock than I am by a tornado. But the idea of sitting there in a stuffy little bathroom waiting for it to come and get me still wigs me out.







Tuesday, August 12, 2014
None of us here want to lose the weight only to turn around and gain it back. So just getting it off is only part of the battle. KEEPING it off is the real thing, if we really want to reclaim our health and all the other things that come along with weight loss.

So, while it can be really inspirational to see a recent transformation, there are always those depressing statistics looming in the background. Depending on the way a study is done and how maintenance is defined, the statistics look something like this:

- The likelihood of regaining weight when you reach goal is 80% - 95%. +

- When you've maintained for 2 years the likelihood of regain drops to 50%*.

- When you've maintained for 5 years the likelihood of regain drops to 27%*!

+ various studies
* clinical.diabetesjournals.org
/content/26/3/100.full

With odds like that, itís almost surprising anyone would attempt to lose weight! However, the magic of SparkPeople is that it helps us find others who share the same concerns and experiences. The At Goal & Maintaining + Transition to Maintenance team
( teams.sparkpeople.com/maintai
ning )
is all about grappling with what it means to maintain a weight loss, how to prepare for it, and how to manage with the inevitable curveballs life throws at us.

For several years now weíve kept a list of people who volunteer information about their maintenance. This list serves two purposes. First, it lets us know when to acknowledge maintenance anniversaries, and as you can see from the stats above, each year of maintenance signals increased likelihood of continued maintenance. Itís important to celebrate these milestones!

Second, it gives us a list of people we can look to for inspiration and guidance for our own maintenance. All of these folks are actively maintaining and on the site (they have to update their information every year to stay on the list), and they are incredibly generous with advice and support. Just knowing they exist bolsters my confidence that I can stick with it. And their blog posts can be very helpful. Sometimes I really need to hear NELLJONESí no-nonsense advice about how to cope without self-pity, for example.

Collectively this group have lost 14,417 lbs and kept it off for 777 years. There are almost 240 people on this list now - we started three years ago in 2011 with only 71 people. Only 119 folks have dropped by the wayside over the past three years by failing to check in or asking to be removed from the list. (Two of them are having babies!)

So Iíd say that we are doing a pretty good job of beating the odds, right here at SparkPeople with our home-grown tools and mutual support on the team.

Each of these folks is grappling with what maintenance means individually to him or her, and is committed to continuing to refine the skills, tools, and attitude necessary to keep the weight off. One of the best things about the team is that among the 235 folks listed, there are probably 235 individual maintenance strategies. So if you have a problem, chances are that someone in the team has figured out a way around it. All you have to do is ask!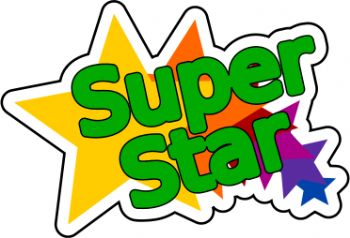 And now having said that, Iíd like to present you with the current list of Weight Management Superstars:

43+ years
NELLJONES (33 lbs)

28+ years
IMAFIT1 (20 lbs)

26+ years
KAYOTIC (65 lbs)

17+ years
VANANDEL (35 lbs)

14+ years
LGREEN521 (18 lbs)

13+ years
JOHN__ (115 lbs)

11+ years
POINDEXTRA (55 lbs)
BETH7CAM (34 lbs)

10+ years
LESLIE871948 (200 lbs)
PERSISTENCEMIMI (50 lbs)

9+ years
HMMILLER007 (40 lbs)
HAPPYSOUL91 (100 lbs)
SUZYMOBILE (50 lbs)

8+ years
BRIGHTANGEL (? lbs)
LESLIESENIOR (60 lbs)

7+ years
JCORYCMA (70 lbs)
GOING4MUSCLE (75 lbs)

6+ years
PEGGYT3 (10 lbs)
KSIGMA1222 (155 lbs)
MYSTERYROSE74 (35 lbs)
FELINA (33 lbs)
NEW-CAZ (34 lbs)
GOLIONS (41 lbs)
DUBINJL (41 lbs)

5+ years
MOOSLADY (59 lbs)
AEHEGE (50 lbs)
CAROLISCIOUS (60 lbs)
MOM5INFL (141 lbs)
SPARKARINO (? lbs)
KNH771 (130 lbs)
SLENDERELLA61 (82 lbs)
KATIE3908 (30 lbs)
GOING-STRONG (75 lbs)
WATERMELLEN (80 lbs)

4+ years
BAILEYS7OF9 (23 lbs)
JAN8573 (65 lbs)
LOLA_98CHIC (50 lbs)
ISHIIGIRL (70 lbs)
_LINDA (67 lbs)
BROOKLYN_BORN (25 lbs)
LAURIE5658 (25 lbs)
KIM--POSSIBLE (40 lbs)
4A-HEALTHY-BMI (164.1 lbs)
BREWMASTERBILL (70 lbs)
MEXGAL1 (? lbs)
DAWNFIRE72 (30 lbs)
NANCYANNE55 (44 lbs)
CHANGINGHORSES (60 lbs)
KEEPITSIMPLE_ (52 lbs)
LOGOULD (38 lbs)
DAWNDMOORE40 (56 lbs)
SUSIEMT (150 lbs)
PROSPERITY2010 (60 lbs)
ONEKIDSMOM (75 lbs)
AALLEY2 (76 lbs)

3+ years
ROSEWAND (60 lbs)
ANNIEONLI (55 lbs)
ONEWEIGH (37 lbs)
ELLEKTRA (175 lbs)
GISSELLET (70 lbs)
SKIRNIR (55 lbs)
DAKOTACAT (150 lbs)
HAKAPES (50 lbs)
DENISEFULLER (13 lbs)
TINASWEEP (95 lbs)
MRSJERRYBUSH (33 lbs)
MARYELLEN301 (60 lbs)
MJREIMERS (40 lbs)
WESTCOASTKID (11 lbs)
UPTOIT59 (15 lbs)
MAGGIEROSEBOWL (178 lbs)
G1NNY7 (30 lbs)
SHAWFAN (130 lbs)
HEALTHYCALM (7 lbs)
DAISYBELL6 (90 lbs)
MIRAGE727 (100 lbs)
LISAW/3 (55 lbs)
MAREE1953 (25 lbs)
MLB570 (50 lbs)
NAVYMOM133 (55 lbs)
KFH3107 (65 lbs)
HOLLY255255 (35 lbs)
NEWNANCY2012 (70 lbs)
XRAYLADY65 (100 lbs)
JACKIERN (25 lbs)
CRAFTERPAULA (108 lbs)
TUBLADY (190 lbs)
LJBRANDOK (75 lbs)

2+ years
LYNNE114 (20 lbs)
KRISZTA11 (25 lbs)
MAMABUGAZ (60 lbs)
CRYSMYS (50 lbs)
MOBYCARP (59 lbs)
FRENCHTOSD (130 lbs)
AMARILYNH (52 lbs)
KANOE10 (110 lbs)
DEBBYFROMMT (25 lbs)
PRESBESS (51 lbs)
THETURTLEBEAR (75 lbs)
SUNSHINE20113 (33 lbs)
JEWELY_ROADS (? lbs)
GERMANIRISHGIRL (61 lbs)
HONEYCAT22000 (60 lbs)
SCOUTMOM715 (100 lbs)
_JODI404 (27 lbs)
MELFOUCH (? lbs)
JESSIHOVER2 (140 lbs)
ANNE403 (? lbs)
LORILEEPAGE (? lbs)
MKELLY72 (100 lbs)
DIVIERO968 (168 lbs)
TINAJANE76 (91 lbs)
OOLALA53 (40 lbs)
NEVERGIVEUP (60 lbs)
PCASEY7 (50 lbs)
GLASSART43 (57 lbs)
BLONDBIKEGIRL (110 lbs)
MARIO432 (101 lbs)
CELIAMINER (75 lbs)
BABARR67 (161 lbs)
LIVIN2LOVE1 (65 lbs)
BEC5060 (100 lbs)
PEZMOM1 (40 lbs)
1LADYMYSTIC (62 lbs)
GETFIT2LIVE (110 lbs)

1+ years
SWEDE_SU (20 lbs)
LCERVERA (34 lbs)
STITCHINGNAN (35 lbs)
KANSASROSE67 (40 lbs)
TORTISE110 (30 lbs)
MISSB8604 (75 lbs)
MILLIE5522 (37 lbs)
BIGPAWSUP (54 lbs)
FIRECOM (65 lbs)
PRESSINGON3:14 (? lbs)
DESERTJULZ (25 lbs)
ASCHU2 (50 lbs)
BROWNCOFIDDLER (52 lbs)
ICELAND_LOVER (125 lbs)
VISUALLYRICS (65 lbs)
WANDERINGDOC (102 lbs)
DAHLIA444444 (? lbs)
THOMASINA57 (20 lbs)
KELLIEBEAN (36 lbs)
DEADCENTER (50 lbs)
PAM_COOPER (150 lbs)
MARCOSMASTER (90 lbs)
DALID414 (26 lbs)
LARRI2010 (? lbs)
MOONCHILD8 (43 lbs)
GREENGENES (40 lbs)
SHERRYLHBB (77.5 lbs)
CHRISTIECAT (102 lbs)
STORYCRAFTER (30 lbs)
PLMITCH (92 lbs)
POOKASLUAGH (100 lbs)
JSTETSER (5 lbs)
SKYVALLEYGAL (35 lbs)
KSCHRAUT (85 lbs)
EMARTIN1974 (? lbs)
BESSHAILE (25 lbs)
LRSILVER (27 lbs)
SPARKLINGME176 (51 lbs)
JENNILACEY (58 lbs)
BOOKAPHILE (35 lbs)
MARF226 (47 lbs)
ELIZABETH5268 (30 lbs)
CHEESER22 (62 lbs)
KIMBERLY_Y (25 lbs)
MARTHA324 (80 lbs)
WENDYANNE61 (20 lbs)
FATGIRLRUNN (90 lbs)
DIANNEMT (40 lbs)
JULENA1 (80 lbs)
JANCARD (85 lbs)
NICKYCRANE (22 lbs)
TANYA602 (76 lbs)
CDCSMITH2013 (22 lbs)
KATHIEEM22 (45 lbs)
LESLIELENORE (160 lbs)
RENATARUNS (45 lbs)
CRUISEBOUND2014 (50 lbs)
BOPPY_ (126 lbs)
CROSSLITES (17 lbs)
MOMMY445 (30 lbs)
LYNCHD05 (35 lbs)
ALISONCHRISTIAN (35 lbs)
HOLLYM48 (45 lbs)
FIT4MEIN2013 (138 lbs)
AUNTB63 (60 lbs)
CARRIENIGN (35 lbs)
REDCATWHITE45 (18 lbs)
RPCLEM2000 (103 lbs)

Working on the first year
LADYREDCOMET (35 lbs)
KERIVSMITH (90 lbs)
ANGELCITYGAL (35 lbs)
GLORIAMAJDI (90 lbs)
SPARKBJOK (14 lbs)
STR458 (52 lbs)
SWEET_CAROLYN (115 lbs)
LGIOWA (50 lbs)
RESTORETOSANITY (120 lbs)
NANADEE44 (35 lbs)
MICHIGANLORI (62 lbs)
DIDMIS (? lbs)
ABYSTAR (38 lbs)
NANCIER (41 lbs)
PASTAFARIAN (50 lbs)
MICKEYH (65 lbs)
GEMLADYONE (70 lbs)
RAVELGIRLY (100 lbs)
FAIRHAVENQUEEN (78 lbs)
PENNYLANE15 (138 lbs)
KIMPY225 (95 lbs)
SINGINGLADY47 (239 lbs)
RENTSERENITY (40 lbs)
IAMAGEMLOVER (120 lbs)
MAMMAC66 (127 lbs)
ECCOVISION1 (? lbs)
ELIZADUCK (57 lbs)
LORAC67 (21 lbs)
LLTHOMAS1117 (56 lbs)
BANANAMAG (51 lbs)
JAMIRBLAZE (55 lbs)
DONNAEDA (75 lbs)
JOANNEEMERALD (20 lbs)
DDOORN (92 lbs)
ICEDEMETER (85 lbs)
MEADOWBUTTERFLY (10 lbs)
POSITIVESPACE (76 lbs)
LKG9999 (54 lbs)
OHMEMEME (55 lbs)
JEANKNEE (? lbs)
WIFE48 (67 lbs)

You can see more statistics about our maintainers at our teamís Big Page of Links:
docs.google.com/document/d/1AkUBsUAC
T7rZ5GsdF7jT9YcD1Xa80VFGiJ5JeUkur8A/pu
b#h.krxi6hq2gq2y

If you'd like to join the list, fill in your information here!
docs.google.com/forms/d/1eQoYlctQfXA
rCGv3qKYX8rW6o-ODNA2eLr4YVeFtUwc/viewform

Way to go, Team! Hereís to many more years of mutual support in maintenance!

----------------
Index of my blog posts:
docs.google.com/spreadsheet/pub?key=
0Ah4KrA4GkhKgdDBDaGlxMHNwVkY2WTNVR0NZY
0dTaFE&single=true&gid=0&output=html





Saturday, July 26, 2014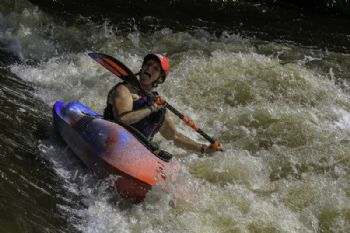 I got back in my whitewater boat on July 4 and spent the last three weekends in it, and some weekdays.

July 4 weekend I went camping with a colleague at a local lake and visited a local whitewater play spot on the way..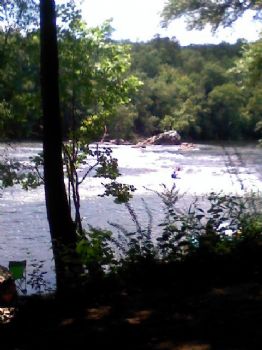 Iím the little red dot in this photo.

We paddled on the lake on Saturday
www.mapmyfitness.com/workout/
634590515
and ran the river down to the playspot on Sunday
www.mapmyfitness.com/workout/
635822347

The next day I went back there and played again, although no one else was there paddling so I was pretty conservative and worked on back ferries and other skills.

The weekend of July 12 I carpooled with another local boater to a bigger playspot an hour farther away.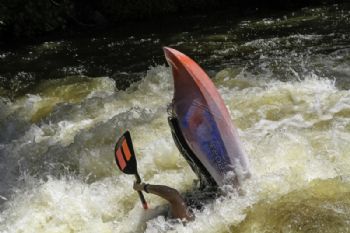 Here are some more photos from that spot:
dgillsonphotography.photoshel
ter.com/search?I_DSC=Angela%20?&_ACT=s
earch&I_DSC_AND=t

The following Tuesday I was commuting by bike to work and was passed awfully close by a big cement truck. I have a GoPro video camera strapped to the back of my rack, and after reviewing the footage decided to get a mountain bike so I can ride on the grass and gravel instead. That way those jerks will have to actually come off the pavement to run me over.


(Arkansas law says there must be 3 feet when passing someone, including bikes. You can see my reflection in the chrome bumper. That was no 3 feet.)

Last weekend was the best of all - a dad and his twin sons and another crew of three led me down the Cossatot river.
I donít have any photos of that trip, but it was a lot of fun and I was relieved to see that I havenít gotten as rusty as I thought I had. There were some fairly technical class IV drops in that one, given the configuration of the river and the low water levels. Here are some other photos to give you an idea www.americanwhitewater.org/content/R
iver/detail/id/92/#tab-photos
The scenery was really beautiful on that one. Iíd go back in a heartbeat!

Today Iím having to pass up a whitewater session at the smaller playspot near Little Rock in order to go try out a folding sea kayak in Memphis.
www.youtube.com/watch?v=oS37AK2fISY
The guy who made the 3-piece Greenland paddle that I took to Antarctica will be picking up some boats from his sisterís house there, and the nearest dealers for those boats are in Wisconsin and southern Florida so this is a good chance for me to see what they are like. It will be fun to meet him finally and also see if these sea kayaks are really as good as they sound from the reviews. They fold into a pack the size of a suitcase. It would be really cool to be able to take a kayak anywhere.

...I've also been contra dancing on Fridays here.

The National Square Dancing Convention was held in Little Rock the weekend of June 27-28-29 so I spent a lot of time there. July 11 I carpooled with some dancing buddies to Memphis. July 18 I danced in Little Rock and then crashed with the family I kayaked with the next day. Last night we had English Country Dancing in Little Rock.

The bike shop is right across the street from the church where we dance so yesterday I dropped in to check on the progress with my new mountain bike. I also get my hair cut next to the dancing church It's a convenient neighborhood.






Sunday, June 15, 2014
Some of the most critical boxes have been unpacked, I have a functional kitchen, bathroom, and bedroom. My living room is my gym. I haven't really tackled the tv room or the office yet. And there are of course still boxes in all of those rooms (and the garage) that I haven't unpacked yet.

One of the challenges is that the rental house here is about 2/3 the size of my house in NY and even though I got rid of a lot before I came I'm still having trouble shoehorning my things into this place. I have a new "donate" pile and it is growing.

Another is that I work full time so I have to squeeze unpacking into my day in addition to working and exercising, mowing the lawn and shopping, etc. etc. Everything takes longer in a new town because it takes time to find out where things are, etc. Even if it's just navigating a new Walmart, LOL

I took a break from the unpacking to kayak yesterday.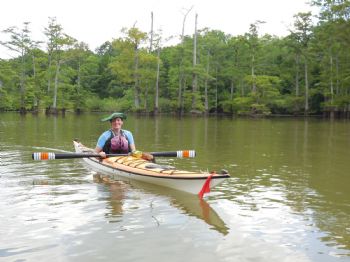 Some mutual acquaintances of VALERIEMAHA suggested signing up for a guided kayak paddle at a local nature preserve because they were going. Here's the flyer about it:
www.agfc.com/calDocs/pcec_Coo
ksLakeWaterTrail140614.pdf

The paddle was only 1.5 miles but it was neat to see cypress trees up close, Prothonotary Warblers, a soft-shelled turtle swimming, and other things I haven't paddled near in NY.

Here's a map of our route:
www.mapmyfitness.com/workout/
607877987

Afterwards the facility manager for the Education Center showed me the tiny numbered rings she uses for banding hummingbirds.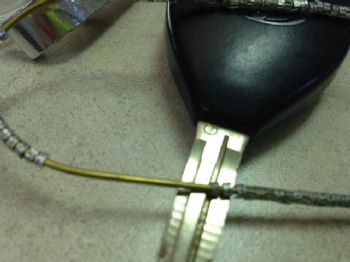 They have a popular program that lets the public help and learn. Apparently June and July are already filled up. I'll call on Tuesday to find out if there's space in the August one.
www.thv11.com/story/news/loca
l/2014/02/14/1716842

Today after church I plan on meeting some cyclists in Little Rock to bike about 15-20 miles along the Rivertrail.

I had hoped to white water kayak at a playspot today, but it's 3 hours from here and I couldn't find anyone online who said they would be there. It wouldn't really be safe to paddle solo on an unfamiliar feature, and if I'm going to drive that far, I want to KNOW I'm kayaking. So that will have to wait for another weekend. :-(

Speaking of lawn mowing I brought my reel mower with me.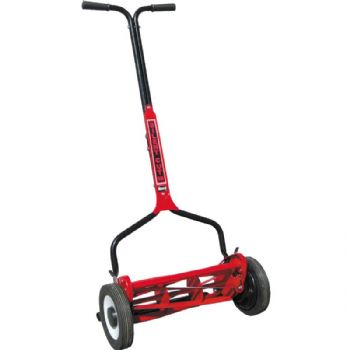 The yard with the rental house is small and it's very flat (everywhere is flat here in the Arkansas Delta), so it only takes me about 15 min to do the front and 15 the back. I get more exercise when mowing, it takes up less space, it's quiet, I don't have to buy gas, and it's fun. I've always enjoyed mowing with these. We had one when I was growing up. The trick is to get them sharpened and adjusted when necessary, and spraying with WD-40 after mowing to keep them from rusting.





Tuesday, May 20, 2014
I am being relocated to Arkansas soon for my job, and LESLIELENORE came to visit for the weekend to say "goodbye" and help me get ready for the move.

The cats are always interested in helping with packing.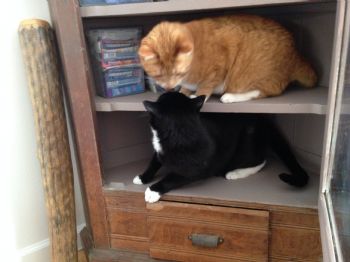 We did manage to have some fun too, though. Normally when we get together we kayak, but it was a bit cold so we stayed on land this time.

We walked the Ludovico Sculpture Trail in Seneca Falls: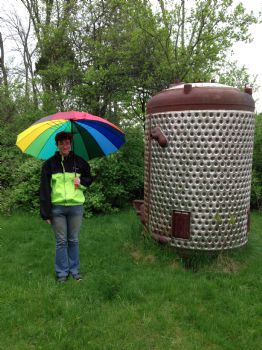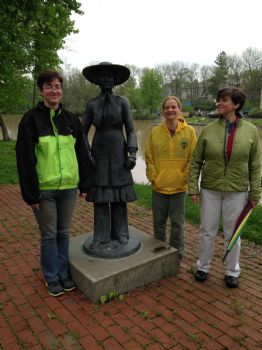 In the past we've paddled by that same sculpture, so it was interesting to see it from a different angle: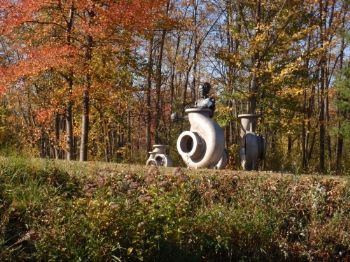 www.sparkpeople.com/mypage_public_jo
urnal_individual.asp?blog_id=5108658

We visited a friend's organic farm and got a tour followed by a late lunch with delicious fresh asparagus plus crackers, cheese, salami, and salmon that we brought, and some amazing wine contributed by a friend who is a distributor.

We went English Country Dancing twice, once in Syracuse and once in Rochester: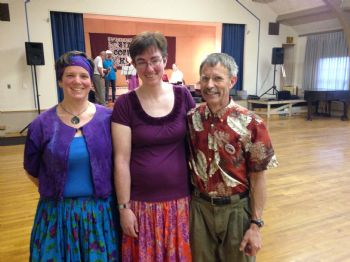 en.wikipedia.org/wiki/English_countr
y_dance
The pace is more stately than in contra dancing, but it takes a lot more concentration to remember the figures. This was the first time LESLIELENORE had done this kind of dancing, and she was very good at it!

And on the last day we visited Lower Falls in Rochester to see the rain-swollen Genesee River pouring over the lip and coursing toward Lake Ontario: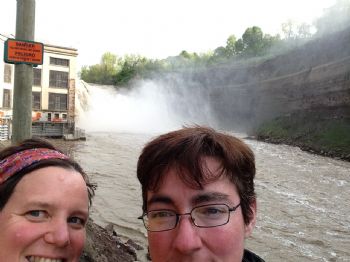 I'm sad to be leaving NY, but glad that I got a chance to say "goodbye." It looks like I'll see her again briefly when my bf and I drive to my new home, past where she lives in western NY.

I hope I'll have a chance to kayak again with her and her brother someday.



1 2 3 4 5 6 7 8 9 10 11 12 13 14 15 16 17 18 19 20 21 22 23 24 25 26 27 28 29 30 31 32 33 34 35 36 37 38 39 40 41 42 43 44 45 46 47 48 Last Page

Get An Email Alert Each Time 4A-HEALTHY-BMI Posts