| | |
| --- | --- |
| | 4A-HEALTHY-BMI's Recent Blog Entries |


Saturday, July 26, 2014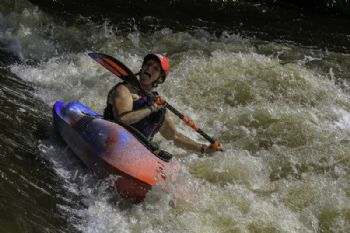 I got back in my whitewater boat on July 4 and spent the last three weekends in it, and some weekdays.

July 4 weekend I went camping with a colleague at a local lake and visited a local whitewater play spot on the way..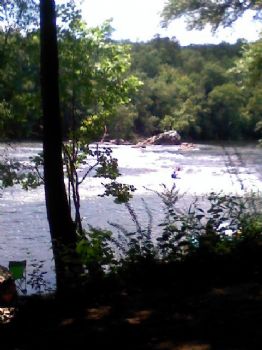 Iím the little red dot in this photo.

We paddled on the lake on Saturday
www.mapmyfitness.com/workout/
634590515
and ran the river down to the playspot on Sunday
www.mapmyfitness.com/workout/
635822347

The next day I went back there and played again, although no one else was there paddling so I was pretty conservative and worked on back ferries and other skills.

The weekend of July 12 I carpooled with another local boater to a bigger playspot an hour farther away.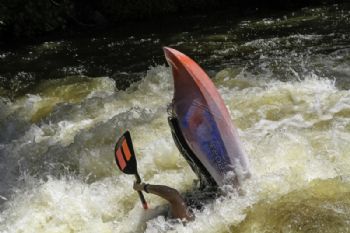 Here are some more photos from that spot:
dgillsonphotography.photoshel
ter.com/search?I_DSC=Angela%20?&_ACT=s
earch&I_DSC_AND=t

The following Tuesday I was commuting by bike to work and was passed awfully close by a big cement truck. I have a GoPro video camera strapped to the back of my rack, and after reviewing the footage decided to get a mountain bike so I can ride on the grass and gravel instead. That way those jerks will have to actually come off the pavement to run me over.


(Arkansas law says there must be 3 feet when passing someone, including bikes. You can see my reflection in the chrome bumper. That was no 3 feet.)

Last weekend was the best of all - a dad and his twin sons and another crew of three led me down the Cossatot river.
I donít have any photos of that trip, but it was a lot of fun and I was relieved to see that I havenít gotten as rusty as I thought I had. There were some fairly technical class IV drops in that one, given the configuration of the river and the low water levels. Here are some other photos to give you an idea www.americanwhitewater.org/content/R
iver/detail/id/92/#tab-photos
The scenery was really beautiful on that one. Iíd go back in a heartbeat!

Today Iím having to pass up a whitewater session at the smaller playspot near Little Rock in order to go try out a folding sea kayak in Memphis.
www.youtube.com/watch?v=oS37AK2fISY
The guy who made the 3-piece Greenland paddle that I took to Antarctica will be picking up some boats from his sisterís house there, and the nearest dealers for those boats are in Wisconsin and southern Florida so this is a good chance for me to see what they are like. It will be fun to meet him finally and also see if these sea kayaks are really as good as they sound from the reviews. They fold into a pack the size of a suitcase. It would be really cool to be able to take a kayak anywhere.

...I've also been contra dancing on Fridays here.

The National Square Dancing Convention was held in Little Rock the weekend of June 27-28-29 so I spent a lot of time there. July 11 I carpooled with some dancing buddies to Memphis. July 18 I danced in Little Rock and then crashed with the family I kayaked with the next day. Last night we had English Country Dancing in Little Rock.

The bike shop is right across the street from the church where we dance so yesterday I dropped in to check on the progress with my new mountain bike. I also get my hair cut next to the dancing church It's a convenient neighborhood.






Sunday, June 15, 2014
Some of the most critical boxes have been unpacked, I have a functional kitchen, bathroom, and bedroom. My living room is my gym. I haven't really tackled the tv room or the office yet. And there are of course still boxes in all of those rooms (and the garage) that I haven't unpacked yet.

One of the challenges is that the rental house here is about 2/3 the size of my house in NY and even though I got rid of a lot before I came I'm still having trouble shoehorning my things into this place. I have a new "donate" pile and it is growing.

Another is that I work full time so I have to squeeze unpacking into my day in addition to working and exercising, mowing the lawn and shopping, etc. etc. Everything takes longer in a new town because it takes time to find out where things are, etc. Even if it's just navigating a new Walmart, LOL

I took a break from the unpacking to kayak yesterday.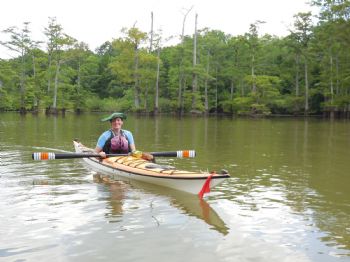 Some mutual acquaintances of VALERIEMAHA suggested signing up for a guided kayak paddle at a local nature preserve because they were going. Here's the flyer about it:
www.agfc.com/calDocs/pcec_Coo
ksLakeWaterTrail140614.pdf

The paddle was only 1.5 miles but it was neat to see cypress trees up close, Prothonotary Warblers, a soft-shelled turtle swimming, and other things I haven't paddled near in NY.

Here's a map of our route:
www.mapmyfitness.com/workout/
607877987

Afterwards the facility manager for the Education Center showed me the tiny numbered rings she uses for banding hummingbirds.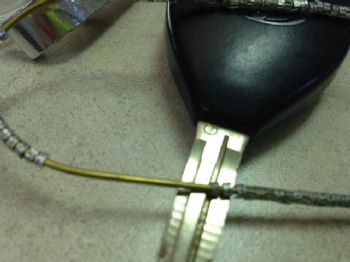 They have a popular program that lets the public help and learn. Apparently June and July are already filled up. I'll call on Tuesday to find out if there's space in the August one.
www.thv11.com/story/news/loca
l/2014/02/14/1716842

Today after church I plan on meeting some cyclists in Little Rock to bike about 15-20 miles along the Rivertrail.

I had hoped to white water kayak at a playspot today, but it's 3 hours from here and I couldn't find anyone online who said they would be there. It wouldn't really be safe to paddle solo on an unfamiliar feature, and if I'm going to drive that far, I want to KNOW I'm kayaking. So that will have to wait for another weekend. :-(

Speaking of lawn mowing I brought my reel mower with me.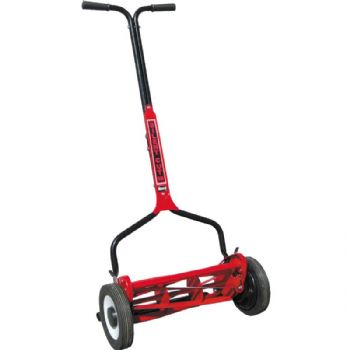 The yard with the rental house is small and it's very flat (everywhere is flat here in the Arkansas Delta), so it only takes me about 15 min to do the front and 15 the back. I get more exercise when mowing, it takes up less space, it's quiet, I don't have to buy gas, and it's fun. I've always enjoyed mowing with these. We had one when I was growing up. The trick is to get them sharpened and adjusted when necessary, and spraying with WD-40 after mowing to keep them from rusting.





Tuesday, May 20, 2014
I am being relocated to Arkansas soon for my job, and LESLIELENORE came to visit for the weekend to say "goodbye" and help me get ready for the move.

The cats are always interested in helping with packing.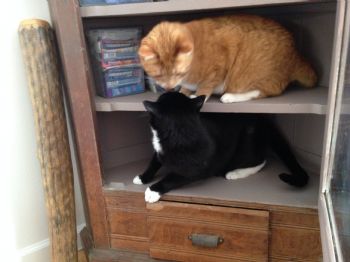 We did manage to have some fun too, though. Normally when we get together we kayak, but it was a bit cold so we stayed on land this time.

We walked the Ludovico Sculpture Trail in Seneca Falls: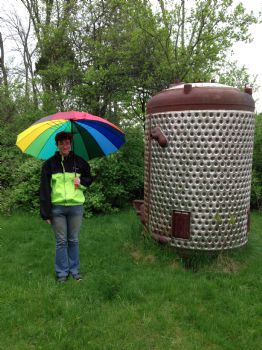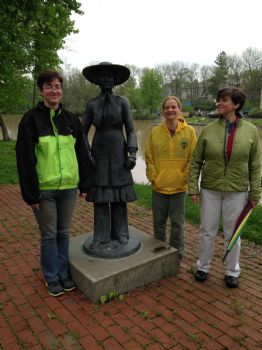 In the past we've paddled by that same sculpture, so it was interesting to see it from a different angle: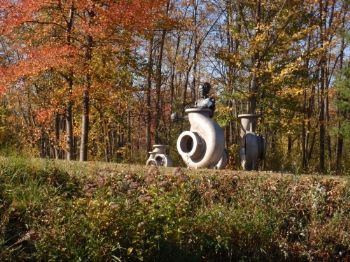 www.sparkpeople.com/mypage_public_jo
urnal_individual.asp?blog_id=5108658

We visited a friend's organic farm and got a tour followed by a late lunch with delicious fresh asparagus plus crackers, cheese, salami, and salmon that we brought, and some amazing wine contributed by a friend who is a distributor.

We went English Country Dancing twice, once in Syracuse and once in Rochester: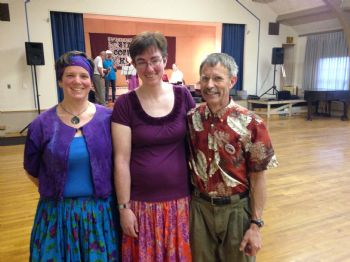 en.wikipedia.org/wiki/English_countr
y_dance
The pace is more stately than in contra dancing, but it takes a lot more concentration to remember the figures. This was the first time LESLIELENORE had done this kind of dancing, and she was very good at it!

And on the last day we visited Lower Falls in Rochester to see the rain-swollen Genesee River pouring over the lip and coursing toward Lake Ontario: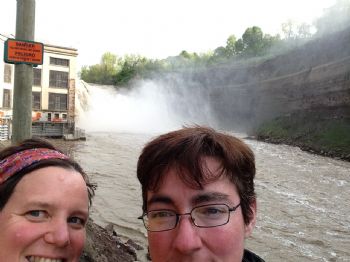 I'm sad to be leaving NY, but glad that I got a chance to say "goodbye." It looks like I'll see her again briefly when my bf and I drive to my new home, past where she lives in western NY.

I hope I'll have a chance to kayak again with her and her brother someday.





Wednesday, April 02, 2014
BOPPY_ wrote a blog post yesterday about the skill set he thinks is necessary for reaching goal weight and staying there. He wants to find a way to make those skills more accessible to more people:

www.sparkpeople.com/mypage_pu
blic_journal_individual.asp?blog_id=56
61917

...and a follow-up here:
www.sparkpeople.com/mypage_pu
blic_journal_individual.asp?blog_id=56
62864

I found myself writing a novel of a response, and perhaps it's worth repeating here as a blog post in its own right:

--------------------

Aww, thanks for the shout out!

We can always use help with making this stuff more accessible on the At Goal and Maintaining & Transition to Maintenance Team!
teams.sparkpeople.com/maintai
ning

It's been a progression for me, for sure. I definitely didn't start out with my current skills. When I started re-losing the weight in 2007-2009 all I knew was that I ate too much, the reflux was helpful because it made me scared to eat, and that the only thing that had worked in the past was logging my food.

For years I just couldn't face the prospect of logging my food. It seemed too onerous, I resented the idea because no one else around me seemed to need to do it, and I figured I couldn't do it long term because I'd burn out, so what was the point of trying?

But eventually I did decide to try again. You can read a blow-by-blow account of my progression here:

www.sparkpeople.com/mypage_pu
blic_journal_individual.asp?blog_id=41
36520

A lot of it felt like I was fumbling around in the dark, and there were a lot of false starts. And at the beginning I was thrilled to just get under 300 lbs. I had no idea I'd end up where I am now. No clue.

I think the most important ingredient was my determination to throw all of my creativity, persistence, time, and will toward getting my weight off and keeping it off. It came down to a question of, "How badly do I want this?" And the answer had to be, "So badly I'll do almost ANYTHING to accomplish it," And I subscribed to the grim idea that it didn't matter at all how I FELT about exercising and tracking my food, that what mattered was that I DID it.

Now I've come to an understanding that logging my food doesn't have to be as onerous as I once thought, and that if it will keep me at a size where I'm comfortable in my own skin, then it's worth the effort.

And I motivate myself by staying active in the maintenance team, running challenges, curating the maintenance anniversary list, managing the Big Page of Links, identifying blog posts for Tina to highlight, doing whatever I can think of to try and help myself and others keep the weight off. It's the everyday accountability that keeps me going.

I don't know whether you've seen my index of blog posts:

docs.google.com/spreadsheet/pub?key=
0Ah4KrA4GkhKgdDBDaGlxMHNwVkY2WTNVR0NZY
0dTaFE&single=true&gid=0&output=html

It sounds like you might enjoy the ones I've put into the "strategies" category. Or maybe the ones specifically about maintenance.

And if/when you've codified your thinking to the point that you have a method or a tool or a schema for helping people, Tina and I will be more than happy to help you promote and support it, in whatever way we can!








Monday, March 10, 2014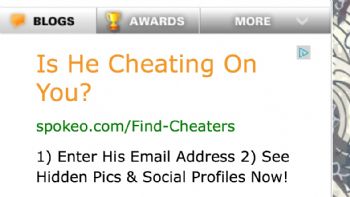 I don't usually see these things on my computer because I'm blocking ads and flash in my browser.. I only saw it because I was browsing with my phone. And this is exactly why I block the ads on my computer. It's not at all what I come to this site for.



1 2 3 4 5 6 7 8 9 10 11 12 13 14 15 16 17 18 19 20 21 22 23 24 25 26 27 28 29 30 31 32 33 34 35 36 37 38 39 40 41 42 43 44 45 46 47 48 Last Page

Get An Email Alert Each Time 4A-HEALTHY-BMI Posts