Thursday, May 08, 2008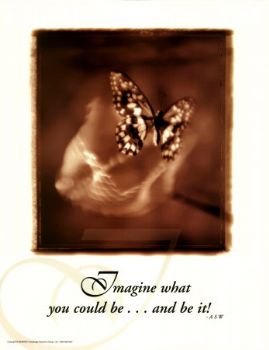 Okay, can you say frustrated?!!!! I just finished a long blog post, only to have an error message pop up and say server cannot be found when I tried to submit it. I clicked 'try again' and nothing happened. Nothing I can do about it now, so I'm learning from this and typing my blog in Word, and then I'll copy to the SparkPeople Blog.

I'm back at it yet again. No, that's not good, it sounds judgemental.

I'm back at it. Yup, that's better, factual with no judgments.

Since January 2008, I've been working at losing weight, losing some, gaining some, losing some more, gaining back a lot more. On and off the merry-go-round until I'm so dizzy I cannot stand. I sabotage myself when I see a goal close by. Am I afraid of success? Am I afraid of failure? Both I think.

I came across this really interesting podcast called InsideOutWeightLoss which focuses on "reprogramming your mind and your relationship with food, shifting your underlying belief systems. You will learn how to tame your inner rebel, align your goals with your values, and achieve lifetime weight mastery. End the diet, regain, diet cycle once and for all." as quoted by Renee Stephens.

I really liked what I was hearing as the message was different than what I've heard before. In the first episode, she talked about having two motivators to achieve the change you want, an "away from" and "towards." She said that the "away from" motivator is the one that fires you up and motivates you to change, while the "towards" motivator is the wish, dream you have for your future and this is the one that keeps you going in the long run.

So for me, an "away from" motivator would be that I don't eat all day then will eat half a jar of peanut butter in the middle of the night, leaving me feeling intense guilt, shame and physical pain. It would be this "away from" motivator that would get me on my bike because I don't want to have this behaviour followed by unpleasant symptoms. There is a worksheet titled "How do I know I want to change?" that I'm going to complete in another blog entry. The answers will form my "away from" motivators.

A "towards" motivator for me would be that I want to have toned arms, shoulder and upper back as I think that is the most beautiful part of a woman. I'll learn more about this type of motivator in the next episode.

That's it for tonight as it's late and as Renee stated to a client, "You will NOT be able to lose weight if you do not have a more regular schedule." This is my first priority, go to bed and rise at the same time every day.

As we say in TOPS, C-U-Lighter!

Here's the link to the InsideOutWeightLoss podcasts (well worth checking out)
personallifemedia.com/podcasts/216-i
nside-out-weight-loss
~~~~~~~~~~~~~~~~~~~~~~~~~~~~~~~~~~~~~~~

If after listening to the podcasts, you want to follow this program, there is a newly formed SparkPeople private team called InsideOutWeightLoss. If you are interested in joining, please SparkMail me and I'll contact the wonderful, motivated woman who created the team.