Tuesday, August 23, 2011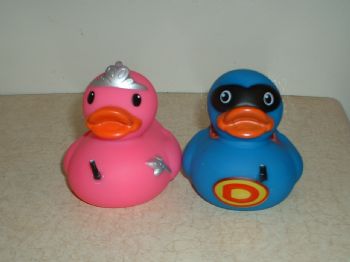 My Tubie Duckies are on their way to Canada and the SPN DuckNation. I sent it out UPS earlier this evening and they should arrive early next week. I included a letter explaining them in an envelope labeled "What are those things sticking out of the ducks' bellies? See inside for an explanation of these Tubie Duckies." Here's the letter I sent (it is long, but it didn't feel right to take away any of this information, as it would dull the importance of the DTP Awareness Week message.


Clif Ė
Pretty cool idea starting up DuckNation! I looked all over to find rubber duckies in stores, but couldnít find much. The more I looked, the less I was interested in sending a duckie untilÖ The other day I was looking at pictures of the duckies in one monitor while using the other monitor to talk to people in a group for gastroparesis, a medical condition I have. Somehow the words ďtubieĒ and ďDuckieĒ got in my head at the same time and thus the idea for TUBIE DUCKIES was born! Why Tubie Duckie? Because of a simple reason: millions of people are being starved every day while they have full access to food, because their digestive systems arenít working.

Gastroparesis (GP) literally means ďparalyzed stomachĒ, chronic intestinal pseudo-obstruction (CIP) is paralyzed intestines, and together these are referred to as DTP, digestive tract paralysis. When there is damage to the vagus nerve, signals canít get from the brain to the internal organs, so food sits in the stomach and/or intestines longer than it should, preventing further eating and causes other health problems. There is no cure, the treatments dull the symptoms but can cause just as many problems as they help, and not eating to avoid extreme pain isnít an option. Some people (like me) are Ďluckyí enough to just change how, what, when, and why we eat (low fat/low fiber diet, eating tiny meals up to 10x/day), while others can never eat or drink again and must be put on feeding tubes or IV nutrition. This is where the term ďTubieĒ comes from - it is a nickname for kids who are put on alternate nutrition.

The most difficult part of DTP is often getting the diagnosis. Many doctors have either never heard of it or donít understand it, so it can take weeks, months, or years to receive help. Friendships and relationships are tested because the general public hasnít heard of it Ė there arenít commercials, pamphlets, or biology classes that mention it. Most people first hear of it when they or a loved one is diagnosed. The scary part about this is an estimated 8 MILLION Americans, 1 in 25 people, have some form of DTP!

There are no risk factors. There are no symptoms until itís too late. Thereís no preventing it. Absolutely anyone can find themselves with this condition; it affects all ages (even 2 day infants), races, socio-economic levels, body shapes and sizes, and fitness levels. Causes stretch from a simple virus to a head/neck injury to gastric bypass to no known cause whatsoever. No one is immune!

G-PACT is the non-profit organization helping people with DTP to navigate this condition. G-PACTís DTP Awareness Week (Aug 19-27) will be over by the time you get this, but Iím still participating in order to help spread the word in hopes of reaching out to those who are affected and donít know where to turn for help, and to inform the public that this condition exists. Doctors couldnít even explain gastroparesis to me when I was diagnosed and I donít want others to feel the fear I did at facing this condition alone. It would mean so much to me to have information about DTP/GP/CIP posted with my Tubie Duckies.

www.g-pact.org
www.facebook.com/GPACT
www.youtube.com/user/GPACT

I would like to take Tubie Duckies beyond DuckNation and find a way to make hundreds (or more!) to give to kids who have feeding tubes (Tubies) so they have a little friend who is just like them. As you can see, Iíll have to come up with a safer idea for the tube, but Iím hopeful this will happen!

Thanks and Go DuckNation!