Wednesday, August 17, 2011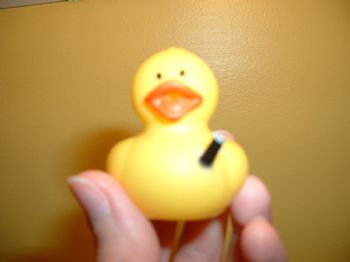 (Sorry the picture is a bit blurry, but you get the idea - it's a duck with a piece of a small straw implanted in its belly.)

So the stars of my favorite tv show, Supernatural, and their bodyguard have started Duck Nation.

www.supernaturalwiki.com/index.php?t
itle=Duck_Nation

I realized Friday starts DTP (digestive tract paralysis) Awareness Week and Duck Nation is going on - why not combine them? So I made a 'tubie duckie', giving a little yellow rubber duckie a feeding tube. (A tubie is a nickname for kids with feeding tubes.) I want to send it in for Duck Nation with a note about why it has a feeding tube and about DTP Awareness Week, in hopes that they will post it and spread the word.

So I know my tubie duckie isn't incredible (I don't have a lot of time to make it perfect if I'm going to get it up there any time soon) but I think it's kinda cute. And the big thing is it's about awareness, not about perfection. I'd like to know what you think about this idea! This one was mainly a test (and I put it in the wrong side - oops), but I'm not sure what I could to do make it better - so ideas are appreciated!