| | |
| --- | --- |
| | 1BEARWIFE's Recent Blog Entries |




Friday, February 22, 2013





One more reason to vote all of them out of office.


State Senator R.C. Soles (D - NC)
Long time Anti-Gun Advocate State Senator R.C. Soles, 74, shot one of two intruders at his home just outside Tabor City , N.C. about 5 p.m. Sunday, the prosecutor for the politician's home county said.
The intruder, Kyle Blackburn, was taken to a South Carolina hospital, but the injuries were not reported to be life-threatening, according to Rex Gore, district attorney for Columbus, Bladen and Brunswick counties..
The State Bureau of Investigation and Columbus County Sheriff's Department are investigating the shooting, Gore said. Soles, who was not arrested,declined to discuss the incident Sunday evening.
"I am not in a position to talk to you," Soles said by telephone. "I'm right in the middle of an investigation."
The Senator, who has made a career of being against gun ownership for the general public, didn't hesitate to defend himself with his own gun when he believed he was in immediate danger and he was the victim.
In typical hypocritical liberal fashion, the "Do as I say and not as I do" Anti-Gun Activist Lawmaker picked up his gun and took action in what apparently was a self-defense shooting. Why hypocritical you may ask? It is because his long legislative record shows that the actions that he took to protect his family, his own response to a dangerous life threatening situation, are actions that he feels ordinary citizens should not have if they were faced with an identical situation.
It has prompted some to ask if the Senator believes his life and personal safety is more valuable than yours or mine.
But, this is to be expected from those who believe they can run our lives, raise our kids, and protect our families better than we can.

Talk about HYPOCRISY!! It's okay for THEM to have guns and shoot people, but don't see any of the medial making any stories about it!!!


Send This To Everyone You Know. Ask That They Send It To
Everyone They Know !!!!!!!!!!!!!!!!!






Thursday, February 21, 2013
Dishonoring the Corps; Marines in inaugural parade had bolts removed from their rifles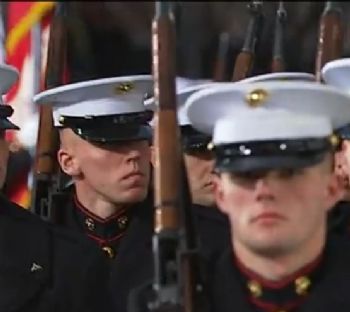 Dishonored and disarmed: Bolts are clearly missing from these Marine rifles during President Obama's inauguration parade. This is an unmistakable insult to the honor of the Marine Corps.
David Codrea has revealed that President Obama has so little regard for the United States Marines risking their lives under his command life that they were forced to dismantle their already empty parade rifles for his second inauguration parade. This is nothing less than a slap in the face of the Corps:
"Didn't know the Marines had to take the bolts out of their rifles for the Inaugural," an email forwarded to Gun Rights Examiner from a United States Marine Corps source observed. "Wonder if someone can explain why [they] would be marching in the inaugural parade with no bolts in their rifles!"
The email linked to a YouTube video of the 57th Presidential Inaugural Parade, embedded in this column, featuring Bravo Company Marines from the Marine Barracks Washington. Sure enough, the observation in the email is confirmed by watching the video, with screen shots provided in the photo and slide show accompanying this article.
This prompted an internet search to see if others had also noticed, and the Blur-Brain blog had.
"The bolts have been removed from the rifles rendering them unable to fire a round," the post stated. "Apparently Obama's Secret Service doesn't trust the USMC. Simply searching each guy to make sure he didn't have a live round hidden on him wasn't enough, they had to make sure the guns were inoperable.
Obama doesn't trust the very men who put their lives on the line to serve their country. I guess it shouldn't be that much of a shock. Untrustworthy people find it very difficult to believe that other men have honor.






Wednesday, February 20, 2013

A Poem Worth Reading


He was getting old and paunchy
And his hair was falling fast,
And he sat around the Legion,
Telling stories of the past.

Of a war that he once fought in
And the deeds that he had done,
In his exploits with his buddies;
They were heroes, every one.

And 'tho sometimes to his neighbors
His tales became a joke,
All his buddies listened quietly
For they knew where of he spoke.

But we'll hear his tales no longer,
For ol' Joe has passed away,
And the world's a little poorer
For a Soldier died today.

He won't be mourned by many,
Just his children and his wife.
For he lived an ordinary,
Very quiet sort of life.

He held a job and raised a family,
Going quietly on his way;
And the world won't note his passing,
'Tho a Soldier died today.

When politicians leave this earth,
Their bodies lie in state,
While thousands note their passing,
And proclaim that they were great.

Papers tell of their life stories
From the time that they were young
But the passing of a Soldier
Goes unnoticed, and unsung.

Is the greatest contribution
To the welfare of our land,
Some jerk who breaks his promise
And cons his fellow man?

Or the ordinary fellow
Who in times of war and strife,
Goes off to serve his country
And offers up his life?

The politician's stipend
And the style in which he lives,
Are often disproportionate,
To the service that he gives.

While the ordinary Soldier,
Who offered up his all,
Is paid off with a medal
And perhaps a pension, small.

It is not the politicians
With their compromise and ploys,
Who won for us the freedom
That our country now enjoys.

Should you find yourself in danger,
With your enemies at hand,
Would you really want some cop-out,
With his ever waffling stand?

Or would you want a Soldier
His home, his country, his kin,
Just a common Soldier,
Who would fight until the end.

He was just a common Soldier,
And his ranks are growing thin,
But his presence should remind us
We may need his likes again.
For when countries are in conflict,
We find the Soldier's part
Is to clean up all the troubles
That the politicians start.

If we cannot do him honor
While he's here to hear the praise,
Then at least let's give him homage
At the ending of his days.

Perhaps just a simple headline
In the paper that might say:
"OUR COUNTRY IS IN MOURNING,
A SOLDIER DIED TODAY."

Pass On The Patriotism! YOU can make a difference.
If you are proud of our Vets, then send this to them. You'll be glad you did.



No virus found in this message.
Checked by AVG - www.avg.com
Version: 2013.0.2899 / Virus Database: 2639/6116 - Release Date: 02/19/13




First Page
1
2
3
4
5
6
7
8
9
10
11
12
13
14
15
16
17
18
19
20 21 22 23 24 25 26 27 28 29 30 31 32 33 34 35 36 37 38 39 40 41 42 43 44 45 46 47 48 49 50 51 52 53 54 55 56 57 58 59 60 61 62 63 64 65 66 67 68 69 70 71 72 73 74 75 76 77 78 79 80 81 82 83 84 85 86 87 88 89 90 91 92 93 94 95 96 97 98 99 100 101 102 103 104 105 106 107 108 Last Page

Get An Email Alert Each Time 1BEARWIFE Posts