| | |
| --- | --- |
| | 1BEARWIFE's Recent Blog Entries |




Saturday, August 28, 2010
I just looked in my mailbox, and there was a letter from Jen. She has chastised me for my last blog, requesting I "edit it.

I am not going to edit my blog. It is MY blog, and I am, as an American citizen, entitled to freedom of speech and press.

If folks do not agree with my blogs, you are all free to let me know, and to delete it from your reading list.

It is becoming stranger and stranger in our country with all the restrictions and limitations being put upon us, regardless of what our Constitution says. Big Brother IS watching!!

At my age, I don't care who agrees or disagrees with me. I allow each person to have their own views, as I have mine. Disagreeing with me does not mean either of us is wrong. It simply means we are exercising our freedom of thought.

No, I am not going to edit my blog. Perhaps I will get kicked off Spark, and if that happens, so be it.

I will not be censored.

Am I angry about this? Yes. There is already too much censoring going on regarding our Constitutional rights.

Our nation is in the state it is because of people violating our Constitutional rights left and right, and even "practising" law in violations of that precious safe-guard.

A good example of that is Arizona, trying to defend our borders, and our illustrious government suing them for it. Each state is its own sovereignty. At least SOMEONE is trying to defend America from total ruin! And for that, they are getting a law suit, which in itself, is unconstitutional.

I will write what I choose, as long as it is within the specter of the Constitutional rights. I will say what I choose, and attempt to offend no one.

So now I leave to live out a day of Constitutional freedoms. I have already begun with this blog.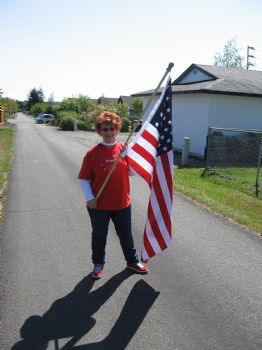 Tuesday, August 24, 2010


EXCELLENT ARTICLE. NEVER EVER WOULD I HAVE THOUGHT THIS WOULD COME OUT OF ASPEN , CO .....


Barack Obama has awakened a sleeping nation
Gary Hubbell
Aspen Times Weekly February 2010



Barack Obama is the best thing that has happened to America in the last 100 years. Truly, he is the savior of America 's future. He is the best thing ever.

Despite the fact that he has some of the lowest approval ratings among recent presidents, history will see Barack Obama as the source of America 's resurrection. Barack Obama has plunged the country into levels of debt that we could not have previously imagined; his efforts to nationalize health care have been met with fierce resistance nationwide; TARP bailouts and stimulus spending have shown little positive effect on the national economy; unemployment is unacceptably high and looks to remain that way for most of a decade; legacy entitlement programs have ballooned to unsustainable levels, and there is a seething anger in the populace.

That's why Barack Obama is such a good thing for America .

Obama is the symbol of a creeping liberalism that has infected our society like a cancer for the last 100 years. Just as Hitler is the face of fascism, Obama will go down in history as the face of unchecked liberalism. The cancer metastasized to the point where it could no longer be ignored.

Average Americans who have quietly gone about their lives, earning a paycheck, contributing to their favorite charities, going to high school football games on Friday night, spending their weekends at the beach or on hunting trips - they've gotten off the fence. They've woken up. There is a level of political activism in this country that we haven't seen since the American Revolution, and Barack Obama has been the catalyst that has sparked a restructuring of the American political and social consciousness.

Think of the crap we've slowly learned to tolerate over the past 50 years as liberalism sought to re-structure the America that was the symbol of freedom and liberty to all the people of the world. Immigration laws were ignored on the basis of compassion. Welfare policies encouraged irresponsibility, the fracturing of families, and a cycle of generations of dependency. Debt was regarded as a tonic to lubricate the economy. Our children left school having been taught that they are exceptional and special, while great numbers of them cannot perform basic functions of mathematics and literacy. Legislators decided that people could not be trusted to defend their own homes, and stripped citizens of their rights to own firearms. Productive members of society have been penalized with a heavy burden of taxes in order to support legions of do-nothings who loll around, reveling in their addictions, obesity, indolence, ignorance and "disabilities." Criminals have been arrested and re-arrested, coddled and set free to pillage the citizenry yet again. Lawyers routinely extort fortunes from doctors, contractors and business people with dubious torts.

We slowly learned to tolerate these outrages, shaking our heads in disbelief, and we went on with our lives.

But Barack Obama has ripped the lid off a seething cauldron of dissatisfaction and unrest.

A former Communist is given a paid government position in the White House as an advisor to the president. Auto companies are taken over by the government, and the auto workers' union - whose contracts are completely insupportable in any economic sense - is rewarded with a stake in the company. Government bails out Wall Street investment bankers and insurance companies, who pay their executives outrageous bonuses as thanks for the public support. Terrorists are read their Miranda rights and given free lawyers. And, despite overwhelming public disapproval, Barack Obama has pushed forward with a health care plan that would re-structure one-sixth of the American economy.

Literally millions of Americans have had enough. They're organizing, they're studying the Constitution and the Federalist Papers, they're reading history and case law, they're showing up at rallies and meetings, and a slew of conservative candidates are throwing their hats into the ring. Is there a revolution brewing? Yes, in the sense that there is a keen awareness that our priorities and sensibilities must be radically re-structured. Will it be a violent revolution? No. It will be done through the interpretation of the original document that has guided us for 220 years - the Constitution. Just as the pendulum swung to embrace political correctness and liberalism, there will be a backlash, a complete repudiation of a hundred years of nonsense. A hundred years from now, history will perceive the year 2010 as the time when America got back on the right track. And for that, we can thank Barack Hussein Obama.









Sunday, August 22, 2010
I have been derelict in writing my blogs, but this time I have a true reason besides laziness.

I was at a three day quilt class, learning the Feathered Star technique from drafting it on up.

Maggie Ball was our teacher, and if you quilters out there have never taken a class with her, you should! I have taken many classes from many teachers, but I always learn the most from Maggie. If you are interested in learning more about her, go to www.DragonflyQuilts.com. She is an amazing person as well as an outstanding quilter and teacher!

Anyway, as some of you know, I am also Education Chairperson for our quilt club. That means when there is a class, I am also the set up and take down person, the one everyone comes to if they have problems, and responsible for making sure the room is set up properly, coffee made, teacher's needs are met, cords taped down, chairs and tables arranged.....................

So this time I decided that I also wanted to take the class. My helpmate and C0-Chairperson, Wonderful Irene, and I really did well.

Wednesday we got all the supplies loaded up from the quilt club building to take to the church. Then I dashed home to change clothes and go back and take Maggie out to dinner. After dinner (she chose to have Mexican food, so I ordered a seafood chimichanga and ate only half of it), I had to get all my own supplies ready for the class. Dropped in bed at 12:30.

Up at 7, showered, dressed and headed out to set up the quilt class room at the church. Irene did all the kitchen set up stuff while I did tables, chairs and cords. We were both ready on time for the class to begin! Score ONE for US!

We begin learning how to draft our patterns. Irene and I sit together and get ours completed after some erasing. Then I find four colored pencils, and we color our draft in. THAT made it much easier to see we were doing it right.

Then we get to lay out our fabric and begin the cutting. So far, I am doing just fine.

We break for lunch where I finish last night's dinner, then head to our machines.

For some reason, the door to the building won't stay unlocked, and there seems to be an inordinate number of people who want in all afternoon. Irene and I are kept busy jumping up and opening the door, then back to our machines.

A group of men come in and take some tables, all the while being loud and "HE-men", if you get my drift.

Good. They're gone, and the room settles down again. Except for playing doorman, things go pretty smoothly.

The day zooms by, and before we know it, the class is over for this day. But we don't have to leave the church, as we can stay until 5. Or so we have been told.

I'm cleaning up from the day's fun, thinking I can go home and get changed before taking Maggie to the casino for dinner. Just as I am about to turn off the lights, a woman comes in and exclaims "What are YOU doing here? WE have the room all reserved for US!".

Uh oh. A problem has arisen. The regular church secretary is out on a medical leave, so a different person is filling in. And fill in she did! She double booked the room for mid afternoon.

Most of the quilters have gone, leaving their machines and supplies so they don't have to reset up in the morning. It's me against them.

There are quite a number of women coming for their meeting and pot luck, and all of them are asking a million questions at once. They also want to touch Maggie's hanging quilts, which is an absolute NO NO. NEVER touch someone else's quilt with your bare hands!!!

I don't want them to touch the student's work either, so I am running around like a chicken with its head cut off, keeping them away from our tables and the hanging quilts, while also tryng to move the furniture (tables and chairs not used by us) over to one side of the room to make enough space for them.

They can't make up their minds as to how they want the tables set up. I put them in rows, and get the chairs set around them. Nope, they change their minds and decide they want to put them in horse shoe shape.

OK. I get that done, and then they realize they do not have enough room for everyone. They need more tables and chairs. I try to explain to them that they can also put chairs on the INSIDE of the horseshoe shape, but that seems to be a difficult concept for them.

I grab more chairs, and shove them into the horseshoe. There are enoug spaces.

Now they have themselves all in a lather that they don't know where they can set up their food.

I bring another table to them. No, they need TWO tables. OK. Get one out of the storage room and set that puppy up.

There are about 15 of them against one of me.

They have chairs and tables set up for over 30.

Now they begin to fret that they have TOO MANY CHAIRS AND TABLES SET UP, and it "WON'T BE COZY".

I leave it to them to figure the overage out.

I have to meet Maggie for dinner.

We have a good time, although I am actually too tired to chew.

Home at last, and mumble some kind words to DH and the critters, give everyone a hug and a kiss, and stumble upstairs to bed.

Up at 7 again (and I am NOT a Morning Person), I get to the church before 8 to make sure everything is set up properly for the class again. I even make sure I have time to get to Safeway, pick up a sandwich and fruit for Maggie, and get some cut up fruit salad for my lunch.

The church is locked up tighter than a vestal virgin. No one around at all.

OK. I wait. 8:15, nothing. 8:30, some students arrive, eager to get to their projects.

Maggie is here, and all the students. It is 9 o'clock, and the doors remain closed.

As I am trying to make calls (the only number I have is for the church secretary's office phone where there is a machine that picks it up and will take a message, but the machine if you remember, is inside the church. Locked.

About 9:05, a woman comes driving up and unlocks the doors.

We hustle in and everyone is confused about the room re-arrangement.

I am not confused. I was THERE, you know, when the earth shook.

I am moving tables and chairs back to the way they were when the class starts.

I dash over to my place, listen to Maggie, then dash back to the chairs and tables, with help from my quilty friends.

We spend our day selecting, cutting, piecing, using seam rippers, sewing again, all in a blissful fog.

Too soon it is over.

Now the room needs to be put back in order. Tables and chairs, kitchen, floors, lights, supplies, lock up.

Over to the quilt club building I go with all the supplies. One of the students goes with me so she can help unload all the stuff, and we get it done in record time.

I am home. I leave my machine and other stuff in the car for DH to bring in, flop down on the sofa in the prone position, and turn on the ball game.

I am a zombie for the rest of the night. When it is time, I face the mountain of stairs to the bedroom, and pull myself up wearily.

I don't wash my face. I don't brush my teeth or hair. I strip down, and get into bed. I have no idea what happened after that.





First Page
1
2
3
4
5
6
7
8
9
10
11
12
13
14
15
16
17
18
19
20
21
22
23
24
25
26
27
28
29
30
31
32
33
34
35
36
37
38
39
40
41
42
43
44
45
46
47
48
49
50
51
52
53
54
55
56
57
58
59
60
61
62
63
64
65
66
67
68
69
70
71
72
73 74 75 76 77 78 79 80 81 82 83 84 85 86 87 88 89 90 91 92 93 94 95 96 97 98 99 100 101 102 103 104 105 106 107 Last Page

Get An Email Alert Each Time 1BEARWIFE Posts