| | |
| --- | --- |
| | 1BEARWIFE's Recent Blog Entries |


Saturday, June 19, 2010

Hi Friends, I received the following email yesterday, and it just made my blood boil, and believe other Americans need to know the truth about what is happening regarding the oil spill.

Why can't our politicians (especially our President!) get it through their thick skulls that we don't want grandstanding............we want the damned oil spill stopped!!??

Subject: Message From Grand Isle, Louisiana

I witnessed something yesterday I wanted to share with my friends.
It was disappointing, to say the least, but not at all surprising. I was in Grand Isle yesterday when we were visited by our president. Our street has about a dozen camps, one permanent resident on it; and yesterday we had a fair crowd of people. The first incident that was brought to my attention was four bus loads of, I guess you could call them workers, was spotted at the Bridge Side marina and looked as if they had come from New Orleans. For you who do not know, Bridge Side is the first marina coming onto Grand Isle and this is where the buses stopped and the WORKERS got off. I later witnessed not four but five buses pass our street on Hwy 1 going to the end of the island where our president was to visit. I made a statement to my neighbors that they were probably going to stage a scenerio where a large amount of people were working on our oil spill problem and guess what, I was right. Liz and I witnessed this on one of the specials when I got home and a large number of men had rakes and were dressed in white hazardous suits working on the beach. But where did they go; No one had seen these guys before yesterday and no one can find them now. I was told WWL is getting question after question about this today, go figure our leader not being truthful and staging something like this.

The next thing I really found unusual was that no one cared if he was on the island. I later saw 38 cops on motorcycles, yes I did count them, and many other police vehicles escort what I am sure was the president in his motorcade of black suburbans. I was told he landed in Fouchon, about 10 miles from Grand Isle, then was brought to Grand Isle in the motorcade. I did see his helicopter and the escorts fly north of us to meet him at the Coast Guard facility were he spoke. My point is when he went down Hwy 1, not one person made an attempt to see him. There wasn't any one taking pictures, no one even looking in his direction, no one lining the streets and waving flags, no one cared. I really think if it had been any of our prior presidents, even Clinton, an attempt would have been made to be along the side of the road and cheer or wave. It is really sad that this country is being run by a man that no one likes or has any respect for. God help us get through the change.

John Munnerlyn, a friend of Grand Isles





Monday, June 14, 2010
Detention Facilities to Offer Bingo, Dance Classes to Illegal Aliens

Immigration and Customs Enforcement (ICE) and a private prison contractor have agreed to make a number of changes at nine privately owned facilities used to detain deportable aliens. According to ICE officials, the changes – which include offering art classes, bingo and continental breakfast to "low-risk" detainees – are part of the Obama administration's previously announced efforts "to make the immigrant detention system less penal and more humane." (Houston Chronicle, June 8, 2010; Examiner.com, June 10, 2010; Kansas City Star, June 10, 2010; See also FAIR's Legislative Update, October 13, 2009).

The forthcoming changes at the nine facilities were revealed in a May 27 ICE e-mail. They include:

"Relaxing security" by allowing "[l]ow-risk detainees" to have "freedom of movement" in the facilities and by "reducing" pat-down searches;
Eliminating "lock downs" and "lights out";
Allowing detainees "to have visitors stay as long as they like within a 12-hour window";
Increasing "attorney visitation space";
Adding "un-monitored phone lines" and giving detainees "email and free, Internet-based calling";

Providing unit managers who "will be available to take complaints directly from detainees";

Allowing detainees "to wear their own clothing or other non-penal attire";

Providing detainees "at least four hours of recreation daily…in a natural setting, allowing for robust aerobic exercise" ;

Offering "movie nights, bingo, arts and crafts, dance and cooking classes, tutoring, and computer training";

"[S]oftening the look" of the facilities "with hanging plants" and "fresh paint and new bedding";
and
Providing detainees with "more variety in their dining hall menus", including "self-serve beverage and fresh vegetable bars." (Houston Chronicle, June 8, 2010).

According to ICE official Beth Gibson, some of the changes to the detention system for illegal aliens will be in place within 30 days, while others may take up to six months to implement. Gibson sounded a positive note on the decision to relax existing detention standards: "When people come to our custody, we're detaining them to effect their removal. It's about deportation. It's not about punishing people for a crime they committed." (Id.).

ICE union leaders, however, have criticized the changes. Tre Rebstock, president of an ICE union in the Houston area, said that the changes would create "an all-inclusive resort" for detainees. Rebstock added that the changes would jeopardize the safety of ICE agents, facility guards, and the detainees themselves.

Pointing specifically to the plans to relax restrictions on the movement of detainees, reduce pat-down searches, and eliminate lockdowns, Rebstock stated: "Our biggest concern is that someone is going to get hurt."

ICE official Gibson attempted to downplay concerns about relaxing security measures, noting that "[a]s a general matter, it will be the non-criminals who don't present a danger to anyone else who are benefitting from the lowest level of custody."

However, Rebstock acknowledged that some detainees may be classified as low-risk because they have no serious criminal history, but could still be gang members who simply "haven't been caught doing anything wrong yet." (Id.).

Rebstock also lamented the fact that American taxpayers would be footing the bill for the changes: "My grandparents would have loved to have bingo night and a dance class at the retirement home they were in when they passed away, but that was something we would have had to pay for. And yet these guys are getting it on the taxpayers' dime."

ICE official Gibson countered that a private contractor would fund the changes at no additional cost to the feds. (Id.).

ICE's actions caught the attention of lawmakers on Capitol Hill, including Senator Charles Grassley (R-Iowa), who sent a letter to Assistant Secretary for ICE John Morton.

Expressing "serious concerns" about the changes, Grassley stated: "Giving illegal aliens access to computer training and tutoring, as well as dance lessons, cooking classes and movie nights, will only encourage illegal aliens to ignore the law and take more risks to defraud our immigration system."

Grassley went on: "[T]axpayers would be very disappointed if the reports are true since they are financing detention and removal efforts. Expanding taxpayer dollars to give illegal aliens access to bingo, dance lessons, and the internet is a slap in the face to hardworking Americans who foot the bill.

It's even more frustrating given that so many Americans are unemployed and looking for work while illegal aliens are getting free tutoring and computer classes to advance their own lives." (Grassley Letter to John Morton, June 11, 2010).

And THAT, my friends, is the latest brainstorm from Washington!!







Friday, June 11, 2010
Well, I got the message from my Doctor today.

Seems my fall injuries haven't ended.

I have a hairline fracture in my pelvis.

No wonder it hurts so much to sit!! I can stand fairly comfortably for a bit, and lie down flat quite well.

But WOW! When I sit for a short time, I really hurt.

I am concerned about not being able to get in all my walking miles I want to this year, and I am nearly half way there.

I want to walk 700 miles this year. It is not a team challenge, but it is a challenge I made for myself.

I wanted to finish a 5K this year, too, but that was not to be, either.

As soon as possible, I will be doing my walks, and then I will go back to that damned trail and do the 5K again. I WILL COMPLETE THAT ONE this year!!

Grumpy me today.






Tuesday, June 08, 2010
This past Sunday was my first 5K.

I was so excited that I didn't sleep well the night before, just thinking of actually doing a real, honest to goodness 5K.

I arose at 6:30, showered and got dressed for the big day.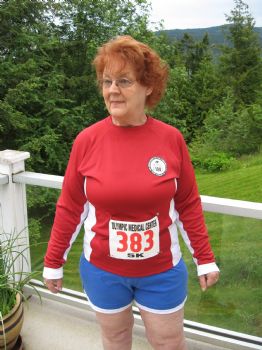 Please notice the nice, clean knees.

Ted and I have a shouting match before we leave the house. He decided he wasn't going so I would have a photographer for my Big Event. Needless to say, HE drove to P.A.

We get 2/3 to PA, when I suddenly realized I had left my ankle timing strap home. Back to the house we go, afraid I won't make it to the race in time.

We squeak in five minutes before the beginning, and I am with the other people. How thrilling that is!!

There were people jumping up and down, some jogging in place, some stretching, some walking in place, some jiggling their bodies all over the place. Me? I was grinning like the Cheshire Cat to just BE there.

I originally thought all the age groups would be separated, but not so. There were children, young adults, and all ages mixed together. Some were doing the 5K, some 10K. All were happy and excited.

The day was overcast, the ground a bit wet, perfect weather for walking.

Bingo! It is time to start! Our crowd surges forward, some walking, some jogging, some running. I begin by walking.


I'm walking along for about the first 3/4 mile, then see some grass on the side of the road. Hmmmmm.........I just wonder! I move over to the grass, and with my red shoes which make me go fast as the wind, I begin to jog. I mean, I am TRULY, HONESTLY, JOGGING!!! I haven't JOGGED in nearly 18 years!!! See what you have done to me, Sparkies??

I am amazed, and so exhilerated. I mean, here I am, 66 years old, and JOGGING!. My red shoes want to go faster, so we increase the speed. I am really cutting up the dirt, let me tell you! I am actually passing the joggers!!!

I am having the time of my life! I can RUN!

It doesn't take me long to set a cadence, and I fall into an old, remembered steady pace. I hear my breathing, check my heart, and everything is a GO. What absolute, sheer JOY!

I run for a while, then walk for a while, thinking that I better not press this wonderful experience too far all at once. I am trying to pace myself to not stretch it out to the point of injury.

I'm moving right along, passing some, being passed by others. I am still grinning. THIS IS SO FABULOUS I CAN'T BELIEVE IT!!!!

We are moving along the shore line, and it is truly beautiful. The path is level, which is okay with me. Oh, the ground is beginning to go uphill a little. That's okay, and to be expected. Uh, I go around this slight corner in the upgrade, and the path certainly DOES go up. I mean, UP!!

There is this HILL in front of me. I dont mean a "hill", I mean a HILL. A long, steep HILL that I can't see the top of. Better walk this one. So up, up, UP I walk, puffing and huffing after a bit, but I realize I can't stop now. Keep climbing, and try to keep my pace up.

This hill goes up forever. There is no end to it in sight. My pace has slowed a bit. I am huffing a bit harder, but nevertheless, keep trudging. (Like I have a CHOICE at this point???)

It gets wetter, muddier and rockier. That's right. Rockier. My new word for the day. I keep to the right side of the path...........this is NOT a road............and let the others pass me by. At least I am still moving.

I should have checked this trail out before today, I now realize, but I didn't, so it is all new potatoes to me.

Steeper and steeper we go, and where it ends, nobody knows.

At last, I hear some clapping and cheering. That must be a good sign. It BETTER be a good sign, or they are going to have to come after me and carry me the rest of the way up this mountain.

The clapping and cheering get louder, and sure enough, there are two girls at the top, letting me know the hell is about to subside.

I get to the top, and one of the girls says to me "Keep going! You made it to the top! It's all downhill from here. You're over half way through!".

I smile and say "thank you", and now change my mind that I am probably going to live after all.

Sure enough, it does get easier. The ground begins a gentle downslope, for which my body is grateful. I am back to jogging again.

Then it becomes a downslope. Not quite so gentle, and getting a bit steep. But there are houses, sidewalks and paved roads for us, which makes it better.

Uh oh. We are going off the paved roads, into the woods again. This couldn't POSSIBLY MEAN that damned hill again, could it????

Yes, it does. Ahead looms the dreaded hill I climbed UP, and now I get the distinct pleasure of climbing DOWN.

This is not a sloping hill. It is the sheer face of the edge of a mountain. And again, it is wet, rocky, grav-ely (another word from me) and hurtles down, down, down.

I better walk this part. But then I foolishly begin to jog downhill.

Hey, not too bad! I can DO this! Jog, jog, jog, breathing easy.

I see the bottom, and where we turn to go back along the water to the finish line. I get to almost the bottom, and my foot slides a bit on some gravel.

I almost regain my balance, when both knees go out on me.

I am on my knees, sliding on the mud, rocks and gravel, and then my face goes down.

I am aware of my face scrubbing along the trail, my knees are sliding along, re-arranging the pathway and rocks, and I go over on my hip.

Some time later I stop. I realize I am at the bottom, so all there is to do is get up and finish the race.

I hear people all around me, asking me questions, but I just want to get back to the race and finish this thing.

My nose is running, so I wipe it with my dirty hands, and my hands come back covered with red.

It takes me a few moments to realize this is not red mud, but maybe it is blood.

A nice lady says "Oh, she's really bleeding!". Who are they TALKING about? I look around for the person who is bleeding, but don't see anyone.

People are asking me if I am okay, and I say "I think so".

I just want to get back in the race and finish my first 5K.

So I start to get up, and WHAM!!! Hip says "NO WAY. JOSE!" My knees let me know they have no intention of carrying me the rest of the way, either.

I ask the guy how much further it is, and he says "Less than 1/2 mile". I want to do that last 1/2 mile, and decide I can override my body's complaints and just finish it.

By now I am on my third double paper towel, mopping the blood off my face. I realize I have gravel inbedded in my knees, but I can tweeze that out after the finish line.

I take a step, and down I go. I get back up, and take another fall. Somehow I am aware that Ted is in front of me, asking if I am ok.

The next I know, Michelle is standing next to me, holding me up on one side, saying she is giving me a ride back to the finish line.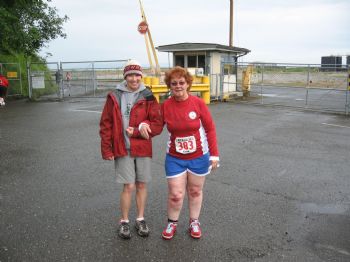 Note that my knees are not clean any longer. What you can't see is how much they hurt! We have gone through a couple bottles of water cleaning me up as well as possible, and I am sure that part of the good cleaning is due to Michelle having to take me in her vehicle, and she doesn't want me to bleed all over it! Makes sense to me!!

There isn't room for Ted in her car, so he has to walk the rest of the way back.

I am taken to the medical station, where a Doctor who is young enough to be my grandson treats me with Neosporen. He tells me that I am "going to hurt a lot the next day".

Thank you for that little bit of input.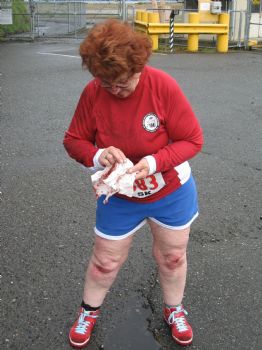 I can put some weight on my hip and knees by now, so am ambulatory. I am waiting for Ted to get back, and while I am waiting, who comes up to me?

This lady comes over and asks "Are you from Spark?". Immediately I know who this is! It is CAT!!!!

I am so happy to see her "live" that I give her a big hug...............never thinking I might get some blood on her. (Sorry, Cat, if I did!) We are told that we have to move "over there", and somehow get separated. That's okay, because I know I will see her again, in a less congested place and time.

One the way home, I begin by being regretful that I didn't finish the race. But then I stop and think.

Wait a minute!! I entered a 5K, showed up for it with full intentions of finishing it. I jogged for the first time in nearly 18 years. I RAN for the first time in nearly 18 years! I actually can RUN.

I am a winner! I may not have completed the race, but I honestly did my very best. I am so glad I did this!!

I wouldn't trade this for a million bucks, seriously! I may be 66, but because of Spark, and all the encouragement I have been given over the past year plus, I can move my body in a way that I could not even begin to dream of doing ever again.

And all this from a woman who didn't believe she could do one mile a day last September!!!

I don't know if I will ever be able to do a 10K, but if I do any "K" again, I will watch my footing and try to hold back a little on those downhill slides! I am sure I will sign up again next year!

Thanks to all of you, I had an incredible SPARK experience!!!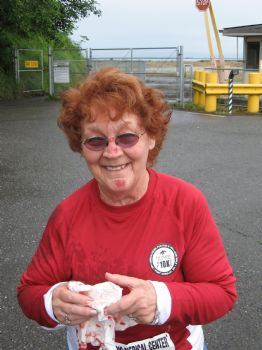 Thursday, May 20, 2010



Today's Inspirational Lesson



Never irritate a woman,who can operate a backhoe...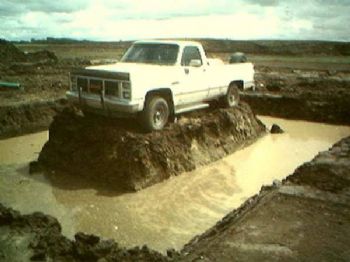 Thus endeth the lesson.




Women are Angels...And when someone breaks our wings...We simply continue to fly....on a broomstick...We are flexible like that...






First Page
1
2
3
4
5
6
7
8
9
10
11
12
13
14
15
16
17
18
19
20
21
22
23
24
25
26
27
28
29
30
31
32
33
34
35
36
37
38
39
40
41
42
43
44
45
46
47
48
49
50
51
52
53
54
55
56
57
58
59
60
61
62
63
64
65
66
67
68
69
70
71
72
73
74
75
76
77
78
79
80 81 82 83 84 85 86 87 88 89 90 91 92 93 94 95 96 97 98 99 100 101 102 103 104 105 106 107 108 Last Page

Get An Email Alert Each Time 1BEARWIFE Posts