| | |
| --- | --- |
| | 1BEARWIFE's Recent Blog Entries |


Tuesday, November 17, 2009
Today is a very sad, sad day for me.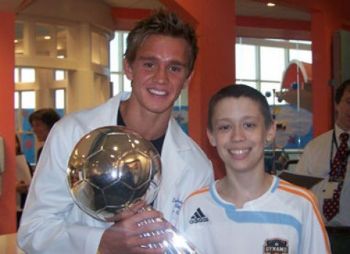 Nick is on the right. Gone, but never forgotten!

It is with great sadness that I write this. Nickolas died today, Tuesday, November 17, 2009 around 10:00 a.m. at Texas Childrens Hosptial at age 16. His family and grandparents were with him when he died. Nick fought the most courageous battle any of us could imagine and his spirit will live in all of us.

Thank all of you who have prayed. Nick knew his quilt had arrived, and stated many times he could feel the love and hugs it contained.

Nick requested to be buried with his quilt.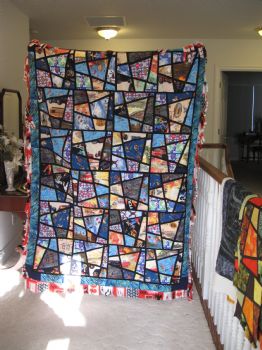 Please do not let this discourage you from making quilts for kids who are fighting cancer. Yes, we do lose some of them, but there are also many who recover.

When your heart gets heavy, remember Ally. She has now begun her third year of remission!

Yesterday another quilt went out to NY.

With love and appreciation for all you do,
Krackers and Ally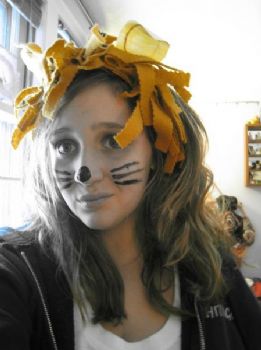 Sunday, November 15, 2009
Well, here are the photos. Actually, you have to go to my page and click photos to see what I am talking about.

I thought it easier to answer quilters' questions as to how I store my stash by posting photos. You know the old saying....one picture is worth a thousand words.

I also posted three of the Christmas Stockings that I finished for the troops. There are more to make, and they are coming along nicely.

Note that DH got my Elna all up and running again.......bless his heart!

I will be posting more photos of Ally Cat Quilts that are nearly ready to ship, too.

Anyway, I am very busy, quilting, quilting, quilting!

I did manage to get a mile walk in today, though. That is a great way to stretch after quilting for hours!





Thursday, November 12, 2009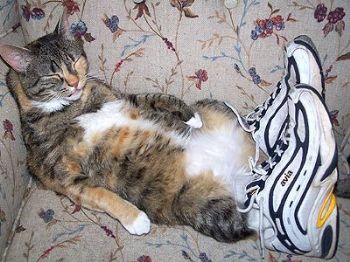 Yesterday my overworked Elan sewing machine started making s whiney kind of noise I have never heard before. It needs to be serviced.

DH does my machine service, which is a good thing, and a bad thing.

Good thing because he knows what he is doing, and it is much less costly.

Bad thing because he frequently gets distracted and hops from one "job" to another, not really finishing any of them.

But he WILL finish the Elna, if only to shut me up. I will nag him like a Fishwife until it is ready to sew again.

After all, there are quilts that must be stitched, right?! And Stockings that must be made for the deployed soldiers, right?! And Christmas gifts to be made, right?!

Ah, yes, I will harangue in my best Fishmonger's way and get my Elna back.

"She" and I have spent many long hours together over the past 12 years, and we are good friends. Together we have made over a thousand quilts, mended clothing, put together placemats and wall hangings, stitched up passport holders, pot holders, table runners and curtains. The list could go on and on.

My knee is still touchy about walking very far, so heading out for the wonderful nature/health walks is out.

The walks are very important to me. I love being outdoors, and love the meditative release the walking gives me. I solve all kinds of supposed problems during those walks, and Winsten and I appreciate nature's surprises found along the way.

Sometimes I have even caught myself humming as the road passes under my feet.

Let me tell you about my humming. Actually, I will tell you about my singing.

A long time ago (not long enough, because I still remember!), I was married to a different man. We will call him Durwood. Durwood is a very good description of what was in his head.

Anyway, Durwood and his family loved to go camping. Of course, they would take the women and kids so they would have someone to do all the work while they enjoyed the great outdoors, fish and do music.

We women and children set up the tents, unloaded the vehicles, cooked all the food, cleaned up afterward, gathered wood and made sure the campfire was appropriately rock and stone walled in.

We did all this AFTER we had done all the grocery shopping, pre-cooking and baking, got all the gear together and packed up, made sure the medicine chest was hauled into the car, selected His Majesty's clothing and packed that, and then loaded up the car, making sure all the kids were accounted for.

We would be stuffed in the car among all the baggage and supplies, while HM always did the driving, which was the least crowded place in the vehicle.

Anyway, about my singing.

One night they got out their guitars, sent the kids out Snipe Hunting, and proceeded to play music. It was very nice to listen to music under the sighing of the wind through the trees while the stars twinkled in amusement.

It was his brother, David's, birthday. I made the stupid cake for it before we left, and everyone gulped it down without comment.

While we were all sitting round the campfire, they started to sing "Happy Birthday" to David. I joined in.

I am singing away with gusto (which is the way Happy Birthday should be sung) when I realized I was singing alone. The music had stopped. They were all looking at me, and not in an admiring way, either!

Then Durwood lowered the bomb. He sarcastically said "Sandy, just MOUTH the words. Your singing is driving us off key."

NO, I did NOT bury his face in the campfire, although I must admit I thought of it!

That ended me singing for a very long time.......years, in fact.

By now you have probably also figured out why I am not married to Durwood any more. Which is a good thing! Since dumping HIM, my life has improved thousands fold.

Anyway, I am pouty today because my quilting has to be put off, and I can't go walking to gather my meandering thoughts.

What to DO??? I mean, is there really LIFE without Elna and walking???

Huh? Did I just hear Ms. Smarmy say "clean house"? Did Miss Goodytwoshoes just chime her nasty little comment "there's LOTS of housework to get caught up with!"?

Housework? HOUSEWORK??? Is that as far as their pebble sized brains can take them??

Haven't I tried to teach them "Quilting Forever, Housework Whenever"? They are slow learners, those two.

I happen to be very emotionally close ot my dust bunnies. they all have their own names and resting places. They are not loud or boisterous, and do not interrupt with any needs of their own. And they don't eat much either.

Ms. Smarmy points to what SHE calls "cobwebs". Stupid person! Those are NOT cobwebs!!! They are DREAMCATCHERS, for Pete's sake! They do a great service in separating the good dreams from the bad. They add character to otherwise boring ceilings. They are gossamere stalacmites!

Then Ms. Goodytwoshoes points to the furniture. She calls it dust. Moron!

That is NOT dust! It is simply message pads for those who cannot find paper and pencil.

I mean, honestly! these two just don't get it. They think life is all about cleanliness and orderliness. It isn't.

Life is all about breaking all the rules, trying scary things at least once, laughing till I pee and snort. Grabbing challenges I don't believe I can accomplish only to find that I am my own hero! Life is taking a different path, just because it is there and I haven't been on it yet. It doesn't matter if I color outside the lines or match my outfits. It doesn't matter if I don't put on make-up or change clothes before I run into town for some groceries. It only matters that I GO!

So now I can sing as well as Barbra Strisand, dance as well as Cyd Charrise, and am as beautiful as Audrey Hepburn.

Is there anything else?







Monday, November 09, 2009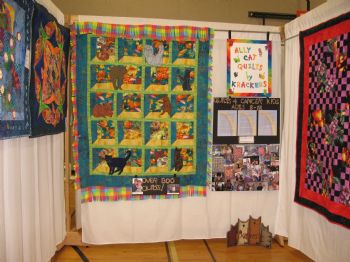 I have had quite a number of folks asking me for patterns for the Ally Cat Quilts by Krackers. There are none. Let me explain:

Ally Cat Quilts by Krackers all begain when our beloved Granddaughter, Ally, was diagnosed with leukemia.

She and her Mom called one day and asked me to make quilts for the bigger kids.

At that time I didn't know that folks or guilds typically do not make quilts for teens, and there is a large population of teens who have cancer.

The kids get extremely cold during their battle with cancer, and the quilts were badly needed.

To make a long, heart-warming story short, between Ally, my daughter Cindy and I, we came up with a design that will work for these kids.

There are no patterns. Every quilt is different, and every quilt has a cat on it somewhere, in honor of Ally's battle.

I make these quilts using my table top Elna. I do not charge any fees for these quilts, and absorb all the cost, including shipping myself.

I have, on occassion, been given fabric. I only use 100% cotton, from quilt shops. It is necessary to use very strong fabric because these quilts are really put through the wringer.

Recently, some lovely ladies in my quilt club have begun making quilt tops for me. They are what I call "My Catty Angels".

I stopped counting 2 years ago when I sent out quilt no. 867. Many more have gone since then.

And so, dear readers, nope, I can't send you the patterns. As I said, there are none.

However, there is something you can do for Me, and that is to send me the name and contact information of any kid between 8-18 that you know of who is fighting cancer so I can make them a quilt.

I can't heal the kids, but I sure can keep them warm!

By the way.......Ally will have her 17th birthday in February, and she is heading into her 3rd year of remission! Thanks to all of you who donate $$ toward research, we are saving a lot of kid's lives!

Here is a photo of the real ALLY CAT!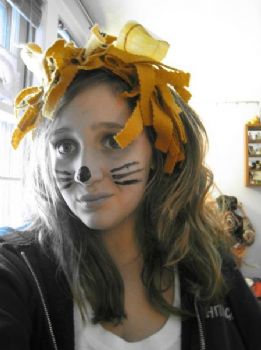 Monday, November 09, 2009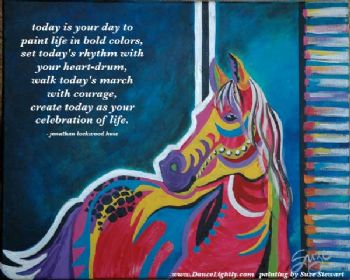 Isn't this just the MOST?! I found it on Jonathan Lockwood's page of ispirational quotes. It has inspried me to do the day BOLDLY, WITH COLORS!

I am making some great Christmas stockings for my deployed soldiers. I found the pattern on Eleanor Burns' TV show. I am making the stip stockings for the guys, and Crazy Quilt ones for the girls.

It's a lot of fun, and I need a break from the Ally Cat Quilts by Krackers today. Sometimes I just have to go in a different direction to find my spark toward life again. Making these quilts can be quite an emotional toll on me. I find that if I take a break once in a while, I am re-energized and better equipped to handle my emotions.

I will post photos of the stockings when I get them finished.

In the meantime, what better place to live BOLDLY, WITH COLOR, than a QUILT ROOM???



First Page
1
2
3
4
5
6
7
8
9
10
11
12
13
14
15
16
17
18
19
20
21
22
23
24
25
26
27
28
29
30
31
32
33
34
35
36
37
38
39
40
41
42
43
44
45
46
47
48
49
50
51
52
53
54
55
56
57
58
59
60
61
62
63
64
65
66
67
68
69
70
71
72
73
74
75
76
77
78
79
80
81
82
83
84
85
86
87
88
89
90
91
92
93
94
95 96 97 98 99 100 101 102 103 104 105 106 107 108 Last Page

Get An Email Alert Each Time 1BEARWIFE Posts