| | |
| --- | --- |
| | *AMBER512's Recent Blog Entries |


Friday, February 18, 2011
I am shocked and excited by how many people have read my four-year Sparkiversary blog. I am so glad that I found this amazing website. I donít think I can fully explain how much it has helped me! I know I would not have reached my goals if it werenít for the people I have met here, the food and fitness trackers, and the articles and blogs that have taught me so much.

And now, since you all are so amazing, I need your help! I have been sliding back a bit into some old habits and I have learned that I need to be proactive to snip that in the bud. I am having problems getting enough protein each day without overloading on Greek yogurt.

I currently use Vegan Proteins+ protein powder and also Amazing Grass products as well. Which I love, but I donít want all of my protein to come from just yogurt and powders. Iím still eating beans and nuts regularly as well as brown rice and quinoa. I even tried hemp seeds the other day.




Which were pretty interesting, I ate them straight out of the bag to see what they tasted like.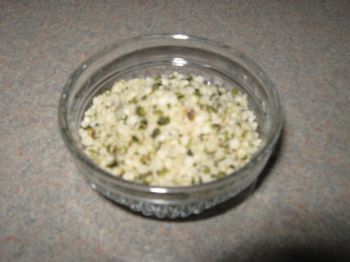 And found that they worked well on top of a salad.

I guess Iím just looking for any advice or inspiration to get my protein in without worrying about the calories. I am eating plenty to feel full, so it feels strange trying to find ways to add protein to my day without adding unnecessary calories. I know meat-eaters probably donít have this problem, but itís a bit harder for this gluten-free vegetarian! Right now Iím getting between 50-65 grams a day, so it could be better.

What is really awesome though is this salad I had the other day.




I have no idea what inspired this recipe, but Iím sure I didnít create it on my own!

I combined:
ĺ cup quinoa pasta
1 can kidney beans (drained and rinsed)
Ĺ cup green pepper, chopped
Ĺ cup onion, chopped
Ĺ cup broccoli stalks, chopped (I used broccoli slaw)

With this dressing:
1 tbsp olive oil
1/2 tbsp cider vinegar
1/2 tbsp red wine vinegar
1 tsp dried parsley
ľ tsp dried oregano
ľ tsp dried chives
ľ tsp salt
ľ tsp pepper
ľ tsp sugar

In a medium saucepan, boil the pasta according to package directions. (Drain, but do not rinse so the dressing will stick).

In a large bowl, whisk together the oil, vinegars, sugar and spices to taste. (While I loved the spices I used, use what you like!) Add the pasta, beans, and veggies. Toss well to coat everything with the dressing.

Cover and refrigerate it for several hours to allow the flavors to blend. (I made this a day in advance and thought it brought out the best flavor!)

If all else fails in my quest for more protein, Iíll always have Chobani.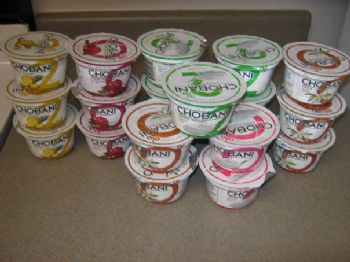 Can you tell Iím a wee bit obsessed? (Enough to also realize that is an OLD picture as their plain 0% yogurt is now blue!)





Wednesday, February 09, 2011
WOW! Thank you all so much for your kind and encouraging comments on my last blog celebrate FOUR YEARS here at SparkPeople. You rock!

It had been awhile since my last blog. I thought I was still recovering from my intestinal biopsy as I had felt awful afterwards, but I apparently had the stomach flu! It lasted much longer than I had anticipated, so I wasnít getting into the kitchen to make anything more exciting to share with you than one of these.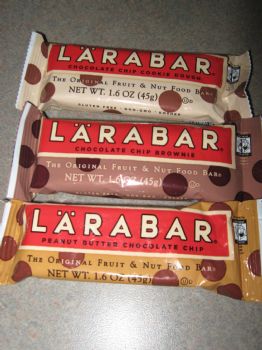 I think the recipe instructions would be ďGrab bar from cupboard. Open package. Eat. Go back to sleep and pray for stomach flu to go away.Ē

But for now my stomach has settled and I can get back to my gluten-free eating to see if that makes me feel better again. For anyone new to my blog I was having a lot of stomach problems and the doctor told me to try out a gluten-free diet. I did for about six weeks and felt a LOT better. However, I had to back to eating gluten so that they could do an intestinal biopsy to see if I had Celiac or just gluten intolerance.

Well the results came back and I donít have Celiac (whew!!), but cutting out gluten had made me feel better before so they think I am intolerant of it. Well I have cut it out again, but so far Iím not feeling better yet. Come to find out that was probably due to the stomach flu!

There! Now weíre all caught up and can get back to food. Which is good, because Iím hungry.

When I first went gluten-free I went through a bit of a panic. Pretty much all of my regular food was out (save for fruits and veggies of course). So I spent a lot of time scouring the internet for recipes. Some of the ones I found included things I was used to (yay quinoa is gluten-free!) and some were a bit more confusing (Iím still confused as to a good flour replacement other than just buying a premade mix!)

One of the first things I tried was this quinoa crunch casserole that Caitlin did over at Healthy Tipping point.

www.healthytippingpoint.com/recipes/
lunches-and-dinners/quinoa-crunch-cass
erole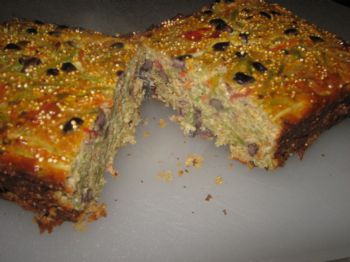 I didnít have 3 cups of broccoli, but I did have a bag of broccoli slaw which worked just as well! I sautťed it for a few minutes on the stove and then dumped it in a medium bowl with the raw quinoa, eggs, hummus, salsa, black beans, pepper and some pasta sauce as I didnít have any hot sauce.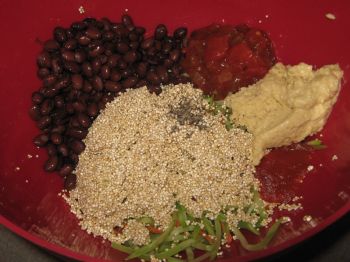 After mixing all of the ingredients together I poured them into a greased loaf pan.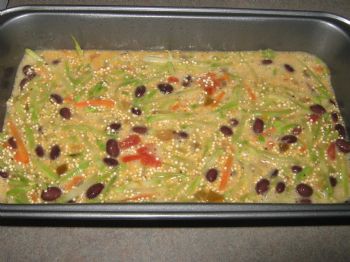 Yes, it was the weirdest looking thing ever! Like a quinoa soup with green twigs. But trust me, baking it makes it look much more appetizing!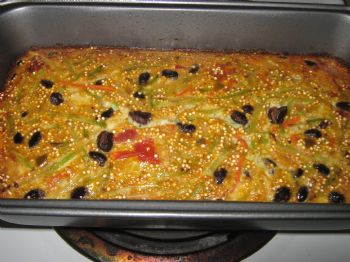 Okay so it still looks a little weird, but see perfectly normal. While my husband happens to love meat (ewww) I amÖless than a fan. So I was a little concerned as to what he would think of this loaf. Certainly not meatloaf, but maybe it could be good? Well he had two thick slices.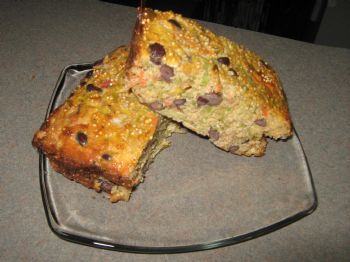 So Iím thinking thatís a big thumbs up! It is a bit dry without extra pasta sauce or even ketchup if you dare. Ainít nuttiní wrong with that!

For the full recipe you can click on the link above and you can check out Caitlinís other recipes as well here:

www.healthytippingpoint.com/recipes

Thatís all I have for now! Now I have to go find something good to eat. Although I think Iím craving my banana bread.
www.sparkpeople.com/mypage_public_jo
urnal_individual.asp?blog_id=3827724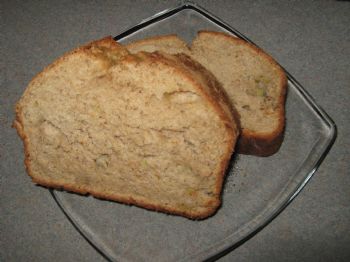 Mmmmm







Monday, February 07, 2011
So it kind of snuck up on me. SparkPeople informed me that today is my Sparkiversary. Itís funny because a couple of weeks ago I knew it was coming up and thought, ďhey thatís pretty cool!Ē And then itís today and I have nothing planned!

But FOUR years ago today I joined SparkPeople and my life changed.

I went from eating this: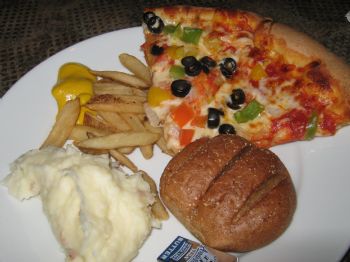 A typical Amber meal involving bread, starch, and wait, French fries are veggies right?

And this:




Mmm dessert is always the best part of ANY meal.

To experimenting with new foods:




Spinach in a smoothie? EwÖwaitÖno DELICIOUS! Edited to add: This particular one has spinach, banana, strawberries, almond milk and protein powder (I switch between Vegan+ and Amazing Grass).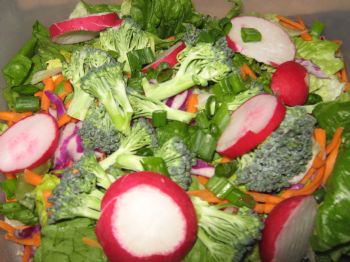 Oh thatís right, those are real veggies!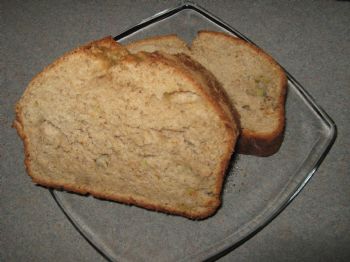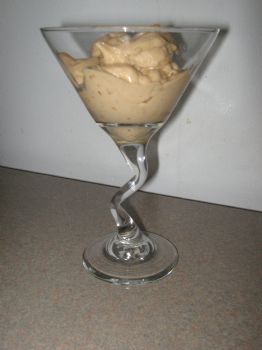 Wait, I can still have dessert? I like this place.

And the food certainly isnít tasteless.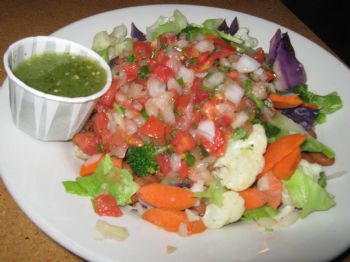 Recipes for those foods and more are available on my last blog!

So what have I learned? I learned that I can do more than I ever thought possible. I learned that I can look like this if I want: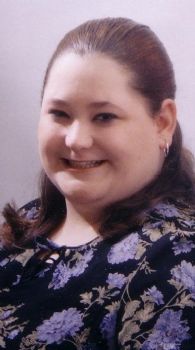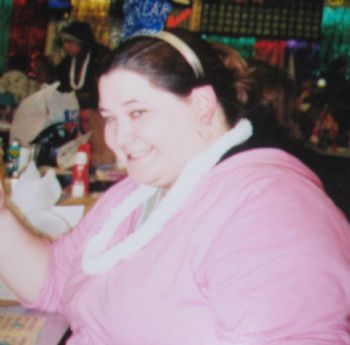 Or, I can discover that there are healthier ways to eat, portion control isnít hard once you get the hang of it and hey, exercise can be fun!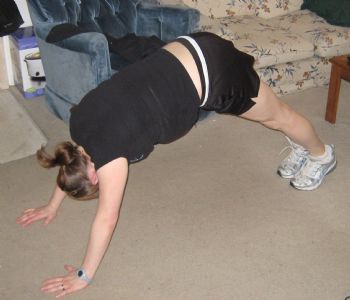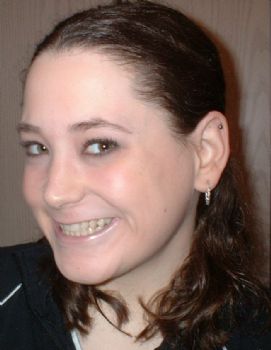 And eventually I could even do this.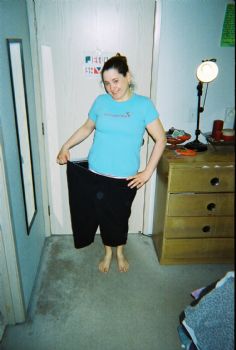 And you know whatís even better?? You can do it too! Yes, you. Because if I can do it, there is no one else out there that canít. Seriously. I like food, a LOT! My favorite activities all involve me on my couch. And yet even I can make some small key changes toward a better life!

How?

1. Decide what you want to do. What is it that you want to change about yourself? I didnít start fully tracking on SparkPeople until about a week after I joined. I played around on the website before coming up with any true goals. Only you can decide what is best for you!
2. Read success stories, read blogs, but most importantly read nutrition labels! And learn how to read them properly, so many things you think are one serving really arenít. Learn proper portion sizes, they will be a life saver. Knowledge is your power!
3. Exercise. While what you eat is such a huge part you gotta get up and move! And please donít suffer through something you hate. There are so many different forms of exercise. Yeah, you can run, or you can jump, skip, hop, slide, dance, shake it! Donít slug through an hour on a machine if group exercise is more your thing!
4. In the end, do what works for you. You can read a list of rules and follow them exactly. But if you arenít seeing progress, they might just be full of bunk! I do quite a few things that go against ďthe rulesĒ, but I have learned what works for me! Donít let some magazine or blog convince you to stop reaching for the sky.
5. Happiness is key. If what youíre doing doesnít make you happy in the end, then itís not worth doing. And notice I said IN THE END. Yeah, Iím not always smiling bright in the middle of a rough interval workout. But you canít imagine the feeling I get when Iím done. Iím smiling, I feel strong, powerful and usually in serious need of a shower. But thatís what great smelling body wash is for!

I donít think I can say DO WHAT WORKS FOR YOU enough. You know what the best diet is? The one that works for you. You know want to know what worked for me? Eating less junk, eating more whole foods, exercising. Yeah, pretty basic stuff. Emotional eating was my downfall as well as getting discouraged trying to follow ďnever eat in front of the TVĒ ďnever eat at nightĒ and ďnever eat anything sweet.Ē Sorry, those ďneverísĒ donít work for me.

So I forged my own path. Eating while on the computer or watching TV slows down my eating and reminds me to savor my food? Check one for me! Having a snack a couple of hours before bed allows me to get to sleep without a grumbling tummy? Check two for me! Eating a small dessert every single night helps me turn down junk all day in anticipation? Check three, Iím done!

And if anyone tries to tell me Iím wrong, Iíll kick them in the pants!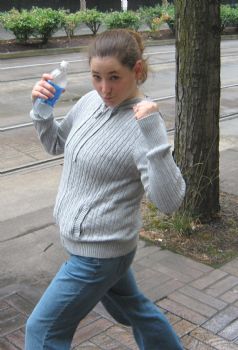 Or make funny faces at them before throwing my water bottle and running awayÖ.You know, whatever works!

~~~~~

Iíll be getting back to my regularly scheduled gluten-free recipe blog soon. But I canít be bothered at the moment, Iím eating. ;)






Monday, January 17, 2011
Since I have gotten some messages and comments requesting the recipes from my last blog, I decided to do a little digging. I have posted a few previous blogs that contain some of the recipes, so Iíll post links for those.
Some are recipes and some just sort of came together with what I had on hand. I know that some were inspired by recipes I have seen in magazines or online, so I donít claim to be some sort of recipe-creating genius. And while I think they are all delicious, I donít also wonít claim that you will necessarily love them too!

Iím posting these in the same order that they appeared in my last blog.

Old tried and true recipes:

Black Bean Burgers recipe and description can be found here

www.sparkpeople.com/mypage_public_jo
urnal_individual.asp?blog_id=3845602

Black Bean salad recipe and description can be found here

www.sparkpeople.com/mypage_public_jo
urnal_individual.asp?blog_id=2994874

Black Bean Casserole recipe and description can be found here

www.sparkpeople.com/mypage_public_jo
urnal_individual.asp?blog_id=3790102

Sante Fe Quinoa recipe and description can be found here

www.sparkpeople.com/mypage_public_jo
urnal_individual.asp?blog_id=3333105

Beans, Rice, Veggies recipe and description can be found here

www.sparkpeople.com/mypage_public_jo
urnal_individual.asp?blog_id=3764232

New trying them out recipes:

Black Bean Salad
1 can black beans, drained and rinsed
Ĺ lime or lemon, juiced
ľ cup fresh cilantro
Ĺ tsp cumin
Salt and pepper to taste
Garnish with guacamole or avocado if desired

Combine beans with the rest of the ingredients, adjusting spices to taste.

Whipped Red Potato
For this I just diced two potatoes, steamed them in the microwave for 12 minutes and then used a food processor to whip them with Greek yogurt, garlic, salt, paprika and pepper.

Sweet Potato and Baked Beans

This one is all Caitlinís!

www.healthytippingpoint.com/sweet-po
tato-and-baked-beans

Roasted Green Beans

Green beans, your favorite oil, any spices you desire, roast at 450 degrees for 15 minutes or until the texture you desire.

Sweet Potato and Bean Mash

1 can black beans, drained and rinsed (or any beans you like)
1 large sweet potato, precooked and diced
Ĺ cup onion, diced
Ĺ cup bell pepper, diced
Ĺ cup tomato, diced
1 jalapeno
1 garlic clove, minced
Ĺ cup salsa
ľ cup fresh cilantro
1 tbsp fresh lemon or lime juice

In a large skillet over medium-heat sautť the onion, jalapeno and bell pepper for 3-4 minutes. Add the garlic and cook for an additional minute.

Add the sweet potato, tomato, salsa, black beans, cilantro, lemon juice and spices to the pan. Heat through. Salt to taste if desired.

Can be served in tortillas, lettuce leaves, or eaten directly out of a bowl. Add guacamole or sour cream if desired.

Baja Bean Quinoa

(makes enough to bring to a potluck, adjust serving size as necessary)
You can use whatever beans you like, I used three of my favorites.

4 cups cooked quinoa
1 can garbanzo beans, drained and rinsed
1 can black beans, drained and rinsed
1 can red beans, drained and rinsed
Ĺ cup onion, diced
ľ cup fresh cilantro, chopped

Dressing:
ľ cup red wine vinegar
2 tbsp sugar
ľ tsp salt
ľ tsp pepper
Add other spices if desired to taste: parsley, cumin, whatever you like.

Combine dressing ingredients in a small bowl and mix well.
Combine beans, quinoa, onions, and cilantro in a large bowl and mix well.
Pour dressing over mixture and chill in the fridge for at least two hours for flavor to fully sink in.


If you have any questions feel free to leave a comment or send me a message!





Monday, January 17, 2011
As I recovered from my biopsy plus complications I got pretty lazy with my cooking. It seems like the easiest gluten-free meals include a combination of beans, veggies, and some sort of grain or starchy vegetable.

Iím eating more quinoa, brown rice, and potatoes than ever before! And yet, Iím not complaining! I am working on building up an arsenal of meals to choose from, and they all seem to border on this same theme. I have also become very aware that my favorite beans happen to be black beans.

Black bean burgers, potato wedges, steamed veggies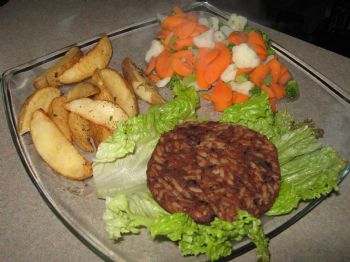 Black bean salad, brown rice, steamed veggies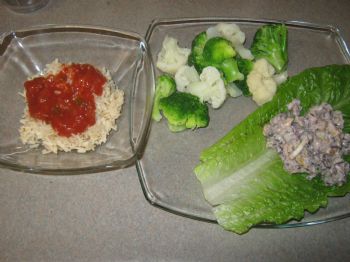 Black bean casserole, (side salad not pictured)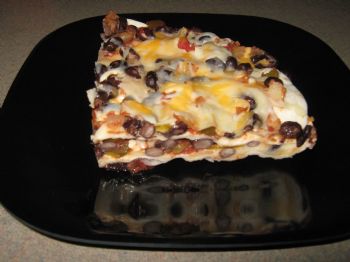 Sante Fe quinoa, (side salad not pictured)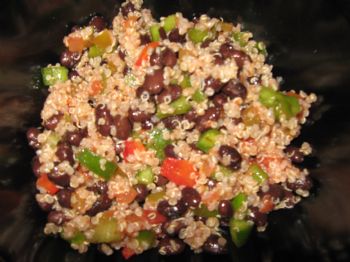 And things with super imaginative names like ďumm...beans, rice and veggies?Ē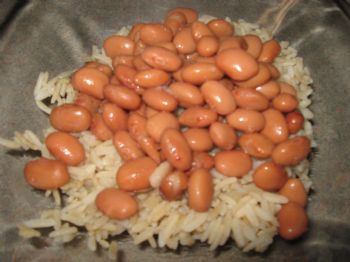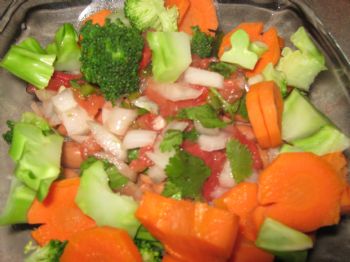 To add to this I tried to think ďoutside the boxĒ, and I think thatís why I was having so many problems coming up with good vegetarian gluten-free dishes. I had to realize that I should stick closer to what I know!

So I started out with a new black bean salad (black beans, lime juice, cilantro, green onions, cumin and spices to taste), added steamed veggies, and whipped red potatoes.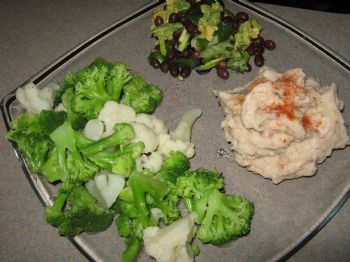 I hadnít had a potato in what seemed like forever, so I got a bit of a kick with it. The next day I had half a sweet potato topped with baked beans (ala Caitlin of HTP) with roasted green beans on the side.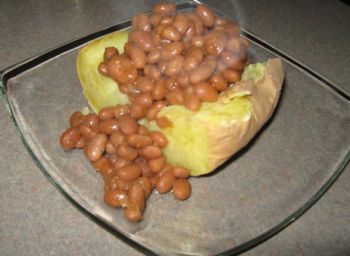 I took the leftover sweet potato and cooked up what was supposed to be a burrito filling, but I didnít find a tortilla necessary. It basically turned into a ďuse up veggiesĒ dinner. I sautťed onion, jalapeno, and garlic together and then added the leftover sweet potato with lemon juice, tomato, salsa, spices, black beans and cilantro.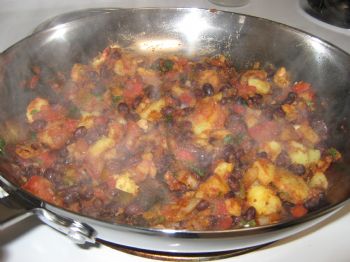 But you know whatís really good? Baja bean and red quinoa salad.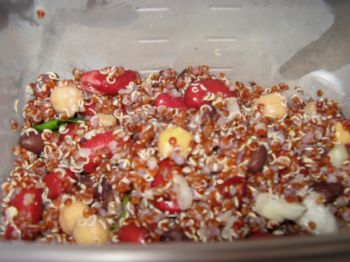 Yup, more beans and quinoa. But itís delicious!

I think it might be a bit boring for other people, but I actually enjoy my ďfood ruts.Ē I get really interested in a particular dish and then I have it until I canít bear it! I have had pretty much the exact same breakfast for almost three months now. What can I say, Iím quite odd.


What kind of food ruts do you get into? Or do you change things up constantly?




First Page
1
2
3
4
5
6
7 8 9 10 11 12 13 14 15 16 17 18 19 20 21 22 23 24 25 26 27 28 29 30 31 32 33 34 35 36 37 38 39 40 41 42 Last Page

Get An Email Alert Each Time *AMBER512 Posts