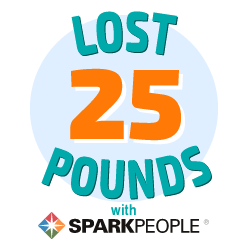 I have 2 pics in my gallery

Awards

Healthy Vegan Living :)
I've been making changes to my eating and exercise habits over the past few years. Some of my goals include:
1. Exercising 5-6 times a week
2. Drinking at least 8 cups of water per day
3. Putting MOSTLY good things into my body (fruit, veggies, whole grains, etc.). I say "mostly" because I am not perfect, and I will eat vegan cake on birthdays! I will allow myself these occasional treats.

September 6 2009 (edited) - Well, I'm about to go back to school after a ...
I've been making changes to my eating and exercise habits over the past few years. Some of my goals include:
1. Exercising 5-6 times a week
2. Drinking at least 8 cups of water per day
3. Putting MOSTLY good things into my body (fruit, veggies, whole grains, etc.). I say "mostly" because I am not perfect, and I will eat vegan cake on birthdays! I will allow myself these occasional treats.

September 6 2009 (edited) - Well, I'm about to go back to school after a summer off to take care of myself - my mind, body, and soul - after my sister's passing. I'm pretty anxious because I don't know how I will concentrate, but I am looking forward to meeting new people and to learning some hands-on skills. My degree in psychology was so theoretical, and I can't wait to apply the skills I learned to the real world.

In terms of healthy living... I'm scared. The workload is going to be heavy. I started this healthy living journey back in June, when I had NOTHING on my plate. I've been able to exercise a lot and to make very nutritious food. I don't know what it will be like to be at school from 9-5. I guess this is the real world, huh? I don't know how much I like it! haha. Anyways, my new goals:

1. PLAN AHEAD. (Something I didn't have to do this summer). Decide in the morning how I will integrate exercise into my day. If the day is busy, go to the gym for 30 minutes. It's better than nothing. Give it your all, rather than 80%.
2. TAKE SNACKS. Nuts and fruit. This will be a great way to start eating more nuts. If you must buy a snack, buy a little carton of skim milk.
3. TAKE LUNCH. Ideas: Pb on bread, a big salad.... that's all I can think of for now.
4. BREATHE. I want to start meditating on a regular basis. 5 minutes a day will be a challenge for me, because I am often go-go-go. But this is going to be so important for my mind. I won't strive to meditate everyday, because a friend once told me that that just puts pressure on something that is supposed to be relaxing (so true), but I want to be mindful of the days when I need the relaxation and the extra oxygen. ;)

Alright!!! Here we goooooooo!

(edited) December 14 2009
Well, I was right. School has been killer. BUT it has been life-changing! I absolutely ADORE my program and the people I have met! My teachers are totally fabulous and inspirational. I actually HAVE made time to work out, and it hasn't been as challenging as I anticipated. I also have been eating pretty 'clean.'
p.s. I'm down to 161 pounds! :)
SparkFriends

SparkTeams



My Ticker:
current weight: 352.0

Interact with YOUCANLOSEIT






Recent Blogs:

Profile


Member Since: 7/31/2009

SparkPoints: 0

Fitness Minutes: 20,755

My Goals:
1. Exercise most days of the week.

2. Eat clean.

3. Drink at least 8 cups of water per day.



Other Information:
I'm ALMOST there!!!!!



11 pounds till 149, my current goal weight! (January 10, 2010)



8.5 pounds till 149! I am 157.5 right now! (January 23, 2010)



At 150 now! 4 pounds till current goal weight of 146! (July 5, 2010)



At 148!!! 2 pounds till goal weight of 146!

(August 2, 2010)



At 145! Holy smokes. Past my initial goal weight, and gonna hang around here for awhile to reassess if I want to drop down to 140, or stay where I am! (August 15, 2010)