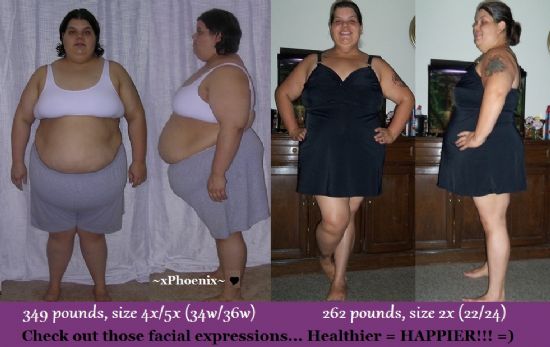 I have 43 pics in my gallery

Awards


❀DONE Girl...in progress! ッ
"To get something you never had, you gotta do something you never did..."

You can follow my journey (and try to follow the strangeness of my eclectic mind) on Facebook, if you so desire, at:
http://www.facebook.com/XPhoenixADoneGir
lInProgress

Yes, people... I am DONE!!! I am ready to firm up some of this jiggle, burn off some of these rolls, and basically be a healthier person for a longer and more productive life.... for ME!! I am DONE being this woman... I ...
"To get something you never had, you gotta do something you never did..."

You can follow my journey (and try to follow the strangeness of my eclectic mind) on Facebook, if you so desire, at:
http://www.facebook.com/XPhoenixADoneGir
lInProgress

Yes, people... I am DONE!!! I am ready to firm up some of this jiggle, burn off some of these rolls, and basically be a healthier person for a longer and more productive life.... for ME!! I am DONE being this woman... I want to find the healthy, happy, active woman I am inside.


I am DONE with:
~not making myself a priority (stop putting others first ALL the time)
~hearing negativity (anyone that doesn't enhance my life or stresses me out, has to GO)
~forgetting how far I've come (I need reminders all the time)
~making excuses for why I can't or haven't done something
~forgetting that I am beautiful, powerful, and awesome
....etc?


In 2013, I am aiming to:
~ reach my (first) goal
~ participate in Project Happy Place!
~ do more to help the planet (change a habit, buy eco friendly, recycle, etc)
~ try new things
~ spend more time with my son doing things he wants to do (time with him is precious and I tend to forget it sometimes)



I have a LONG way to go, but I didn't get these pounds in a few days, so I dont expect to lose them all in a few days either. Long process, I know.. but... I'm ready to do something for ME :) DONE GIRLS CAN DO ANYTHING!!!


Let's see how I do!! :) XOXO Good luck on your journey!

~*~*~*~*~*~*~*~*~*~*~*~*~
SparkFriends

SparkTeams



My Ticker:
current weight: 266.0


Recent Blogs:

Profile


Member Since: 6/26/2010

SparkPoints: 51,398

Fitness Minutes: 37,445

My Goals:
July 2010 - start 349 lbs, Jan 2011 299! (50 lbs gone!)
Ultimate goal is 180 (or less...). My "healthy" level is between 124 and 155... I dont see myself ever being THAT small, but... we shall see!

My Program:
Whole foods ("if it can go bad, it's good for you"), no soda, waterrrrr!!

Cardio, strength, and ME TIME (for prep, relaxation, and internal focus).

Cardio - 5x a week
Strength - 3 days a week
I do a bit (at least 20 minutes) of cardio on my strength days to warm my body up properly for the ST (at LEAST a DONE Girl dance!! WOOHOO!!), plus cardio makes me smile... dont see why I shouldn't do it!

Personal Information:
I'm ALWAYS ready to be a Spark Sister... if you need me, I'm here... a SparkMail me and then whatever you need (cell number, regular email, msn, whatever)... I am here! I wont give up on you.... that means I would give up on myself and I am NOT ok to do that. :)

Other Information:
50% done!!! (269) - 7/3/12

Special Spark Moments:
**Nominated "Done Girl of the Day" October 6th, 2010!
**Added as "Co-Leader" for the DONE Being a Fat Girl Team December 1st, 2010! OMG YAY!!

Profile Image