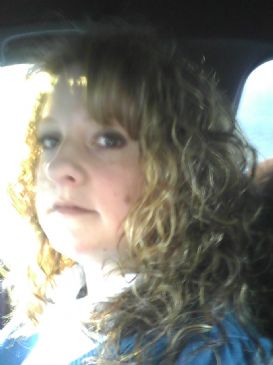 I have 4 pics in my gallery

Awards

Make my Gluteus Maximus a Gluteus MINIMUS!
I am a 33 year old Christian Homeschooling mother of 5. I have, in the past, lost almost all the weight I needed to reach my goal through Weight Watchers. Somehow, time and money ran out! Consequently, I have "found" most of what I had previously "lost" ! Time to get it in gear and "GET RID" of the weight for good!

UPDATE: I am now 34, still 5 kids, still homeschooling, however, life will never be the same for me. July 8th, 2011, my niece Josselyn was brutally murdered by her ...
I am a 33 year old Christian Homeschooling mother of 5. I have, in the past, lost almost all the weight I needed to reach my goal through Weight Watchers. Somehow, time and money ran out! Consequently, I have "found" most of what I had previously "lost" ! Time to get it in gear and "GET RID" of the weight for good!

UPDATE: I am now 34, still 5 kids, still homeschooling, however, life will never be the same for me. July 8th, 2011, my niece Josselyn was brutally murdered by her ex boyfriend. I sometimes have difficulty getting the viciousness of it and the sadness out of my thought process. However, God's grace is allowing me to channel the hurt into other things....On October 21st, 2011, there will be a Josselyn Marie Bishop 5k memorial run. I have never run a 5k, but I am training for one now! It's like I'm running on Jossy's "God Given" wings!

What is important to me has been regrouped as well.

1. Love God...He first loved you and He is the only one who can truly help you through things!

2. Love your family/friends, and YES, enemies!....Life's beginning AND ending is NOT in your hands...you NEVER know when you won't be around anymore or when you might lose someone else. -IF YOU LOST YOUR LOVED ONE TODAY...WHAT WAS THE LAST THING YOU SAID TO THEM?-

3. Love YOURSELF....God made you and He makes NO mistakes! You are special to Him as well as others around you, if you don't take care of YOU, than you're taking the risk of taking yourself away from others!

4. Most Importantly.....there is NO room for HATE!

One thing that God has taught/told me through all this is : "I'm taking care of Josselyn up here, you take care of your body down there and let me help your heart heal"

Update: I ran the 5k....the whole thing...WITHOUT stopping!
It was amazing....such a swelling of emotions...praise God, runningoma was there with me. She was amazing!

Now.... I think i might be 5k addicted....lol
SparkFriends

SparkTeams



My Ticker:
Pounds lost: 0.0


Recent Blogs:

Profile


Member Since: 2/16/2011

SparkPoints: 5,816

Fitness Minutes: 7,010

My Goals:
My goals are simple, to lose weight, get healthy, and serve God!

From the time I hit puberty until now, I have never been considered one of the "skinny" people.....as a teen I though I was fat....as an adult, I wish I was as "fat" as I thought I was as a teen!

Goal # 1:
Complete WEEK 1 of C25K program. COMPLETED!!!

Goals 2-9, complete the consecutive weeks of training. COMPLETED!!!

Goal 10: RUN the Josselyn Bishop Memorial 5k! COMPLETED!!!

My "lofty"goal is to get to the point where someone says "you're so thin!" and MEANS it! (shallow, I know!)

My Program:
Excersize at least 3 days a week.

Drink my water!

Choose mostly RAW, healthy foods.



Personal Information:
I'm a 34 yr old married, stay at home, homeschooling mom of 5.
I coach volleyball on the side as well as playing adult co-ed vball.

Other Information:
Jesus Saves!

Profile Image