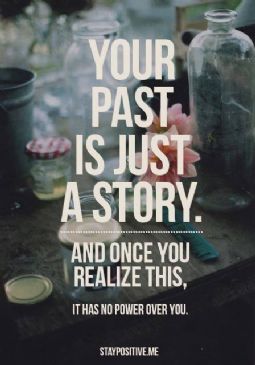 I have 57 pics in my gallery

Awards


"When you acknowledge that there is nothing repulsive or unforgivable or shameful about yourself,
it becomes easier to be that authentic person and feel like you're living a less performed life" -- John Green

I spent most of my childhood, teens, and 20's feeling unworthy, isolated, and broken .. struggling with obesity, depression & anxiety. I was lost in a negative reality and no one could help me get out of it, until I helped myself and looked within.

Now I'm discovering my innate value and I'm mastering the art of unlearning and reprogramming my brain in order ...
it becomes easier to be that authentic person and feel like you're living a less performed life" -- John Green

I spent most of my childhood, teens, and 20's feeling unworthy, isolated, and broken .. struggling with obesity, depression & anxiety. I was lost in a negative reality and no one could help me get out of it, until I helped myself and looked within.

Now I'm discovering my innate value and I'm mastering the art of unlearning and reprogramming my brain in order to live life the way I want to live it. I am taking full responsibility for my own health and happiness. I am committed to loving and accepting myself at any size.

May we all discover our own agency, worth, and interconnectedness in this lifetime :)

Namaste~
SparkFriends



SparkTeams



My Ticker:
current weight: 380.0


Recent Blogs:

Profile


Member Since: 7/25/2010

SparkPoints: 37,303

Fitness Minutes: 19,864

My Goals:
To love myself
To believe in myself
To conquer my fears
To gain strength
To listen to my body
To transcend my emotions
To express myself creatively
To live mindfully
To run (not walk) a 5k!
To maintain a positive attitude

361 by Feb 1 -
353 by Mar 1 -
344 by Apr 1 -
335 by May 1 -
327 by Jun 1 -
317 by Jul 1 -
307 by Aug 1 -
297 by Sep 1 -
288 by Oct 1 -
280 by Nov 1 -
274 by Dec 1 -
269 by Jan 1 2016
(100 lb in 1 year)

219 lb -
200-219 lb (maintenance range, 200+ lb lost total)

My Program:
-Sleep 8 hours each night
-Self-love and acceptance
-Whole, natural, anti-inflammatory, gluten-free foods, home-cooked meals with plenty of protein and few grains and refined carbs, tons of organic fruits and veggies and probiotics!
-Nutrition tracking, low carb
-Finding creative outlets for emotions
-Positivity! Creating it and seeking it out.
-Reconnecting with nature/getting some sunlight every day
-Cultivating mindfulness
-Pushing myself outside of my hermit-like comfort zone!

Fitness
---------------
-Run/Walk (Couch to 5k) thrice a week,
-Cardio 5 days per week,
-Strength training twice per week.
-Tai Chi or Yoga for at least 10 min every morning
:)

Personal Information:
***************
"Let food be thy medicine" -Hippocrates

"All that we are is the result of what we have thought. The mind is everything. What we think we become." -Buddha

"I did then what I knew how to do. Now that I know better, I do better" -Maya Angelou

"When you acknowledge that there is nothing repulsive or unforgivable or shameful about yourself, it becomes easier to be that authentic person and feel like you're living a less performed life" -- John Green

"A bird does not sing because it has an answer. It sings because it has a song." -Chinese Proverb

"We are what we repeatedly do. Excellence then, is not an act, but a habit." -Artistotle

"Success .. is in the doing, not the getting; in the trying, not the triumph."


Other Information:
Music:
Rush,
Jeff Buckley,
Elliott Smith,
Fleet Foxes,
The Decemberists,
Joanna Newsom,
Leonard Cohen,
Gillian Welch+Dave Rawlings,
Nick Drake,
Iron & Wine,
Sunset Rubdown,
Radiohead,
Death Cab for Cutie,
Muse,
Simon & Garfunkel,
Led Zeppelin,
Talking Heads,
Ben Folds,
The Beatles,
Bob Dylan,
Bat for Lashes,
Joni Mitchell,
Anais Mitchell,
Kate Bush,
My Brightest Diamond,
Fiona Apple,
David Bowie,
Joanna Newsom,
Bjork

Favorite Books:
A Song of Ice and Fire,
The Lord of the Rings,
Dune,
Norwegian Wood,
The Fault in Our Stars,
The Hitchhiker's Guide Series,
Hamlet,
Genji Monogatari,
Kurt Vonnegut,
Neil Gaiman,
Michael Pollan

Anime:
Code Geass,
Kemono No Souja Erin,
Mushishi,
Nodame Cantabile,
Trigun,
Welcome to the NHK

Film:
Seven Samurai
*and many more*

Profile Image