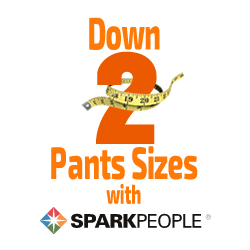 I have 12 pics in my gallery

Awards

DETERMINED TO BE FIT!!!
Hello, I am very excited to be here! I joined at the end of November 2009 and look forward to sharing my weight loss and healthy living journey with you!

Just a little about me...I'm a wife and mom and after years of maintaining my weight, I never worried about gaining weight. So I continued eating what I wanted and it never really mattered wether I exercised or not. I always seem to stay around the same weight. This was even AFTER having 3 kids. But after hitting 30 and being ...
Hello, I am very excited to be here! I joined at the end of November 2009 and look forward to sharing my weight loss and healthy living journey with you!

Just a little about me...I'm a wife and mom and after years of maintaining my weight, I never worried about gaining weight. So I continued eating what I wanted and it never really mattered wether I exercised or not. I always seem to stay around the same weight. This was even AFTER having 3 kids. But after hitting 30 and being very stressed with life, I noticed some weight gain and it didn't come off as easily as it used to. I almost didn't recognize myself anymore. It felt terrible going to the store for larger pant sizes. I felt unhealthy, uncomfortable and I didn't like my body although my hubby still thought I was attractive. My clothes fit horribly and my midsection continued to grow. It was time for a change!

So in May of 2009 I began working out daily and by the end of the summer I lost many inches and about 20 lbs.

I hit a brick wall in 2011 and gained some of the weight back going from the 160's to 170's (mainly over the winter - I love holiday food). That scared me. I did NOT want to enter the 180's again. So I started back in March 2012 and have not stopped. I did hit a plateau and could not get past 160! I started a new program...12 week Live Fit Trainer which builds muscle and decreases fat over time. I am finally in the 150's which I haven't been in since maybe 2005 or 2006? I'm not sure anymore. It's been a long time :)
SparkFriends

SparkTeams

My Ticker:
current weight: 156.0

Interact with TWISTINA5791






Recent Blogs:

Profile


Member Since: 12/2/2009

SparkPoints: 0

Fitness Minutes: 2,546

My Goals:
I don't know...I just want to look gooooood, and be fit and healthy of course lol!

My Program:
1. Drink LOTS of water...10 cups per day .
2. Follow the 12 week Live Fit Trainer by Jamie Eason to a "T".
3. Reduce red meat to 1x per week or less.
4. Reduce sugar intake.


Personal Information:
My stats:
Height: 5' 5.5"
Medium Build
Starting Weight: 184 lbs.
Starting Body Fat: 32.4%+
**************************
Goal weight: 148 or so
Goal Body Fat: 18-24%
***************************

December 2009: 166 lbs.
October 2010: 160 lbs.
(lot of fluctuation in between these dates)
October 30, 2012: 157.5 lbs.

*************************
Rewards:
160 lbs. - New workout outfit

157 lbs. - New Shoes/boots: Met October 30, 2012.

154 lbs. - New Weights

151 lbs. - New dress (black)

148 lbs. - Celebration Dinner!

Other Information:
As a man thinks, so is he. Greater is He that is in you than he that is in the world. - the Word





Profile Image