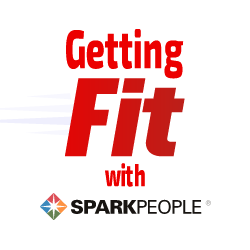 I have 8 pics in my gallery

Awards

The Newest Me
I've been back and forth and back again. And now, I'm back. Again.

My last stint on Sparkpeople I lost a fair amount of weight, the healthy way, and I was very excited about my progress. Clearly, life happened, I've gained it all back and then some, but also I've lost about 190lbs of dead weight (i.e. a stressful relationship). :)

I have over 90lbs to try and lose. I want to take a more proactive approach to diet and exercise. This way I will be more in control of ...
I've been back and forth and back again. And now, I'm back. Again.

My last stint on Sparkpeople I lost a fair amount of weight, the healthy way, and I was very excited about my progress. Clearly, life happened, I've gained it all back and then some, but also I've lost about 190lbs of dead weight (i.e. a stressful relationship). :)

I have over 90lbs to try and lose. I want to take a more proactive approach to diet and exercise. This way I will be more in control of my weight, instead of my circumstances dictating my dress size.

My Current Plan:
Activity everyday.
Cycling 3x/wk
Kickboxing 2x/wk
Fast Track (Boot Camp type class) 1x/wk
Yoga Class 1x/wk (sun salutations everyday)

I'm avoiding the personal trainer route right now because, well, I have issues with authority:)
SparkFriends

SparkTeams



My Ticker:
current weight: 270.0


Recent Blogs:

Profile


Member Since: 2/6/2008

SparkPoints: 0

Fitness Minutes: 5,503

My Goals:
-To develop a healthier lifestyle based on wise food choices and daily activity.
-To prevent diseases related to being overweight.

My Program:
Currently I'm trying the Best Life Diet.
Phase Two:
7/9/08-9/3/08
-eliminating problem foods from my diet (regular pasta, white bread, sodas, full-fat dairy, and fried foods). Recognizing hunger and eating according to a hunger scale. I workout at the gym at least five days a week, incorporating a yoga class once a week, and in the (very near) future a cycling class once a week. I also am starting to include yoga as apart of my daily morning routine. Basically watching what I eat, and exercising consistently.

Personal Information:
Tiffany from Atlanta. I'm 26 and it's time for a new look.

Other Information:
*Stole an idea from Miss Angela, that she stole from someone else :) , EDL is Estimated Date of Loss:
215lbs(EDL:9/20/08)

205lbs 20% Goal: (EDL: 10/17/08) Pre-relocation weight.

195lbs Denver Weight (EDL:11/22/08)

185lbs 20% Goal: (EDL:12/3/08)

175lbs (EDL: 2/14/09)

160lbs Maintainence Goal (EDL:4/22/09)


Profile Image