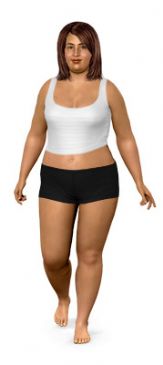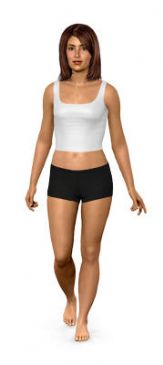 I have 26 pics in my gallery

Awards

Tia's "FINAL" Weight Loss Journey
Hello! Thanks for visiting my Sparkpeople page. Everyone calls me Tia. I am 43 years old.

I am a mother to a 26 and 7 year old son. I am also a stepmother to 3 children ages 26, 24 and 21. I am also a grandmother to a 5 year old granddaughter and a grandson who is 3.

I have been on so many diets in my life and I lose weight on some of the diets but in the end I always gain some if not all or more of the weight back.

To be perfectly honest with everyone ...
Hello! Thanks for visiting my Sparkpeople page. Everyone calls me Tia. I am 43 years old.

I am a mother to a 26 and 7 year old son. I am also a stepmother to 3 children ages 26, 24 and 21. I am also a grandmother to a 5 year old granddaughter and a grandson who is 3.

I have been on so many diets in my life and I lose weight on some of the diets but in the end I always gain some if not all or more of the weight back.

To be perfectly honest with everyone "I am sick and tired of all this yo yo dieting that I have done all my life" I am sick and tired of going on a diet to lose some weight and then life sets in (emotional eating) and before I know it I have gained back all the weight that I lost and even more weight. Then I get depressed because I gained weight and that causes me to eat more and gain weight and so the cycle has begun of a never ending cycle of eating and gaining weight.

In Today's society food is the answer to everything. You get a promotion at work and you go out to dinner to celebrate, you go out to dinner to celebrate birthdays, anniversaries, if someone dies then people bring you food to comfort you. Food is our comfort and that is why I have decided this time that I am NOT going to use food as my comfort NO MORE!!!!!!! "If hunger is not the problem then FOOD is NOT THE ANSWER!!!!!!!" I am going to live by that motto from now on.

I WILL HAVE CONTROL over the food I eat instead of the food having control over me.

I was told once that "If you lose weight for a special occasion, an event, a reunion, to get into a bathing suit, etc. that within one year you will probably gain it back. If you don't lose the weight for YOU then the weight won't stay off.

I made my mind up that this never ending cycle has GOT TO END... and I am the only person who can stop the cycle. So I am losing weight FOR ME!!! I am doing this for me!!! I really feel like I believe in myself right now and that I can lose the weight this time. I am going for the GOLD! No stopping me this time! I am NOT going to quit this time! I am NOT going to give in to emotional eating! I am NOT going to fail this time! I am NOT going to get discouraged if I don't see the scale lose weight some week, that will make me realize that I need to try harder!!!

I WILL DO THE FOLLOWING:

1) Exercise EVERYDAY!!!
2) Strength Train at least 3 times per week
3) Keep telling myself "That I am a strong person and I CAN DO THIS"
4) Follow my Weight Watcher's Plan
5) Get all my water in everyday-Very Important!!!!
6) Get all my fruits and vegetables in everyday!
7) Get my two serving's of milk everyday!
8) Get my two oils in everyday!
9) To take my multi-vitamin everyday!
10) To make small goals for myself and reward myself when I reach those goals. I am NOT looking at the final result of the weight I want to be because that is a set up for failure for me because it is a long time goal for myself. Small goals like 5-10 pounds at a time are easily reached and it motivates me to keep going.
11) Stay away from all types of soda including diet soda
12) Stay away from fast food restaurants
13) To try new foods like fruits, vegetables, soy products, etc.
14) To BELIEVE IN MYSELF!!!

Most importantly is I am losing this weight for me. Not for my husband or anyone else... it is for me!!! To be healthier and live longer. I want to be around to see my 7 year old grow up and have his own family. I want to be a great grandmother some day.

I want to get to the point where I can look in a mirror and actually like what I see. I want my self esteem back and my confidence too. To find who I used to be before I gained all this weight many years ago. To love myself inside and out. To actually like my body and not be ashamed of it. To be happy in my own skin. To not have to worry about weather my pants or the shirt I am wearing makes my belly look fat or my butt look bigger. To be able to tuck my shirt into my jeans and actually be able to wear a belt. To be able to wear dresses and skirts again. I want guys to think of me as a "HOT MAMA" like in the Trace Adkins Video!!! I want to feel like I am a "HOT MAMA"!!! I want to look and feel SEXY naked! I want to look and feel comfortable in any type of clothing, including lingerie. I want to be able to buy clothes in the woman junior dept and not in the plus size department.

I want people to stop and say "Is that you Tia?"

In the summer of 2006 I was at my highest weight of 233 pounds.

I would like to get to 115 pounds but my ultimate goal would be what the Weight Watcher goal and that is 102-118 pounds. I want to become Lifetime with Weight Watchers.

I don't have many friends and only have my families support so support is very important to me right now. I would like to have support from other people on the weight loss journey too.

If you are looking for support and encouragement then please don't hesitate to contact me. Giving support and encouragement is just as important as receiving support and encouragement. I am also looking for some support and HELP on my weight loss journey.

I want my next 40 years to be much healthier than my first 40 years.

Here's to all of us who are on the weight loss journey! May we all reach our goals and obtain healthier lives.

Remember the Weight Watcher motto "It's Not a diet but a way of life"

Tia

My weigh In's:

Highest Weight: 233 pounds (Summer of 2006)

Sept. 8, 2009: 204 lbs (Started Weight Watchers)

June 5, 2010: 159.4 pounds (Lowest weight in many years)

Nov. 30, 2010: Have gained about 35 pounds back.

Sun. Nov. 28, 2010: 195.6

Tues: Jan 25, 2011: 183.2



SparkFriends

SparkTeams



My Ticker:
current weight: 181.6


Recent Blogs:

Profile


Member Since: 1/7/2007

SparkPoints: 8,276

Fitness Minutes: 0

My Goals:
My First GoalWould Be to lose 5% of my weight which is 10.2 pounds which would take me down to 193.8 pounds.
UPDATE: I met my 5% Goal on Tues. Sept. 29, 2009. Weighed in at 193.6

My next goal is 10% which would be at 183.6 pounds.
UPDATE: I met my 10% on November 3, 2009.

NextGoal: 175 pounds by Thansgiving:

Update: I did meet my 175 pounds by Thanksgiving day!

Next Goal: Be 155 by the end of August 2010

My Program:
Weight Watchers

Low carb and low sugar due to diabetes


Personal Information:
My email address is: tia0326@embarqmail.com

Feel free to email me anytime for support or if you need a friend.

Other Information:
I am always looking for Weight Watchers Recipe's, Low Carb Recipe's and Fat Free Recipe's. If anyone has any good ones please email me the recipe's at tia0326@embarqmail.com I would appreciate it.

Profile Image