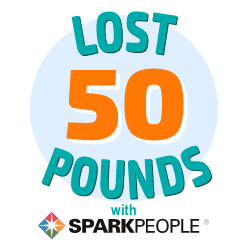 I have 11 pics in my gallery

Awards


I CAN Do This!!
My name is Marilyn and 3.5 years ago I lost about 70 pounds, the craziness of work and college set me back 15 pounds from lowest weight, but I am determined to get back there!

I am an avid runner! I average between 70-100 miles per month. I work on both speed and distance. With 3 half marathons under my belt I have two more planned for this year. I recently ran my fastest three mile run yet at 23:20

Currently I am a fourth year Graphic Design major at a private ...
My name is Marilyn and 3.5 years ago I lost about 70 pounds, the craziness of work and college set me back 15 pounds from lowest weight, but I am determined to get back there!

I am an avid runner! I average between 70-100 miles per month. I work on both speed and distance. With 3 half marathons under my belt I have two more planned for this year. I recently ran my fastest three mile run yet at 23:20

Currently I am a fourth year Graphic Design major at a private university in MI, I work part - time as a designer.

I am focusing on clean eating and use Arbonne products to do so, message me if you have any questions on how you could try them too!
----------
Became a spark people Motivator 8/4/2011....yayyyy!
-------------
My Favorite Quotes:
Good Players Inspire Themselves, Great Players Inspire Others (from a blog by Mistyblue716)

Never, never, never give up - Winston Churchill
SparkFriends

SparkTeams



My Ticker:
current weight: 155.6

Interact with THISISMYTIME123







Recent Blogs:

Profile


Member Since: 11/6/2010

SparkPoints: 13,691

Fitness Minutes: 12,339

My Goals:
Lose 5 Pounds- 1/13/2011

Lose 10 Pounds- 1/26/2011

Lose 15 Pounds- 2/17/2011

Lose 20 Pounds-

2/25/11

Lose 30 Pounds-

4/18/2011

Lose 40 Pounds-

7/19/2011

Lose 45 Pounds-
8/8/2011

Lose 50 Pounds-
9/8/2011
.................



Run 2 Miles NonStop-

6/17/2011

Run 3 Miles NonStop-

(5k) 6/18/2011

Run 4 Miles NonStop-

7/8/2011

Run 5 Miles NonStop-
8/28/2011

Run 6 Miles NonStop-
8/28/2011

First Half Marathon - April 2012 (Completed an additional 2 since and am signed up for 2 in 2015)

Bike 10 Miles NonStop- 1/4/2011!!

Bike 15 Miles NonStop-

1/4/2011

Bike 20 Miles Nonstop- 1/6/2011

Bike 25 miles Nonstop- 2/08/11

Bike 30 miles Nonstop- 2/08/11

Bike 35 miles Nonstop- 2/08/11

Bike 40 Miles Nonstop-

2/15/2011

Bike 45

My Program:
I am Going to Track everything that goes into my mouth. I am a very busy student, so I will work out every day I am able too.

Profile Image