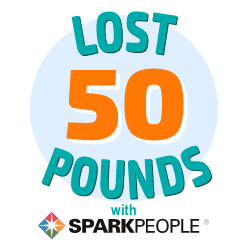 I have 1 pics in my gallery

Awards

Time to finish what I started! Hello, 2012.
***Please leave a comment if you add me as a friend -- my SP emails are off, so I won't have any idea otherwise!***

Here's my story...
January 2011: my doctor scared me with my impending fate. Liver disease! Diabetes! Infertility! Obesity! Cholesterol, triglycerides, and so on! I started losing weight independently, and dropped about 10 pounds.

Mid-February 2011: I joined SparkPeople, and started religiously tracking every calorie I consumed or burned, every ...
***Please leave a comment if you add me as a friend -- my SP emails are off, so I won't have any idea otherwise!***

Here's my story...
January 2011: my doctor scared me with my impending fate. Liver disease! Diabetes! Infertility! Obesity! Cholesterol, triglycerides, and so on! I started losing weight independently, and dropped about 10 pounds.

Mid-February 2011: I joined SparkPeople, and started religiously tracking every calorie I consumed or burned, every glass of water I drank, and a number of other positive steps.

...fast forward...

I'm writing this on April 29, 2011. I've consistently lost 10 pounds per month since I started using SP. All indicators of liver problems are gone. Diabetes tests have come back negative. I am no longer obese. My body seems to be restoring everything back to full working condition. I feel so much more energetic, positive, and generally happy.

I started running in May 2011. My fitness levels? Through the roof! My weight? Planted firmly on the same number for many months. I stopped tracking sometime in September, during my first (highly stressful) semester of grad school, but still managed to keep off about 90% of the 53-pound loss I accumulated in the start of 2011. I ran/walked my first half-marathon in November 2011, a proud accomplishment for me!

That brings us to the current time: January 2012. It's time for me to recommit to my goals and keep going. I'm recovering from having my gallbladder removed in December, so I'm starting with small steps, but I know if I eat right, the exercise will come back to me. I'm rebooting all my goals to reflect what's going NOW, but I'm looking forward to challenging myself as my full health and energy return.

Talk to me :)
SparkFriends



SparkTeams

My Ticker:
current weight: 202.0

Interact with THINLADY2011






Recent Blogs:

Profile


Member Since: 2/16/2011

SparkPoints: 9,916

Fitness Minutes: 8,972

My Goals:
1) health!
2) GW by end of 2012

Specific goals and milestones:

*have my wedding ring fit my finger again (DONE 2/25/11; as of Jan 2012 it can be hard to keep it on!)

*go down 5 pants sizes, from size 18 to size 8 (down to size 16 DONE early March 2011, to size 14 DONE April 9 2011, to size 12 DONE April 29 2011)
Size 10: I'm coming for you!
Size 8: you're next!

*lose 10% of start weight, from 225 to 202.5 (DONE 3/26/11)

*lose 20% of start weight, from 225 to 180 (DONE 6/18/11)

*lose 30% of start weight, from 225 to 157.5 (you're next, 157.5!)

*reach goal weight: 155

*run! (DONE though marathon training program, tentatively completed in Nov 11, but I may come back for spring yet!)

My Program:
*eat small
*drink at least 8 glasses of water a day (9 or 10 is better)
*cardio exercise 3-5 sessions per week
*strength exercise as needed
*track every bit of all of the above
*MOST IMPORTANT: stay positive, stay calm, stay in control.

Personal Information:
I'm a special educator and a native Austinite.

Other Information:
Just keep swimming, just keep swimming, just keep swimming, swimming, swimming...

Profile Image