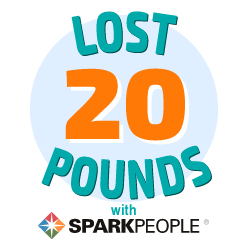 I have 11 pics in my gallery

Awards

making this work
My current goal is to ride my bike to work 270 miles before May 1.

I know that I can lose 30 pounds!

"In the depths of winter, I finally found there was in me an invincible summer."
- Albert Camus

I'm 5' tall and am trying to get down to a normal weight for my frame, a weight that I don't think that I have weighed since 6th or 7th grade.

Current pace: 12:21 mins/mile and getting faster!

Personal Records for the distances: ...
My current goal is to ride my bike to work 270 miles before May 1.

I know that I can lose 30 pounds!

"In the depths of winter, I finally found there was in me an invincible summer."
- Albert Camus

I'm 5' tall and am trying to get down to a normal weight for my frame, a weight that I don't think that I have weighed since 6th or 7th grade.

Current pace: 12:21 mins/mile and getting faster!

Personal Records for the distances:
5K: 43:05 Victory 5K 9/1/08
10k: 1:32:49 Polar Dash 10 1/1/09


SparkFriends

SparkTeams



My Ticker:
current weight: 155.0


Recent Blogs:

Profile


Member Since: 12/13/2006

SparkPoints: 8,158

Fitness Minutes: 16,727

My Goals:
Reasons for wanting to lose weight to reach a healthy BMI for my height:

1. Being fit is a tangible way to show that I love myself (or at least I don't hate myself).
2. I want to inspire others.
3. I want to be able to take care of myself for as long as possible.
4. I want to look capable of anything.
5. I want to know that it is possible; I'm not just supposed to be fat.
6. I want to see what I can do without all the extra fat.
7. I am worried about my reproductive health and the effect obesity has on it.
8. I don't want to feel guilty or demoralized because I gave in to cravings.
9. I'll be in better health (avoid cancer, diabetes or heart disease).
10. I'll be able to wear anything that I want.
11. I'll feel as if I've accomplished something important.
12. To have an automatic answer to the "greatest accomplishment" question.
13. I want to age gracefully.
14. I want to run faster.
15. I want to be comfortable on planes

My Program:
I'm getting really good at swimming the breaststroke. It looks like the most turtlely thing to do in the water at this point, but it is really working my entire body.


Personal Information:
I have been living in Minneapolis since 1997, grew up in eastern North Dakota.

Other Information:
Interests:
cross-country skiing, traveling, geocaching, running, sleep, turtles and tortoises, india, well-read scientists, beekeeping, knitting, bicycling (touring & commuting)

Favorite Music:
they might be giants, rachmaninoff, sleater kinney, beatles, rem, belle and sebastian, shostikovich, the ramones

Favorite TV Shows:
monk, mr. show, the colbert report, mythbusters, sopranos, doctor who, life on mars, it crowd, 30 rock

Favorite Movies:
Connie and Carla, Newsies, Holiday, Rushmore, the Ghost and Mrs. Muir, Newsies, Overnight Delivery

Favorite Books:
How to Learn Any Language, Good Benito, the Red Tent, Jitterbug Perfume, Centaur: The Life and Art of Ernst Neizvestny

Favorite Quotes:
"When someone, for whatever reason, has the opportunity to lead an extraordinary life, she has no right to keep it to herself"
~~Jacques-Ives Cousteau


Profile Image