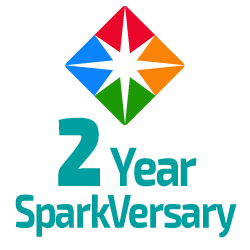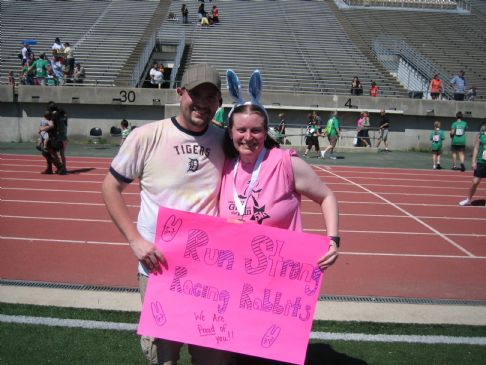 I have 32 pics in my gallery

Awards

Time to dial it up to super-duper serious
I decided to get serious on 02-01-2010, it seemed like a good date. My husband and I had made an effort once before together, and he lost tons of weight and looks great now, and unfortunately I did not. My husband is being supportive while I try again with the help of the Spark this time.

Progress so far:
10lbs Lost: 3-1-10

20lbs Lost: 3-31-10

25lbs Lost: 4-14-10 (1/4 way point!)

30lbs Lost: 5-5-10

40lbs Lost: 6-9-10 ...
I decided to get serious on 02-01-2010, it seemed like a good date. My husband and I had made an effort once before together, and he lost tons of weight and looks great now, and unfortunately I did not. My husband is being supportive while I try again with the help of the Spark this time.

Progress so far:
10lbs Lost: 3-1-10

20lbs Lost: 3-31-10

25lbs Lost: 4-14-10 (1/4 way point!)

30lbs Lost: 5-5-10

40lbs Lost: 6-9-10 (39.9 technically)

50lbs Lost: 7-21-10 (1/2 way point!)

60lbs Lost: 9-8-10

70lbs Lost: 11-3-10 (69.7 technically)

75lbs Lost: 2-9-11 (3/4 way Point!)

Things have slowed down for sure - but I'm staying positive and just chugging along!


"Unless You Puke, Faint or Die, Keep Going!" ~Jillian Michaels
SparkFriends

SparkTeams



My Ticker:
Pounds lost: 58.0


Recent Blogs:

Profile


Member Since: 1/22/2010

SparkPoints: 8,415

Fitness Minutes: 11,577

My Goals:
To get more ACTIVE & to pay attention to what I eat! (wow, so simple!?)

To participate in a 5K walk & a bike ride event before 2010 is over(CHECK!)

5k Walk:
5/22/10 Susan G. Komen Race for the Cure Breast Cancer Walk
(COMPLETE! 1hr20min w/ coworkers&BFF cousin)

Bike Ride:
9/4/10 Labor Day 30K
(COMPLETE! 1:42:20)

10/2/10 Bike4BreastCancer 24 Miles (COMPLETE! 2:12:50)

10/10/10
My Birthday!
Tour De Livingston
"Family Fun" 10 mile route w/ Husband
(COMPLETE! Route was confusing so we did 14 mile and hubby did great!)


2011 Goals- Stay active:
5/21/11 Girls on the Run 5k -done!

5/22/11 Race for the Cure 5k walk -done!

6/11/11 70mile Tour de Cure cycling ride -done!

8/11/11 Red Carpet Run 5k -done!

9/3/11 Labor Day 30k Ride -done! met goal time of 1:30!

11/21/11 Girls on the Run 5k -done! Personal Best time - 37minutes!

My Program:
Watching what I eat and getting active.

We bought a Wii for Christmas 09, so I am using it to help meet my goals.

I also enjoy bike riding & walking.

Personal Information:
I'm 28, been married since 2003, live in SE Michigan, tend to maintain a "zoo", go to school part time, work in a cubical full time, and am learning to love getting active again.

Other Information:
My rewards I have set to help keep me motivated:

Rewards I've made so far:

10lbs Lost: Shopping for hair accessories (COMPLETE 3-1-10)

20lbs Lost: Buy Harry Potter Book (1 & 2)
(COMPLETE 3-31-10)

25lbs Lost (1/4 way point!): Brunch Date w/ Hubby (& a Cheat Day) (COMPLETE 4-14-10)

30lbs Lost: Buy Harry Potter Movie (6) (COMPLETE 5-5-10)

40lbs Lost: Buy Harry Potter Book (3) (COMPLETE 6-9-10)

50lbs Lost (1/2 way!): Spa Date w/ BFF Cousin! (COMPLETE 7-21-10)

60lbs Lost: Buy Harry Potter Book (4) (COMPLETE 9-8-10)

70lbs Lost: Buy Harry Potter Book (5) (COMPLETE 11-3-10)

75lbs Lost (3/4 way there!): mini trip (COMPLETE 2-9-11)

80lbs Lost: Harry Potter Book (6)

90lbs Lost: Harry Potter Book (7)

100lbs Lost (GOAL!): Trip to Harry Potter Theme Park in Orlando, FL!

I am a HP dork, and it's something I wouldn't generally indulge in for myself, so it is working well

Profile Image