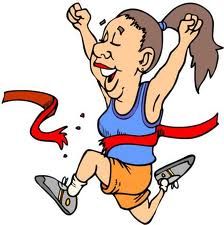 I have 10 pics in my gallery

Awards

I TRI my best...
I'm a 40 year old mother of two; Gabi 22 and Trey 19; I've been married to my best friend for the past 22 years.

I officially started this journey in October 2007 and I can't believe how things have changed. My goal when I started was to lose weight. Since then I have become a runner, a cyclist and a tri-athletic.

I recently completed my 1st HALF IRON MAN 70.3.

Half Marathon
Jazz Half Marathon October 29, 2010 2:10:27
...
I'm a 40 year old mother of two; Gabi 22 and Trey 19; I've been married to my best friend for the past 22 years.

I officially started this journey in October 2007 and I can't believe how things have changed. My goal when I started was to lose weight. Since then I have become a runner, a cyclist and a tri-athletic.

I recently completed my 1st HALF IRON MAN 70.3.

Half Marathon
Jazz Half Marathon October 29, 2010 2:10:27
Rock N Roll Mardi Gras February 13, 2011 2:08:40
Jazz Half Marathon October 30, 2011 2:04:57
Ole Man RiverHalf Marathon December 18, 2011 2:04:50
Lakefront Half Marathon January 29, 2012 2:12:33
Jazz Half Marathon October 27, 2012 1:57:39

Marathon
Rock n Roll/ New Orleans March 04, 2012 4:33:41
Rock n Roll/ New Orleans February 24, 2013 4:12:35

Triathlon / Sprint
Iron Girl 05/22/2011 1:30:17
Brent Robinson 09/10/2011 1:10:24
Sugarman 10/07/2012 1:35:32

Triathlon/Olympics
5150 6/24/2012 DQ
Big Cajun 10/21/2012 3:02:12

Triathlon/70.3
Galveston Half Iron Man 4/7/2013 6:28:36

I still track my food everyday, log my workouts and set obtainable goals.

IF I CAN DO IT, SO CAN YOU
SparkFriends

SparkTeams




Recent Blogs:

Profile


Member Since: 4/16/2008

SparkPoints: 29,593

Fitness Minutes: 61,814

My Goals:
Short-term Goal-
Register for Rock n Roll Marathon and Iron Man 70.3

Long-term Goal - Complete an Iron Man before the age 45


My Program:
Upcoming Events:

Jazz Half Marathon
Saturday, October 27


Other Information:
Nothing taste as good as skinny fells

Profile Image