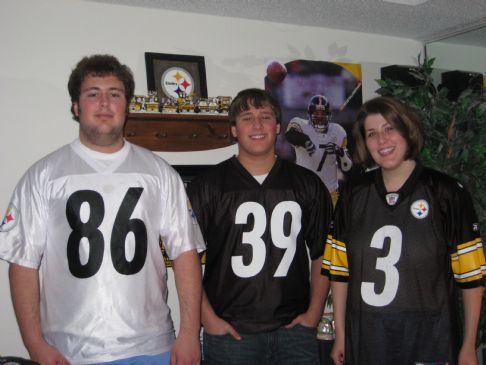 I have 50 pics in my gallery

Awards


My new Life- "Looking back is not going to do anything but make you lose your balance and fall"
Hi, I am Terri. I am a 55 yr. old mom of 3 (Brittany, 27, Brandon 22 and Bradley,21). I have been married for 31yrs. to this wonderful man, Bruce. I want to lose about 50 pounds. I need to do this. I am a WW lifetimer and after the kids I gained and never really lost it. I am determined this time.
I just had my 54th birthday. I need to use this year to get my health and body in the best shape it can be. I want my 50's to be the best they can be too. On to a new journey. ...
Hi, I am Terri. I am a 55 yr. old mom of 3 (Brittany, 27, Brandon 22 and Bradley,21). I have been married for 31yrs. to this wonderful man, Bruce. I want to lose about 50 pounds. I need to do this. I am a WW lifetimer and after the kids I gained and never really lost it. I am determined this time.
I just had my 54th birthday. I need to use this year to get my health and body in the best shape it can be. I want my 50's to be the best they can be too. On to a new journey.
I have started Nutrisystem and it has been a lifesaver. Life got in the way a little but it is coming along nicely. I will enjoy life's little celebrations but not too much. I will not let myself get derailed. Right back on!
----------------------------------------
------------------------------
I know now that it is a lifetime committment. Those fat cells don't leave they just shrink and wait for me to give in. I can't give in. Start simple. I know I can't do it without exercise. I joined our Wellness Center. I read Dr. Phil's 7 keys when it first came out and I have stuck with using the positive self talk key. It really made a difference. I tell myself I am worth it and that I WILL do this. 1 pound at a time. 1 movement at a time. Each step I take I am that much healthier. You are worth it. I tell myself that every day. I will look better and better with each pound. People notice on the way down not just at goal. I can do this. I have all the faith in me.
----------------------------------------
-------------------------

I am starting over and I know I couldn't do it without these habits:

1. Eat breakfast which consists of 1 of these:
a. oatmeal
b. egg white omelet with spinach and cheese
c. cereal with less than 6 gms. of sugar, banana and milk

2. Drink 8 glasses of water
3. JOURNAL my exercise on the fitness page
a. at least 30 min. cardio-hr-140
b. strength training-at least 3 days/wk.

4. JOURNAL my food on the nutrition page
a. 1200-1500 cal./day
b. watch sodium, starting to get higher BP

5. Get 8 hrs. of sleep
6. Stay motivated (Sparkpeople makes it easier)
7. Take one planned day and eat a food (not a whole day's worth) that I craved during the week, WITHOUT GUILT! I use weigh-in day.
----------------------------------------
---------------------------

I WILL DO THIS!!!!!!!!
I AM DONE WITH CHEATING MYSELF OUT OF WHAT I DESERVE!
I AM DONE WITH EXCUSES!
I AM DONE WITH PITY PARTIES!
I AM DONE WITH LETTING LIFE PASS ME BY!
I AM DONE WITH HIDING!
I AM DONE FANTASIZING WHAT I COULD LOOK LIKE!
I AM DONE WORRYING ABOUT MY HEALTH!
I AM DONE EATING JUNK!
I AM STARTING NOW!

----------------------------------------
---------------------------
I have the most wonderful support from my husband of 27 years. He surprises me all the time with things to make this as easy as I can make it. He doesn't bring things home that make it hard. He is so considerate. That is so important. We respect each other and we love each other. Support is so important because this is hard some days. He really picks me up and tells me how beautiful I am no matter what. I believe it when he says it.

----------------------------------------
----------------------------

MY PAST SUCCESS:
In 1984 I started Weight Watchers with 3 friends from work. It was so strict back then. We had exchanges and it was very depriving. On the plus side I lost 50 pounds from Sept. 4 ,1984 - Feb. 5, 1985. My friends gave me flowers at the meeting. I was 115 which is a dream now. I was a size 3. Oh to be in my 20's again. I will settle for 135-140 now. It was the second best moment in my life (after my wedding). Then the three best moments happened in the next 7 years. They were May 5, 1986, April 17, 1991 and March 4, 1993. So now I have 5 best moments in my life. I had a lot of good moments in my life but these stand out. Marriage, babies and weightloss. That is how important this is. It was all vanity but now health is number 1. After those last three dates my weight steadily went up. I did yoyo a lot but my weight stayed higher than I wanted and then came the day I weighed in at 202.8.
WELCOME SPARKPEOPLE!!!!!
Now on to the 6th best moment in my life!
----------------------------------------
--------------------------
ONLY ONE POUND
Hello! Do you know me?
If you don't, you should. I'm a pound of fat.
And I am the happiest pound of fat that you would ever want to meet.
Want to know why?
It's because no one ever wants to lose me.
I'm only one pound, just a pound!
Everyone wants to lose three pounds, five pounds, or fifteen pounds, but never only one.
So I just stick around and happily keep you fat.
Then I add to myself, ever so slyly, so that you never seem to notice it.
That is until I've grown to ten, twenty, thirty or even more pounds in weight.
Yes, it's fun being only one pound of fat, left to do as I please.
So, when you weigh in, keep right on saying, "Oh, I only lost one pound."
(As if that were such a terrible thing)
For you see, if you do this, you'll encourage others to keep me around because they'll think I'm not worth losing.
And, I love being around you-your arms, your legs, your chin, your hips and every part of you.
After all, I'm only one pound of fat!!!

----------------------------------------
---------------------------
MOTIVATIONAL QUOTES
"Just Because we have the right to do something doesn't mean it is the right thing to do"

'Life is not measured by the breaths we take, but by the moments that take Our breath away.'

"We are what we repeatedly do. Excellence then, is not an act, but a habit."
Aristotle

"Instead of giving myself reasons why I can't, I give myself reasons why I can."

"Rule your mind or it will rule you."

"Take care of your body. It's the only place you have to live."

"The difference between try and triumph is just a little umph!"

"The road to success is dotted with many tempting parking places."

""The world is round and the place which may seem like the end may also be only the beginning."

"Motivation is what gets you started. Habit is what keeps you going."

"If you have made mistakes, there is always another chance for you. You may have a fresh start any moment you choose, for this thing we call 'failure' is not the falling down, but the staying down."

"Even if you are on the right track, you'll get run over if you just sit there."

"Only those who dare to fail greatly can ever achieve greatly."

"Fall seven times, get up eight." - Japanese Proverb

"Patience and perseverance have a magical effect before which difficulties disappear and obstacles vanish." - John Quincy Adams

"The gem cannot be polished without friction, nor man perfected without trials." - Chinese Proverb

"Never give in. Never. Never. Never. Never." - Winston Churchill

"Great works are performed not by strength but by perseverance." - Samuel Johnson

"What may be popular may not be right and what may be right may not be popular!" -unknown

"If you want something you have never had, you must do something you have never done." Thor Winston

----------------------------------------
--------------------------
DIET PLATEAUS-MY NEMISIS- I NEED THIS CONSTANT REMINDER!

You have adopted a diet plan in order to achieve weight loss. You have bid goodbye to old eating habits, even given up favorite foods. Conscientiously adhering to the plan has started to show the desired results. Your body is responding to the diet plan and you are losing weight. You are almost there- reaching the desired goal. Your hard work is about to finally pay off. You just need to lose the last few pounds. Suddenly, you don't seem to lose weight. The weight reduction literally stops or slows down to almost nothing.

This is a stage when you are likely to feel the weight no longer coming off. This is termed as reaching or hitting a plateau. A stage when you are neither losing nor gaining weight. In all probability, it is not an uncommon occurrence. It is a very common occurrence prone to happen at some point or other with almost everyone who is on a diet. Read further. Find detailed information pertaining to diet plateau. Explore the ways and means to conquer diet plateau. Keep the weight scale moving in the right direction for the desired results.

Diet plateau, why it happens?

During the few weeks, the body's response to a diet program is very encouraging. The body is subject to new changes in terms of food intake. During this time, the calorie intake is low whereas the body metabolism is high. This brings about instant, steady weight reduction. Plateau sets in when the body has become accustomed to the routine. The diet program isn't new anymore. The body is tuned and has settled down to adjust by burning fewer calories; the metabolism slows down in order to conserve energy. At this point, the weight loss is slow or absolutely nil. The diet program and the exercise regimen wouldn't produce results. It may get harder to lose weight.

You are convinced that you have reached a plateau. When you notice the weight scale turning down for a week, perhaps for another two more weeks, do not give up. For if you give up now, it means taking a retreat. You may slip back to where you started. On the other hand, if you take steps to make certain amendments, reaching the ultimate weight loss goal is a definite outcome.

Plateaus are likely to be experienced by repetitive dieters several times over the course of a weight reduction program. It is not a permanent phenomenon. But, a temporary situation.

Possible factors for diet plateau

Same workouts, less body activity: Engaging in routine exercise and not doing enough activity is considered an important factor. Many people believe exercising is sufficient. They tend to ignore and keep away from activities that help burn off the energy from food or even overcome a slow metabolism.

Not eating enough: Feeling lethargic, irritable or insatiably hungry, these are signals that are to be understood as denial of enough nutrition for the body and mind. Dieters firmly believe, eating less means losing weight. Keen on seeing fast results, dieters may skip meals more often. The body goes into a starvation mode deprived of even the basics. The consequence is lowered metabolism. The body is denied enough fuel required to sustain certain level of activity and can actually stop losing weight. It is pertinent to realize the importance of maintaining sufficient calorie intake for optimum weight. Further, if the starvation continues, the blood sugar can drop too low and the appetite may increase. The food intake at the next meal will be more; one may tend to eat far too much.

Specifically for women, a variety of factors like hormones, medicines and menstrual cycles can affect expected results from diet programs. Other non-gender specific factors are depressed metabolic rate, blood sugar/insulin imbalance, toxic overload, under active thyroid, taking prescription medicines, food allergies and stress.

Tackling Diet Plateau

You can overcome diet plateau. Begin with examining your diet as well as the exercise program. Plan a strategy to move forward towards the finish line. Consider making required changes. You cannot expect difference in results unless if you continue the same routine.

Check goals: Have you set realistic weight reduction goals? Each individual is unique, what works for your friend or neighbor may not be suitable for you. Understand your body type and seek realistic goals. If required, talk to your health care professional and seek opinion.

Be honest, self-monitor: Monitor eating habits, pay attention to types of food as well as the portions consumed. You are likely to discover areas that are off-the track, incorporate changes.

Changes in calorie intake: Effect changes in daily calorie intake but maintain the same weekly intake. For example take only 1500 calories one day and increase to 2100 calories the next day. Effective means of increasing or decreasing calories can be by way of doubling the portions, or introducing a post-workout into the existing plan.

Do strength training exercise: Strength training exercise basically involves working your muscles which in turn strengthen bone tissue, increases the lean mass and ultimately improve metabolic rate.

Effect changes in Exercise routine: Changes that are more challenging, intense in nature will change the way your body is working. Hitherto, other than your sleeping time, be continuously active. Bring about changes in exercise program every 4-6 weeks. Adopt more challenging workouts. Also engage in different kinds of activities like cycling, swimming, ice-skating, dancing or even rock climbing. When you engage in such activities, you are adding variety and the total hours spent increases. As a result, you end up burning more energy to bring about a noticeable weight reduction.

Eat differently: Bring about marked changes in what you are eating. Move from a moderate diet that is higher in carbohydrates to eating less carbohydrate. Include more protein. Break away from the routine and keep making alterations. Strike a balance. Don't skip breakfast, drink 8 glasses of water, eat healthy food, and take small sized meals or snacks 5-6 times a day.

Change meal order, portion: Eating less, more often is an old and common style of eating well. Add snacks between the three meals. You can see marked changes in the metabolic rate.
----------------------------------------
--------------------------
FUTURE REWARDS
1. 189-new comfy sleep pants. The expensive kind.
2. 179-2 new tops
3. 169-3 new tops
4. 159-4 new tops
5. GOAL- At least 3 new outfits
----------------------------------------
--------------------------
MY FAVORITE FOODS
BREAKFAST
1. cheerios with bananas and skim milk
2. special K with strawberries and bananas, cinnamon.
3. High Fiber oatmeal
4. 3 egg white omelet with fresh spinach, mushrooms and FF cheese. I get my oil in here-made in 1/2 tsp. smart balance.
Mid-Day
Sandwiches- Natures Own Double fiber Whole Wheat Bread
1. Boca chicken patty or burger with FF cheese.
2. Laughing Cow Cheese spread on bread with 1 oz.
ham and FF cheese.
3. Lean Cuisine Flat Breads-Pesto chicken is a favorite.
4. Salad with carrots, radishes, tomatoes, 1 pre-measured packet of WW cheese and tuna or turkey. I use the Bountiful dressing by Wish Bone-Tuscan Romano Basil.
5.Red. fat triscuits with red. fat colby jack cheese.
6. Double fiber bread toasted with 1 TBS. Peanut Butter.
DINNER
1. Make veggies every night.
2. Lean Cuisines- favs. are: Chicken Carbonara, Lasagna with meat sauce, stuffed cabbage and potatoes & Flat Breads.
3. Chicken thigh (no skin or bone) sauted with mushrooms and onions and a little lite soy sauce and small baked potato.
4. Chicken with onions and black beans. I also put cut up pieces of flour tortillas.
5. Found the best Lean Cuisine- Mushroom mezzaluna ravioli
SNACKS
1. Most fruits especially strawberries, bananas, pineapple
2. Heart Healthy Nuts- 1 oz.
3. Peanut Butter Fiber 1 Bar-every night, last thing I eat.
4. Quaker cinnamon drizzle minis
4. Quaker chocolate rice cakes with 1 Tbs. Peanut Butter
5. Sugar Free Rice Pudding with cinnamon
6. chocolate graham crackers (2 small rectangles) with cool whip lite in between and frozen.
7. Diet Iced Green Tea
8. Red Wine- Good for the heart, Thank goodness. :o)
----------------------------------------
------------------------
WAYS TO RELAX AND TAKE OUR MINDS OFF FOOD.
1. READ. Let it be guilty pleasure. It doesn't have to be
educational all the time. I have read all of Nicholas Sparks,
most of Susan Wiggs, James Patterson and I love Southern
fiction.
2. WALK. Either with music or your thoughts! I get my best thinking done when I walk.
3. BATHE. Take some wine, tea, whatever you like and soak.
4. Explore Sparkpeople. (My favorite)
5. Read a magazine like Weight Watchers or Woman's World,
very motivational.

ANY IDEAS FOR ME? Leave me a comment!!!!
----------------------------------------
--------------------
Top Ten Benefits
So, what are the top ten health benefits you can expect after dropping 10 percent of your weight? In no particular order, they are:

10. Better blood pressure
9. Improved heart health and lower cholesterol levels
8. Decreased risk for diabetes
7. Enhanced sex life
6. A better night's sleep for those with obstructive sleep apnea
5. Less pain associated with arthritis, joint disease, and lower back pain.
4. Better breathing
3. Decreased risk for colon and breast cancer
2. A healthier gallbladder
1. More energy
----------------------------------------
-----------------------
NEW FOODS/DRINKS I TRIED !

Kraft Live Active cheese sticks~
It is describes as for Digestive Health
Live cultures
Reduced fat marbled Monterey Jack and Colby cheese
Nice and soft. Tasty.

Sargento red. fat colby Jack string cheese~
very good and easily transportable to eat as snacks.
Soft.


Weight Watchers Smart Ones Chicken Parmesan~
Not crazy about it. Mouth is tingling. Too many spices to make it "Taste good." Chicken was kind of dry even with the sauce. Spaghetti was ok.

Members Mark (SAMS)~
Spinach and Asiago chicken sausage. Very Good.
I avoid fatty meats like sausage for obvious reasons and this is a great substitute.

Sunbelt Apple Fruit and Grain bar~
in a word MMMMMMMmmmmm !!!!!!

yoplait fat free yogurt~
Pineapple Upside Down Cake-MMMmm
Strawberry Shortcake- too sweet for me.
Boston Creme Pie- MMMmmm


Weight Watchers cheddar cheese snacks~
2 pieces are 90 cal. or 2 points.
1 point per piece. Good! Love to eat with red. fat triscuits.

Fiber One Toaster pastry~
I ate the cinnamon pastry. The icing part tasted like a pop tart but the actual pastry part was not quite as good as a pop tart. It was a little grainy but knowing I was getting 5 grams of fiber was nice.

Lowfat Eggnog~
from Kroger. It is so good. Still got to be careful though. Lots of sugar.


Wheat thins Sundried tomato and basil~
Very good.

Veggie Steamers from Green Giant~
Did not like them. The sauce was too bitter for me.

Weight Watchers ice cream candy bars. Taste a little like a snickers ice cream bar. I love them.

Smart Ones mini burgers~ SO GOOD!!!! 5 points

Little Debbie Lil Petites~ only 2 points and can satisfy a sweet tooth immediately. Better than WW snack cakes but 1 extra point.

Laughing cow cheese - Sundried tomato and mozzarella

WW BBQ crisps!

Lean Cuisine garlic chicken spring rolls!

Lean Cuisine spinach & artichoke dip

Pop chips - better than baked

----------------------------------------
-------------------------
BOOKS I am reading right now!

Magic Hour by Kristin Hannah






----------------------------------------
---------------------------
Get Comfortable With Failure
A lifelong learner, Lincoln never passed up a chance to learn and grow. With just one year of formal education, he threw himself into reading and studying grammar, becoming an avid self-taught student. When he lost elections or businesses failed, he corrected what he could, learned how to do it better next time, and moved on. Do you view setbacks as learning opportunities or as the end of the road?
----------------------------------------
----------------------
THIS IS A LIFESTYLE CHANGE - NOT A DIET

----------------------------------------
-----------------------

WEEKLY
MOVEMENT GOALS: Workout on arc trainer 3-4 days/week.
Don't want to flair up foot.

Knees are starting to hurt after workouts. Take it easy.



------------------------------------

THE STEELERS WON 6 Super BOWLS !!!!!!
----------------------------------------
------------

NEVER TAKE LIFE FOR GRANTED!!!!!!
~ENJOY TODAY~

I HAVE GIVEN MYSELF A NEW GOAL! -- 30# gone by Halloween!
SparkFriends

SparkTeams



My Ticker:
Pounds lost: 25.0


Recent Blogs:

Profile


Member Since: 1/24/2008

SparkPoints: 36,844

Fitness Minutes: 46,462

My Goals:
I am 54. I want to feel better. My blood pressure is going up. I was always 110/70. I want that back. I want to feel good when I dress and want to be able to just throw on clothes at a whim.
Whenever I have grandchildren I want to be the fun grandma.

Short term goals
---------------------
When I go to Ohio this Christmas I want people to say how much
weight did you lose?"
Those are my favorite words and I never tire of hearing them.
------------------------
I also want to hear my endochrinologist to say "You have lost weight. Good for you. How did you do it?"
-------------------------
This year I want to hear people say 50s? No Way!

3 people said it this week. Oh I will keep count.

My Program:
I am doing Weight Watchers. I am incorporating Sparkpeople into it. This site will keep me honest.
I put my food and activity in the WW nutrition tracker everyday.

I follow all my other goals. I am HONEST cause if I am not what is the point? I would only be cheating myself.

Personal Information:
I am living in Madison, Alabama.
Originally from Ohio.
We lived and had all 3 kids in Florida.
23 yrs. in Ohio
13 yrs. in Florida
16yrs. in Alabama

We brought our beloved little Bucky and he died in 2000 at 17 yrs. old. He was a wonderful dog. Then we had our little Tanner who we rescued. He died in 2010. Now we have Heinz (3) and Woodley (1) also rescues. Of course we have our little Bosco who is 9. He is our first cat. They fulfill our lives.


Other Information:
I love to read. Favorite website is goodreads.com.
I LOVE FACEBOOK
I read People
magazine, Womans Worlds and Weight Watchers magazines.
I love reality T.V.

I love to help people and that means myself too with this very hard lifestyle change. I could never do this myself.

LET'S DO THIS!!!!!





Profile Image