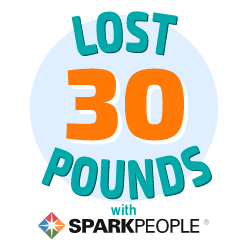 I have 11 pics in my gallery

Awards

Join Me on My Journey to a New Me!
5/7/09- Hi & Welcome to my page.. I am going to loose 80-100 lbs. I have decided that I have full control over me and no longer is my weight going to be center focus.

My Family and Friends can atest that I have been on the toughest journey of my life , and that is not weight loss. Im thinking that loosing weight is going to be easy compared to the journey that has been set upon me last year.

Life is about changes, and steps to make them happen. Watch out world here I ...
5/7/09- Hi & Welcome to my page.. I am going to loose 80-100 lbs. I have decided that I have full control over me and no longer is my weight going to be center focus.

My Family and Friends can atest that I have been on the toughest journey of my life , and that is not weight loss. Im thinking that loosing weight is going to be easy compared to the journey that has been set upon me last year.

Life is about changes, and steps to make them happen. Watch out world here I come......

5/14/09 - Update.
Well its been (1) week since I have started this journey . And to date I have lost 11 LBS and 6 1/4 inches. I have worked out at the Gym every day. I feel that I can push myself more at the gym, but starting slowly as not to injure myself or muscles. ( is that an excuse? I am not sure must re-evaluate that one!). My daughters Jessica and Nicole have both worked out with me and that was such great support. They are also doing wonderful on thier own personal weight loss/tone up journey. Ta-Ta for now till next week....
________________________________________
WEEKLY WEIGH INS
5/7 Start
5/14 - Week 1 - Lost 12 Lbs
5/21- Week 2 - Lost 2 Lbs
5//28- Week 3 - Lost 4 Lbs
6/3- Week 4 - Lost 4 Lbs
SparkFriends

SparkTeams



My Ticker:
Pounds lost: 32.0

Interact with SWEETKISS25






Recent Blogs:

Profile


Member Since: 5/8/2009

SparkPoints: 0

Fitness Minutes: 285

My Goals:
* SHORT TERM GOALS
Loose 25 lbs (met 6/8/09)
Loose 30 Lbs (met 7/15/09)
Loose 35 lbs
Loose 40 lbs
Loose 45 Lbs
Loose 50 Lbs
Loose 55 Lbs
Loose 60 Lbs
Loose 65 Lbs
Loose 70 Lbs
Loose 75 Lbs
Loose 85 lbs
Loose 90 Lbs
Loose 95 Lbs
Loose 100 Lbs

* CLOTHES SIZE GOALS
Start Size-22!!
Size 2o- ( Met 6/8/09)
Size 18
Size 16
Size 14
Size 12
Size 10

OTHER GOALS-
Fit into daughter Jeans !
Nice Looing swim suit.
Feel Healthy Again.
Run on the Tread Mill

* Go back to Tenesee where Ed and I got married and walk up that mountain that I could not for our tenth anniversary July 2010 as a suprise to him.

Finally Loose this 100 lbs once and for all and prove to myself that I can do it am worth something!

My Program:
Started May 7, 2009

Low Calorie
Fresh Fruits
Vegies
Lean Meats ( turkey, chicken & fish only)
Whole Grain Bread ( 1x week only)
100 oz water daily
Join Gym & Move my booty !
No Pastas, rice or potatoes.
Try to stear clear of processed foods.
Changed Milk to Low Fat Soy Milk.
Look at labels and made notes of what I put in my mouth at all times.

Personal Information:
Mother to six and finally time to find me again. Oh I know she is there, she is just burried under all that fat ! And bless my two daughters who always tell me " mom your not fat" .. Hey girls - look at that picture on here and tell me..................

Other Information:
Weight Loss Progress

5/7/09 - Start Date
5/14/09 - Lost 12 Lbs
5/21/09 - Lost 2 Lbs
5/28/09- Lost 4 Lbs
6/4/09- Lost 4 Lbs
6/8/09 - Lost 3 1/2 Lbs
6/11/09 - Nothing since 7/20/09 -9 Lbs


** Total Loss to date (7/20/09) is 32 Lbs**

Profile Image