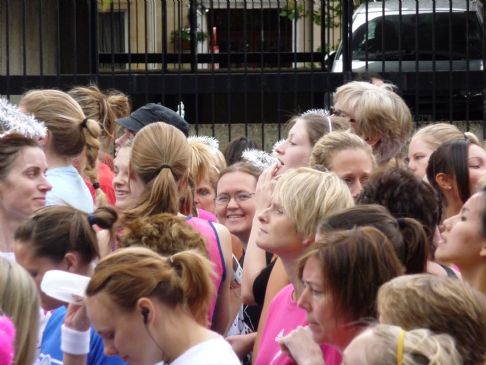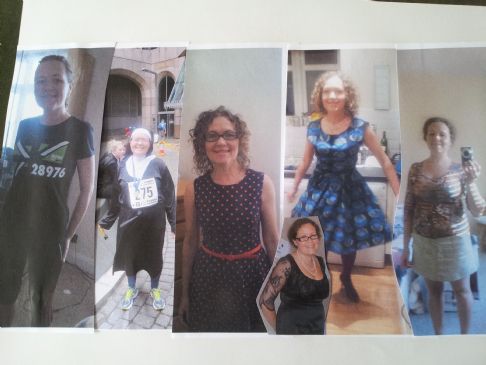 I have 7 pics in my gallery

Awards


Thinking like a thin person!
Between September 2011 and April 2012 I lost 35 pounds!

My original goal weight was 130lbs which I achieved in December 2011. It took me a while to adjust to the idea of maintenance and my body eventually settled at 119lbs a few months later. I've been maintaining ever since.

The maintenance plan:

Sign up for races to run every second or third month.
Aim to go jogging three times a week.
Keep tracking my fitness minutes.
Keep tracking my ...
Between September 2011 and April 2012 I lost 35 pounds!

My original goal weight was 130lbs which I achieved in December 2011. It took me a while to adjust to the idea of maintenance and my body eventually settled at 119lbs a few months later. I've been maintaining ever since.

The maintenance plan:

Sign up for races to run every second or third month.
Aim to go jogging three times a week.
Keep tracking my fitness minutes.
Keep tracking my food at least twice a week.
Only ever have one helping of a sweet treat.
Keep blogging and commenting on Sparkpeople
Join challenges on sparkpeople - keep accountable to someone.
Always make sure that I'm enjoying my food - if I feel guilty about what I'm eating I can't be eating it for a good reason.

My original goals were:
First goal - to fit into my wedding dress again! (achieved 6 October 2011 - exactly on month after joining)

By my birthday
1 - be down one dress size or have reached 61kg (reached 61kg 14 Nov.)

2 - be able to do yoga on alternate days (yes, twenty minutes, nearly every other day)

3 - be jogging again (knee and doctor willing) (Started jogging again in the second week of November)

4 - have discovered something active to do on Saturday afternoons. (I make sure I'm busy but haven't found anything regular yet)

5 - start monitoring my fibre intake






SparkFriends

SparkTeams



My Ticker:
current weight: -1.0 under

Interact with SUNSHINE20113





Recent Blogs:

Profile


Member Since: 9/8/2011

SparkPoints: 28,931

Fitness Minutes: 44,014

My Goals:
Short term: (30 days)
30 day tracking streak

Exercise 10 minutes everyday

Medium term: (3 months)
Improve fiber intake

Run another 1/2 marathon in August/September

Long term (1 Year)
Run 3 half-marathons in 2014

Maintain weight range of 52.5 - 55kg (116-121 pounds)

Reduce sugar cravings

My Program:
Healthy eating
- to become a better nutritious cook
Healthy home
- to create an environment at home that is clean, organized and well decorated
Healthy mind
- Develop a better understanding of what I need to feel more fulfilled and happy

Personal Information:
What I'm learning:
- it's always possibly to find and choose the healthy option.
- You don't have to eat the whole plate of food. You can only eat some of it if you think the portion is too much.
- pack lunch for work. A home made sandwich is half the calories of a store bought one.
- becoming more disciplined in one area of my life is helping me become more disciplined in others.

Other Information:
Race times:
Adidas 5km 2009: 36 mins
Bupa 10km 2011: 59.44
Stroke 10km 2011: 56.34
Nun Run 2011 (4 miles): 41 minutes
Race for life 5km 2012: 25 mins
British 10km 2012: 49.16
Zoo Stampede 2012: 48.27
Bupa 10km 2013: 47.44
Belfast Half Marathon 2013: 2.01.36
Santa 5k 2013: 23.41
Tollymore 10k 2013 (off-road): 51.04
Castleward Half Marathon: 2.03
Ards Half Marathon: 1.58.46
Groomsport Half Marathon: 1.49.51


Profile Image