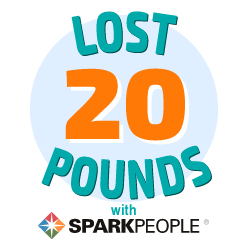 I have 12 pics in my gallery

Awards

"Never trade what you want the most for what you want at the moment"!
Hi! New to this site & I am trying to lose about 50lbs!!
I always lose weight then gain it again, but now Ive gotten to my highest ever and it feels horrible not only that, its is also interfering with my health so I decided to do something about it and try Sparkpeople!

I also hope to make some friends who are in my same path to wellness & healthiness, who can be of great motivation and vice-versa :)

March 2010 --- 195lbs
April 2010 --- Started at 194Lbs ...
Hi! New to this site & I am trying to lose about 50lbs!!
I always lose weight then gain it again, but now Ive gotten to my highest ever and it feels horrible not only that, its is also interfering with my health so I decided to do something about it and try Sparkpeople!

I also hope to make some friends who are in my same path to wellness & healthiness, who can be of great motivation and vice-versa :)

March 2010 --- 195lbs
April 2010 --- Started at 194Lbs - End of Month 189Lbs( -5lbs)
May 2010** 189Lbs-Lost 2Lbs but back in 189Lbs by the 31st! ._.
June 2010-Starting: 189Lbs -End of Month 184Lbs! :D
July 2010-Starting 184Lbs
August 2010- Starting 179Lbs- End of Month 176
September 2010 - Starting 176 ( Goal 169Lbs)





SparkFriends

SparkTeams



My Ticker:
current weight: 196.4


Recent Blogs:

Profile


Member Since: 4/1/2010

SparkPoints: 0

Fitness Minutes: 6,527

My Goals:
*To get out of the Obese BMI **Done 9/2010**

*Get out of the Overweight BMI (Current BMI 28.6)

*To reach my Halfway point of 22 lbs lost @ 172***Done 9/20/10!

**To get to 33lbs lost!

**To get to 150lbs by October 2010**


**Start eating healthier**


My Goals Rewards:


190Lbs- Mani&Pedi
185Lbs- Massage !
180Lbs-

My Program:
Strength Training 3x per week & Cardio atleast 5x per week & following Sparkpeople Fitness Tracker**

Drinking at least 8 Cups of water a day**

Eating healthier & Smaller portions through the day **

Personal Information:
20 year old girl, from Miami, FL. I love to read, dance & reality TV is my entertainment...hehe...I'm currently in a 3 yr relationship with my bf & my 5yr old Maltese is my son & my everything! ")


Other Information:
Weekly Weight in:

03/22/10 - 195Lbs
03/28/10 - 194Lbs
04/19/10 - 191 Lbs
04/30/10 - 189Lbs
05/03/10 - 191Lbs(+2)
05/10/10 - 189Lbs
05/17/10 - 187Lbs
05/24/10 - skipped
05/31/10 - 189Lbs(+2)
06/07/10 - 188
06/14/10 - 186
06/21/10 - 185
06/28/10 -184
07/05/10 - 184
07/12/10- 182
07/19/10- 180
07/26/10 - 179
08/02/10 - 180
08/09/10 - 178
08/16/10 - 179
08/23/10 - 179
08/30/10 - 176
09/06/10 - 175
09/13/10 - 173
09/20/10 - 172

" If you believe in yourself, you are on the first step of success's stairs."

Profile Image