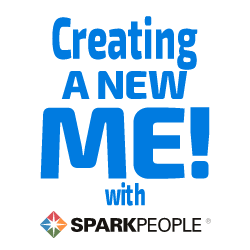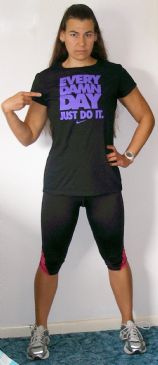 I have 1 pics in my gallery

Awards


"It's never too late to be what you might have been."
I'm a dreamer. I'm a thinker. I'm a writer. I'm a warrior.

When I set out to lose weight, I had plenty of motivations driving a 113 pound loss. To my surprise, I discovered that reaching goal weight didn't change my life in quite the ways I anticipated. In the absence of strong motivations for maintaining and in the face of stress, my drive dwindled and my weight rose.

I'm taking a new approach. I'm dreaming: about the person I want to be and the life I want to ...
I'm a dreamer. I'm a thinker. I'm a writer. I'm a warrior.

When I set out to lose weight, I had plenty of motivations driving a 113 pound loss. To my surprise, I discovered that reaching goal weight didn't change my life in quite the ways I anticipated. In the absence of strong motivations for maintaining and in the face of stress, my drive dwindled and my weight rose.

I'm taking a new approach. I'm dreaming: about the person I want to be and the life I want to lead post-goal. I'm thinking: about what makes maintenance integral to my dreams and how to go about actualizing them. I'm writing: my story to read the way I want it to read, and reminders of why the payoff is worth the effort. And I'm fighting: against the odds, old habits, and seeming obstacles.

http://www.sparkpeople.com/mypage_public
_journal_individual.asp?blog_id=4100888


Current Status:


SparkFriends

SparkTeams



My Ticker:
Pounds lost: 0.0


Recent Blogs:

Profile


Member Since: 4/19/2008

SparkPoints: 41,855

Fitness Minutes: 42,952

My Goals:
Maintain in the ways constituent of what I consider "successful maintenance" for me:

**REFUSE TO QUIT**

~Strive for balance
^
Find & operate within the middle ground: in eating, exercising, and LIFE

= Love myself

= Fulfill my true needs

= Focus on what's:
-positive
-possible
-reasonable
-actionable

= Continue venturing outside my comfort zones

= Exercise in ways that are fun enough to positively reinforce maintaining my level of physical fitness

My Program:
1. Mind
- practice mindfulness
- meditate
- journal

2. Nutrition
- Diet centered around eating mostly whole grains, lean protein, healthy fats, and a minimum of 5 fruits & veggies a day
- Track food intake and combine intuitive, mindful eating with:
~portion control [guided by mentally totaling calorie intake and by weighing and measuring food when possible]
~eating 3-4 hours or so to stave off hunger-based binges

3. Physical Activity
Currently in a rest phase comprised of scaled back workouts combining:
*daily rehab exercises
*yoga class at least once/week
*cardio at least 4 days/week: 60 mins of activity/day split somehow between:
- elliptical
- walking
- running
- spin class
*stretching on cardio days

Personal Information:
I'm 5'8". I started at a HW of 258 lbs, reached my goal weight of 145 lbs, and am experimenting to discover what a *sustainable* maintenance weight range is and how to best go about successfully, healthfully staying within it.

Other Information:
"And I just can't keep living this way.
So starting today, I'm breaking out of this cage.
I'm standing up, Imma face my demons.
I'm manning up, Imma hold my ground.
I've had enough, now I'm so fed up.
Time to put my life back together right now."
-Eminem, "Not Afraid"

~*~*~*~*~*~*~*~

"Something has changed within me.
Something is not the same.
I'm through with playing by the rules of someone else's game.

Too late for second-guessing.
Too late to go back to sleep.
It's time to trust my instincts,
Close my eyes, and leap.

It's time to try
Defying gravity."
-Wicked, "Defying Gravity"

~*~*~*~*~*~*~*~

"When you keep on fightin'
After you lost your strength:
That's the sign of a victory.
When darkness is all around you,
You still find your way.
That's the sign of a victory."
- R. Kelly, "Sign of a
Victory"

Profile Image