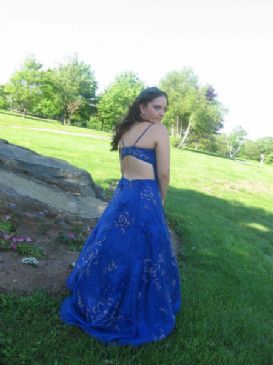 I have 4 pics in my gallery

Awards

We only fail when we stop trying...
Hi, I'm Stacie, a 22 year old Canadian :) My goals have changed over the last few years, and although I one of my goals is to loose weight, it is no longer my MAIN goal.

I became very ill this past June from food sensitivities that were causing chronic pain, inflammation, extreme fatigue and stiffness throughout my body. When it was discovered food was causing this, I became more serious about what I consumed. Now that I have experienced what it feels like to be that ill, I am ...
Hi, I'm Stacie, a 22 year old Canadian :) My goals have changed over the last few years, and although I one of my goals is to loose weight, it is no longer my MAIN goal.

I became very ill this past June from food sensitivities that were causing chronic pain, inflammation, extreme fatigue and stiffness throughout my body. When it was discovered food was causing this, I became more serious about what I consumed. Now that I have experienced what it feels like to be that ill, I am doing every thing, including loosing weight, to be sure I am not in that position ever again!

With that being said, my goal is to be as healthy as I can be, meet some amazing people, loose weight and gain more self-confidence and self-love!

Oh...and I should mention this ahead of time...I am a total LUSH fan...and am determined to convert everyone to Lush(joking, but hey, if you haven't tried their products it's a must! lol)
SparkFriends

SparkTeams



My Ticker:
current weight: 192.0


Recent Blogs:

Profile


Member Since: 2/23/2010

SparkPoints: 3,736

Fitness Minutes: 5,536

My Goals:
Short Term Goals:
-Do something good for myself every day
-Exercise for 10 minutes every day
-Stretch daily
-Eat healthy, think healthy, be healthy
-Make a visual goal collage(done as of Jan 2012)

Mid-term Goals:
-Lose 2lbs a week
-Stick to my weight loss plan
-Seek support when I need it

Long Term Goals:
-Cut out all junk food
-Be able to run without getting out of breath
-Know the difference between healthy food and junk food
-Live a happy, healthy life


My Program:
-No junk food.
-Exercise 10 minutes a day
-Realizing that everyone makes mistakes, but it's important to learn from them and move on.
-Stretching daily
-Follow the exercise routine
-Avoid the foods that make me ill

Personal Information:
I'm Stacie, a 22 year old female Canadian. I am not married(boyfriend of almost 6 years though) and I have no children, but I do have a beautiful cat named Willow.

I have a passion for reading and writing, but also enjoy learning about other people and cultures. I enjoy cooking on most days!

I recently lost my father to cancer(July 9th, 2010), and he believed that I had the strength to do anything. I know I can lose this weight, and I know that I will!

Other Information:
I strongly believe that having a balance in life is important. When things are out of balance, chaos comes so balance can be gained once more.

Body, Mind and Spirit in balance makes a happy, healthy person!

Profile Image