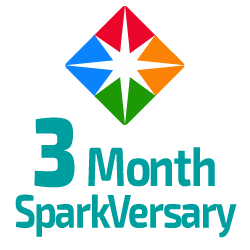 I have 7 pics in my gallery

Awards

Aim for better every day, never perfect right away.
I never in my life thought that I would reach a weight that would inhibit me quite like this. I've always been a "chunky" girl, but now, at my highest weight, I find it hard to even walk up a short set of stairs without having to take a long break to catch my breath.

I refuse to do this to myself any longer.

So here I am, starting over again...and this time I'm going to make it work - for my health, and for my future with my daughter.

Currently ...
I never in my life thought that I would reach a weight that would inhibit me quite like this. I've always been a "chunky" girl, but now, at my highest weight, I find it hard to even walk up a short set of stairs without having to take a long break to catch my breath.

I refuse to do this to myself any longer.

So here I am, starting over again...and this time I'm going to make it work - for my health, and for my future with my daughter.

Currently Participating In:
------------------------------------

I weigh-in on Sunday mornings.


HW: 264.4 lbs. (January 1, 2012)
GW1: 237 lbs. (10% lost!)
GW2: 198 lbs. (ONEderland & 25% lost!)
GW3: 158 lbs. (Over 100 lbs. and 40% lost!)
GW4: 130 lbs (50% lost & goal weight!)

I would like to be down at least 100 pounds by the end of 2012.

Weekly Weigh-Ins:
1/1/12: 264 (BMI - 48.3)
1/8/12: 257 (-7 lbs this week / 2.65% total lost) (BMI - 47.0)
1/15/12: 254 (-3 lbs this week / 3.79% total lost) (BMI - 46.5)
1/22/12: 252 (-2 lbs this week / 4.55% total lost) (BMI - 46.1)
1/29/12: 251 (-1 lb this week / 4.92% total lost) (BMI - 45.9)
2/5/12: 249 (-2 lbs this week / 5.68% total lost) (BMI - 45.5)
2/12/12: 248 (-1 lb this week / 6.06% total lost) (BMI - 45.4)
2/20/12: 246 (-2 lbs this week / 6.82% total lost) (BMI - 45.0)
2/26/12: 244 (-2 lbs this week / 7.58% total lost) (BMI - 44.6)
3/4/12: 242 (-2 lbs. this week / 8.33% total lost) (BMI - 44.3)
3/11/12: MISSED
3/18/12: 242 (no change / 8.33% total lost) (BMI - 44.3)
3/25/12: MISSED
4/1/12: 248 (+6 lbs. from last weigh in)
4/8/12:
4/15/12:
4/22/12:
4/29/12:
5/6/12:
5/13/12:
5/20/12:
5/27/12:
6/3/12:
6/10/12:
6/17/12:
6/24/12:
7/1/12:
7/8/12:
7/15/12:
7/22/12:
7/29/12:
8/5/12:
8/12/12:
8/19/12:
8/26/12:
9/2/12:
9/9/12:
9/16/12:
9/23/12:
9/30/12:
10/7/12:
10/14/12:
10/21/12:
10/28/12:
11/4/12:
11/11/12:
11/18/12:
11/25/12:
12/2/12:
12/9/12:
12/16/12:
12/23/12:
12/30/12:
1/6/13:
1/13/13:
1/20/13:
1/27/13:
2/3/13:
2/10/13:
2/17/13:
2/24/13:
3/3/13:
3/10/13:
3/17/13:
3/24/13:
3/31/13:
4/7/13:
4/14/13:
4/21/13:
4/28/13:
SparkFriends

SparkTeams



My Ticker:
Pounds lost: 16.0

Interact with SOUTHERNSASS7






Recent Blogs:

Profile


Member Since: 12/21/2011

SparkPoints: 0

Fitness Minutes: 824

My Goals:
Short(er)-Term Goals:

Log calories and fitness daily on SparkPeople.

Drink at least 8 glasses of water daily.

Cut back on sweetened drinks (sodas, flavored waters, juices, etc.) and fast food.

Lose the first 10 pounds. (DONE! 1/15/12)

Complete weekly weigh-ins.

Get out of the "morbidly obese" BMI range.

Run (or walk) my first 5k. (DONE! The Color Run - Dallas [February 19, 2012])

Stop binging to cope with boredom, loneliness, sadness, and stress.

----------------------------

Long-Term Goals:

Buy clothing in a NORMAL store.

Wear a single-digit size (which I haven't been able to do since the 7th grade!)

Be able to run up a flight of stairs without getting so winded I have to use my inhaler.

Get off my inhaler.

Run a half-marathon.

Lose 150 pounds.



My Program:
Currently, I am counting calories using SparkPeople (with the help of SparkRecipes), and excersizing at home when I can. Workouts are a little tough for me at the moment, as my weight has caused pulmonary issues (meaning I have to have my inhaler at-hand at all times, which stinks!)

As I lose weight I plan to increase my physical activity.

Personal Information:
I am a 26 year old single mom, working in the hospitality industry (i.e. sitting at a desk in an office full of fellow food-lovers who believe in LOTS of sharing!)

This is my THIRD attempt at SparkPeople, and dedicated weight loss. I am a binge eater.

I am 5'2" (and a half!)

Other Information:
I love to read, and I LOVE music. I've found that one thing that motivates me more than anything is MUSIC, so if I have some good tunes on, I have the urge to just get up and go (which is something I plan on taking full advantage of during this lifestyle overhaul!)

Profile Image