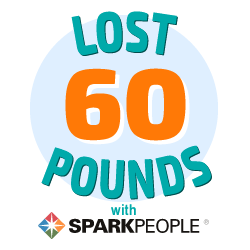 I have 6 pics in my gallery

Awards

My clothes don't fit!
Maybe the fact that my pants are no longer fitting will kick my butt to get back into shape. This time, I need to lose 30 pounds, still haven't lost that baby weight that I gained...He's 2 now, time to get it gone!

~~~~~~~~~~~~~~~~~~~~~~~~~~~~~~~~~~~
First time on SparkPeople, I lost 65 pounds.
Start weight--223 pounds

Week 1--lost 3.6 pounds! (219.4)
Week 2--lost 3.4 pounds! (216.0)
Week 3--lost 3.6 pounds! (212.4)
Week 4--lost 2.4 ...
Maybe the fact that my pants are no longer fitting will kick my butt to get back into shape. This time, I need to lose 30 pounds, still haven't lost that baby weight that I gained...He's 2 now, time to get it gone!

~~~~~~~~~~~~~~~~~~~~~~~~~~~~~~~~~~~
First time on SparkPeople, I lost 65 pounds.
Start weight--223 pounds

Week 1--lost 3.6 pounds! (219.4)
Week 2--lost 3.4 pounds! (216.0)
Week 3--lost 3.6 pounds! (212.4)
Week 4--lost 2.4 pounds! (210.0)
Week 5--lost 0.8 pound. (209.2)
Week 6--lost 2.6 pounds! (206.6)
Week 7--lost 2.4 pounds! (204.2)
Week 8--lost 2.2 pounds! (202.0)
Week 9--lost 2.6 pounds! (199.4)
Week 10-lost 2.4 pounds! (197.0)
Week 11-lost 5.0 pounds! (192.0)
Week 12-lost 2.2 pounds! (189.8)
Week 13-lost 2.0 pounds! (187.8)
Week 14-lost 3.2 pounds! (184.6)
Week 15-lost 2.6 pounds! (182.0)
Week 16-lost 0.6 pound. (181.4)
Week 17-lost 4.4 pounds! (177.0)
Week 18-lost 2.2 pounds! (174.8)
Week 19-lost 0.2 pound. (174.6)
Week 20-lost 1.4 pounds! (173.2)
Week 21-lost 4.4 pounds! (168.8)
Week 22-lost 2.2 pounds! (166.6)
Week 23-lost 0.6 pound. (166.0)
Week 24- lost nothing! :( Boo!
Week 25-lost 1.0 pound! (165.0)
Week 26-lost 1.2 pounds! (163.8)
Week 27-lost 3.0 pounds! (160.8)
Week 28-lost 0.8 pound! (160.0)

Inches lost so far
Waist--8
Hips--10.5
Neck--2
SparkFriends

SparkTeams


This user doesn't belong to any groups

My Ticker:
Pounds lost: 0.0


Recent Blogs:

Profile


Member Since: 8/27/2008

SparkPoints: 8,823

Fitness Minutes: 15,072

My Goals:
Above all, to be healthy.

I want to get to a healthy weight, and maintain!


My Program:
Cardio 5-6 times a week, minimum 30 minutes.

Strength training 3 times a week.

Calorie counting and portion control.

Eating what I want!

Personal Information:
I started out SP at 223, a year after having my son. Lost 65 pounds in a little over 7 months. Maintained for a while, then got pregnant again. Now I need to lose 25 pounds to get back to where I was.



Other Information:
I read. Too much probably. I have 2 kids that sap all of my energy, so finding it to do cardio is hard.

Profile Image