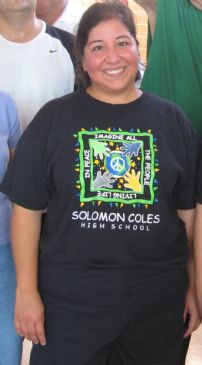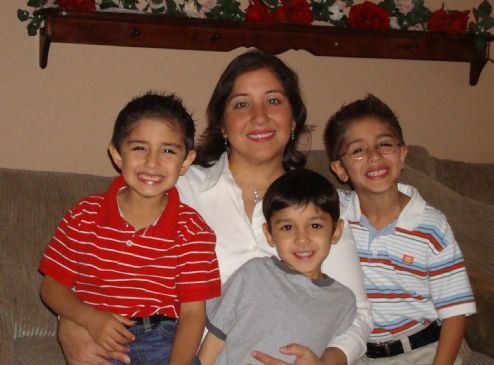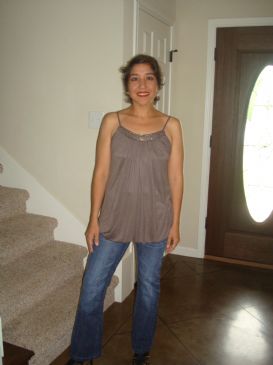 I have 25 pics in my gallery

Awards


Looking Fabulous
THANK YOU FOR MAKING ME A SPARKPEOPLE MOTIVATOR (7-24-2009)!

I'm Sonya, wife to Israel, mom to 3 boys and I'm a 3rd grade math/science and violin teacher!

I began my weight-loss journey on Jan. 1, 2009, almost 4 years after I had my last baby. My weight had gotten out of control and I weighed in at 190 lbs. I was tired all the time, never wanted to take pictures (I'd delete all family photos if I were in them), and my self-esteem was getting low. I need a ...
THANK YOU FOR MAKING ME A SPARKPEOPLE MOTIVATOR (7-24-2009)!

I'm Sonya, wife to Israel, mom to 3 boys and I'm a 3rd grade math/science and violin teacher!

I began my weight-loss journey on Jan. 1, 2009, almost 4 years after I had my last baby. My weight had gotten out of control and I weighed in at 190 lbs. I was tired all the time, never wanted to take pictures (I'd delete all family photos if I were in them), and my self-esteem was getting low. I need a weight-loss plan. I'd joined Spark people almost 2 years prior, but didn't do much with it. I needed a diet to help me make a life-style change, because everything I read told me "diets don't work". So I needed a plan to help me change my life. A friend told me about the South Beach Diet. It's a diet that in it's final phase, is the Lifestyle phase! It was perfect. All I did was read the book. I didn't join their site or pay for anything but the book that I bought on sale.

It was hard. I'm not going to lie. It was HARD. Then it got easier and before I knew it, I was in phase 2. I really liked this diet plan because it teaches me how to eat. I didn't know how to eat right. I hate it when people say...Oh don't do that...it's a DIET, diets fail..you have to change your life....well DUH...but you have to start somewhere! If you don't know HOW to eat right you need to have a diet plan!

It's 70 lbs later....well 71 lbs later :) in phase 3, yes, I eat carbs...yes, I cheat...yes, I have bad days...yes, I have good days...yes, I hate to exercise...yes, I feel good right after I exercise. I changed my life. The South Beach Diet didn't do it. I DID IT...I CHANGED MY LIFE. I used the diet as a tool, nothing more. When my motivation started to wear thin, I remembered this site. I logged back in (trying for the life of me to remember my password) and just started "Sparking". Reading articles, using the motivational tips, reading the recipes...(that aren't much different then the South Beach recipes...eating right is, is eating right...a cookie is bad in everyone's book! LOL) and finally making SPARK friends...the best part of the site.

I want to mention..that I spent about $20 losing 70 lbs. I didn't join a gym (I hate gyms). I bought the SB diet book and then I bought Jillian's 30-day shred. That's it. You don't need any fancy stuff to lose weight. All you need is motivation. Sorry guys, you can't buy motivation, but it doesn't stop all those people from trying to sell it to you.

So here I am. 70 pounds lighter. A better life. I'm happier for it. I'm currently in maintenance. I fluctuate anywhere from 119 to 125. I've set my goal weight at 115, but I don't know if it is realistic for me to be that weight, I'm happy, I'm healthy, and I'm a size 4 !!! I weigh myself often to keep myself on track. I spend time helping my husband get to his goal weight, he's lost 54 lbs.!!!

Graduated Couch to 5K plan - May2, 2009
Ran Beach to Bay Relay Marathon- May 16, 2009
Completed Jillian Michael's 30 Day Shred - June 30, 2009
Ran "4 on the Fourth" - July 4, 2009
Lost 52 pounds - July 10, 2009
Graduated One Hour Runner Program - August 1, 2009
Completed "You Go Girl" 5K - September 19, 2009 time 28:38
Completed the "Harbor 1/2 Marathon Relay" - October 18, 2009
Completed the Pinnacle Performance 5 Week Boot Camp - October 30, 2009
Completed the "Turkey Chase" 4 mile run on November 26, 2009
Reached 125 lbs (65 lbs lost) on December 3, 2009
Completed Jillian Michael's 30 Day Shred - January 3, 2010
Completed "Austin's Capital 10K Run" - April 11, 2010
Completed "Beach to Bay 2010" - May 15, 2010 (4th leg in 40:35)
Completed "Four on the Fourth" - July 4, 2010 (34:37 4th place in female age bracket)
Completed "You Go Girl"5K -September18, 2010 (25:58 5th place in my division)
Completed "Harbor Half Marathon" - October 17, 2010 (1:59 5th place in my division)
Completed the "Turkey Chase" 4 mile run on November 25, 2010 (33:59, 14th in my age division 30-39)
Completed the "Beach to Bay Relay Marathon" - May 21, 2011 - 4th leg - 41:52
Completed the "Out For Blood" Fun 5K Run - Aug. 27, 2011 - 28:09 -3rd place in my age division
Completed the "Harbor 1/2 Marathon Relay" - October 16, 2011
Completed "Jailbreak" - March 31, 2012
Completed the "Beach to Bay Relay Marathon" - May 19, 2012 - 4th leg - 44:46
Completed the "You Go Girl" Run - October 6, 2012, 32:26
Completed the "Habor 1/2 Marathon Relay" - October 21, 2012 - 1:14
Completed my 2nd 1/2 Marathon - Austin 3M - January 13, 2013 - 2:17
Completed the "You Go Girl" Run - October 5, 2013, 33:03
SparkFriends

SparkTeams



My Ticker:
current weight: 140.0

Interact with SONYARODRI29







Recent Blogs:

Profile


Member Since: 2/22/2007

SparkPoints: 24,244

Fitness Minutes: 38,124

My Goals:
*Attend bodypump twice a week for 6 weeks (started March 17, 2013)

*track my water and exercise everyday on spark people

My Program:
The South Beach Diet! -I'm currently in Phase 3 -Lifestyle and Maintainence

I've heard great things about this diet and I bought and read the book!

Protiens, veggies, fruits, and good carbs.

My main source of exercise is running. I also do some weight training with Jillian's 30 Day Shred. I like to change things up with a Zumba class or an 90s aerobics tape...why not? It's fun!

Personal Information:
I was born and raised in Corpus Christi, Texas.

I'm a wife, mother, and HS math teacher.

I'm a baseball mom to my 3 sons and I'm a "TWILIGHT" freak!

Other Information:
"When it is dark enough, you can see the stars." - Ralph Waldo Emerson

I love this Emerson quote...it has to be my all-time favorite.

"Get busy living, or get busy dying."

Profile Image