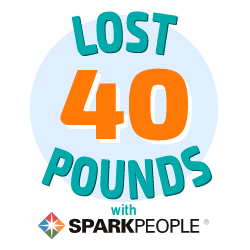 I have 17 pics in my gallery

Awards

"Mommy, you're deflating!"
Hoping to "deflate" much more over the next year while keeping all of the healthy lifestyle changes.

I have been fat most of my life. I can remember as a child always having a hard time buying clothes--especially pants. My mother's favorite activity was to indulge us with candy, junk food, and eating out. She was very poor growing up and there were 6 children in her family, so treats were few and far between. To her food equaled love.

In high school I managed to ...
Hoping to "deflate" much more over the next year while keeping all of the healthy lifestyle changes.

I have been fat most of my life. I can remember as a child always having a hard time buying clothes--especially pants. My mother's favorite activity was to indulge us with candy, junk food, and eating out. She was very poor growing up and there were 6 children in her family, so treats were few and far between. To her food equaled love.

In high school I managed to starve myself down to about 125. Of course, this extremely unhealthy lifestyle was not sustainable and I gained all the weight back and then some in college. It did not help to have a college boyfriend who was also obese and who had plenty of money to eat out for every meal.

My weight was probably around 160 when I met my husband. He has always been super fit and knows how to eat healthy so being with him was a complete change for me. He ate 'weird' food like brown rice and lentils and vegetables. He wanted to do things like go to the beach and rollerblade. I started getting healthier, but had not dealt with any of my real food issues--the emotional ones.

I started to really pack on the pounds after the birth of my first child. My relationship with my husband soured and I was stressed out and depressed a lot of the time. The more weight I gained, the worse I felt, the more I ate. Comfort eating, stress eating, rewarding myself with food, all really bad habits.

A while ago my relationship with my husband completely turned around. It is hard to say exactly what happened. He gave a little, I gave a little, and we realized that we were still in love. We started spending intimate time together, going out just by ourselves and talking, dreaming. Then I got pregnant again--it was truly a blessing. I am so thankful that our relationship was strong when my baby was stillborn at term. I am not sure that I would have made it through without my husband.

I think it was this experience that has taught me how precious life is. I want to be healthy. It is not easy. It was easy to just eat whatever I wanted, whenever I wanted. But I know that the effort to get fit and healthy will pay off. I am already feeling better.

***********Starting BMI 39.9***********

**********Current BMI 33.0***********

BP down to 108/68------5/11/09


SparkFriends



SparkTeams

My Ticker:
current weight: 252.0


Recent Blogs:

Profile


Member Since: 9/10/2007

SparkPoints: 0

Fitness Minutes: 13,808

My Goals:
Ultimate goal is to be healthy and strong.


My Program:
Daily calorie goal 1570-1920.

Walk or bike 30 minutes per day 6 days per week. Burn at least 1800 calories/week .

Strength training-Core/Abs daily, upper and lower body on alternating days.


Personal Information:
I am a sahm of 5 (12, 10, 8, 2, and 8 weeks and ^1 baby^ in heaven (she would be 4 ). I have been married for 13 years.


Other Information:
237--9/20/10--starting weight
235--9/27/10
233--10/04/10
231--10/11/10
229--10/18/10
227--10/25/10--**Non Food Reward**

217--11/29/10--**Non Food Reward**

209--12/27/10--**Non Food Reward**

201--01/24/11--**Non Food Reward**

191--02/28/11--**Non Food Reward**

183--03/28/11--**Non Food Reward**

175--04/25/11--**Non Food Reward**

165--05/30/11--**Non Food Reward**

157--06/27/11--**Non Food Reward**

149--07/25/11--**Non Food Reward**

137--09/05/11--GOAL!!!


Profile Image