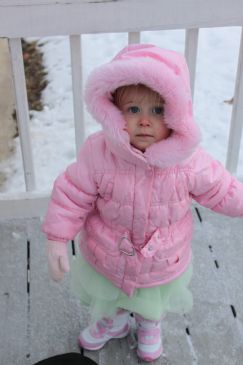 I have 12 pics in my gallery

Awards

Fit, Fabulous & Free...of this weight!
Well, what can I say. It's not like you haven't heard it a million times before. I have always been a heavy girl. For as long as I can remember I have had at least a little amount of extra pudge. But, it never really bothered me too much.

Even in middle school when someone would imply that I was fat, it never really hit home. Until now...

I am a happy wife and mother of one. I love my family and I want to be with them for as long as possible. But, I don't just ...
Well, what can I say. It's not like you haven't heard it a million times before. I have always been a heavy girl. For as long as I can remember I have had at least a little amount of extra pudge. But, it never really bothered me too much.

Even in middle school when someone would imply that I was fat, it never really hit home. Until now...

I am a happy wife and mother of one. I love my family and I want to be with them for as long as possible. But, I don't just want to be with them, I want to be able to experience all that life has to offer with them. And, right now, I just don't have the energy and stamina to be able to participate in all of our adventures.

It is time to be brave, to step out of my comfort zone, to challenge myself physically and emotionally. It is time to be fit, fabulous and free of this weight!!!

So, in my first leap of bravery, I have posted "before" pics of me in a bikini. Don't worry, I would never think of stepping out of the house looking the way I do in this suit! I just thought it would be easier for me to see my weight loss progression with a swim suit on.

I am also very motivated as I will be walking 60 miles in 3 days in the Susan G. Komen 3-day for a Cure walk in August. I would ideally like to have lost 60 pounds by then, but I will be happy with 50!

I will post my progress along with new pics below.

Update 10/20/2011:

I walked in the Susan G. Komen 3-Day this past August. I managed to make it 49 out of 60 miles, and I am so very proud of myself. My goal for next year is to make it the entire way.

I was diagnosed with runner's knee the day before the 3-Day and I have had major pain since then. Needless to say, this has impaired my ability to exercise and I have managed to fall off of the wagon!

So, here I am reaffirming my commitment to my family and to myself. My new goal is to lose 50 lbs by June 2012.

~~~~~~~~~~~~~~~~~~~~~~~~~~~~~~~~~~~~

03/27/2011 My 33rd birthday!
03/30/2011 230.4 lbs
04/07/2011 228.0 lbs -2.4
04/22/2011 228.4 lbs +0.4
05/04/2011 227.1 lbs -1.3
05/13/2011 224.7 lbs -2.4
****************************************
Starting over:
10/21/2011 229.9 lbs
SparkFriends

SparkTeams

My Ticker:
current weight: 244.0


Recent Blogs:

Profile


Member Since: 1/30/2007

SparkPoints: 2,151

Fitness Minutes: 1,970

My Goals:
I have a goal to lose 50 lbs. by June 2012.

One non-scale victory I would like to accomplish would be to be able to shop in a regular store, not a big-girl store. I have not been able to do this since high school!

My Program:
* Drink at least 8 glasses of water per day
*No junk food or fast food
*Eat lots & lots of fresh veggies and fruit
*Eat lots of protein and reduced carbohydrates
*Organic food is my new best friend

*Exercise 4-5 days per week
*Make strength training a priority



Personal Information:
Ann Arbor, Michigan

Profile Image