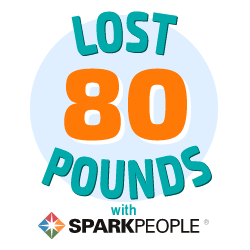 I have 31 pics in my gallery

Awards


There's no time like the present
Found this quote on anothers Spark Page and LOVED it, so I had to add it to mine, it really resonates with me.

We either make ourselves miserable or we make ourselves strong. The amount of work is the same. - don Juan Matus

(2010) Wow, what to say about me? I've spent the last 17 years taking care of my kids and my husband and completely neglecting myself. I finally took the plunge in April (2009) and quit smoking - and boy did my body rebel! I've gained so much ...
Found this quote on anothers Spark Page and LOVED it, so I had to add it to mine, it really resonates with me.

We either make ourselves miserable or we make ourselves strong. The amount of work is the same. - don Juan Matus

(2010) Wow, what to say about me? I've spent the last 17 years taking care of my kids and my husband and completely neglecting myself. I finally took the plunge in April (2009) and quit smoking - and boy did my body rebel! I've gained so much weight since then and I wasn't a skinny chick to begin with. Now that I've adjusted to being smoke free, it's time to get off my butt (literally) and get to work on my physical health!

**Update: 1/24/10 - I am doing so much better than I thought. I'm losing the weight, sticking to my goals and making time for myself...I feel better, I look better and I want to keep going!

**Update: 3/10/10 - Wow, I've lost 30 pounds! One of my goals in my head was to be in the "teens" and I am - what a wonderful feeling. My next large goal (in my head) is to get under 200, I don't even remember the last time I was - but it has to have been years and years ago. What a great journey this is.

**Update: 5/27/10 - 50 pounds gone and ONDERLAND! I have been busting my butt at the gym, challenging myself instead of taking the laxidasical (sp) I'm here, but not sweating route. I sweat buckets, I work hard and I am reaping the rewards! No excuses is my new motto...I'm loving the way I look and feel and the success I am having. I feel invincible!

**Update 8/19/10 - definitely time for an update - 70 pounds are gone from me forever! I did a 4 week boot camp at the gym and loved it but it seriously kicked my butt! My next goal is to do the c25k program with my son when he gets his approval from the knee surgeon to jog again. I know I can do it now! I'm looking forward to dropping this last 40 pounds and reclaiming my skin. :)

**Update 8/30/11 - well, what to say, I'm down 75 pounds give or take, I've been stagnant and stahled for the last year, but I have continued to lose inches and tone up - my body has been fighting me and I've had terrible issues with one of my knees/hip this past year...to the point of not being able to bend my knee, but I have kept going and done what I can - still working out and doing zumba even if I'm not as enthusiastic as I once was. My leg is rehabing little by little though and growing stronger each day. I hope to start getting some muscle tone back in it in the near future and look forward to being able to squat again without pain and fear of falling down. :)
SparkFriends

SparkTeams

My Ticker:
current weight: 184.4


Recent Blogs:

Profile


Member Since: 1/5/2010

SparkPoints: 41,269

Fitness Minutes: 39,977

My Goals:
be healthy
stay healthy
....and like it

March 2, 2010 - 224
*DONE 2/23/10

April 6. 2010 - 214
*DONE 3/30/10

May 4, 2010 - 206
*DONE 5/6/10

June 1, 2010 - 198
*DONE 6/2/10

July 6, 2010 - 188
*DONE 7/21/10

August 3, 2010 - 180
*DONE 8/17/10

************************

NEW GOALS!

September 1, 2011 - 176

October 1, 2011 - 170

November 1, 2011 - 166

December 1, 2011 - 162

January 1, 2012 - 158

February 1 2012 - 152

March 1, 2012 - 148

April 1, 2012 - 144

May 1, 2012 - 140

June 1, 2012 - 135


My Program:
counting calories and cardio. Add in a little weight training too.

**45-60 minutes of cardio on Monday, Tuesday, Wednesday, Thursday

**Weights on Friday

Personal Information:
I'm from WA state, in a little town located just southeast of the state capital of Olympia.

Other Information:
I am a mother to two boys, my oldest is 19 and my youngest is 14. My husband is a huge supporter for me.

I own a printing company and I also do logo design and graphic arts....unfortunately sitting on my hiney all day led me to where I am.

Profile Image