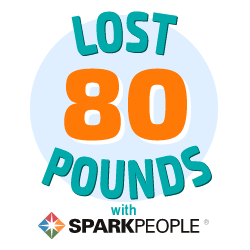 I have 21 pics in my gallery

Awards

Gettin' it right this time
I'm Dom. I am over 200lbs overweight, so I've decided to take the initiative and lose weight once and for all. I eat between 1,200 - 1,500 calories per day (average) and while it's a struggle, I'm enjoying the journey!

I'm a PhD student majoring in criminal justice. That takes a lot of my time, but I have been finding more time to work out with the Wii that's at home. I'm actually loving it!

I'm married to a great guy (who is also losing weight with me).

...
I'm Dom. I am over 200lbs overweight, so I've decided to take the initiative and lose weight once and for all. I eat between 1,200 - 1,500 calories per day (average) and while it's a struggle, I'm enjoying the journey!

I'm a PhD student majoring in criminal justice. That takes a lot of my time, but I have been finding more time to work out with the Wii that's at home. I'm actually loving it!

I'm married to a great guy (who is also losing weight with me).

I enjoy participating in challenges. These are my current ones:

1. Spring 2010 5% Weight Loss Challenge (March 6th - May 1st) Team Ladybugs
Starting Weight: 417.2
GOAL - 21 pounds (396.2)
Actual Lost - 27 pounds (390.2)

2. Springboard into Summer Challenge (April 5th - May 31st)
Lisa's Team
Starting Weight: 403.0
GOAL 20 pounds (383.0)
Actual Lost - 23.2 pounds (379.8)

3. Biggest Loser Memorial Day Challenge (April 20th - June 1st)
Team Purple
Starting Weight: 393.6
GOAL 20 pounds (373.6)
Actual Lost: 13.8 pounds (379.8)

4. BIggest Loser Round 13 (May 5th - July 28th)
Yellow Amazon Warriors
Starting Weight: 389.6
Goal 25 pounds (364.6)
Actual Lost: 25.4 pounds (364.4)

5. Summer 5% Challenge (May 8th - July 3rd)
Team Ladybugs
Starting Weight 388.2
Goal: 19.4 pounds (368.8)
Actual Lost: 16.6 pounds (371.6)


SparkFriends

SparkTeams



My Ticker:
current weight: 293.0

Interact with SHAGGINABIT






Recent Blogs:

Profile


Member Since: 2/18/2008

SparkPoints: 11,380

Fitness Minutes: 12,521

My Goals:
SW: 2/23/10 425.0
3/02/10 418.8
3/09/10 415.4
3/16/10 410.0
3/23/10 407.6
3/30/10 403.4
4/06/10 401.4
4/13/10 398.2
4/20/10 393.6
4/27/10 392.2
5/04/10 390.8
5/11/10 388.0
5/18/10 383.2
5/25/10 382.4
6/01/10 380.0
6/08/10 379.8
6/15/10 375.4
6/22/10 374.2
6/29/10 372.6
7/06/10 368.6
7/13/10 367.6
7/20/10 366.6
7/27/10 364.4
9/07/10 352.0
12/31/10 340.0

My Program:
1200-1500 cals a day


plenty of fruits, vegetables, and water

Wii fit - especially cardio boxing

Walk away the pounds

Strength Training - body by Jake

Walking more.

Personal Information:
I'm from Fort worth, Texas. 29 years old.
Married to a great guy
Criminal Justice Student

Other Information:
Favorite Movies:
Tyler Perry Anything,
Half Baked
This Christmas
Pride

Favorite Musical Artist:
Lenny Kravitz

Favorite Food:
Pasta



Profile Image