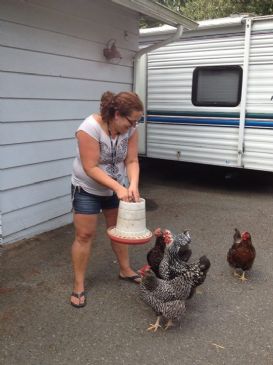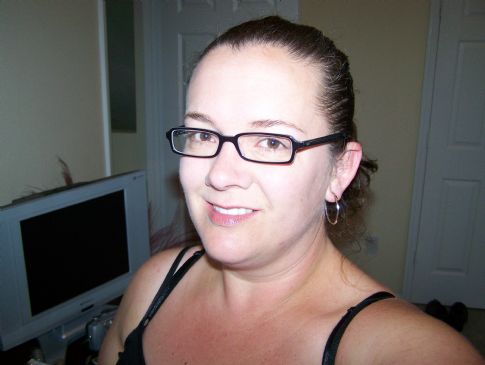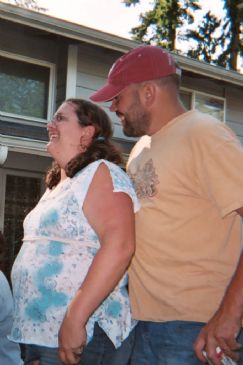 I have 22 pics in my gallery

Awards


One Step, One Meal, One Day At A Time!
THANK YOU SPARKPEOPLE FOR HELPING ME CHANGE MY LIFE!

I can see my toes without moving my belly out of the way or bending over.

I can touch my toes.

I can reach the center of my back with my hands.

I can put my leg up on my knee to tie my shoes without pulling my foot up with my hands.

I can walk to the end of my driveway and back without feeling short of breath.

I can walk around the block (1.5 miles) without ...
THANK YOU SPARKPEOPLE FOR HELPING ME CHANGE MY LIFE!

I can see my toes without moving my belly out of the way or bending over.

I can touch my toes.

I can reach the center of my back with my hands.

I can put my leg up on my knee to tie my shoes without pulling my foot up with my hands.

I can walk to the end of my driveway and back without feeling short of breath.

I can walk around the block (1.5 miles) without feeling like I might die.

I can alternate walking and jogging on my morning walks.

I can comfortably wear a pair of size 14 jeans. (I was in an 18, pushing a 20 when I joined.)

I can wear size large shirts.

I no longer fit into clothes at Lane Bryant... They are TOO big!

I can breathe easier.

I am OFF of all high blood pressure medications.

I not only sleep better, but fall asleep easier.

I can hike and I do it often.

I have joined a gym and use it.

I have participated in a boot camp fitness club.

I have walked a 5k, a 10k, a 15k, a half marathon and a marathon.

I have jogged a 5k.

I have done a stair climb.

I have walked 60 miles in three days to fight breast cancer.

I know I could go on and on, but I won't...

☆-:¦:-
*´¨¨)) -:¦:-
¸.♥ .·☆´¨¨)).·*¨)
((¸¸.♥´ ..·´ ☆**☆.¸¸.♥´ Shelia


Current Status:


SparkFriends



SparkTeams



My Ticker:
current weight: 209.0


Recent Blogs:

Profile


Member Since: 5/10/2007

SparkPoints: 95,088

Fitness Minutes: 152,150

My Goals:
DAILY:
Drink 9-12 glasses of water.
Log food.
Log fitness.
Eat within calorie range.
Burn 500 calories.
Mix it up.

WEIGHT LOSS:
[x] 215# - DONE 1/9
[x] 210# - DONE 1/30
[x] 205# - DONE 6/3
[ ] 200#
[ ] 195#
[ ] 190#
[ ] 185#
[ ] 180#
[ ] 175#
[ ] 170#
[ ] 165#
[ ] 160#
RE-EVALUATE

MONTHLY WEIGH INS
JAN 218.0#
FEB 209.4#
MAR 208.4#
APR 211.4#
MAY 207.2#
JUN 205.4#
JUL 203.2#
AUG 203.0#
SEP 206.6#
OCT 207.0#
NOV 204.6#
DEC 209.0#

My Program:
M ake short term goals
O ut with the negative thoughts
T hink of why you want it
I magine how you will feel
V isualize the future you
A cknowledge your successes
T reat yourself with respect
I nvestigate new ideas and foods
O bserve your healthy lifestyle
N ever give up and never give in
S upport one another

Personal Information:
I stumbled across SparkPeople by accident back in May of 2007 and I do believe it is one of the BEST things that has ever happened to me! I know this journey IS different for EACH person, but I started with drinking my 8 glasses of water a day and logging my food. Let me just say that logging my food was a HUGE eye opener... DANGER! DANGER! From there I moved on to exercise which for me consisted of walking, walking and yes, more WALKING. I am starting to seriously branch out in how I exercise... Kickboxing, Zumba, Spin and even Bootcamp!

Other Information:
Exercise does more than just tone your body, it boosts your self-esteem, improves your mood and revs up your metabolism. So suck it up and get moving! ~ Jillian Michaels

Any improvement you make to your body will wash into other areas of your life, because when you feel better, you are better. ~ The Naked Cowboy

The miracle isn't that I finished. The miracle is that I had the Courage to Start. ~ John J. Bingham

Weight loss is a journey that doesn't end until the day you die. The only way to be successful long term is to find a way of life that is sustainable, that you can stick to. ~ Jillian Michaels

When you arise in the morning, think of what a precious privilege it is to be alive, to breathe, to think, to enjoy, to love. - Marcus Aurelius

It's not what you are that holds you back. It's what you think you're not. - Denis Waitely

The person who says it cannot be done, should not interrupt the person doing it.

Profile Image