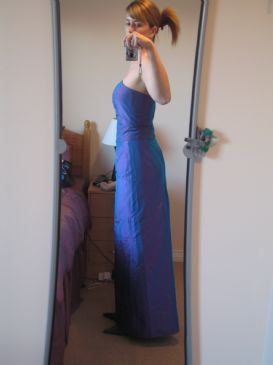 I have 25 pics in my gallery

Awards

Getting there one (small) step at a time!
Hi there!

I'm 20 & I live in England. I'm currently at University, taking a 2 year fast-track degree in Geography, in order to be able to train to be a Secondary School Teacher & teach this subject to 11-16 year olds.

Eating wise - where to start. I've yo-yo dieted for a long time - take the nursery rhyme that says "And when she was good, she was very, very good, & when she was bad, she was horrid"? - that used to sum me up 110%! Battling with my weight led to me ...
Hi there!

I'm 20 & I live in England. I'm currently at University, taking a 2 year fast-track degree in Geography, in order to be able to train to be a Secondary School Teacher & teach this subject to 11-16 year olds.

Eating wise - where to start. I've yo-yo dieted for a long time - take the nursery rhyme that says "And when she was good, she was very, very good, & when she was bad, she was horrid"? - that used to sum me up 110%! Battling with my weight led to me developing bulimia, which I'm now battling to beat.

A few words of wisdom....

"A healthy lifestyle is a process that never stops changing and unfolding, not a predetermined goal you have to reach. Everything is part of that process—good days and bad days, successes and failures, gains and losses, pleasure and pain—and the only thing that can really get in your way is trying to ignore or deny what your own experience can teach you. Don't waste time regretting or clinging to anything—learn and move on." - SparkCoach Dean

I'm on a journey to learn to love myself & be more confident & fun to be around!

Getting to my goal:

14th Aug - 154
21st Aug - 149.2 (-4.8 this week) (-4.8 in total)
25th Aug - 147.4 (-1.8 this week) (-6.6 in total)
1st Sept - 144.8 (-2.6 this week) (-9.2 in total)
8th Sept - 143.2 (-1.6 this week) (-10.8 in total)
15th Sept - 141.6 (-1.6 this week) (-12.4 in total)

Oh dear.....I'm distraight & so upset with myself, weeks of chronic bingeing & failed dieting (binge-starve) has meant i've put all this back on. I'm keeping those stats there to keep me from feeling so low - I KNOW I can get to my goal on 140lbs by my Canada trip (27th Dec)....if I can lose 12lbs in 5 weeks, 14lbs (?) in just under 12 weeks is do-able.

Start Weight 19th October - 152.2

Love

Sam x x x x
SparkFriends

SparkTeams

Interact with SAMSCALLING






Recent Blogs:

Profile


Member Since: 6/25/2006

SparkPoints: 0

Fitness Minutes: 0

My Goals:
My goals are:

1) To beat my binge-eating problem.

2) To go to the gym 3 times (+) a week - either a class or 40 mins (+) cardio each time

3) To learn how to maintain my weight & develop a healthy relationship with food

My Program:
1) Staying involved in my sparkteams & using sparkpeople as much as I can - the support & resources are invaluble!

2) Nutrition - Trusting myself, making good choices, trying to eat ''normally''

3) Exercise - To go to the gym 3 times (+) a week - either a class or 40 mins (+) cardio each time

I also need to stop thinking of my life as either an ''on-diet'' or ''off-diet'' cycle. When I do eat something I ''shouldn''t'' whilst trying to lose weight, I need to stop this turning into a binge through feeling guilty. I need to put less pressure on myself & take each day as it comes, trying to do the best I can for that day!

Personal Information:
I''m from England. I''ve been with my boyfriend for 3 years now & he''s the sweetest guy ever. He''s taking me to Canada for 2 weeks over New Year - 4 different places, 4 amazing hotels.......all paid for....what more can I say? I want to beat all my issues with food for myself, but for him & my family too - I can get so moody because of my battles & enough is enough!

Other Information:
My e-mail address is samscalling@gmail.com - feel free to e-mail me as I think the more people I can speak to, the better things can get! We can try to help each other out & motivate each other - & never forget that we''re NOT the only ones who struggle!

Profile Image