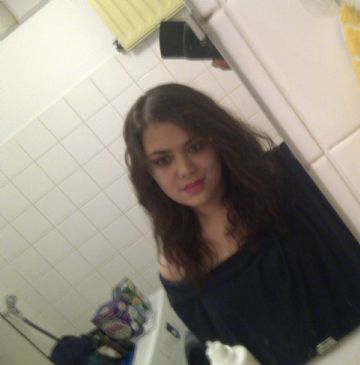 I have 1 pics in my gallery

Awards

Better Lifestyle
Hi I'm a 21 year old girl from the Netherlands who is ready to loose some weight!
My weight is 84.5 kilograms (186.3 pounds) on 01-12-2012
I want to be 70 kg on my birthday (04-19-2012), that means I have to loose 14,5 kg. It feels a bit too much, but I will also be glad with 10 kg.
My goal is to loose 24.5 kilograms, 54 pounds by august/september 2012.
I'm gonna achieve that by exercising and eating healthy.
I'm not new to sparkpeople, but Inever really did ...
Hi I'm a 21 year old girl from the Netherlands who is ready to loose some weight!
My weight is 84.5 kilograms (186.3 pounds) on 01-12-2012
I want to be 70 kg on my birthday (04-19-2012), that means I have to loose 14,5 kg. It feels a bit too much, but I will also be glad with 10 kg.
My goal is to loose 24.5 kilograms, 54 pounds by august/september 2012.
I'm gonna achieve that by exercising and eating healthy.
I'm not new to sparkpeople, but Inever really did anything. I sometimes started very enthousastic, but it never resulted in a longterm change in my life.
But I do believe that joining SparkPage was a good decision, and I'll get better results than doing it on my own.

Now I'm blogging and hope that I will feel motivated throughout the whole process!

http://starknakedly.blogspot.com/ TIs is my blog for the outside people, my family and friends.
The blog on my SparkPage is for all the SparkPeople! :D
SparkFriends

SparkTeams

My Ticker:
current weight: 173.0


Recent Blogs:

Profile


Member Since: 6/22/2011

SparkPoints: 2,879

Fitness Minutes: 3,186

Personal Information:
Hi I'm a 21 year old girl from the Netherlands who is ready to loose some weight!
My weight is 84.5 kilograms (186.3 pounds) on 01-12-2012
I want to be 70 kg on my birthday (04-19-2012), that means I have to loose 14,5 kg. It feels a bit too much, but I will also be glad with 10 kg.
My goal is to loose 24.5 kilograms, 54 pounds by august/september 2012.
I'm gonna achieve that by exercising and eating healthy.
I'm not new to sparkpeople, but Inever really did anything. I sometimes started very enthousastic, but it never resulted in a longterm change in my life.
But I do believe that joining SparkPage was a good decision, and I'll get better results than doing it on my own.

Profile Image