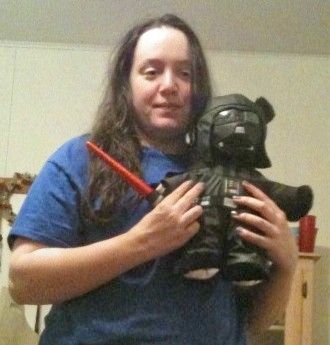 I have 5 pics in my gallery

Awards

Time to start again
All my pictures on here are from last summer. I'll get a new one up here soon.

So last summer, 2011, I had a lot of success on Spark. I lost 22 lb. Well I quit working out and tracking my food, and all those pounds I lost found their way back home.

I am starting doing the Jillian slim down program again, since it really worked for me last time.
I have done the Jillian Slimdown workout twice now (using the 30 day shred dvd, No more trouble zones, and Blast ...
All my pictures on here are from last summer. I'll get a new one up here soon.

So last summer, 2011, I had a lot of success on Spark. I lost 22 lb. Well I quit working out and tracking my food, and all those pounds I lost found their way back home.

I am starting doing the Jillian slim down program again, since it really worked for me last time.
I have done the Jillian Slimdown workout twice now (using the 30 day shred dvd, No more trouble zones, and Blast Fat Boost Metabolism). It mixes it up enough with the three dvds that I don't get bored (a major problem with me sticking to these plans)
This will be my third time, though a year after the first two.

I also run. Well run is a generous term, since I do a 12 minute mile. Jog is more like it, but the key is that I do it
I did the warrior dash this year, and though I am heavier than last year I got a better time than 2011 and felt better doing it.
This is my third year doing it
I also did the Hot Chocolate 5K (2010)
The Cinco De Miler 5 miles( 2011)
The Monster Dash, 5k obstacle course race (2010)

I do best when I have goals, so I am trying to choose between a few local runs but I am thinking the Firefly 5k.
It is at night and you are encouraged to wear glowing costumes

My new goals are to do this 5% at a time, just because saying "I want to lose over 80 pounds" seems so overwhelming.


SW:250
Goal 1(5%) 237.5lb
Date reached:

Goal 2(10%) 225
Date reached:

Goal 3 (15%)212.5
Date reached:

Goal 4 (20%) 200
Date reached:


And my other goal, and my biggest hurdle, is actually to track my food and stick with it. The food tracking is my biggest downfall. In highschool I was 110 pounds smaller than I am now, and I did not get heavy until my 20's. I had a fast metabolism and never really learned to eat right and watch my food. The workouts are to get more firm and toned, but I also need to stop eating once I hit my calorie limit

So that's why I am here
SparkFriends

SparkTeams

My Ticker:
current weight: 236.0

| | | | |
| --- | --- | --- | --- |
| 253.4 | 230.05 | 206.7 | 183.35 |

160

Recent Blogs:

Profile


Member Since: 1/20/2009

SparkPoints: 38,574

Fitness Minutes: 54,359

My Goals:
I hope to get my hips down to 40" or smaller doing this program (then my old pants fit)
Currently they are 48" at the widest point







My Program:
Jogging (always trying to find a new race to do)
Jillian Michaels DVD's
30 Day Shred
No More Trouble Zones
Banish Fat Boost Metabolism

Walking with my Mom when I go visit (three dogs need help being walked)

Hula hooping!







Personal Information:
I'm from Illinois, with a boyfriend and a couple of nutty cats.

Other Information:
I'm a giant fan of sci fi books, tv, and movies. I love both hard sci fi, and space opera!

I love going out dancing, and my favorite color is red.

I used to sew a lot, but quit. I stopped doing a lot of things as I gained weight, and I find the more I exercise, the more I want to pick them back up

I like going out dancing, especially to Industrial music, but I will pretty much dance to anything

Profile Image