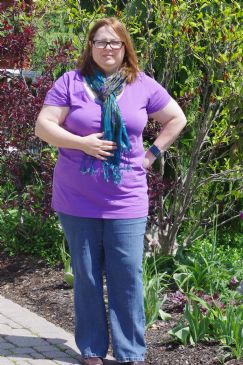 I have 22 pics in my gallery

Awards

Go With the Flow
After more than a year on SparkPeople, I am still going with the flow. Although the weight I originally thought I could get to is not happening for me, I've come a long way, and I am happy with what I have accomplished.

"Life is a series of natural and spontaneous changes. Don't resist them; that only creates sorrow. Let reality be reality. Let things flow naturally forward in whatever way they like."
― Lao Tzu

"At the center of your being, you have the ...
After more than a year on SparkPeople, I am still going with the flow. Although the weight I originally thought I could get to is not happening for me, I've come a long way, and I am happy with what I have accomplished.

"Life is a series of natural and spontaneous changes. Don't resist them; that only creates sorrow. Let reality be reality. Let things flow naturally forward in whatever way they like."
― Lao Tzu

"At the center of your being, you have the answer: You know who you are, and you know what you want."
― Lao Tzu


Current Status:


SparkFriends

SparkTeams



My Ticker:
current weight: 138.1

Interact with RHYMESWITHBABY





Recent Blogs:

Profile


Member Since: 5/29/2012

My Goals:
I always said I would never let myself go over 200 pounds, or wear clothing size 20 or above. Well, I hit 202 pounds, and found myself buying a pair of size 20 jeans. That was it!

A little over a year later, I am more than 60 pounds down and currently a size 6/8. I still want to lose more weight, but those last pounds are proving to be a challenge. Instead of worrying about that, I am now concentrating on maintaining my new lifestyle and finding different ways to improve my fitness that work within my limitations.

My Program:
At 5'2" tall, I started out eating between 1200 and 1550 calories per day, then when I joined a gym and began exercising regularly, I ate a bit more in order to fuel my workouts. Now I seem to have reached some sort of equilibrium. I do not know if I am in a long plateau, or maintaining, but I am fine with the status quo.

Personal Information:
I had hip replacement surgery at the age of 44 due to a congenital condition that caused osteoarthritis. I had wanted to take up running once I got below a certain weight, but my doctor informs me that the impact of running will be a problem for my hip no matter what I weigh. So now I do my "running" on the gazelle machine.

Profile Image