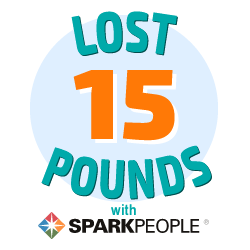 I have 23 pics in my gallery

Awards

Back and Ready to Kick Some Butt!
It's been an interesting couple of years of ups and downs....with my weight and everything else in life. I'm working on getting back on the upswing again after a few snags and lazy periods where I've gained back almost all that I worked hard to lose over the past couple of years. Now I have to look back and see what worked for me and know what it will take for me to get going to finally meet...and STAY at my goal weight and fitness level.

2008 is when I started and I accomplished: ...
It's been an interesting couple of years of ups and downs....with my weight and everything else in life. I'm working on getting back on the upswing again after a few snags and lazy periods where I've gained back almost all that I worked hard to lose over the past couple of years. Now I have to look back and see what worked for me and know what it will take for me to get going to finally meet...and STAY at my goal weight and fitness level.

2008 is when I started and I accomplished:
~Went from 140 to 128, that's 12 pounds and halfway to my goal of 115.
~Joined a gym for the first time ever...and enjoyed it!
~Started my yoga journey and become much more aware of my body and what it's trying to tell me.
~Started making my own lunches to take to work instead of relying on less-healthy prepackaged and processed foods.
~Started reading labels alot more to avoid the nasty HFCS and PHVO pitfalls
~Started walking on my lunch breaks on an almost-daily basis
~I ran...if even for just a 1/4 mile...and actually didn't hate it!
~Started going back to tai chi and kung fu classes once a week
~Joined the Air National Guard
~Got a new job that I love
~Found that I can forgive myself and love myself even when it seems that no one else does.

2009 hit some snag, so these will continue (with some exceptions) to be my goals for the rest of 2010:
~Losing that last 13 pounds (Well, now it's back to losing the 15-20 pounds I still need to hit my goal weight)
~Continuing my yoga journey and looking into training to be an instructor someday (My yoga practice slacked off for a bit, but I've started back into it and am working towards my goal of becoming an instructor one day)
~Working towards getting caught back up to my kung fu rank (No longer a goal, due to various personal issues with the school and intructor)
~Cutting out more processed foods and cooking more often (Been doing pretty good at this and am working hard to continue)
~Running more often (Did really well with this by running at the track at work at least 3 times a week...until summer hit. Now I'm working myself back up to it on the treadmill.)
~Helping my family be healthier (Working hard at this...but it's going to be an uphill battle with hubby's affinity for junk food)
~Getting a divorce and starting my new life as a single mom. (Seperated for a year, then just moved back in...getting used to the married life again and hoping for better things the second time around)

I can do it!

---My Favorite Motivational Quotes---

"This is the beginning of a new day.
I have been given this day to use as I will.
I can waste it or I can use it for good.
What I do today is important because
I am exchanging a day of my life for it.
When tomorrow comes this day will be gone forever,
Leaving in its place something that I have traded for it.
I want it to be gain, not loss; good, not evil; success, not failure;
In order that I shall not regret the price that I paid for it."
-Unknown

Our deepest fear is not that we are inadequate. Our deepest fear is that we are powerful beyond measure. It is our light, not our darkness, that frightens us most...We were born to make manifest the glory of the Divine that is within us.
It's not just in some of us; it's in all of us. And when we let our own light shine, we unconsciously give other people permission to do the same. As we are liberated from our own fear, our presence automatically liberates others.
- Marianne Williamson

Actually, who are you not to be? You are a child of the gods. Your playing small doesn't serve the world. There's nothing enlightened about shrinking so that other people won't feel insecure around you. We were born to make manifest the glory of God that is within us.
- Anonymous

Ideals are like stars; you will not succeed in touching them with your hands, but like the seafaring man on the desert of waters, you choose them as your guides, and following them, you reach your destiny.
- Carl Schurz

Suffering is not holding you. You are holding suffering. When you become good at the art of letting sufferings go, then you'll come to realize how unnecessary it was for you to drag those burdens around with you. You'll see that no one else other than you was responsible. The truth is that existence wants your life to become a festival.
~Osho

SparkFriends

SparkTeams



My Ticker:
current weight: 140.0


Recent Blogs:

Profile


Member Since: 12/29/2007

SparkPoints: 9,183

Fitness Minutes: 10,036

My Goals:
~Lose 25-30 lbs and get back to my pre-baby fitness level and weight.

~Consistantly work on my yoga practice and become a yoga instructor.

~Love myself

~Become more spiritually aware

My Program:
~Walk 2 miles everyday Mon-Fri on my lunch break

~Eat as clean as possible

~WATER WATER WATER

~Love myself

Personal Information:
Monthly Weight Progress 2008:
One year on SP and 12 pounds lighter!

SW on 12/29: 140
1/28: 137
2/28: 131.5
3/25: 131.4
----Off the wagon----
6/14: 134
7/27: 130.8
8/17: 129.2
9/30: 129.2
10/28: 129.6
11/30: 128
12/31: 128

2009:
2/10: 125.4
2/26: 124
3/4: 123.8
--Off the Wagon...again--
8/9: 131.6

2010:
8/4: 132

Other Information:
--Starting Stats---
12/29/2007
Weight: 140 lbs
Body fat: 37%
Bust: 38.5
Waist: 34
Hips: 37.5

--Best Weight--
3/4/09
Weight: 123.8 lbs
Body fat: 25%
Bust: 34
Waist: 29
Hips: 35

--LOST--
Pounds: 16.2
Body fat: 12%
Bust inches: 4.5
Waist inches: 5
Hips inches: 2.5

--Where I Am Now--
Pounds: 130
Body Fat: 31%
Bust: 36
Waist: 32
Hips: 37

Profile Image